Plagiarism is one of the biggest mistakes you can make when writing a thesis or article; in short, it means using sentences written by someone else. Theft of content or phrases, called plagiarism, is a serious academic crime. The originality of your work is extremely important for the scientific world. Plagiarism detection programs are software that reveals these violations. They are tools that allow you to screen your work for plagiarism after you have finished your work and before you present the thesis to your advisor or the thesis committee. Plagiarism detection scans are very important both in terms of academic ethics and in terms of proving the originality of your work. Doing a plagiarism scan beforehand does not leave your job to chance and can eliminate any negative effects that may arise. In our article below, we will guide you through the best paraphrasing tools.
Quillbot
Duplichecker
Copyscape
Siteliner
Plagiarisma
Small SEO Tools
Grammarly
Scribbr
Easybib
Quillbot
Quillbot is a paraphrasing tool that utilizes machine learning and AI to rewrite content. You can either use this for creating new content for your website if you are doing papers for school or even just looking to summarize articles and copy. Quillbot is an awesome paraphrasing that you should be using. All you have to do is just copy and paste a few paragraphs, then select your modes.
Standard mode is the typical mode that you would want to use to maintain a nice balance between changing input while retaining the original meaning of your original copy. Fluency mode makes sure you do not have as many grammatical mistakes and improves the fluency of your copy. Creative and creative plus mode paraphrase the text to be the most unique, but this also has the strongest chance of detracting from the original meaning of your paragraph. Formal mode changes the content to appear more professional. Shorten mode is useful when you are looking to convey the most conciseness or clarity. Expand mode is helpful when you are looking to add more sentence length to your paragraph.
Outside of the modes, you can choose the selection for the word flipper. If you want fewer words to be flipped or to maintain your accuracy, you can slide the flipper to the left. If you want more words to be flipped at the cost of potentially losing accuracy, slide the flipper to the right.
After you select your modes, you will see black, orange, and blue sentences on the right. Black sentences show that they are the same. Orange means the content is not the same anymore. Blue highlights the unchanged parts in a long sentence.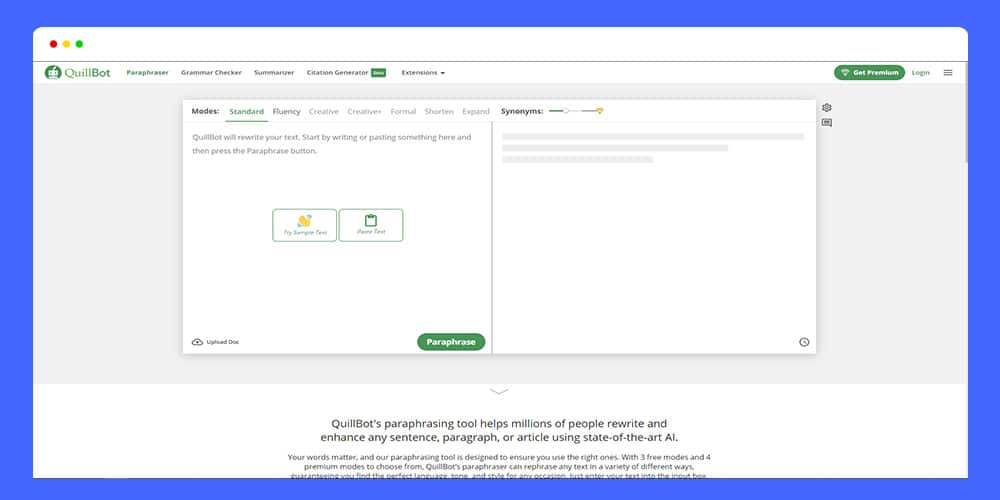 Duplichecker
Another tool you can use to check the originality of articles you have not published yet is Duplichecker. Thanks to this tool, which can scan content up to 1000 words, you do not need to copy all the content. You can also scan with only DOCX and TXT extensions.
This free tool gives only one right to users who want to use the tool without logging in. After you become a member, you have the opportunity to check as many articles as you want. At the same time, this tool performs copy content scanning not only on Google but also on other search engines such as Yahoo and Bing. Thanks to these features it has, it is one of the best article control tools.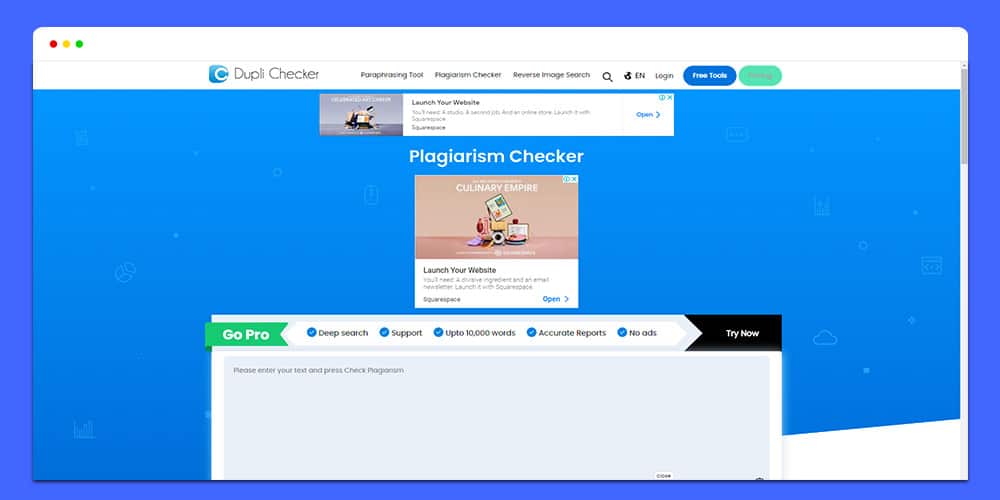 Copyscape
Copyscape is one of the best paraphrasing tools to help you fight plagiarism on your website. This service, which enables to scan of all published and unpublished articles, can scan not only the texts on web pages but also texts in the PDF file. You can scan PDF files, websites, blogs and forums, and access where the article was from, with the originality checks you will make on Copyscape. There are some key features of this software that will help you get your blog published and your content 100% original.
If you suspect someone has copied your content, it gives you the opportunity to compare two website pages or texts. You can also scan your purchased articles before publishing so that you can make certain they are original content which keep in mind is a premium feature. It provides automatic site checks to check for duplicate content with notifications of stolen content. The cost is very reasonable, although you do need to sign up for an account to use the core features of Copyscape, which will allow you to stream stolen content. Credits are $0.05 each with a minimum of 100 credits.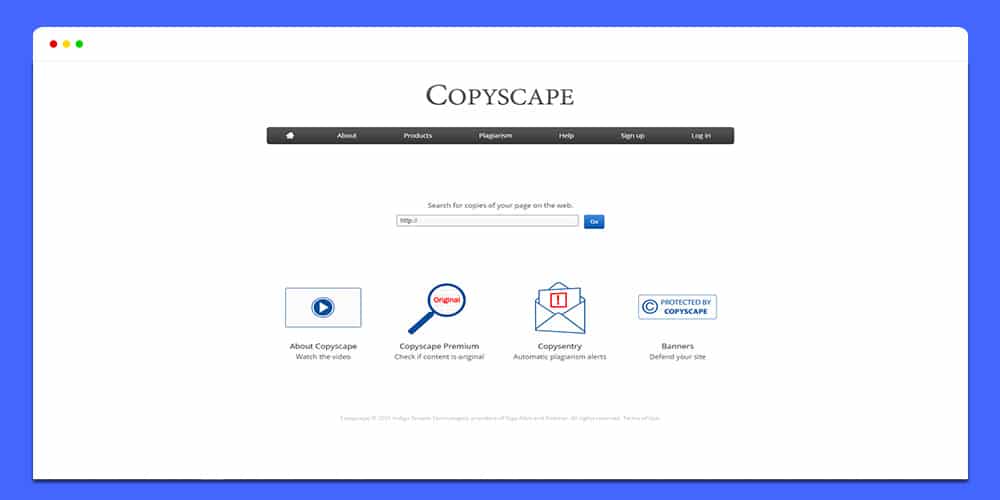 Siteliner
If you do not want to check individual articles, it is time to use Siteliner. Siteliner is a paraphrasing tool that can crawl through the root URL of the website. The duration of the crawl test is directly proportional to the size of the website. Thanks to this tool, you can see the rate of duplicate content on your website, load time, word rate per page, broken links, inbound and outbound links in detail.
If your website has a large number of indexes, the crawl test takes a long time, but it will be worth the wait. You can get the results in PDF file format or in other text files format. The only disadvantage of Siteliner in the free version is that you can only crawl your website once a month. If you switch to Premium membership, you can do as many screening tests as you want. In addition, the premium membership fees are quite affordable.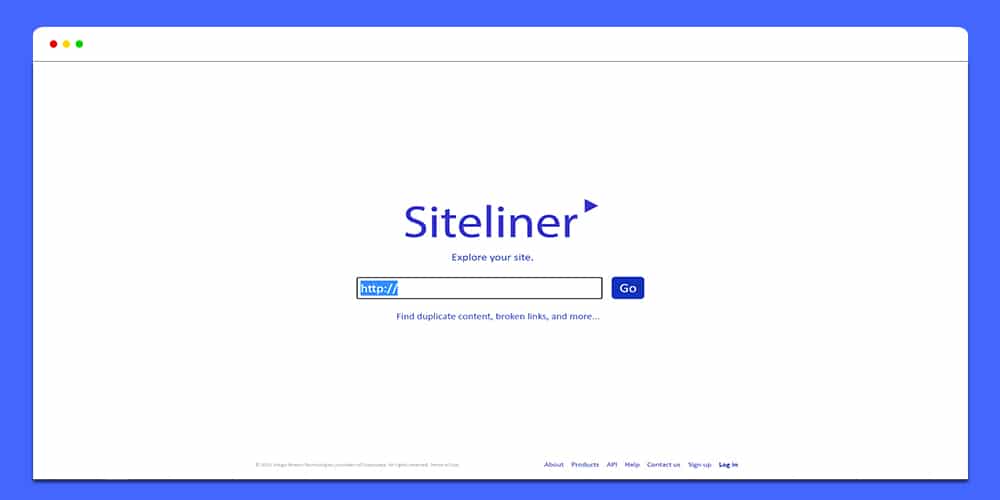 Plagiarisma
One of the best article checking tools is Plagiarisma. The use of this tool is also very simple, as you have the opportunity to check whether somebody copies your articles or not before they are published. With a choice of more than 190 languages, it minimizes the risk of missing your manual checks. To use this tool, which scans through Yahoo and Google, you need to register into the system in order to perform Google scans.
Plagiarisma is a free plagiarism checker tool. Members who register for free to use this tool can scan documents three times a day. In addition, each audit is limited to 2000 words, and each sentence must consist of at least four words and 30 characters. It charges a certain fee to be able to check for plagiarism an unlimited number of times in one day.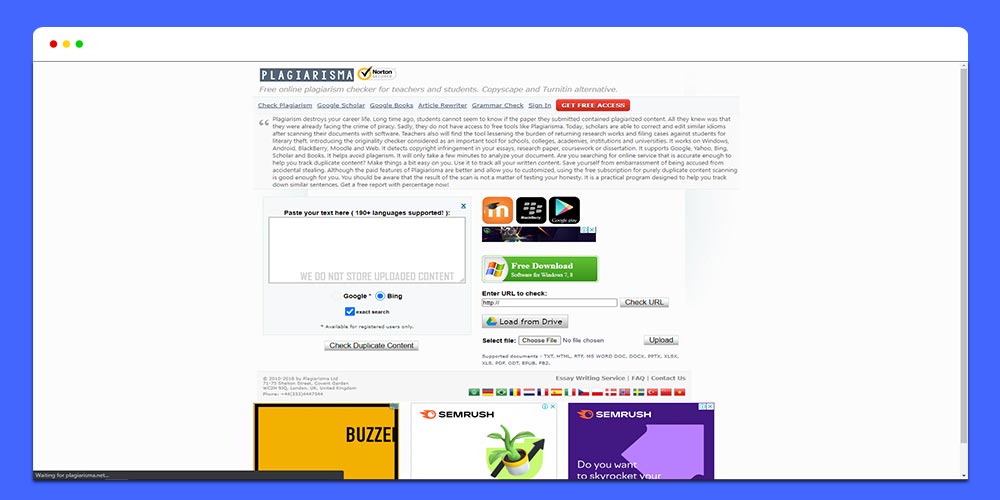 Small Seo Tools
Small Seo Tools, which is among the most successful copy content detection platforms in the world, provides information to users by scanning content up to 1000 words in seconds. Many webmasters prefer Small Seo Tools because it shows in detail from which site and which article the sections detected as duplicates were from. You can check the originality of the article as much as you want during the day on the completely free platform.
Small Seo Tools is also a good alternative for schools. This tool is versatile and compatible with all types of devices, including smartphones. In fact, it also offers many development tools for your website. There is no limit to browsing content on this service. To scan, you have to open the program on your device and keep entering the text in the input box. This plagiarism scanner works integrated with more than ten billion websites that compare content. This tool also offers restatement features with which you can reduce duplication of your work.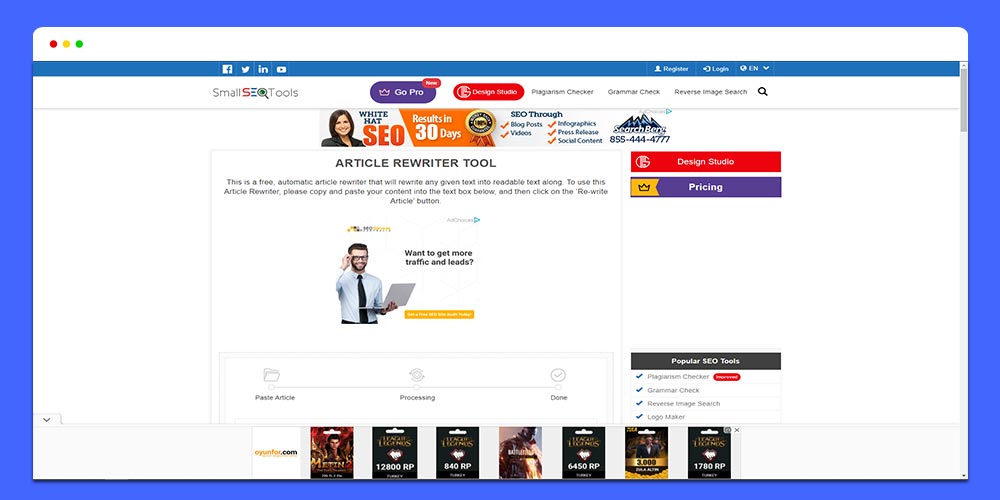 Grammarly
Another important service that can help students is Grammarly. People often see Grammarly as just a tool to check your work for grammar and punctuation errors, but this is not true. Grammarly checks your work for interaction, efficiency, and clarity with its free version. It is one of the best paraphrasing tools. However, if you upgrade to the premium version, you can also have your work checked for plagiarism. Checking for plagiarism with Grammarly is really easy and simple. Just open the plagiarism tag, and Grammarly will scan your work from top to bottom with complete accuracy!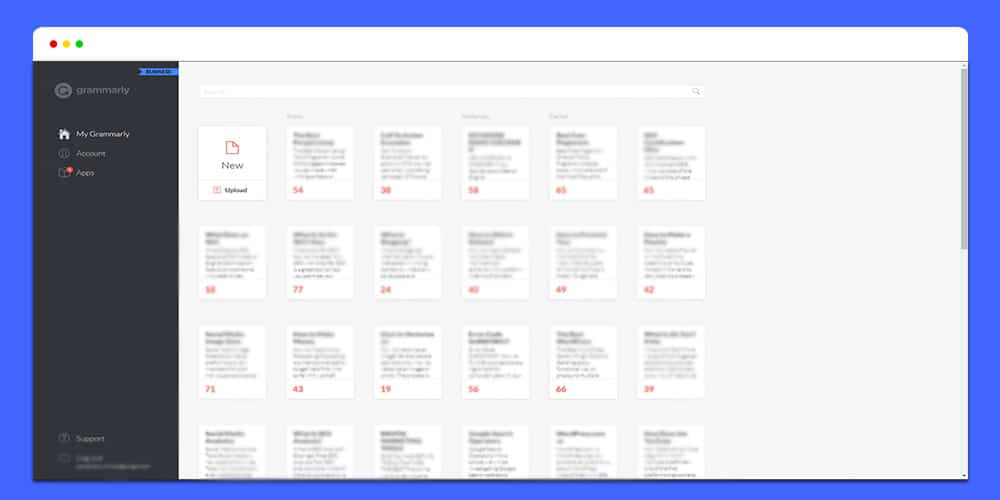 Scribbr
Scribbr is one of the best paraphrasing tools for students. The database contains not only 60 billion web pages but also millions of publications in various formats. You can use plagiarism services by creating an account and uploading the document to their server. Scribbr will then evaluate the length of the article, which will determine how much they will charge. When the report is ready, it will show an overall similarity percentage in the right panel.
Another notable feature of Scribbr is its editorial service, run by its in-house team of language experts. This means that the quality of real people will polish your work rather than correction algorithms.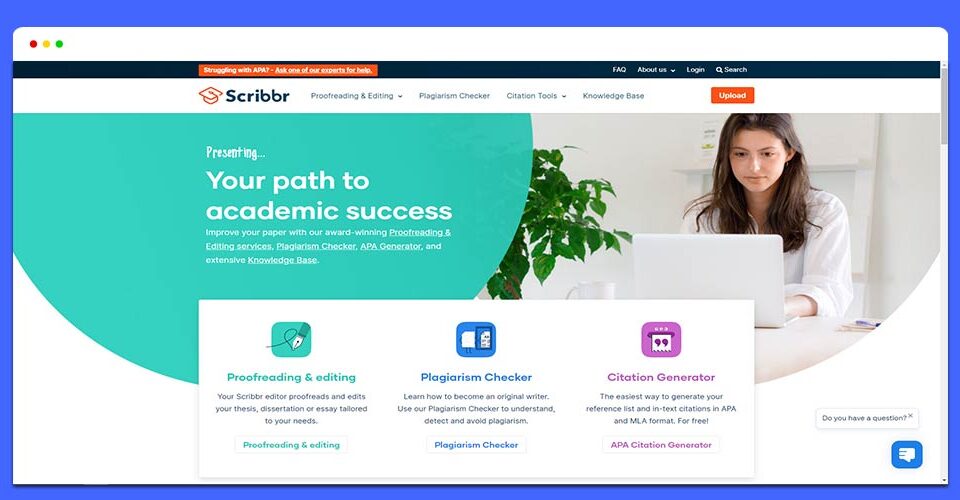 EasyBib
EasyBib's reread engine makes suggestions to improve your grammar and general writing, allowing you to quickly find and fix grammar and plagiarism errors. This service also reports how many quotes are included in your content by checking for accidental plagiarism. Unfortunately, you have to pay a monthly fee to access the plagiarism features.
The EasyBib platform provides a quotation generator to create bibliographies. Students follow a sequence of questions as they enter the information to create a final quotation that they can include in a list. The steps begin by selecting the source type and then the title. Throughout the process, guiding questions lead students to complete the quotation. The Citation Guide shows students what information they need to include and also where they can find all these details. The program, which is free, presents a citation generator and five suggested grammar checks. The premium version has unlimited plagiarism/grammar checkers, all quote styles, and no ads.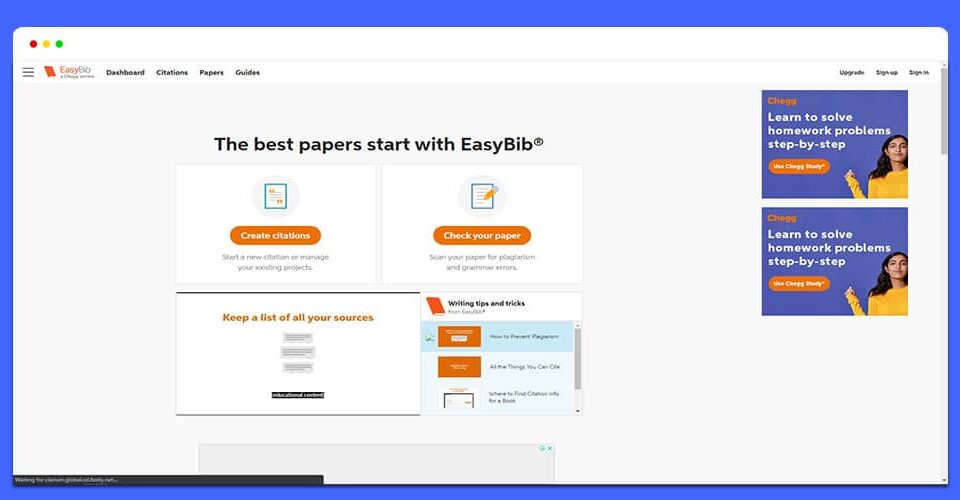 Where to Pay Attention in Paraphrasing Tools
After presenting the best paraphrasing tools, let us pay attention to what you need to focus on in your paraphrasing work.
Understand what you are writing about.
To fully understand what you convey in the source text, you should read the text repeatedly. It is more correct to divide the information in a single sentence in the source text into several sentences when paraphrasing.
Do not check the original text constantly.
After the rewriting process has started, looking at the original text as little as possible makes paraphrase more accurate. When using synonyms of the words used in the source text, make sure that the sentence has the same meaning as in the original text.
Take few words from the original.
Taking as few words as possible from the source text during the paraphrasing process is important. This is an important step that you must take into account, as there is a possibility of bringing the rewritten text closer to plagiarism.
FAQs on Best Paraphrasing Tools
How reliable is Copyscape?
It is a good tool for detecting plagiarism. To be 100% sure of the reliability of this plagiarism checker, you should do a minimal double-check, preferably with a different tool as a secondary checker.
Can you unsubscribe from Quillbot?
Yes, you can. On your webpage, click on the three-line menu, which is at the top right. In the drop-down list, click on Account. You will see the Your Plan section there. Click on Unsubscribe button under the Your Plan part.
Do small SEO tools save your work?
Small Seo Tools does not save or store your content in databases. The whole process is fully computer-based, using a unique algorithm that thoroughly checks the content.
Is QuillBot better than Grammarly?
If you are attempting to reshaping content with SEO in mind, QuillBot is the ideal tool for you. Grammarly is more suitable for checking for plagiarism and correcting your previously written documents.
Do you have to pay to use EasyBib?
EasyBib is a great and precise quotation generator and bibliography generator available to students. There is a free website for MLA style with both Android and iOS apps.
Concluding on Best Paraphrasing Tools
While writing a thesis or article, you may have unintentionally plagiarized. The reason for this is that the expressions in a work that you have read before settle in your subconscious and are involuntarily added to your writing. You can scan your work and correct your mistakes with plagiarism detection software to prevent you from unintentionally plagiarizing or to correct it if you have done so. In our article above, we have guided you through the best paraphrasing tools.