In the past, everyone knew that you could find many things in one place. However, today we all want to discover online opportunities. Everyone loves shopping online because it is generally more inexpensive, quicker, and more comfortable! There is no need to waste your day rushing from one shop to another. Then you can experience the thrill when the products you have purchased arrive at your doorstep! Opening the packages is like opening gifts. Some websites offer pretty good prices, however; very bad service to customers all around the world. Sometimes when you shop overseas, the shipping and packaging costs make the bargain a nasty deal. This article will help you save a lot when you shop online. These cheap online shopping websites appeal to people all around the world by presenting low prices and terrific deals!
AliExpress
You can get multiple deals from promotions on clothes, electronic devices, sports stuff, and so many products on AliExpress. Despite being based in China, this online retail service reaches worldwide. The average monthly traffic of AliExpress consists of small companies marketing goods online to international customers from Turkey, France, and all other countries. There are a lot of products available on AliExpress, so sometimes, it can be hard to choose from.
TechBargains
TechBargains is the premier cheap online shopping website for consumers looking for the best bargains on the latest products and devices, from cutting-edge tech to must-have household items. Here are its advantages:
It is among the best and the most inexpensive online shopping websites.
They provide consumers with the latest devices all over the world.
TechBargains has a distinguishing feature. They provide free shipping for certain orders.
You can think of them as your tech-savvy friend with your budget in mind – they will inform you about the newest technology and make sure you never waste your money.

Etsy
Etsy is a cheap online shopping website for products from artists around the world. It has an average of 120.4 million users who purchase and market artistic crafts and stuff. Etsy is a cheap online shopping website that is mainly for ground-breaking handcrafted products and innovative goods consisting of:
vintage stuff,
furniture,
apparel,
shoes,
and jewelry.
There are a number of good bargains on Etsy that make it an ideal shopping website to earn and save some extra cash.
Forever 21
Forever21 site is a US-based site for women's clothing. You can find products at all prices. Even though they sell fashion items for men and children, you cannot find the same amount as for women. Shipping is free for certain purchases varying for different countries. The nice thing about the site is that you have a lot of options. You won't believe it when you see dresses that sell for $2, $3. The shipping time varies depending on the country. If you can wait for enough, you can have excellent products. It is among the most reliable overseas shopping sites.
Amazon
Amazon's website is at the top of the list of the largest and most reliable overseas shopping sites in the world. Jeff Bezos founded it in a car garage in 1995. It became the most trustworthy company in the world thanks to its customer satisfaction rate. For years, Amazon has been a leader in online shopping.
Amazon has average monthly user traffic of 1.87 billion, which makes it the lead when it comes to online shopping.
Amazon also sells millions of products from the warehouses it has all over the world.
Nearly 50 countries make sales on the Amazon website.
Pay attention to comments and seller ratings. Some sellers are brokers, not direct sellers. You can buy more affordable products by carefully examining the prices.
Newegg
You can use the Newegg site for your electronic shopping. It is a site designed especially for game lovers, and it has been around for 20 years. There are computer games, consoles, and accessories. You can also buy a gift card and give it to people you like so they can buy stuff for free. It is the most popular site used in this field. In general, big brands sell products here. For returns, you have approximately a month. You have a time of 1 month for returns. The shipping period is around 4 days. The shipping cost varies for different countries. It is among the most reliable foreign shopping sites.
ASOS
ASOS is a very popular online shopping website in America. It is among the top 5 cheap online shopping websites. They have the option of shipping all over the world. They sell only clothing products on the website. The website also has its own brands. There is no need to talk about customer satisfaction. If the product you have purchased does not turn out the way you want, the company returns the money without getting the product back. Of course, this is a one-time situation. You have about 1 month to exchange. You can even return the product you wore. There is a 10% discount on all products for college students.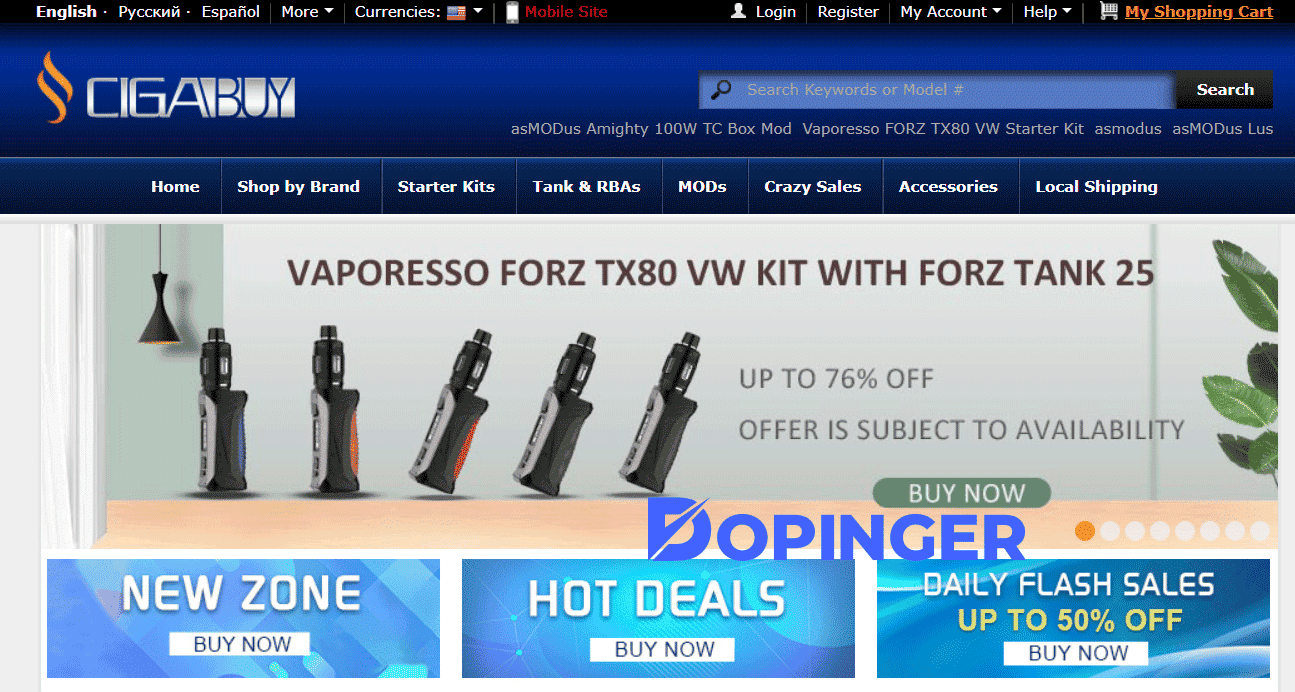 Cigabuy
Cigabuy is an online shopping website that only sells electronic cigarettes. You can buy hundreds of electronic cigarettes at the most affordable prices on this website. The company has warehouses in the European Union, USA, and England. Unfortunately, not all the products have a free shipping option. It is difficult to encounter negative seller profiles. As per the website policy, customer satisfaction is at the forefront. Tell the seller to send the product as a "gift" for your purchases. In this way, you will not encounter any problems at the customs, if any.
FAQs on Cheap Online Shopping Websites
What should I do if the package is late?
Do not hesitate to contact the sellers. It takes about 4 days to 40 days for the cargo to arrive at you, depending on where you live. It takes a maximum of 1 day to contact the seller.
How can I know if the seller is trustworthy?
Be sure to check the seller profiles. Do not neglect to read the user reviews. If a seller sells products at low prices and has a bad profile, know that he is a fraud.
Who can I consult when I experience a problem?
If you have any problems, contact the site administration. Mention that you will make negative comments about them from other sites. They will definitely help you.
I do not want to pay by credit card. Can I use my debit card?
If you are worried about a credit card, you can use a debit card. Transfer the amount of shopping to your debit card. Then pay via card.
How can I know where my package is?
When you shop, always ask the seller for your "tracking number," that is, the cargo shipment tracking number. Using the number, you can track where your package is.
Concluding Cheap Online Shopping Websites
Online shopping is a must in our daily life. You can shop from anywhere in the world with your credit card or your debit card. Of course, these sites must be reliable. We have gathered a list of the most reliable cheap online shopping websites for you in our article. You can easily get everything you need through these websites.