Marketing work for e-commerce sites means facing particular challenges. First of all, highlighting e-commerce sites requires that the person doing the marketing work creates a good balance between user experience, conversion improvements, and SEO. Secondly, since online stores are generally comprehensive and sophisticated, in-site optimization efforts can be an endless nightmare.
This guide addresses all the contextual and technical issues that e-commerce SEO workers may encounter. However, there are ways to deal with these problems and techniques that can save you time.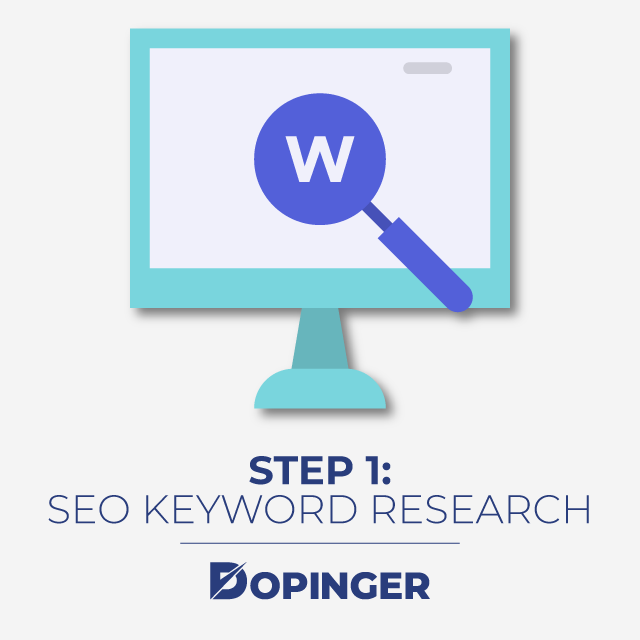 Step 1: SEO Keyword Research
Set Aside the General Keywords and Focus on Combinations Wisely
Keywords play an essential role in E-Commerce SEO. Searching for keywords for e-commerce sites means going beyond search volumes and competitive analysis. Each step in the buying cycle requires the focus of different keywords. The keywords within these different steps are different from each other, just like the steps.
Awareness: People tend to be in search of general information about a subject. Having keywords in this field is not easy due to competition.
Research: Visitors look for more specific information. The names of category pages are keywords that should be focused on.
Comparison: Users investigate the pros and cons of a brand, product, or store. Keywords included in blog posts and product reviews are essential.
Purchase: Searchers decide what they want to buy and shop. The focus is on keywords on product pages.
Not losing: The right thing to do at this step is not to lose the customer directly acquired. For this, it is necessary to reach the customer with exciting campaigns.
1. Create 3 Different Keyword Lists
As you can see in the steps above, the keywords used in customers' research, comparison, and purchasing steps are the keywords with the most conversion potential. To create a complete list of these keywords, you will need three groups of keywords that you can later convert into long-tail queries. You should be familiar with the gender, age, and social status of your target audience. You should try to understand the target audience's language by spending some of their time on appropriate social media sources.
When you begin to understand the words your costumers use, you should add them to your keyword list. You Should:
Create a list of keywords with action. Like "Buy, price, compare or review."
List all the brands of products in your store. Like "Apple, Samsung, Sony or LG."
Create a list of categories, product names, and key features. Like "Television, laptop, smartphone, iPhone."
2. Mix Keywords
When you have prepared the three lists mentioned above, you can prepare the search phrases. You can create dozens of long-tail keywords by combining general keywords with product keywords and their features. Also, create tens or even hundreds of search queries of this type by tampering with your keywords.
You can do this manually, or in a much shorter time by getting support from a software. You can instantly get long-tail keywords using tools like Rank Tracker. Open the Rank Tracker tool, click the Suggest Keywords button, select the Word Combination option, and click Next. You can then start typing keywords on the screen that comes up.
Now you have dozens or even hundreds of long-tail keywords that you can use efficiently. Whichever of these keywords have a good search volume and low competition. You should try to use those keywords in your SEO studies.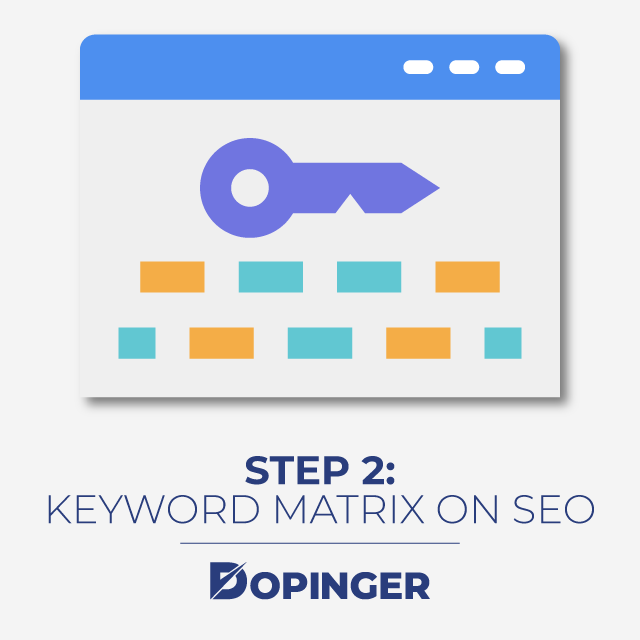 Step 2: Keyword Matrix on SEO
Smart Keyword Targeting
Have you heard of keyword shredding before? In short, this term means that multiple pages on your site focus on the same keyword. For targeting the same query, these pages will compete with each other in terms of ranking on the search engine result page. In some cases, search engines highlight the page you consider unimportant and leave the main page in the background.
To avoid the keyword fragmentation problem, you should try to create a keyword matrix. In this matrix, you should adequately show which page targets which keyword. Thus, you can avoid using similar keywords on the pages you will try to create in the future. Thanks to this simple method, you can manage to avoid the keyword shredding problem. Alternatively, if you are using a keyword tool, you can use its keyword map feature. So you can easily see which landing page targets which keyword.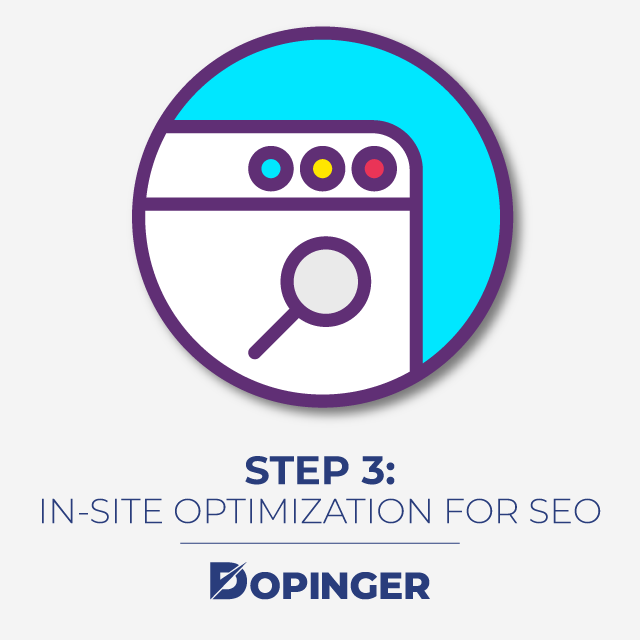 Step 3: In-Site Optimization for SEO
Save Time Optimizing Thousands of Product Pages
An e-commerce site can often have thousands of product pages, even if they don't have many options for category pages. Everything seems very simple for the category pages, but when it comes to product pages, the landscape suddenly changes. You may not have enough time and resources to create unique titles, H1 tags, and custom descriptions for product pages.
You should try to choose a content management system where you can easily make this change. Make similar arrangements for H1 tags and descriptions. Remember, titles and meta descriptions will appear on the search engine results page. For this reason, you should try to increase your click-through rate by using appropriate call-to-action messages.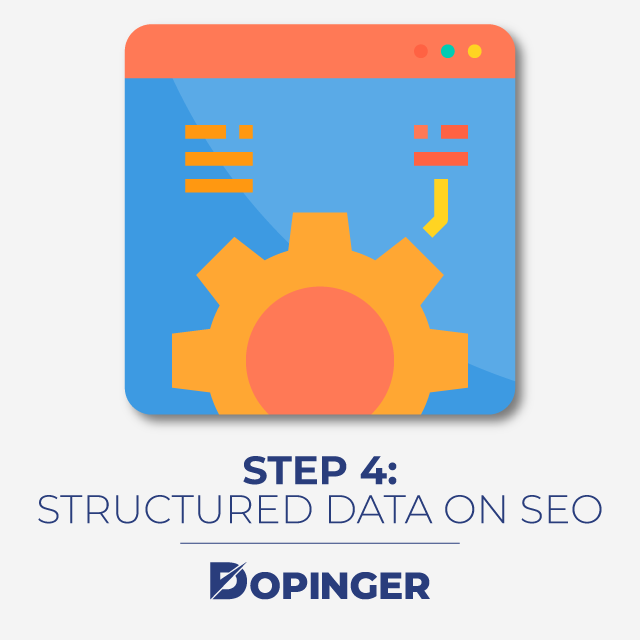 Step 4: Structured Data on SEO
Feature Product Details and User Reviews
We have all adopted the semantic search approach since we began to understand the intent behind Google search queries. Although the search giant is good enough in this regard, we still need to help search engines describe certain content on the site. By placing Schema formatting codes on our site, we can enable search engines to provide users with more informative results.
There are dozens or even hundreds of formats supported by Schema. However, two are extremely important for e-commerce sites. The product chart and evaluation chart are these two types of formatting. After applying Schema formatting, your website will inform your potential visitors about the degree of evaluation, price, and availability in the search results.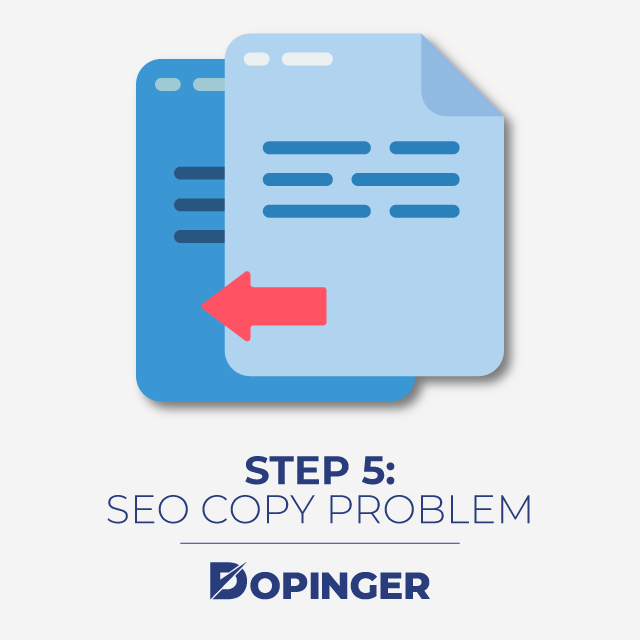 Step 5: SEO Copy Problem
Make sure Every Page on Your Site is Authentic.
The copy content problem for both SEO and e-commerce sites is divided into two categories. Offsite copy content problem is when the content used is on many different websites on the internet. An in-site copy content problem means that more than one page on the site has the same content.
1.Solving Offsite Copy Problem
Offsite copy issue is a natural situation for e-commerce sites. Online stores use product descriptions, images, and feature information provided by the manufacturers. It is logical because you cannot, for example, set new features for the last iPhone. However, it is possible to take various steps to eliminate this problem.
Write unique descriptions for each item. If you have a team of copywriters, you should include an original description for each item in your inventory. The only thing you need to pay attention to here is undoubtedly to make the necessary changes by changing inventory items.
Take advantage of content created by users. Encourage visitors to make comments and reviews on the products they buy. Try to get their comments by sending them follow-up emails. If necessary, try to offer them an extra discount to do so. While doing this, you shouldn't forget to check all the comments that come to make the site healthier.
Create a FAQ tab for each product. You can take a good step towards customizing the relevant page by adding the FAQ section to the product pages. To do this, you should not forget that you have to use human resources again.
You can only consider improving product category pages. If you do not have enough time and resources to edit and enhance product pages, then you should try to produce original content only for category pages. In doing so, you need to disable indexing of product pages. This method works well to eliminate the copy content problem even if it is not very useful.
2.Solving In-Site Copy Problem
An in-site copy problem is a common problem in online stores. The reason here may be the content management system used by the sites, and site configurations that have been performed contrary to the logic.
Two different scenarios are often encountered within the scope of improvement works. The first is that a product is associated with more than one category. For example, a Samsung TV can be related to household goods, TVs, and the Samsung category.
The second scenario stems directly from CMS's creation of separate pages for different variations of the same product. To overcome this problem, you can try the following methods:
You can review the URL addresses of the site. You can provide a single URL page to the user, regardless of the user's paths on the catalog page. Ensuring that all product variations are displayed on a single page, and no referral is the best thing.
You can apply for canonization. However, it is an approach that can cause trouble to your site in terms of user experience and browsing budget.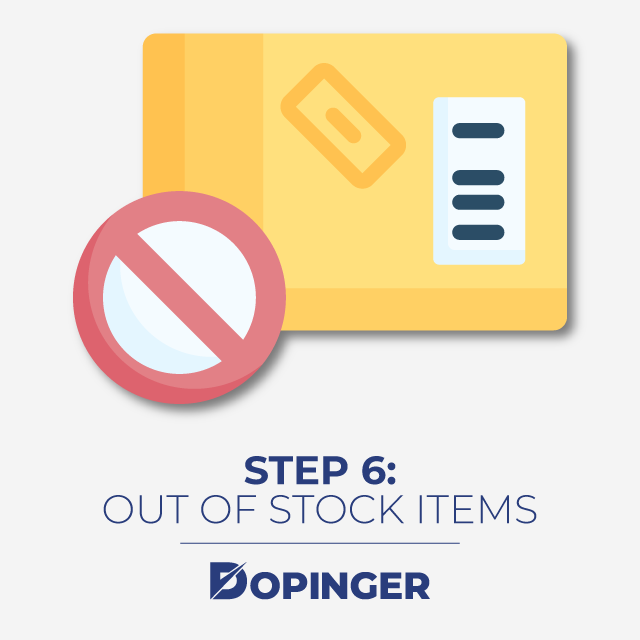 Step 6: Out of Stock Items
Use Search Engine Friendly Pages for Unavailable Products
To be clear, it is a situation that you may encounter from time to time that certain products are out of stock in your e-commerce store. You may even face some items being out of sales. However, you need to deal with these two situations differently.
1. Create custom pages for products that are not available temporarily
If an item is temporarily unavailable, it is not an option to completely remove the page it contains. You can explicitly state that the product is temporarily unavailable on this page, and you can provide visitors with all other relevant information. You can:
Specify the re-supply time of the products. In this way, you can make the visitor wait for the product or turn to alternatives.
Send notifications to visitors when products are available.
Allow visitors to pre-order.
Create similar product lists. If possible, you can provide alternative options to visitors.
2. Choose a method for managing out-of-sale products
If an item is permanently out of order, you have to find the best method to remove this product page.
You can create a 404 page. The most natural way to remove a page from the search engine index is to create a 404 page. In this way, you do not affect the ranking values of the site.
You must create 301 redirect pages. Redirect the product's page out of the sale to the page of a similar product or the appropriate category pages.
You may consider keeping the product page. Keep the page of an out-of-sale product active, but you should indicate that it is out of sale. Thus, you can prevent the page from losing ranking in the search engine, and you can maintain the link values.
3. You must be ready for seasonal effects and traffic values
If you are considering announcing a new product, you should take your first step after thorough research because your aim should be to get a good place on search engine results pages. You must create a page for the new product. Strengthen it with visuals. Include product descriptions and other content that will satisfy the customer. You should try to introduce potential customers with subscription forms that will keep them informed when available.
When seasonal effects or traffic values occur, you should review the pages on your site. For example, if there are products you want to highlight during the New Year's Eve, you should try to deliver them to users from a page such as /new-years-eve-2020. When the season ends, you may want to consider redirecting the old pages to the new 301 redirects required. Thus, you will not lose the links coming to your site, and you can keep the page up to date.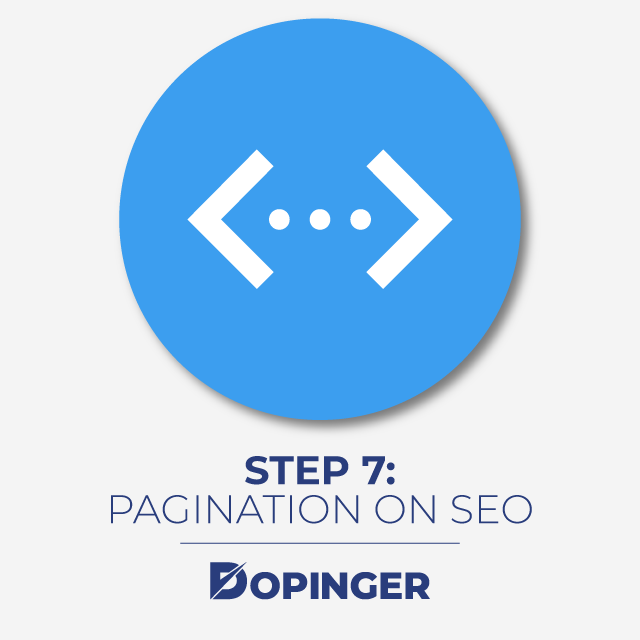 Step 7: Pagination on SEO
Use Pagination to Eliminate Indexing and Copy Content Problems
Pagination is one of the useful methods to divide content into several pages. On an e-commerce site, it can help you create overlapping content. However, Pagination work is valuable as long as you can switch between pages. It is possible to eliminate the general problems you will experience with pagination using the following steps:
Consider adding the Show all option. You should consider adding a page that can show products from all pages. In this scenario, all the pages handled separately must have the attribute rel = "canonical" and each one should be directed to the Show all option.
Consider using the rel="next" and rel="prev" tags. Using these tags between the page's <head> tags shows the search engines that a page has its previous and next states. These tags will inform Google and other search engines that they should handle the pages one by one. Thus, you can manage to protect the backlinks of your site.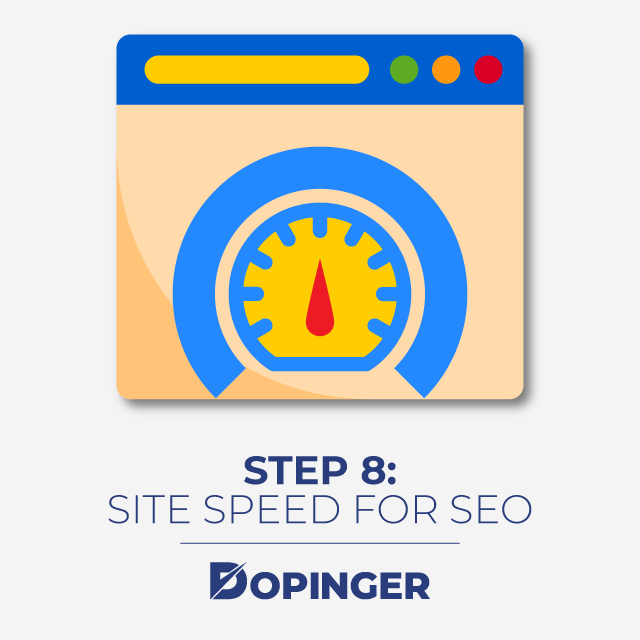 Step 8: Site Speed for SEO
Improve Your Site's Page Speeds and Get Better Ranking and User Experience
Site speed is twice as effective as a ranking factor for e-commerce sites when it comes to SEO. A slow website means terrible user experience; terrible user experience means being able to sell lower.
First of all, you should analyze the main landing pages on your site and check that there are no speed issues involved. You can do this quickly by performing various tools. You can try using Google PageSpeed Insights, GTMetrix, or WebSite Auditor. After these tools scan your site in detail, they will present your site's speed score. Generally, the factors that ensure the pages' low site speeds and ignored by the e-commerce sites include:
You should cancel unnecessary redirects. If you can safely cancel redundant redirects, you can speed up your website.
You should improve the product images. You must make sure that all images are optimized and compressed at best. If necessary, you should use small versions of the pictures and show larger versions by clicking.
You can use the caching method for browsers. Try to take advantage of browser cache technology as it will be an unnecessary waste of time to allow you to reload unchanged content.
You can set the content to load as it appears. Therefore, the instant load on your website lessens.
You should avoid using JavaScript scripts that prevent rendering of pages.
You should try to use AMP technology. AMP technology is a relatively new technology. This technology helps load fixed content pages faster than other pages.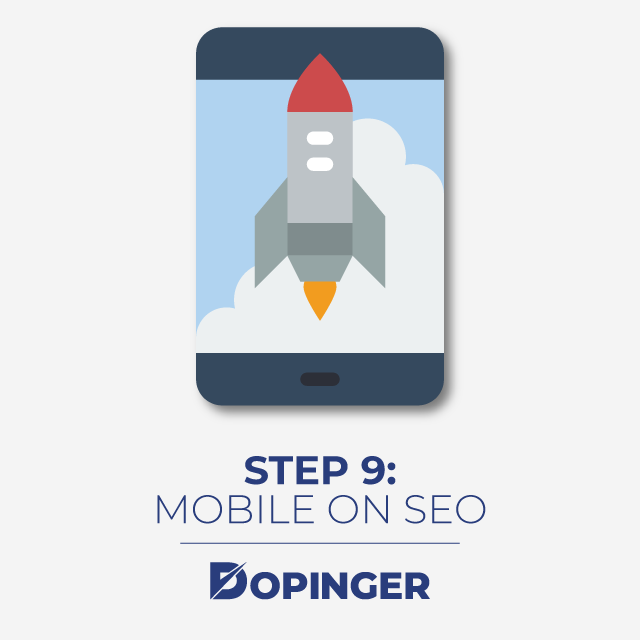 Step 9: Mobile on SEO
Try to Offer the Best Cross-Device User Experience
50% of Google's search traffic comes from mobile. 60% of consumers use their mobile devices to make a burning purchase decision. If you have the goal of promoting an e-commerce site, you cannot ignore this broad audience. As with site speed, providing a poor user experience on mobile devices will reduce your sales and ranking in search engines.
1. You should offer mobile support if you haven't done yet
If you have not moved your site to the mobile platform, you should start doing this with the right technologies. You can use three different methods for mobile support. Dynamic presentation, separate mobile pages, and flexible design are useful methods. Flexible design is considered the best way for e-commerce sites because its benefits are what you will need:
Desktop and mobile versions of your site have the same addresses. You can perform cross-device display most conveniently through a single URL address. This makes it easier for users to interact with and share the content. However, you can help search engines find site pages more efficiently.
Your content presentation is almost flawless because it is the most convenient method of viewing between devices.
It is a great advantage that no routing is used. If your site had a separate mobile version, you would use redirect and add unnecessary load to the site. However, the flexible design allows site pages to load faster and improves the user experience.
2. Double-check mobile pages
If you don't know whether the pages on your site are mobile-friendly, you can use Google's tools to achieve the necessary checks. If you wish, you can do this by using different tools, but it is good to use Google's opportunities through Search Console regarding mobile compatibility.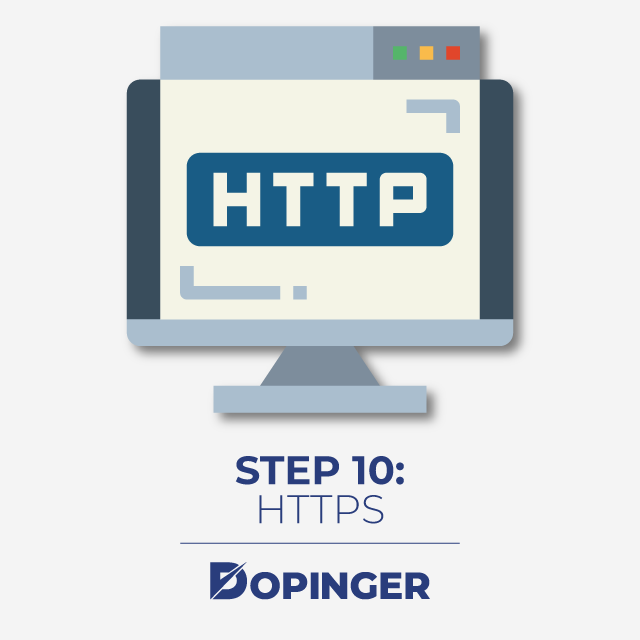 Step 10: HTTPS
Build a Trustworthy Site to Gain the Trust of Customers and Google
Switching to HTTPS is critical for e-commerce sites. Because you need to protect the credit cards and other personal information of customers who shop on your website. You need two different things to use HTTPS. The first is to use a private IP address, and the second is to use an SSL certificate. To have an individual IP address, you should contact the place where you received the server service. Getting certified is not a very difficult task because there are several reliable companies around like Comodo or Geotrust. Once you have installed your certificate, it is sufficient to make tests before confirming everything. However, when switching to HTTPS, you should be prepared for several problems:
If your site uses a CDN, TPS, or API, you should make sure that they support HTTPS. Otherwise, visitors will start to encounter errors regarding page loads or notifications.
You should make sure that all internal links are directed to the HTTPS version of the site. Ask the people interested in the technical part of your website to solve this problem.
You should make the most appropriate redirects from the HTTP version of your site to the HTTPS version. Bad redirects are common problems. If you do not trouble with such issues, you should perform the configurations most appropriately.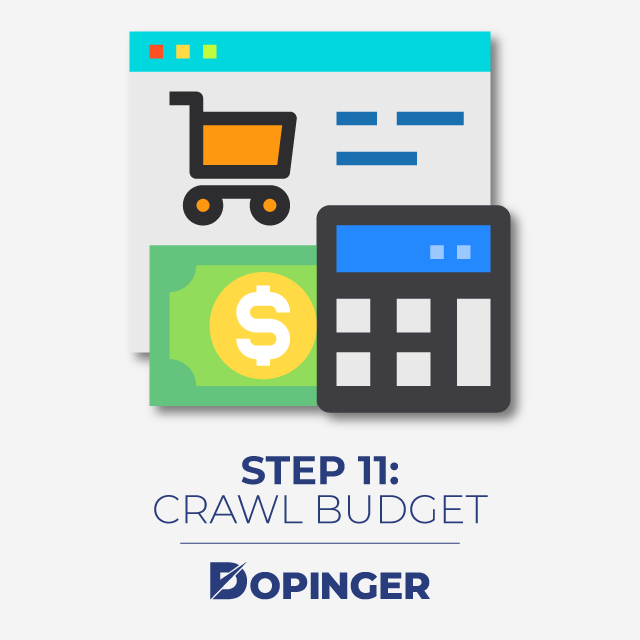 Step 11: Crawl Budget
Check that Search Engines are Crawling Important Pages for SEO
Crawl budget means the number of pages a search engine crawls during the day. This value differs on all sites because the crawl budget is determined by the authority the site has. This metric is especially important for e-commerce sites with large inventory. Although you can't get search engines to crawl more pages of your website, you can easily eliminate the obstacles.
You should get rid of duplicate pages. Eliminate duplicate content in some way using the rel=" canonical" tag, but it is not possible to bypass the scanning of duplicate content in this way. These pages push your crawl budget and delay the discovery of new content.
You can prevent indexing of content that is useless for SEO. Prevent indexing of pages such as privacy policy, terms of use, and outdated promotions.
You should stay away from long-term redirect chains. If your site has 301 redirects that you don't use for valid reasons, search engine crawlers will be able to refuse to follow these redirects. As a result of this, you may encounter a problem that the redirected page is not scanned.
You should try to manage URL properties in the best way. Your content management system may have created many dynamic URLs for one or more pages. Search engines that will encounter all these pages may have difficulty understanding what is going on. For this reason, you should appropriately define the features in question, parameters, in your Google Search Console.
You should repair broken links. Repairing broken links will relieve your browsing budget. By repairing broken links, you can prevent search engine bots from reaching unnecessary points.
You must keep the XML sitemap up to date. You must also define all the XML sitemaps you have in your Google Search Console account.
FAQs
Why is SEO required?
Search engine optimization can support your e-commerce site's sales, revenue, and make you the market leader in your sector. And the good news is that your investment in SEO will even pay for itself in a brief time, while its effects will last for many years.
What are the types of SEO?
There are three types of SEO you need for a balanced organic search strategy: on-page SEO, technical SEO, and off-page SEO. It would be simpler to organize and execute when you break down your strategy and think about SEO as three categories.
Do Google Ads affect SEO?
Advertising doesn't directly affect your website's organic search rankings. This is a broad misconception, but actually, SEO does not directly impact AdWords, and AdWords does not directly affect your SEO. They are totally different beasts.
Conclusion
When optimizing your e-commerce site, you have to consider each of these steps. If you follow these steps successfully, you can make your e-commerce site competitive on the search engine result page.