One of the most difficult decision-making processes includes determining the design for your e-commerce website. Especially things get harder as you get closer to setting up your online store. However, there are many options on the internet, both paid and free.  In this article, we've listed ecommerce website design templates for your website to help you narrow your search and decide quickly. Therefore, you can explore more options with different categories at one place at a time. 
This article will involve different templates that will be suitable and fit like a glove for any e-commerce store. Whether you're selling clothing, books, electronics, sports products, or accessories, website design templates can offer you at least the optimal level of e-commerce website standards.
The Advantages Of E-Commerce Website Design Templates
Ecommerce Website Design Templates integrate your name and design with your brand. In addition, you can easily highlight your web store where you reach people with the most compatible template. In this way, you can delight your visitors and turn them into loyal customers with ease. However, despite all these conveniences, there are factors that you should consider when choosing a website design template for your e-commerce site.
Make sure that the template you decide is as modern, clean, and smooth as possible.
The template you want to go with should be easily customizable through a built-in custom settings panel. So it will be helpful if you are allowed to change the template to your liking as ever and whenever you want.
The template design you will apply for your website should be compatible with web browsers and displayed within a responsive design.
It should have an SEO-friendly structure.
Consider other people's comments about the template when making your decision. If the majority of feedbacks coming from people is negative, it might be wise to look for the next one.
Ecommerce Website Design Templates You Can Apply to Your Website
Now let's talk about the website design templates for your e-commerce internet store. Shall we?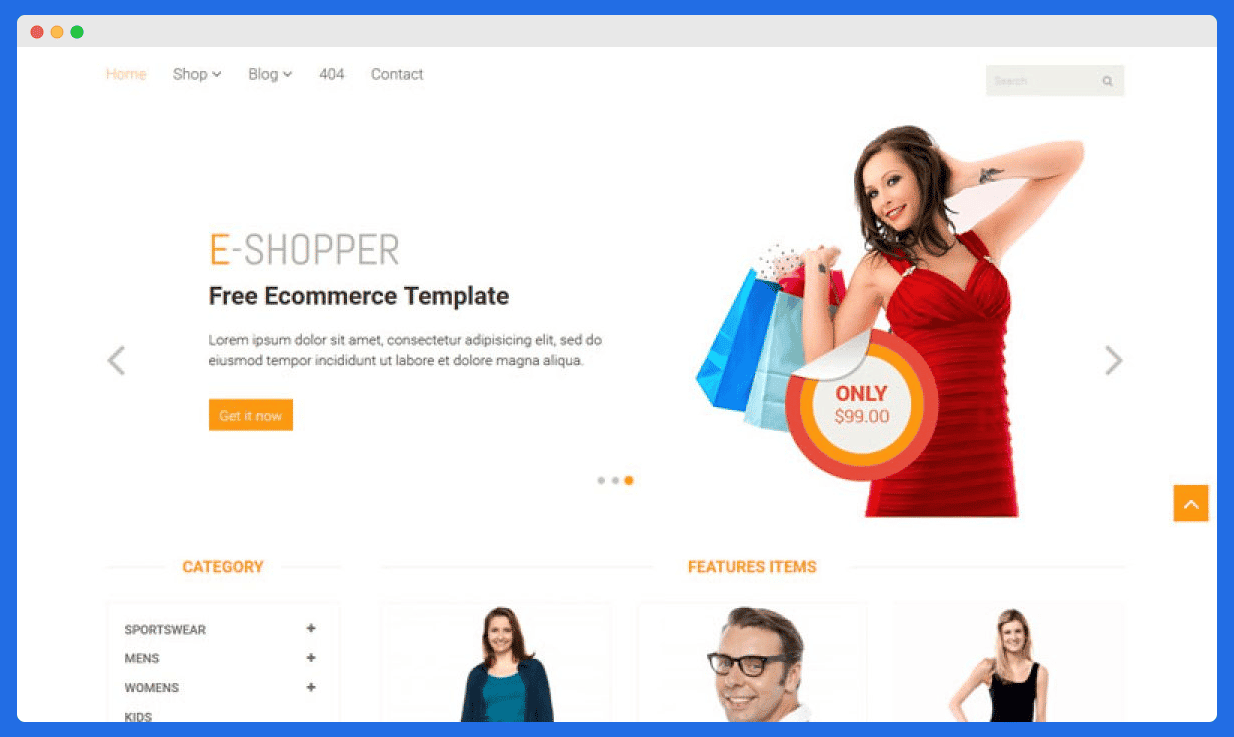 E-Shopper
E-Shopper's design is template responsive. In this way, it will be able to adjust itself to integrate into any screen resolution, no matter what device the visitor hold at their hands. Moreover, it comes with the option to add at least 11 pages to your website. Also, thanks to the e-shopper template design, you can offer a blog page, shopping cart, and a checkout section to your virtual store.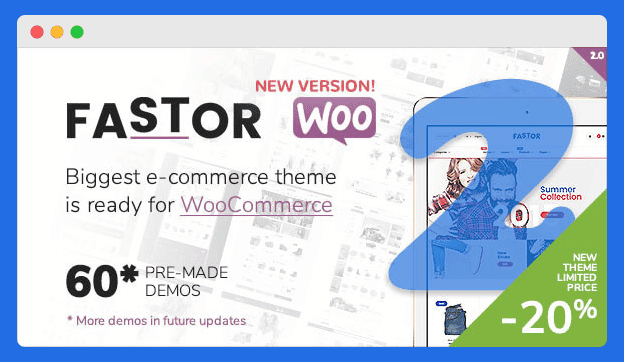 Fastor
Fastor is known to all types of clients and is a very popular web design template site. It makes a name for itself with the different layout options. The Foster team offers their clients an almost endless number of options when choosing themes, which their aesthetic appearance is reminiscent of the Renaissance Period. In addition, it lives up to its name with its unlimited color options, more than 600 Google fonts, and preset features such as product labels.
I should also add that Fastor is also very satisfied in terms of customer service. It has a clean track record that does not victimize any of its customers. You should visit Foster's main web page for more information on its features, extensions, and performance.
Regardless of what anyone says, Fastor is a template theme that earns its reputation.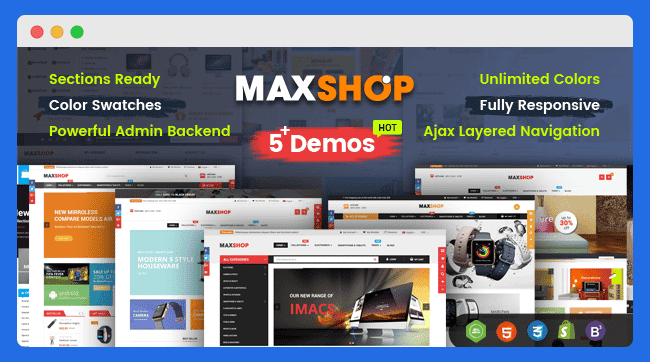 MaxShop
What distinguishes MaxShop from other template companies is that it leaves more open doors for its customers when it comes to customization. MaxShop offers various opportunities to its users who want to customize according to their own unique style. It also has a responsive design taking into account the resolutions of different devices, which is a plus point for your SEO ranking.
In the structure of the template, the main page is divided into four columns. Thus, the products can be displayed in a list view or separated by grid lines.
iOne
iOne offers its customers a sharp design with pastel colors. Pastel color and sharp design are at the forefront of this themes' striking features, putting it one step ahead of other companies in terms of aesthetic concerns. The theme involves a very pure aesthetic pleasure. Thanks to their aesthetic concerns, acquiring the dazzling theme is not a difficult matter. It is because you will be overflowing with inspiration even if you don't want to design a site according to your personal taste.
It also provides 12 different demo options for its users and always puts fast and on-site solutions. So, apart from just aesthetic appearance, what mechanical conveniences can the iOne provide? You may want to check the list below.
Product display feature that can be easily set as a list or grid view,
A functional toolbar,
A sticky menu that never disappears even if a user scrolls down the page,
Product zooming feature so that customers can easily examine your products,
And many more unique features are included in iOne.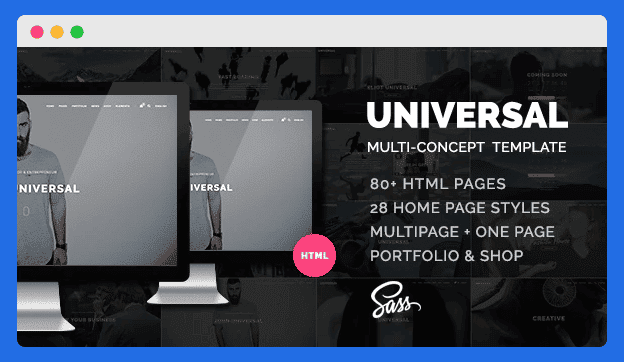 Universal
With Universal theme, you can apply 45 different options with different styles that you can activate on your e-commerce site. On top of that, Universal is a theme that pays attention SEO ranking of its users with SEO-optimized templates.
The feature that can distinguish Universal from others is its ability to integrate your location with Google Maps. By adding Google Maps to your location's contact page, you can provide your customers with a more effective and convenient shopping experience. It is a definite win for local SEO.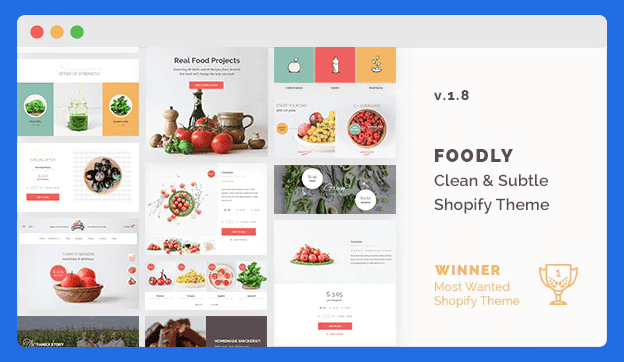 Foodly
As a theme that has adopted a rather new understanding, Foodly is frequently mentioned in the market. Especially appealing to customers who regard quality and aesthetics as inseparable, Foodly has a one-to-one theme for products that radiate beauty and health.
But it should be added that the main thing at the forefront with Foodly is design. It should be noted that design comes before functionality.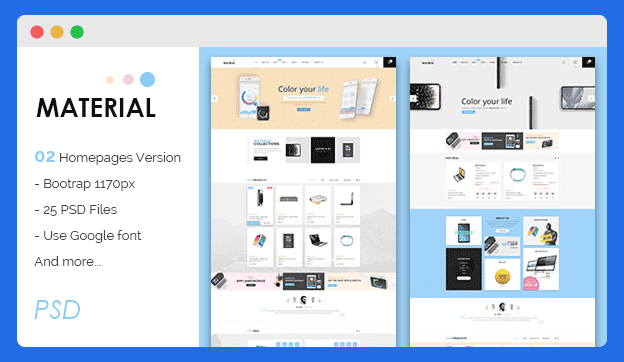 Material
You can't decide what kind of template to choose, and is it okay for you no matter what? Material might be the answer you're looking for.
Material is a theme that appeals to all kinds of online stores and can help its users reach their goals. In addition, having a responsive theme structure is a plus point for e-commerce websites. Remember, responsive theme results in higher SEO rankings, while higher SEO rankings breed more customers.
Material has an advanced menu system called mega menu. Thus, customers looking for the product they want can sort the products according to criteria such as size, color, or price.
What Material offers is not limited to this much. Material has a social sharing feature and allows to customize. This theme also allows you to add video with a dynamic slide area.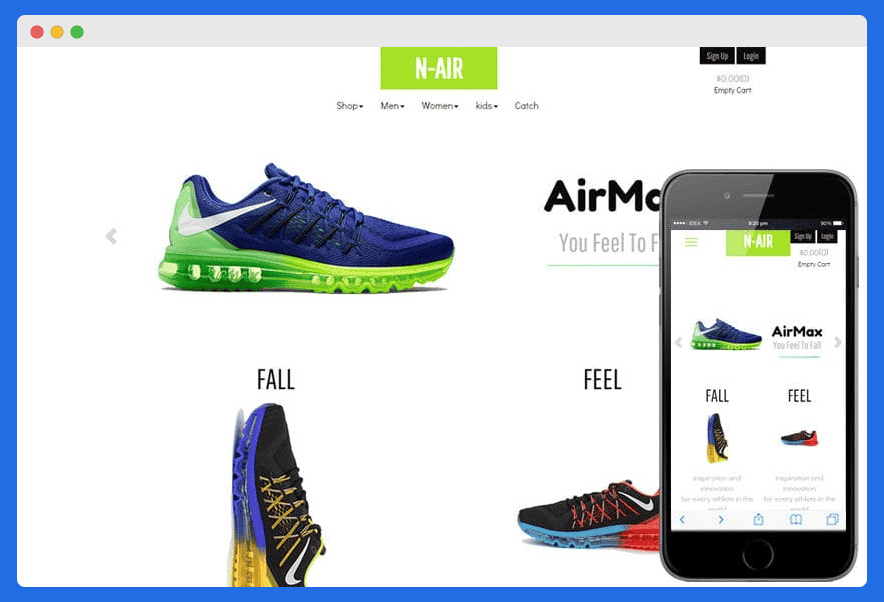 N-Air
If you have a website that aims to sell shoes, N-Air may be the last missing piece in your puzzle. Thanks to the N-Air theme, products can be displayed in a minimized size. In this way, it is aimed that visitors can examine and compare more than one product at the same time. With this theme, your website is enabled to preview products, as a cursor points a product without opening it.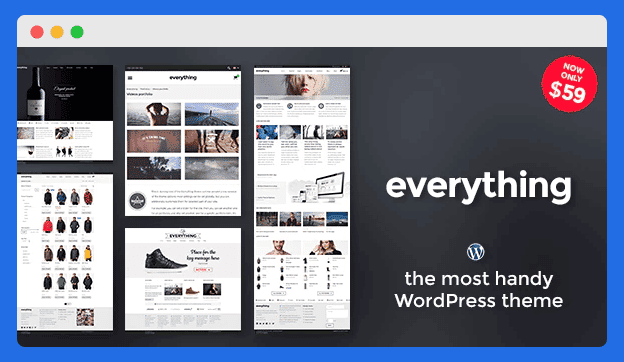 Everything
Everything is a theme that contains 22 different designs and can adapt to all kinds of e-commerce ideas. As the name suggests, it can appeal to a wide variety of e-commerce sites.
Everything has a responsive design. Moreover, it includes a mega-menu and customized product filter. In addition, it comes with various options for users who want to customize according to their own tastes.
Are you going to sell clothes for children? Or you want to sell sporting goods. Or a tech store with the latest phones and computers. It doesn't matter what you want to sell because Everything will most likely give you the theme you're looking for.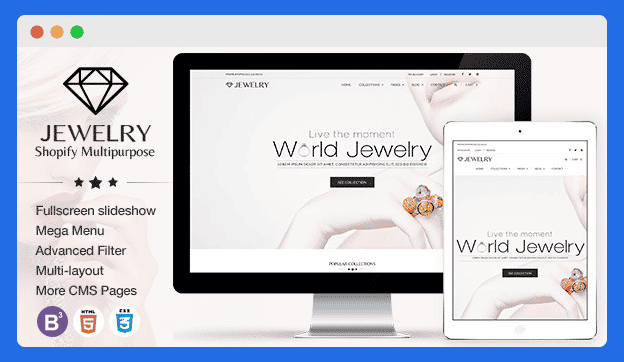 Jewelry
Another theme that gives itself away from its name is Jewelry. Jewelry is a responsive theme specially designed for e-commerce stores with jewelry products. It has a stylish and simple appearance, just like a necklace. It is equally rich in functionality. Jewelry has a mega menu, product landing page, and a blog section.
Also, let's not forget. One of the main elements that make Jewelry Jewelry is that it is optimized for SEO.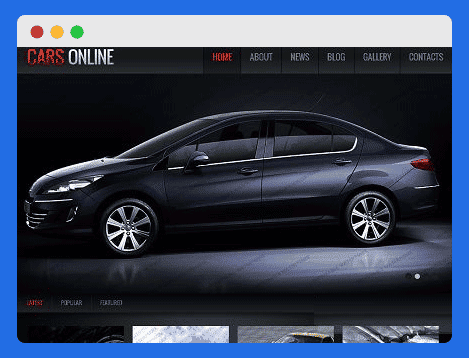 Cars Online
Cars Online is a theme that only appeals to websites that run businesses within the automotive industry. Thanks to Cars Online, you can easily design the best e-commerce site related to cars and motorcycles. With this model, you also get features for additional services such as car rental. It is compatible with all devices and justifies itself by providing the best experience according to the device logged in.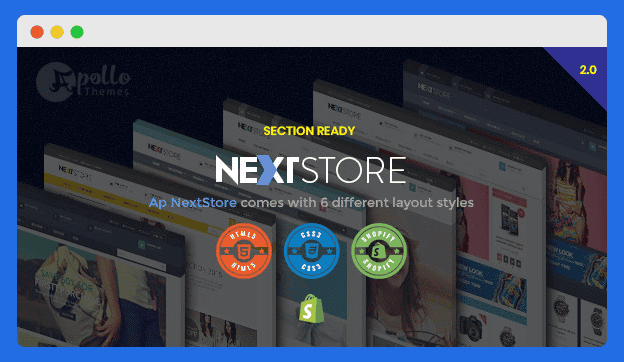 AP Next Store
The AP Next Store is a feature-rich theme. At the same time, it has a very practical and fast installation. The demo can be loaded in minutes or even seconds with just one click. That way, you can get your website ready before you struggle with the settings.
The AP Next Store theme has a fully responsive design. So, it has a layout where you can embed social media links on your pages.
In addition, the theme leaves a lot of room for customization compared to other themes.
The theme also includes Google Maps and social media integration features.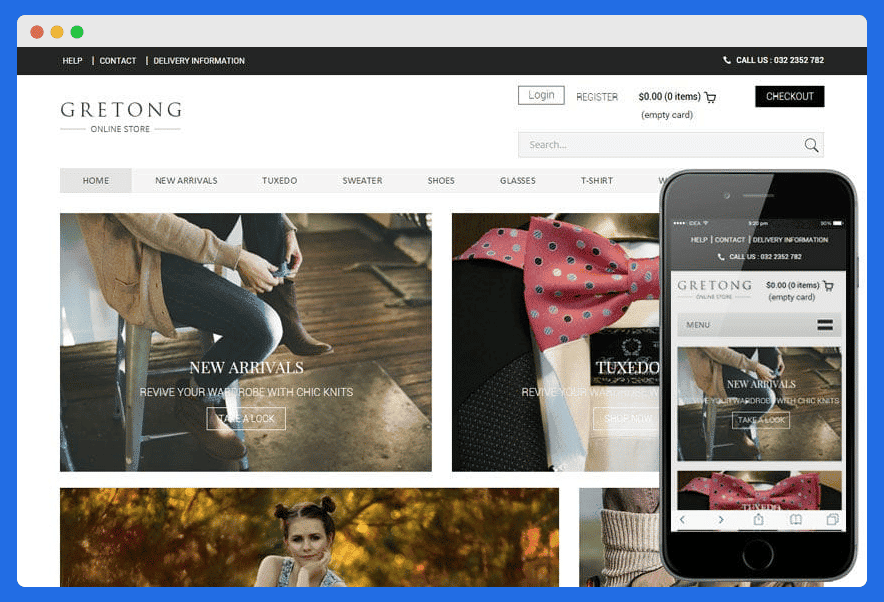 Gretong
Gretong is a theme that was introduced to its users in 2015. It has a feature that allows you to highlight starred products on the e-commerce site. It can run smoothly on most popular browsers and mobile devices without any problems.
Frequently Asked Questions About Ecommerce Website Design Templates
In this section of the article, we will be answering frequently asked questions about e-commerce website design templates.
What is e-commerce?
E-commerce is the process of selling or buying a product in a range from software keys to dairy milk on specialized websites in exchange for money through the internet. In short, it can be said that that e-commerce is the electronic version of commerce.
What is a website design template?
A Website Design Template is a simplified and predesigned visual layout demonstrating the skeleton of an intended website. 
What can I sell via an e-commerce website?
In fact, there is no such answer to this question. As it is known, the internet world is like an endless ocean where it is very difficult to predict who buys what.  It is because what can and cannot be on sale in the internet environment depends on genders, races, temperaments, etc. The main factor that determines what to sell is your marketing skills. If you are good enough, it is possible to sell almost anything online through appropriate techniques.
How much does a website design template for e-commerce website cost?
The answer to this question will vary depending on what your target design plan is. With a freelancer agreement, you are likely to be charged starting at $60 per hour. What can be called normal-quality templates can cost you up to $3,000? For a more professional, detailed, and quality design, you should be willing to spend up to $8,000.
Which e-commerce website design template should I use?
Determine in which area you will sell. After choosing what to sell and arranging the price policy, the template you choose should be suitable for the area you want to sell. You should also prefer a structure that is SEO-friendly, responsive, and easily customizable.
Ecommerce Website Design Templates in Short
In conclusion, e-commerce website design templates can allow users to jumpstart their website design before publishing it. Besides, these templates can provide an excellent source of inspiration while deciding on which website design to apply to your e-commerce store. Just because they're free doesn't make them unaesthetic, and just because they are paid doesn't mean that they are great. Free design templates can be displayed in a showcase as the quality you expect despite their freeness. 
Remember. Website design templates for e-commerce internet stores can provide short-order access with top-tier features for almost any need. You can use these templates from websites involving creative content to the business world.
Ecommerce website design templates offer a wide variety of features that are suitable for any modern e-commerce website.