Digital marketing is the shining star of this 21st century we are navigating in and about to terminate its first quarter already. That's why many people are looking for free digital marketing courses to develop themselves. Yet, we must take a look at the beginning to decide the kind of course we want. So, let's start from the beginning.
Enlightenment and Industrial Revolution were the main takeaways from the 18th and 19th centuries. The 20th, on its end, was a combination and integration of all the previous acquisitions. Unprecedented conflicts and turmoils ruled it, but they also resulted in significant gains at several levels (individual rights, socioeconomic improvements, technological progress, etc.). Let's not forget the advent of global communication that has impacted the entire world. What about our most recent past?
The Power of Digitalization
If we had to choose only one keyword to assign to the last two decades, it would certainly be digitalization. A perfect match for all marketing activities, which found an opportunity to consolidate their existence. Do you think we tend to exaggerate? Well, do you know any other era in which one could promote products and services from the comfort of their home? Or lead giant advertising campaigns through a few keyboard and screen maneuvers relayed by the web? That being said, our goal is not to oversimplify things. Digital marketing is a whole branch of marketing on its own with particular requirements and procedures. And that's why we are here today. We will find out how to learn those particularities, especially through free digital marketing courses.
Are you a beginner or rather an already experienced marketer looking for further self-development in the related field? Or do you already have an academic degree (bachelor, master, etc.) in marketing but still want to refine your 'arsenal'? We are aware that all those hypothetical scenarios are not equal. However, the current training offers are diversified enough to fit everyone's personal needs. Keep reading to see which one suits you best.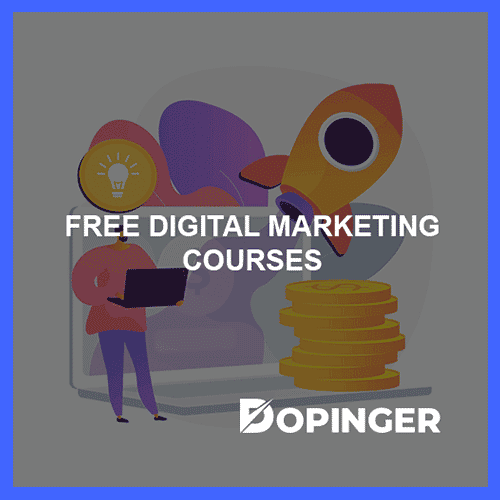 What Free Digital Marketing Courses Can Teach
This is an important aspect many candidates wonder about. Online marketing courses are not completely different from any other traditional marketing classes when it comes to certain baselines. Whether conducted online or face-to-face, a marketing course will always aim at providing you with the concepts relevant to the field. It will cover the topics, theories, practices, and techniques that marketers ought to know. Let's take a very simple theoretical example common to most marketing and psychology students: Maslow's hierarchy of needs. It doesn't matter whether the students in question are studying behind a screen or in an actual classroom. They will have to learn that theory sooner or later in order to better understand their clientele's motivations.
So, where's the difference? For one, digital marketing classes are mostly delivered within an online environment (aka the internet). For two, they focus much more on digital marketing strategies and methodology. So the primary rationale of such courses is to teach how commercial and promotional activities are carried out in digital contexts. The cherry on the top: some of them happen to be free.
We shouldn't forget, though, that digital marketing is a broad discipline with many subspecialties. That's why there are several online course topics that you can choose according to your affinities and career objectives. Here are those that we will inspect in this article:
Fundamentals of digital marketing
Social media
Fundamentals of Digital Marketing
Ideal for beginners and refreshers, these are free digital marketing courses that teach and/or revisit the basics. Some of the learning outcomes are as follows:
Define and demonstrate an understanding of marketing as a discipline and business activity
Define and demonstrate an understanding of the major marketing concepts
Explain the particularities of marketing strategies in digital contexts
Describe the different types of organizations and professions involved in digital marketing
Define and explain market segmentation
Analyze and explain common customer buying behaviors and psychosocial mechanisms underneath them
Demonstrate basic knowledge of laws and ethics that regulate digital/traditional marketing activities
As you see, it's about learning the ABCs of the sector. This is where you get the foundations and a kind of entrance pass to further specialization.

Our Selection: Digital Garage (Google)
Also known as Google Digital Unlocked, this course library sponsored by the famous giant company is a promising one. On the menu, you have a free beginner course named just like our subtitle: Fundamentals of Digital Marketing. This 40-hour training with unlimited access comprises 26 modules enriched with video tutorials. Accredited by the Interactive Advertising Bureau (IAB), the course delivers a widely recognized certificate to those who succeed at the final exam.
Content Marketing Courses
Online digital marketing courses focused on content are quite popular. The reasons are not difficult to understand. The most talented marketers are usually those who manage to reach out to their audience through the right content. Oftentimes, prospects become actual customers if and only if they are convinced of the originality, quality, and accuracy of the content. These courses are here to show how to add extra value and appeal to your promotional material. They cover aspects such as:
Finding and exploring diversified resources for new ideas
Writing and storytelling skills
Blogging strategies
Audiovisual media strategies (including podcasts, video material, etc.)
Crafting a long-term and consistent content framework
Studying the relationship between specific content, product, and customer profile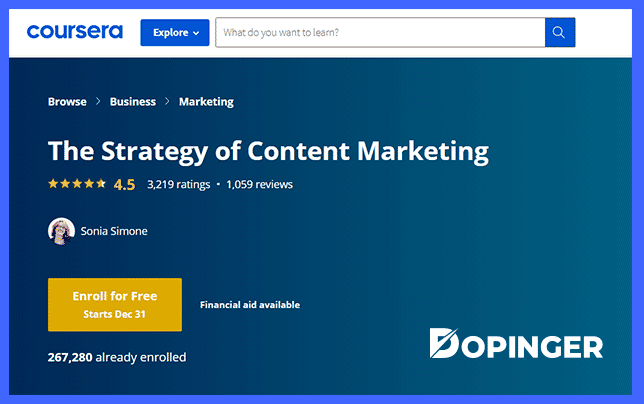 Our Selection: The Strategy of Content Marketing (Coursera)
This is an intermediate-level 100% online course offered by the chief content officer and instructor, Sonia Simone. It gives you an opportunity to get certified under the supervision of the University of California, Davis (UC Davis). It includes approximately 19 hours of training with videos (subtitles available in 10 languages), readings, and quizzes. The enrollment is for free, and Coursera offers financial aid for aspects subject to fees. This is an opportunity to get an online course on marketing with a special emphasis on strategic content and ecosystem mastery.
Web Design and Development Courses
It's not a surprise that there are many free digital marketing courses subspecialized in web design and development. Who can deny the role of these when it comes to digital initiatives? Most of the time, websites are not only the backbone of online advertising but also the main showcase of a company. So obviously, one of the purposes of these courses is to teach website creation. You will get familiarized with the required techniques, multimedia applications, software components, computer graphics, among others. You will also learn specific coding languages for programming (e.g., JavaScript), markup (e.g., HTML), and style (e.g., CSS). Let's note, though, that such courses go beyond website and app creation. They also cover (but are not limited to) aspects regarding network security and server setup.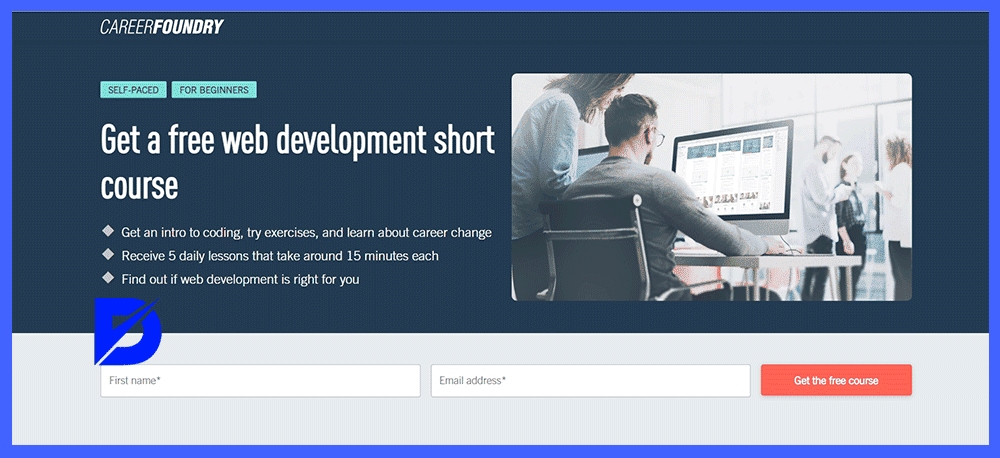 Our Selection: Free Web Development Short Course (CareerFoundry)
We picked a quick option for beginners who are contemplating a career in web design and development. This free course created by field experts prioritizes direct experience. You have the possibility to test your acquisitions right away by writing your own codes and much more. The course offers 5 daily lessons with a 15-minute duration, but you can always adjust the flow at your own pace. You get both video-recorded and written lessons, each complemented with interactive quizzes. A speedy way to immerse yourself in a simplified version of the world of HTML elements and CSS manipulation.
Social Media Marketing Courses
It's almost utopic to try and imagine free marketing courses that would omit social media in their catalogs. Social media marketing has become a must-have for any entrepreneur and company promoting online. It's also a more accessible environment for layman users willing to transmit information about their activities and ideas. So what do the courses in this category propose? Some of them are directly targetting the skills one would need on specific platforms. For example, Facebook Blueprint offers training programs that teach how to use the marketing tools in Zuckerberg's social networking site. There are also other free marketing certifications with a wider perspective on social media in general. They provide more versatile knowledge and techniques usable regardless of the platform. Here are a few worth citing:
Ways to increase traffic and number of followers
Blogging strategies
Story-design strategies
Creating brand identity and awareness
Building a coherent identity/signature across channels
Community/audience management tips
Measurement tools for social media campaigns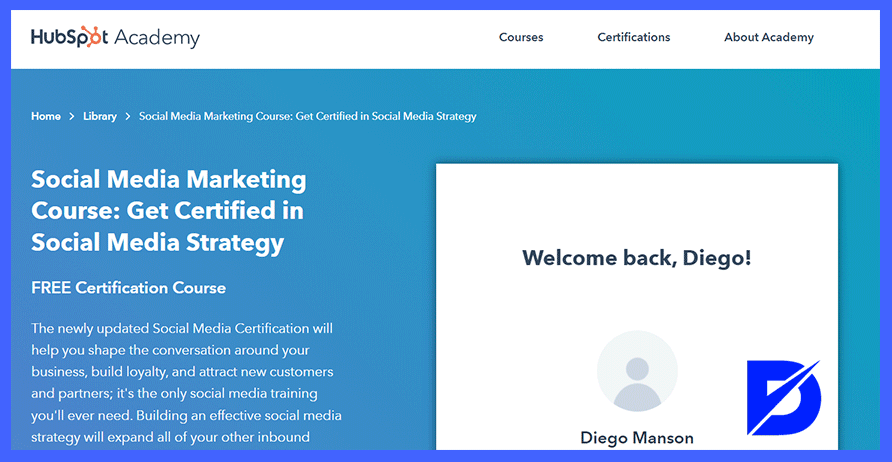 Our Selection: Social Media Marketing Course (HubSpot Academy)
'The only social media training you'll ever need,' according to the official website. It may sound a little pretentious, but we admit that the course content is more than satisfactory. Regardless of whether you are an aspiring or experienced marketer, you get enrolled in a 4-hour program with many outcomes. The 8 lessons, 39 videos, and 29 quizzes are here to give you transformational keys for your marketing business.
SEO Marketing Courses
Search Engine Marketing practices are widespread among digital marketers. Business training experts are well aware of that fact, hence the considerable amount of free online marketing courses dedicated to SEO. It makes all the more sense since the practices in question are primarily conducted online. And it's almost nonsensical to talk about SEO outside the digital marketing context. Here are some of the acquisitions you can expect to get from these courses:
Website optimization for Google and other search engines
Tactics for keyword research and crafting
Keyword usage tailored to specific demographics
SEO campaign planning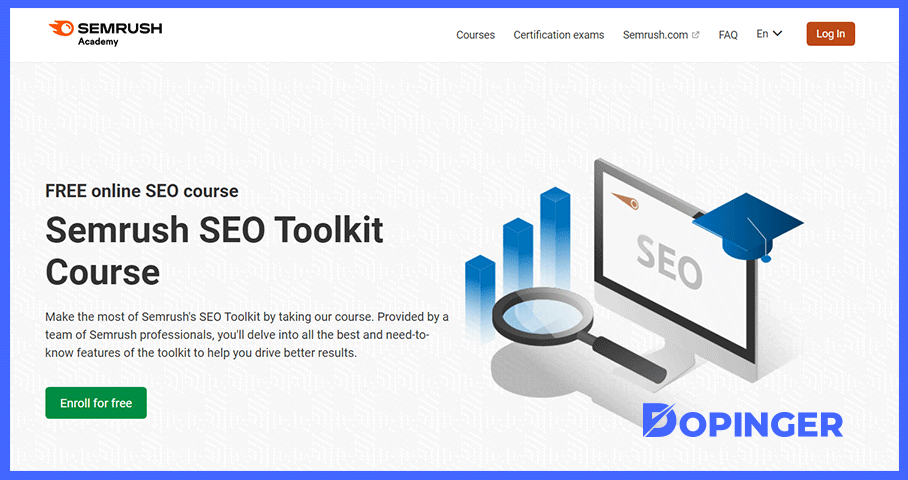 Our Selection: SEO Toolkit Course (Semrush Academy)
Semrush is undoubtedly one of the well-established marketing tool providers that come to mind immediately. As for its educational side, here again, it doesn't disappoint. The SEO Toolkit Course is a 3-hour program best suited for intermediate-level marketers. Indeed, it appears to be more meaningful for those of you already engaged in the field. The 3 modules subdivided into 14 video lessons will allow you to take action for your next campaign with no delay. You got it. The course is essentially addressing the steps that most SEO campaigns comprise.
FAQs about Free Digital Marketing Courses
Do I really need to get certified?
It is not an obligation. However, it's always a good idea in order to legitimize your reliability as a marketer. Marketing courses are also one of the simple ways to acquire and/or consolidate field-related knowledge and skills. 
I'm not sure if free courses are trustworthy in terms of quality. 
There's a frequent misconception about services that are delivered for free. Most people tend to think that one has absolutely to pay something in order to claim quality. In fact, things are not always that black or white. Rest assured that the companies proposing free courses have many other ways to finance them. And other times, their only intention is to give an extra push to the sector without necessarily sacrificing quality. 
How do you explain that some courses last only 4 hours whereas others go up to 40 hours and more?
Not all courses are created equal. The most obvious reason is that some topics are denser than others. Some syllabuses will deliberately go into more detail, depending on the course objectives. It's also about the instructors. They all have their own pace, style, and preferred material. For example, some make more abundant use of videos, which naturally requires more time. 
Do those courses have international validity? I don't want to deal with equivalence issues in case I'm moving to another country. 
Online marketing certifications are usually exempt from such problems. Unlike some traditional academic degrees, they don't require complicated equivalence procedures. So they are more open to mobility.  
Are there any free digital marketing courses specifically for Instagram?
Yes, there are. One example would be the Instagram Training Course offered by HubSpot Academy.
Enroll in Free Digital Marketing Courses Now
Don't wait any longer to seize the opportunity. Money is out of the picture here, so you don't have to worry about any possible financial loss. If you are reluctant about wasting time, why not give a chance to one of the quicker formulas? All it would take is a matter of hours. Make a list of the free digital marketing courses that seem the most relevant to your career planning. We only gave a few examples in the article, so feel free to look for some more. There are plenty of choices on the web. See which ones fit your marketing objectives while also being likely to satisfy your curiosity. Don't forget to verify their accreditation status and read student reviews. You are only one step away from making one of the best investments for your business and yourself.