Have you not been bored using the same-old message system? Or, are you looking for sites to send a free text message online? Here, they are for you. It is possible to use websites to send a free text message online. There are lots of services that are free and useful that enable send free SMS. In this paper, we are going to tell them one by one.
List of Best Sites to Send a Free Text Message Online
Websites are distinguished from each other according to their features.
TextEm
TextEm makes free text messages possible online, but you have to create an account first. It is also possible to make a list of frequently used contacts. You can see your replies in TextEm, too. However, TextEm does not support bulk messaging. But do not worry, keep reading!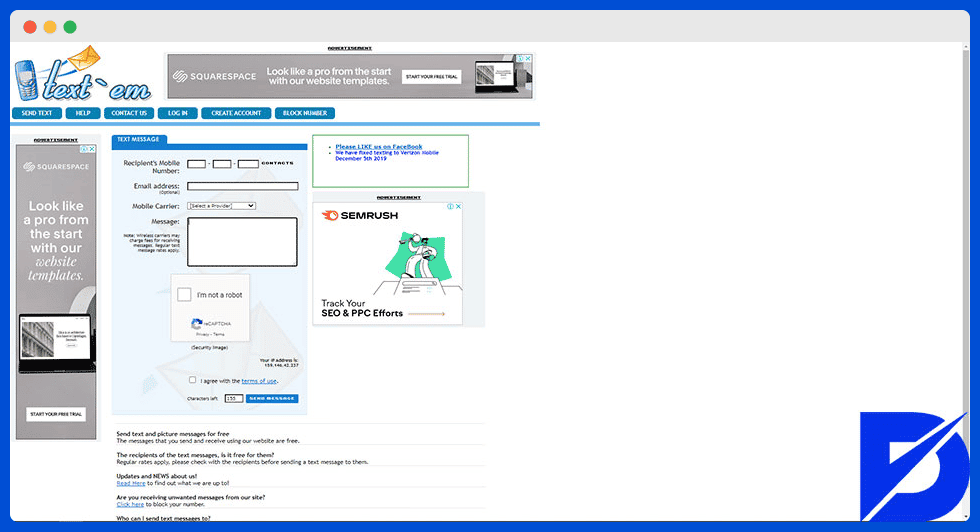 160by2
160by2.com is another website that allows you to free texting online. It is mostly used among the young population and also has some extra benefits too. For example, you can earn awards through ads by inviting your friends to the website. Also, 160by2 allows you to send multiple messages at once. The service is completely free, and you should register to use it.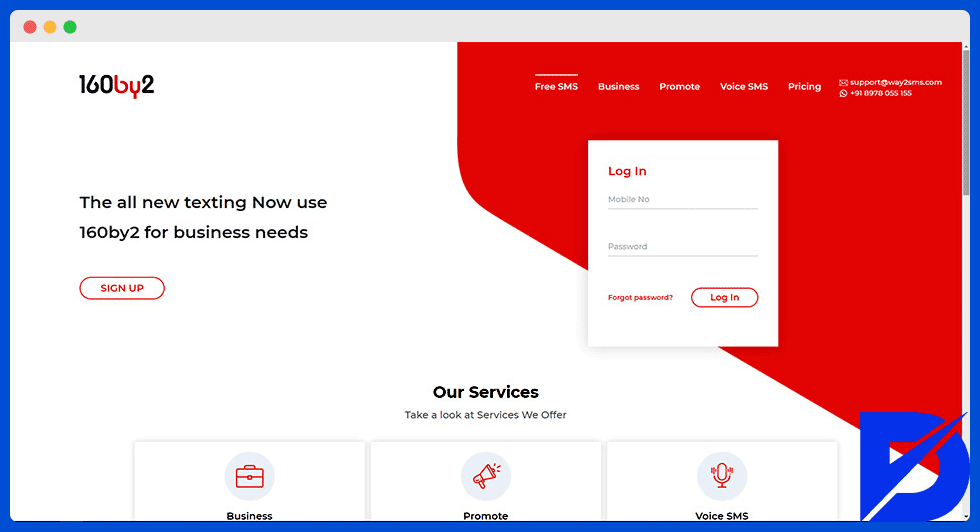 SendSMSNow
SendSMSNow is another service that allows you to send a text message online. It is easy to use and does not require so much process. However, you have to register to send messages, too. Once you register, you can upload your photos and create a phonebook. It is supposed that the service works worldwide through phone numbers. However, there is one thing that is not being free is that group messaging. You have to pay a little cost of $0.20 to send a group message to 20 people.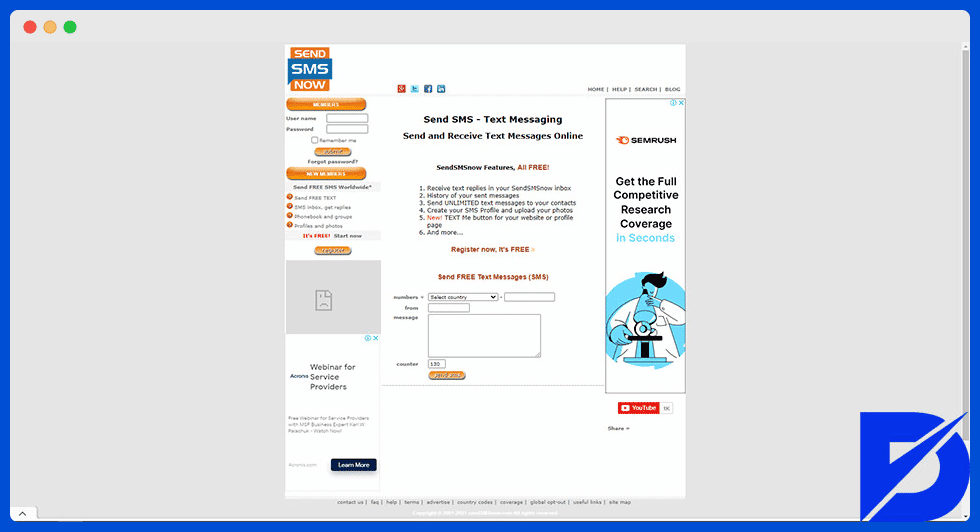 Way2sms
Way2sms is also another option, one of the best. Like many others, you should register to use the service. However, unlike the other sites, way2sms allows you to future SMS.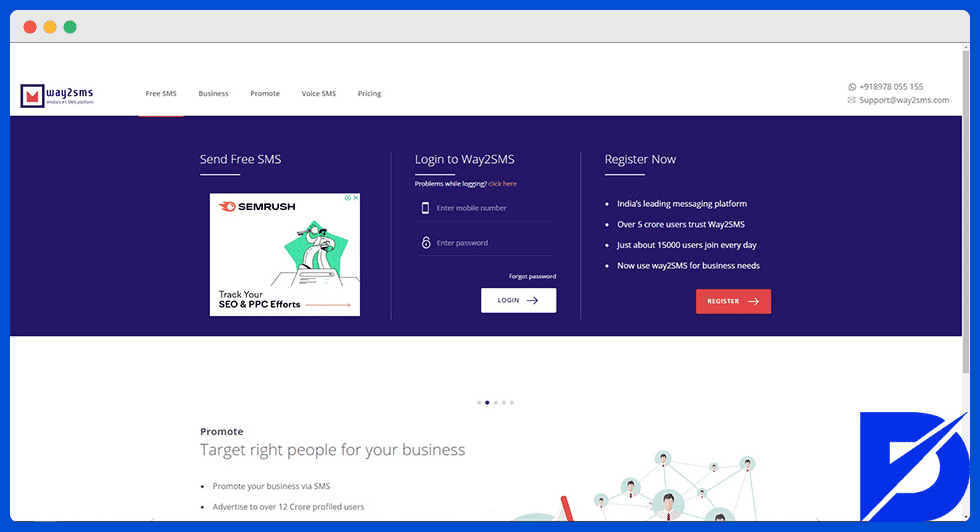 SMSfi
SMSfi is a denser website by comparison to others. You might find lots of content, photos, and blog writings. All you have to do is click on the website, go down, and click on free messages. You should register on the website to use the free message online service. Also, you can find SMS jokes, too!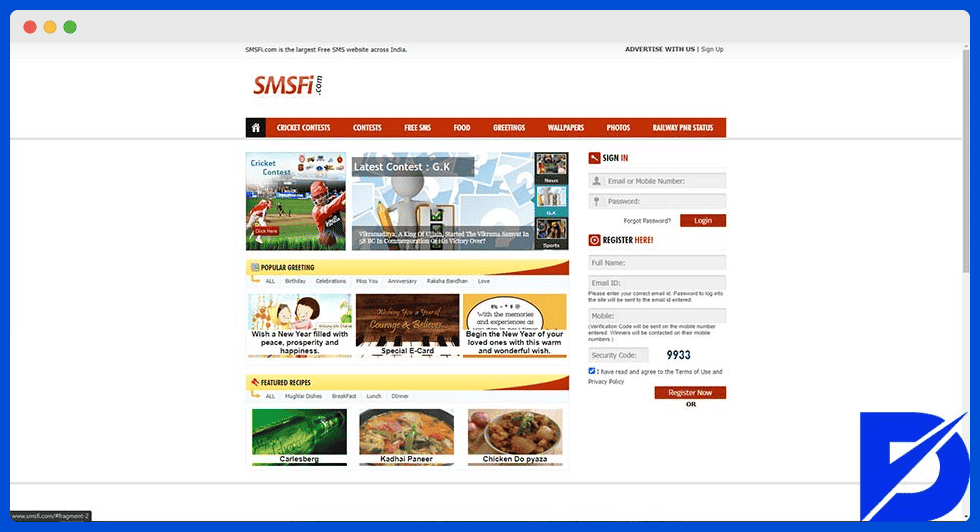 Other Websites to Send a Free Text Message Online
As we can find everything on the internet, free SMS providers are also quite abundant. We would like to introduce a few more websites for you in terms of diversity.
OpenTextingOnline
OpenTextingOnline is the easiest website that provides send free text messages online with no registration. You can send both a text or an MMS through the website. Also, If you need to receive a reply, all you should do is entering your e-mail address. You can send many messages on the same day.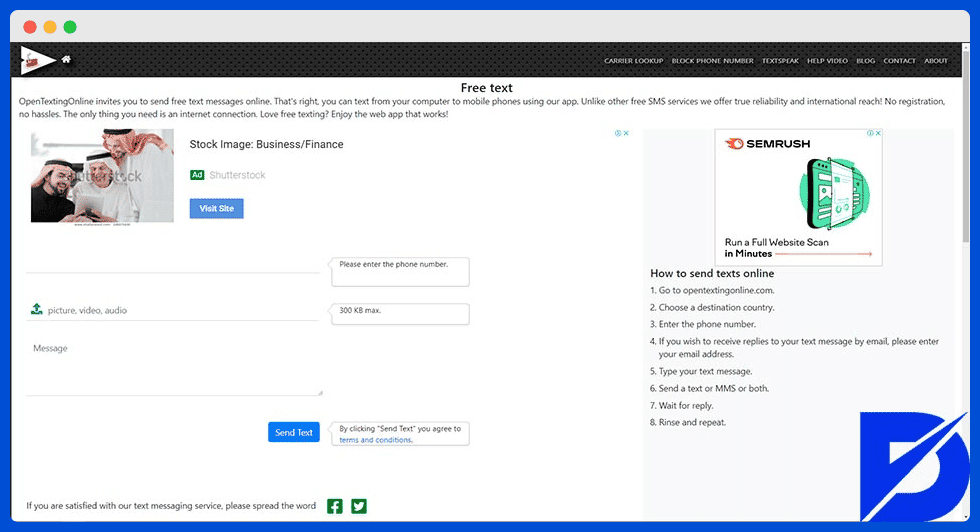 OldAtroChatro
OldAtrochatro is one of the most interesting websites that allows you to send free SMS. Like many others, you are able to free texting online and even without registering. However, this is not what makes the website is interesting. You might find lots of entertaining content on the website. There are e-cards that are suitable for most occasions, birthdays, anniversaries. Also, you can find online games too. Also, you can even read your daily horoscope.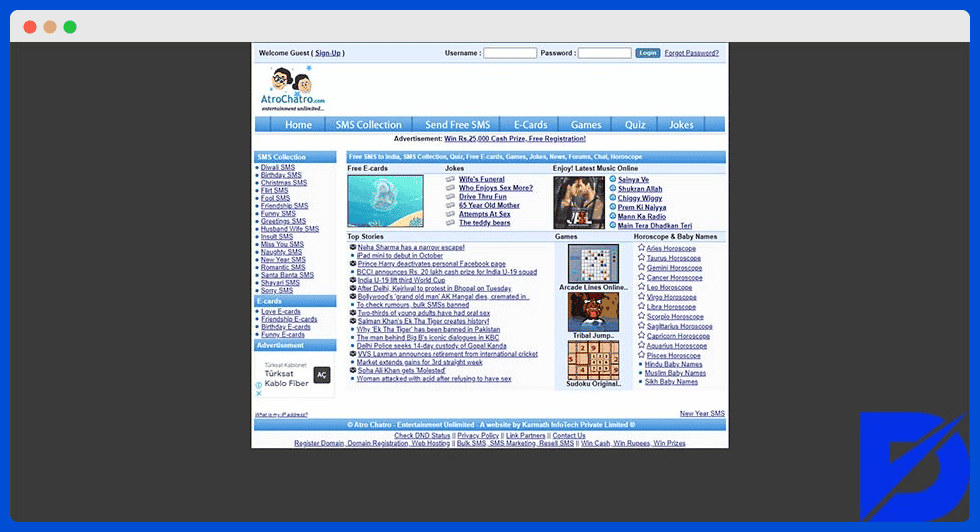 TxtDrop
Undoubtedly when it comes to free SMS online, TxtDrop must have been mentioned. Known as a well-established service TxtDrop has been operational for eight years. Also, according to statistics reached from TxtDrop's own data, the website has delivered over 25 million messages successfully. One of the nice things about the website is you do not have to create an account to deliver your messages. However, If you need a reply, you should add your e-mail address. Moreover, what makes TxtDrop is unique in comparison with others is the widget add-on. You will be able to send text messages through your Mac in case if you download the application. So, you do not have to deal with the internet website anymore. However, there is only one disadvantage of the website is it is only available in the US and Canada.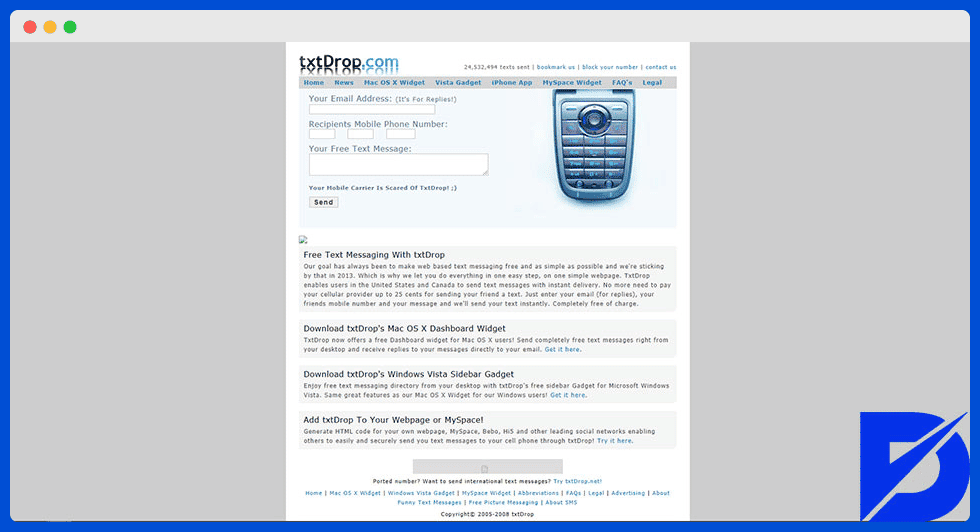 Advantages of Text Message Online
We have compiled many websites on the internet where you can send text messages for free. Now, ​let's take a look at the advantages of this service.
Typing on the computer is faster than pecking on the phone.
As we all know, it is much easier and more comfortable to write messages from a computer instead of a smartphone.
You make fewer typos, and you text faster.
No autocorrect, for sure.
Well, no one wants to write "Happy Birthday, dead Samantha!" instead of dear, right? The internet has many autocorrect failures, and we all laughed at them.
It might create an intimate relationship, but it is not always like that, for example, if you are running a business.
Organizing on a desktop is more useful
It is undeniable that mobile phones are easy to use, but they have no chance when compared to computers.
It is more preferable to managing and organizing on a desktop. You might handle your work without getting nervous.
Save your battery, use your phone for fun
If you need to bulk text or text for a business account, your phone's battery will likely be overwhelmed.
By sending free messages online over the internet, you can save your phone's battery and spend your existing battery on activities such as listening to music or playing games.
Frequently Asked Questions About Sending Free Text Messages
Can I send free text messages online?
Yes, there are lots of options.
How can I send free SMS?
You can use the suggested websites above.
Can you send text messages through WiFi?
Yes, you will need a WiFi connection.
Is there a free texting app?
All the websites we mentioned offer free messaging options.
How can I send an online message to a cell phone?
The websites we mentioned allow you to send messages to mobile phones.
Conclusion: The Best Sites to Send a Free Text Message Online
In the content, we mentioned many websites where you can send free SMS to mobile phones over the internet. Although some of these websites require members to send messages, there are some that do not require membership. In addition, by talking about the benefits and ease of messaging over the internet, we have eliminated the question marks in your mind. Here is another compilation of websites for free advertising.
We think that you may also be interested in
Mind Map Templates
which is our previous post about
Personal Development
.