If you have a growing business, you are probably trying to promote it via various internet platforms. Generally, the most common way of promoting your website is posting blog posts, publishing videos, or basically, making your company more visible on the internet. You must have heard different strategies while spending time on the internet to grow your business. For instance, if you are creating blog articles, you should pay attention to uniqueness and SEO. When you spend the right effort on the right parts, your website becomes more visible in search queries. Besides, while your viewer number is increasing, your reviews increase as well. It is important to build trust with your followers and Google Local Guides are one of the possible ways.
You can use Google Local Guides to promote your website more passively. Via Google Guides, people who visited or utilized your company with your services can add their reviews. Hence, your company can be one of 120 million local guides.
What Are Google Local Guides and How to Become One?
Google Local Guides are user reviews placed on Google Maps. The aim is to include more information about businesses on the internet. Users who were engaged with a company in any way can share their reviews and comments about the company. Therefore, while other users can have an idea about businesses, businesses can enhance their quality by paying attention to user feedback. It is a great way to rank your business on Google Maps.
Being a Google Local guide is easy. All you need to do is signing up with your Google account to Google Guides and adding your location. All local guides receive points for their actions, and you can reach the 10th level at most. For each level and each point that your company gains, you can have more opportunities on Google.
Being a Google Local Guide also helps you to make self-criticism and enhance your services. People may have negative experiences with your company. If they do not contact you at all, you cannot understand their problems. Therefore, you cannot develop yourself. However, all reviews for your company are a reason to work harder.
Google Local Guides Points and Levels
Google allows guides to earn a maximum of 100.000 points and reach to 10th level at most. Each level and point can bring you new opportunities. However, the most beneficial part of these variables is that your website and business become more visible.
When your guide becomes a four-level account, you can start adding lists. You only need to add at least four places and a powerful title. Then, you can publish your lists to your followers. They can include your favorite places or the best companies that give a specific service. Content is up to you!
Google can give you early access to new Google products and/or discounts for Google services.
You can get additional storage space when you get more points.
Google can make nice gestures like sending gifts.
You can get free trials for music or Google's services.
These are only some of the advantages that Google can give you, depending on your level and points. These can also vary depending on your company or time.
Benefits of Google Local Guides
Being a guide has promising advantages for a business that wants to develop itself. While you can utilize Google's opportunities for guides, you can improve your business in many ways.
1. Visibility
Google contains all kinds of businesses from all kinds of sectors. Consequently, being the most visible company in your sector has a huge significance. When your company has more viewers, they leave more feedback to your guide. These comments will be worthy for your potential customers. It is because they will learn how your company works and what the opportunities are if they choose you. Of course, you will have ads and necessary information on your website, but hearing from your previous customers will be more important. After all, it is essential for local SEO.
Moreover, including as much as images is vital for your visibility. Customers prefer formal workplaces and trustworthy attitudes from workers. With images, people who are interested in your services can have an idea about your work and your company without even coming. It also shows your confidence in your company and your services.
3. Updates
In today's world, there can be any changes at any moment. Therefore, for customers, it is important to be informed about updates regularly. Normally, you have your customers' contact information, and you can share the updates. However, there are so many other people who may think about using your services for the first time.
According to statistics, approximately %70 of visitors do not search for more information if they can reach images, reviews, contact info, and opening-closing hours. It is because users want to discuss your products and services in person usually. Hence, all they need to know is basic information that can give trust and accurate details.
4. Negative Reviews
Due to its name, negative reviews seem hurtful for your company. However, you can turn them into benefits if you act carefully and pay attention.
Each working process may include some obstacles. For instance, your customers can need service urgently. However, you cannot meet the deadline if your service requires more time to be done. This situation may lower customer satisfaction unless you can manage it well. In these cases, it is important to give immediate and sympathetic answers. Hence, you not only can increase customer satisfaction but also people who read reviews see that you pay attention to your customers' needs.
Objective negative reviews show themselves clearly. People who encountered technical issues or problems that arose by your company can include the struggles in their reviews. Since anything can happen in working processes, your customers can adjust their expectations and take precautions. For example, when a customer reads a review about deadline issues, they can adjust themselves and apply for your services in advance.
As a note, some previous customers may leave harsh feedbacks that violates Google's terms and conditions. Do not worry about them hurting your company's reputation. Google will detect them soon, or you can report them. Then, they will be removed permanently.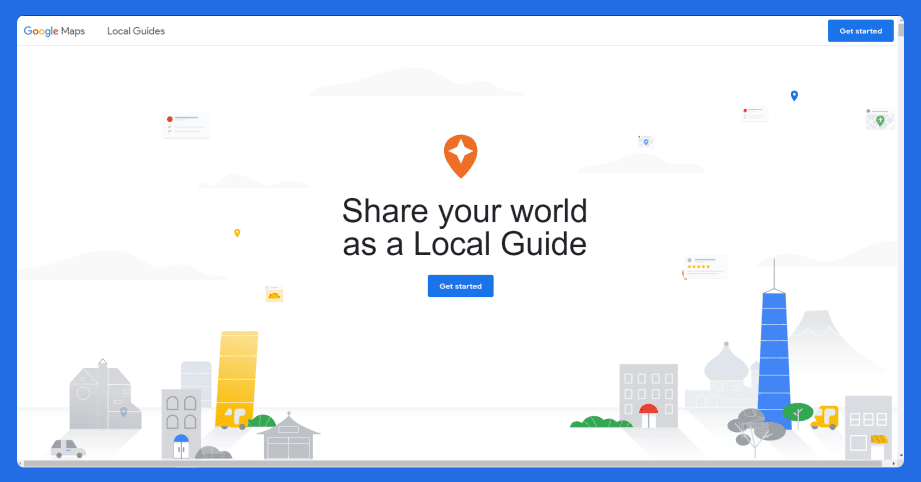 How to Enhance Your Google Local Guide
You may want to enhance your guide to increase your sales and appeal to more customers to use your services. Besides, having a complete profile and a lot of reviews and gradings will make you seem more formal. You can try a couple of basic methods to enhance your Google Local Guide.
Images: Images are significant for your customers to understand the work environment. They would be more enthusiastic about coming if they believe that your company is professional and formal.
Complete Profile: Google Local Guides require some information to be completed. When you have a complete profile, your clients can reach your contact info, opening hours, and any necessary information about your company. Since customers like to discuss deals and services in person, your completed profile will be more than enough to encourage them to come.
Updates: If you share updates regularly, your customers will not struggle with basic procedures. For instance, in a pandemic, you may update your opening hours, or you may be temporarily closed. When you do not share these updates, customers can come at an inappropriate hour. These kinds of problems discourage customers from utilizing your services. Therefore, keep your page updated all the time to prevent them.
Responding to Reviews: As a company, your attitude against reviews is crucial, even if they are negative. Especially when they are negative. It is because your responses reflect your professionalism. Try to be constructive in all negative reviews. It shows your effort to catch customer satisfaction.
Not only negative reviews but also positive reviews are worth paying attention to and respond. Try to thank and respond to all positive reviews to encourage your customers to prefer your company again. Besides, since you increase customer satisfaction, they will suggest your services to their friends too. If you have too many negative reviews, you can buy reviews for Google that are positive and balance your comments.
FAQs on Google Local Guides
Can I earn money from Google Local Guides?
Google Local Guides contributors are not paid as well as local guides are not paid. However, they can obtain some other opportunities given by Google, such as discounts and free trials.
What happens when I become a 6-level local guide?
In 6th level, Google allows you to try new features and see how it works before going public. This previewing feature is only available for 6th and more level guides.
What is the importance of becoming a Google Local Guide?
Google Local Guides are full of contributions that are done by global communities of explorers. They include reviews, images, contact info, and answers to different questions. Since there are various sources, people who want to visit these places rely on them and decide.
How can I rely on Google Local guides?
Guides on Google are composed of different users' reviews. Of course, sometimes there can be fake reviews, and it is hard for Google to detect them. However, when there are so many reviews, you can rely on them because fake reviews will not change the general attitude.
What can I get by posting reviews on Google Maps?
Google does not pay for reviews, but you can earn points and so many other things. Points for your Google account can help you to utilize new features before they go public. Besides, you can get discounts, free trials, little gifts, or many other opportunities from Google.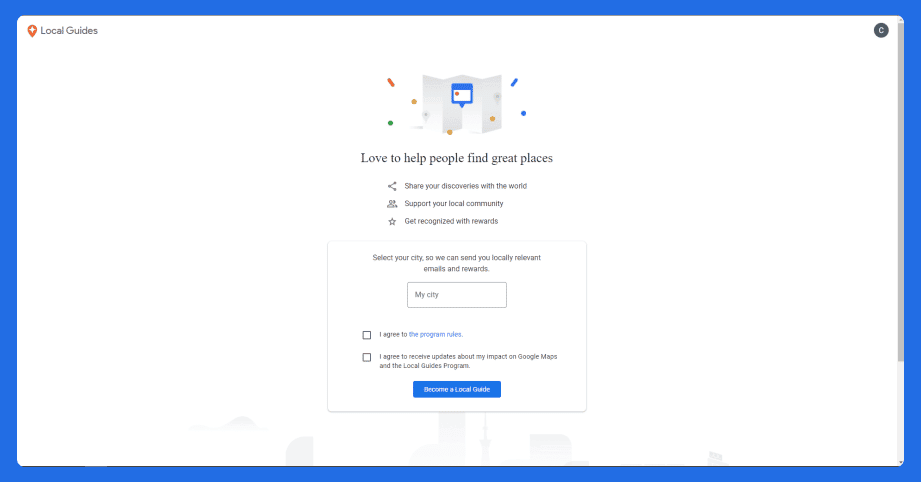 Being a Google Local Guide
Being a Google Local Guide is a perfect way for businesses to show their existence and develop themselves. Besides, it is a win-win situation for both businesses and customers. While customers can learn important details, businesses can show themselves and only meet with serious clients in person. Besides, customers can direct their questions via Google or contact info of the company. It means that they can find their answers without taking one single step. Saving from effort and time is a win for both sides.
Moreover, Google Local Guides became global in recent years. Therefore, you can utilize it anywhere and anytime. There will be reviews of local people or just explorers. It means that the platform may seem like one of the most objective places. Since that is the case, businesses work harder than ever. Customer satisfaction is more visible, and people may not want to come to your place when they see negative reviews. Hence, the businesses that have the best ratings get more customers.