Mobile devices make everything convenient to access for many things. It is handy to keep you connected and allows you to get things done or scroll down on social media. It is a typical routine that most of us spend time on mobile devices and specifically on mobile phones. Mobile devices are indispensable, and we can rely upon them to look forward to using them for any task. Therefore, mobile advertising is one of the powerful methods to raise awareness about your company.
In this article, you can find what mobile advertising is, why it is one of the best, whats essentials, types, and how to do mobile advertising. Let's start with what mobile advertising is.
What Is Mobile Advertising?
Mobile advertising is an online advertisement created for mobile devices. That is very common in any type of ad that appears on mobile devices. Mobile advertisements collect information and preferences so that any company can create specific ads for their customers. As a broader term, mobile advertising consists of mobile ads. It takes various strategies on ads created only for mobile devices. Mobile ads can be in any format, including pop-up, text-based, or image-based embedded through SMS. It can also be for specific ads or a mobile version of a banner advertisement on the websites. Primarily, mobile ads appear on websites, apps, and YouTube on mobile-optimized.
Mobile advertising allows businesses to find their potential customers and inform them about the company. A significant indicator of mobile advertising is ensuring the company in more tailored ads.
Mobile advertising is quite different from other types of advertising. It is different because mobile ads require optimization. Mobile ads need to adopt the nature of mobile and its users. For example, mobile screens are small, have limited display for advertisements.
Why Do You Need to Consider Mobile Advertising?
There are many reasons to start mobile advertising for your business. Some of them are listed below, and you can check:
First of all, business needs to follow up on the trends. People use their mobile devices more than ever for many things then these create new habits. Even people are purchasing online now, and it refers to how much they rely on mobile devices. It shows that if a company can create a successful mobile ad, it can grab attention and connect with people. As a consequence of this, mobile advertising should keep up with the changes. That must consist of knowledge of systems develop strategies to achieve.
Mobile devices are prevalent, so it is an opportunity for a company to find its potential customers. Potential customers are looking for their mobile devices when they search for learning about your business or buy something from your website. People spend a great deal of their time on their mobile devices, which is easy to find new customers.
Mobile advertising is also about your brand image that represents online. Your ads on mobile devices tell more about your business. Make sure your mobile ads are defined your brand impression as you want it.
How Mobile Advertising Works?
Advertising is all about reaching potential customers, and mobile advertising makes it possible to stand out easily in any other advertising method. Mobile advertising is quite different from traditional advertising, so it means adopting new strategies for mobile devices in the general term.
Mobile ads aim to get attention and to get noticed at a time. To provide this goal, it cares about the user experience. Therefore, it must not surprise to see ads created according to customer attention span or eye-catching images and slogans. You are familiar with mobile advertising is any ads you come along with on your mobile have this objection. So, that is why they are pop up anywhere and drives attention.
Mobile advertisements try to create ads that will work for their users. That notion helps the mobile ads form with a natural difference between advertising on desktop and on mobile. Such as, mobile ads need optimization to display as same as in website on the computer. Furthermore, mobile advertising seems to accept that users have different preferences from users on the desktop or other types of advertising. To provide this, browsing history, location, and other data track to tailor mobile advertisements is a way to create an ad.
Mobile advertising uses the convenience of mobile devices and online shopping. If any online business wants to reach its target audience, it should use the convenience of online shopping. Afterward, that will help businesses to grow and known from customers.
Successful mobile ads would refer to the target audiences and reflects their preferences. In the same way, mobile ads say much about the business. It shows how companies prefer to show themselves. Then it can influence the customers' decision-making.
Summary of Advertising Process
The mobile advertisement works as finding a place for the ads, deciding on the campaign and preferences of the target customers. Then it is an advertising bid to find the placement for your mobile ad. In addition to that, you should choose what type of performance-based KPI like CPC and CPC are you will use.
Why Mobile Ads Are The Best?
Mobile advertising provides and makes ads remarkable, some that mentioned as following:
Accessibility
People spend a great deal of time on social media or apps, that mobile ads are an accessible advertising strategy to try on. That makes mobile ads more obtainable to achieve, and Businesses can reach out and create their customers. Through the mobile campaign, companies are accessible for customers. They will interact and give feedback about the company or your ad.
Creativity
Advertising flows the trends and is open about new fields, even its novel way of advertising. It evolves with the changes, makes it unique, and allows creativity in an advertisement.
Customization
Mobile advertisements are a lot easier to customization for potential customers. To create customized mobile ads, companies value target customers. Mobile devices also arrange to gather that kind of information and succeed. It is useful for companies to launch a campaign for a specific place. Therefore, they can restrict some locations or tailor users' preferences in an ad. At the same time customization, is essential in advertisement and also for mobile ads.
Effectiveness
Mobile advertisement delivers your ad instantly and reaches customers without having a doubt.
No need to use spend time and money on advertising. Mobile advertising costs less among other advertisements. It is an affordable method, mobile advertising efficient to reach out to customers with more likely to end up high customer engagement than in traditional ways.
Success
Any business that tries to work on mobile advertising can achieve its goals. To successful mobile advertising, start learning how mobile ads work and define your reasons for mobile ads.
How To Start Mobile Advertising
Creating mobile advertising for your business, start about your reasons to start mobile ads. Then learn about your target audience, be creative with your ads. Consider the buısiness model and where your ads need to be displayed.
Define what you want to start a mobile campaign. Objectives help you to decide on strategies for ad campaigns. Again, your objective from the mobile ad campaign from the start.
Know your audiences that are likely to be your target customers. The mobile advertisement uses customer information to create ads. It collects users' demographics, preferences, and search history. Find your customer mostly spend time on their mobile.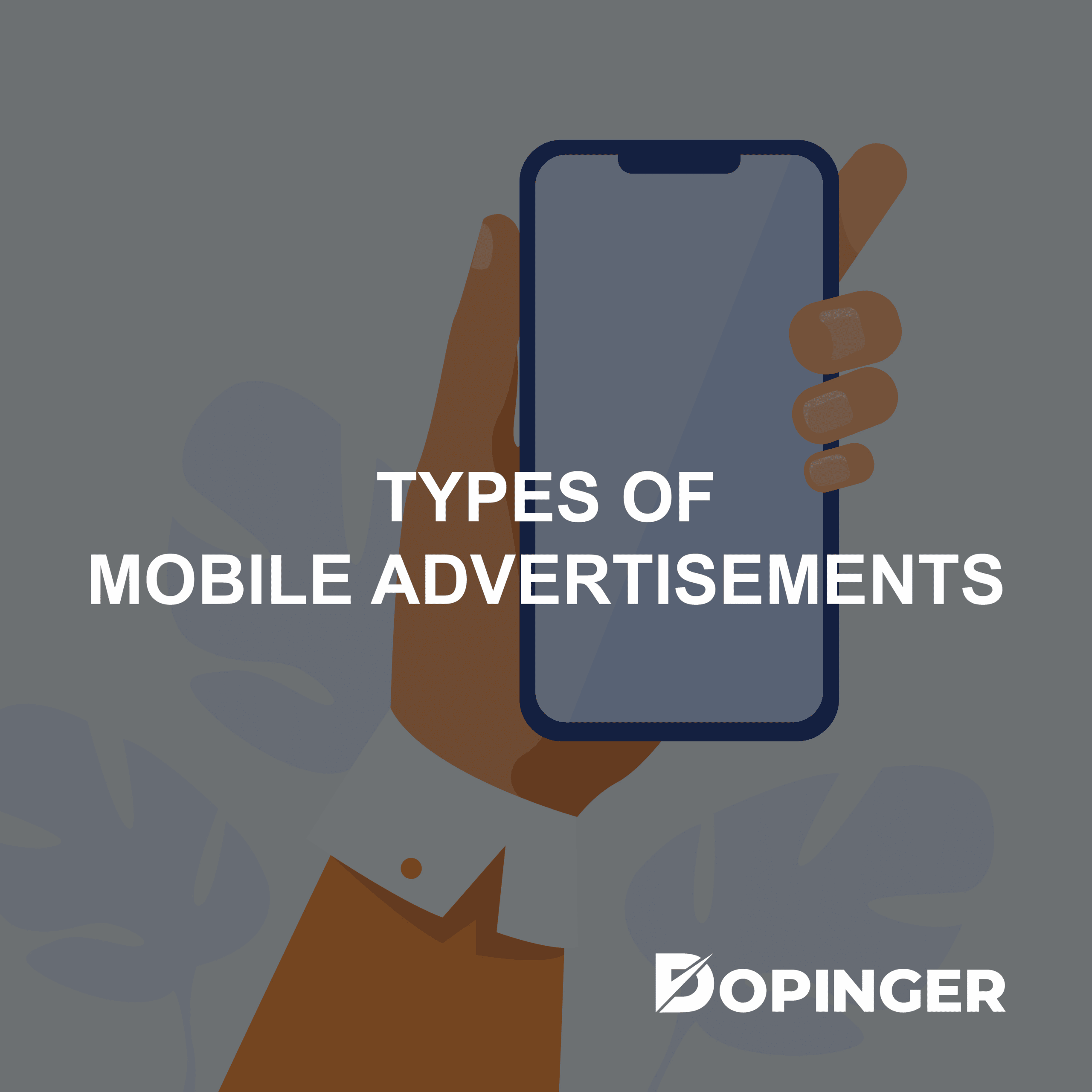 Choose Type of Mobile Advertisement
Companies have various ways to make advertisements for mobile devices. Most mobile ads are text-based, video, and banner ads. Other types of mobile ads depend on, such as a website or social media platform. Where are you going to display your ads? Think about your ad to appear. Once you have decided on that, start thinking about your advertisement strategies. Here you can find mobile advertisement types:
Banner Advertising
Banner advertising is a classic online advertisement method. It is a text, image, or graphic that appears on websites or apps. The main aim of the banner design is to attract the ads. Use quality images, and don't forget to Call to Action.
Text Messages
Businesses send messages primarily as text via SMS. Messages can be all text or images with brief info about a product or campaign.
App-based Advertising
App-based ads embedded in a specific app. You download an app; you are probably encountered with ads that appear every time you use the app.
Video Advertising
Video ads are one of the powerful advertising methods. A campaign play in a video at a particular time.
Plan Campaign
Lenght, ad design, data management, reporting, analysis, ad testing. Plan a campaign where you can be creative in your ads.
Conversion Rate-include advertising strategy encourages target customers to take action. That could be a purchase, signing up for the newsletter, using your website, follow on social media.
Evaluate the process, track your conversion rates to monitor the mobile ads that help you to see what works or does not work.
Decide Mobile Advertising Essentials
An alternative to traditional advertising methods. It provides digital advertising space for your ad and its real-time bidding. Real-time binding allows ads to sell or buy at the present time. Your ad will be shown when you give the highest bidding at the time for web pages load.
Platforms that provide selling and buying an ad from ad networks. These sale channels are where you can negotiate price methods for bidding. Check some of the platforms:
Google Ad Manager
MoPub
Xandr
Index Exchange
In Mobi
MoPub
Pubmatic
A supply-side platform is a publisher side of the network services and exchanges. Choose placement for your ad from many websites and apps. SSP has an automatic bid on inventories for buyers. It allows showing your ad to selected target audiences. The selected target is chosen based on their demographics, location, and preferences.
Advertising networks review the ad inventories in different sources to generate opportunities for advertisers. It connects the advertiser to find placement. The function of this network is to gather ad supply and match with an advertiser.
It manages all the inventory buy of the company. It also provides access to Tv, paid search, and native ads.
Mobile Platforms For Advertising
Creating mobile advertising, you need to understand how mobile can lead to your customers.
Mobile Web
Mobile is way too prevalent, so people try to use their phones in the first place. However, it should have changes and an appropriate user experience.
It recalls to optimization of the website into mobile and allows to receive better user experience. It includes the arrangement of pages that will fit the mobile screen size.
In-App
Apps also have many advertisement sources. It is the most used mobile ad strategy.
Decide Business-Payment Model
Understand the systems you are going to deal with while creating your ads. Therefore, the first thing to do before diving into mobile advertising is to start a mobile ad network. So, this makes you connected with other advertisers. Then, choose business and payment models that you can find for your campaign below:
It takes place in various ways on mobile ads.
Pay per Click (PPC)
Pay per Click is a great payment model to drive web traffic. Payments depend on the number of clicks your ads get. Use PPC, especially if you want to increase your web traffic through the ad.
Cost per Action (CPA)
For specific action that customers take, charge.
Cost Per View
Payment takes place whenever the ad pops up.
Payments are based on click rate on a link.
Cost per Mile (CPM)
For every 1,000 ad views, you are going to make a payment. CPM can be an efficient payment method for businesses that want to increase awareness.
Percentage of users decided to take action
Cost per Install (CPA)
This payment method costs per install from the users. It uses for mobile ad-based apps. CPA is one of the popular payment models. It works as not paid by users to download the apps, but it has display ads.
Examples Of Mobile Advertising
Google Mobile Search Ads
People are more likely to use search engines on their mobile phones when they need instant answers. Mobile ads will be more noticeable through mobile ads on google. People show result-oriented decisions.
Call-only
It encourages the customer to call your business. The phone call appears, and customers can click on that ad.
Facebook and Instagram Mobile Ads
You can promote your ad on social platforms like Facebook and Instagram.
AdColony
AdColony provides video advertising in HD across different networks such as Android and iOS.
Some Tips About Mobile Advertising
The first thing to know about mobile advertising is that not like traditional advertising. Changes make the inevitable transformation in the advertisement.
Optimize ads to mobile users; mobile ads definitely will be different than other ads on Tv or even desktop. Learn about the preferences of mobile users; they might don't enjoy reading ad text or ads that pop up everywhere.
Create a concise ad that represents your customer's needs and informs about your campaign and brand image. Mobile ads provide clear visibility, and they need to reach the right people.
FAQ About How To Do Mobile Advertising
What is a mobile advertisement?
Mobile advertising is an advertisement on mobile devices. Mobile advertising is any type of ad you might encounter while using your mobile device. These ads are created specifically for mobile devices most of the time. Mobile advertising can be any form, such as pop-up in text-based or image-based or as a banner advertisement. It also requires optimization to create ads for mobile devices. 
How do mobile advertisements work?
Mobile advertising is working because it tells you where to find and engage with potential customers. Besides that, it provides knowledge about target people and creates tailored ads. Mobile ads may be the first interaction between business and customer. So, influential ads make possible great results for businesses that use mobile advertising.
Which mobile advertisement is the best?
Mobile ads use the accessibility of mobile devices that making them more likely to end up with achievement. They allow you to be creative and customize your ads to meet customer preferences. Besides, they are cost-less but very efficient advertising method to introduce business to new customers.
How to create mobile advertising?
Define your objective and know your target audience. Be creative and make sure about ad customization. Then find where you can display your ad on a website, app, text message, or social media platform. Choose payment- business methods for your ad.
Why is mobile advertising important?
It is an important source of advertising method that you can collect information about customers then unable you to deliver your campaign. Mobile ads allow reaching more people at a time. It is efficient and costs less than other advertising methods.
Conclusion About How to Do Mobile Advertising
In this article, we talk about how to do mobile advertising. Before starting your mobile advertising, you need to know what it is and know your target customer. Then, learn how it works, define strategies and look for the best essential for your ad. Most importantly, this type of advertisement is one of the more target-centered ones. So, while creating mobile ads, you need to know your target people and deliver your message to build on it. We hope this article gives an insight into mobile advertising and how to start mobile ads.