Twitter is a social media platform, and users have 140 characters to write messages about anything they choose. With its rise in popularity Twitter, gained a multitude of different users, each with different target audiences for their content, from academics to celebrities. There are many reasons for searching through old tweets on Twitter. Some reasons include; trying to remember an idea you posted about previously, discovering your favorite celebrities' thoughts on issues that they mentioned in the past, or even just checking what your friends have posted. Here we will discuss how to see old tweets. So, let's see how to find old Tweets.
Ways to See Old Tweets
Time needed: 30 minutes.
If you want to see your old Tweets, there are four main things you can do. Here are the ways to find your old Tweets:
Scroll through the tweets.

The first way of rediscovering old tweets is to keep scrolling through the historical tweets of the user who tweeted them initially. However, if the user tweets frequently, this can take a very long time, and there are better ways of searching through old tweets.

Use the advanced search function.

To make finding older tweets a more manageable task, Twitter developed an advanced search function. Providing users with many filters such as; the date, keywords, places, accounts, and hashtags. With any combination of these filters, users can quickly locate the tweets that match their criteria, locating the information they were searching for.

Use a third party site.

There are also companies out there that will take all of the hard work out of searching through your tweets and delete any that feature content you have informed them to get rid of. Additionally, saving you a great deal of time and energy as there could easily be thousands of tweets to search through.

Get your account's records from Twitter.

Twitter allows its users to download an archive of all of their activities. Thus, allowing access to all of your past tweets in one go. To do this, head to the settings and privacy tab and then select your account. There is an option to download an archive of your data, simply select that and browse it at your leisure.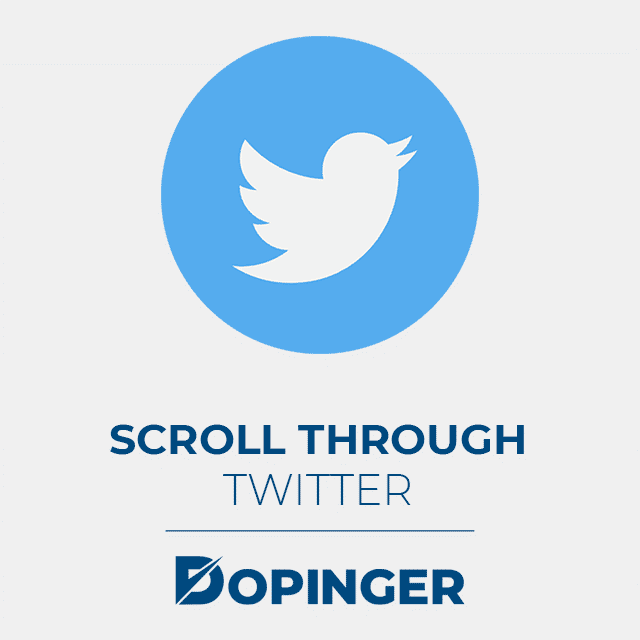 Scrolling a Long Way Back
The easiest method of finding old tweets is just to keep scrolling back. This works well up until you reach more than 3200 tweets, as that is the limit that Twitter allows you to save on your page of previous tweets. The downside of this approach is that you could find yourself scrolling through thousands of tweets to find the one that you are after. As discussed, there are more elegant ways of searching for old tweets available to Twitter users.
How to use Twitter's Advanced Search Function
This function is by far the easiest way to view old tweets. All you have to do is fill in as many filters as you need to and then click search. The tool will then populate a list for you with every tweet that meets those filters. You can use advanced search to find any old tweets from any Twitter account by following these steps:
Begin by navigating to Twitter's advanced search page.
Enter as much information as you can into the given filters to narrow your search.
By using these filters, any tweets that fit your chosen criteria are quickly found.
After these steps, all that is left to scroll through any tweets that have met your requirements until you find the one you were after. Additionally, the advanced search tool is also available on the mobile versions of Twitter so that you can access it from any device.
Third-Party Sites
As always, when considering the use of third-party sites, caution is always advised. The need to enter your account details means that your account could be at risk if the site is not legitimate and trustworthy. However, if due diligence is used, third party sites can save a great deal of time when searching through all of your old tweets to delete certain ones that no longer align with your personal brand or views. The service that these sites provide could save you hours of searching if you cannot remember enough information to use advanced search to narrow the number of tweets enough to find what you're looking for.
Another factor that makes third-party sites worth at least mentioning is the fact that many users tweet multiple times a day and may have had their accounts for many years. It is unappealing for anyone to read through thousands of their own messages, especially if, for instance, many were made while they were much younger. Have you ever read anything personal you wrote down many years ago, such as a diary? Many people feel embarrassed for the views they used to hold and the way they used to act. In this case, using a third-party site would be very welcome to avoid feeling regret over your past choices, even if they weren't so bad. Hindsight is always 20-20, and you often see things differently when you look back.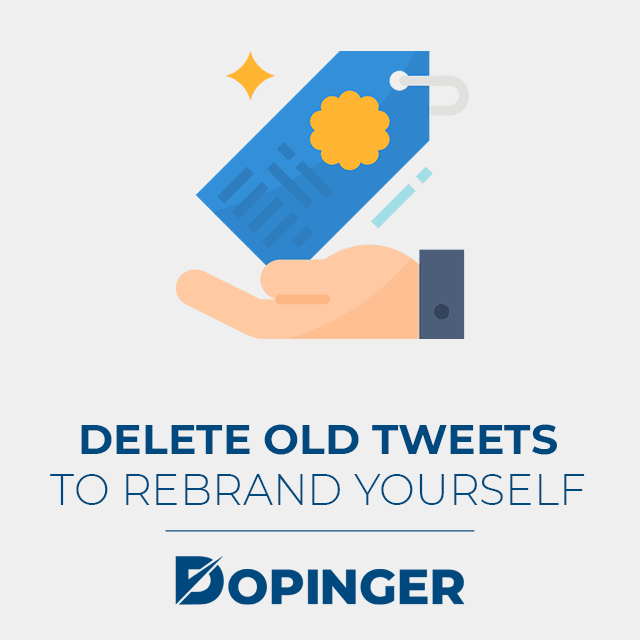 Deleting Old Tweets to Rebrand Yourself
Many people delete their older tweets that no longer represent them accurately. However, it is often a good idea to delete any of your older tweets that could be construed as unprofessional if you start a new business. Personal and professional rebranding on Twitter has become so popular due to the platform's rapid increase of users and broad audience that there are now many third-party businesses built around reshaping and rebranding Twitter accounts. These businesses flourish because of the sheer number of messages that users must search through in order to ensure they have removed anything that could damage their new brand. Some users take this opportunity to rebrand to more extreme levels and delete every single tweet, essentially restarting from day one without changing the email address.
Other benefits to consider when deleting old tweets are; you may have been a teenager when you began using the platform and want to avoid any embarrassment. You could also be worried about new employers and colleagues discovering personal information about you before you would otherwise inform them.
Downsides of Deleting Tweets
Surprisingly, there are downsides to deleting tweets. Even if you haven't said anything negative, accounts with a large number of followers will still be subject to the same speculation as if they had deleted all of the worst tweets imaginable. Another downside that may arise from deleting your old tweets is that once deleted. There is no way of restoring them again. This means that if you accidentally delete a particularly sentimental tweet, such as a happy birthday message from a family member who has since passed away. There is at present no way of recovering those lost precious tweets once deleted. Deleting old tweets, therefore, should be considered carefully before being finalized.
FAQs About Old Tweets
Why should I delete my old tweets?
This is usually a personal reason. However, under some circumstances, it is prudent to delete any questionable content. For example, if you start a new job and your employers check your social media, you could end up out of a job if there is any content your employers find distasteful.

Why can't I see all of my old tweets?
This is by the design of Twitter. Unfortunately, they only allow you to view 3200 historical tweets when scrolling. However, if you use the advanced search function, you can view every previous tweet no matter how long ago it was.

Can I search for things that I have retweeted?
Yes, by using the same advanced search function for finding old tweets. In addition, there are filters in the advanced search tool for Twitter that allow you to find retweets as well.
Can I also view pictures that I have uploaded with the tweets?
Absolutely, if you can find the tweet using any of the searching methods mentioned throughout this article, then you will find the picture with the original tweet.
Can I also search for replies to my tweets and private messages?
Yes, to both parts, for searching for replies, you can use the advanced search tool to rediscover it. However, the private messages are part of the data provided to you when you request to download your personal data archive. So they will need to be sorted through manually.
Conclusion: Seeing Old Tweets
To conclude, you now have read all of the steps and have learned how to see someone else's old tweets as well as how to search your own tweets. Being able to search old tweets is essential in an ever-increasingly digital world. You should now be able to search for any accounts of previous tweets using the methods outlined in this article, with the exception of downloading the archive of your data as that is for your own account.
Hopefully, you have enjoyed reading this article and have discovered how to look at your old tweets and how to see someone else's old tweets. These skills could come in handy if you want to rebrand yourself or have changed your opinion over something that you had previously tweeted, as you can find and delete any tweets you no longer agree with. Thank you for reading this article about how to find old tweets.
If you liked this article, you may also like our guide for deleting an Instagram account as well.