If you want traffic from Google, you first have to get indexed if Google doesn't know about your website. If your site is not indexed, you are not going to get any search traffic. In this article, we are going to share with you how to get Google to index your site.
What Is Indexing? (Google Site Index)
Let's start with the basics. There are 3 steps to prepare and list Google search results. These steps are crawling, Indexing, and serving. With the simplest definitions, crawling means the phase that Google finds out what pages are existing on the web. There is not a default list that includes every website that exists, so Google first needs to discover and record those websites in its database. So we can sum the definition of crawling up as the phase of discovery.
After Google crawls all those web sites and pages, the next step is Indexing, which is our topic today. According to Google, Indexing is the process where Google tries to understand what the webpage is about, right after finding it. Google does this by analyzing the content, cataloging images, and videos on the page, etc. After investigating, Google stores this information in the Google index. You can learn more about these processes in the Google Support page.
Pro Tip: To see the total number of indexed pages of your website on Google, enter "site.yourwebsite.com" to search bar. Down below, you will see the results for our website, Dopinger.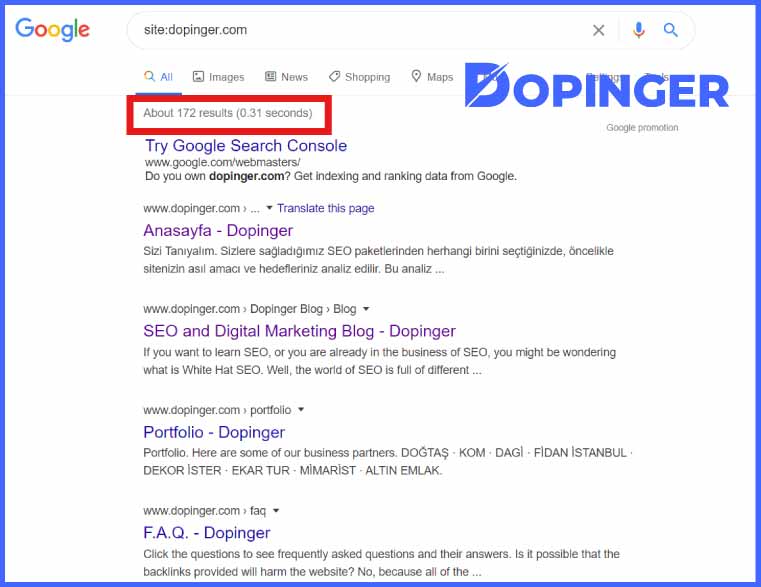 What Is Google Search Console?
Now that you know what Indexing means, you can agree that getting Google to index your website is a no brainer. To start doing so, the first thing you need to do is to sign up for Google search console. Google search console is a free service from Google that allows you to see your website somewhat similar to how Google sees your site. It shows you things like what errors you may have, what pages Google is indexing, or are they even crawling all your pages? Because if Google is not crawling your site, that means it can't index it.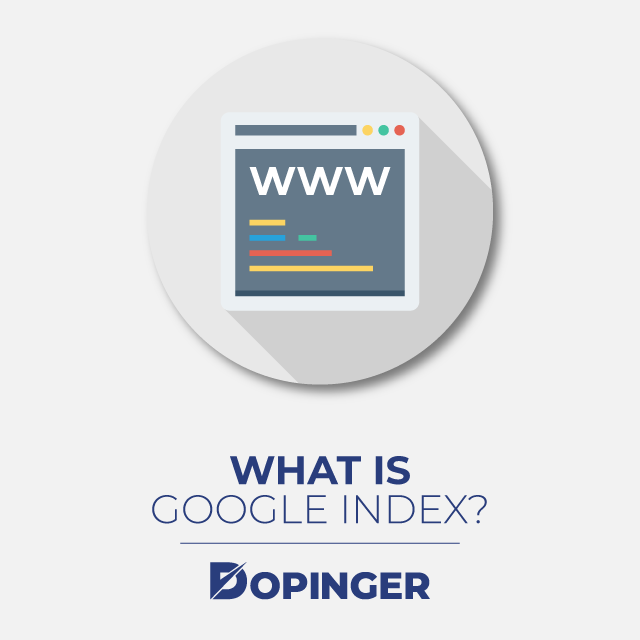 How to Get Google to Index Your Site?
To help Google to index your website, you need to create an XML sitemap. If you have a WordPress blog, this is relatively easier. We are not going to explain what is a sitemap here, but you can click here to read our relevant article about sitemaps. You can use the Yoast SEO plugin solely for the fact that it will automatically create an XML sitemap for you. The beautiful part about the Yoast SEO plugin is every time you update your website; it updates your site map automatically. You don't even have to be technical to create one.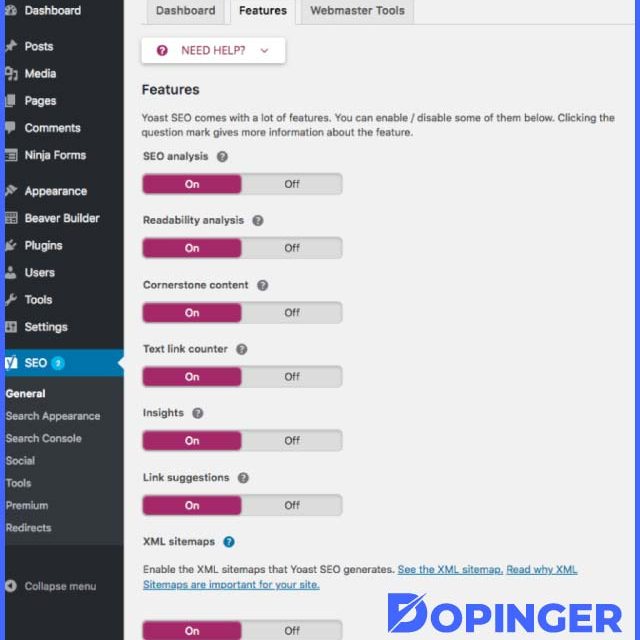 Then, take that sitemap and submit it to Google search console. That way, Google can continually read all the changes you're making to your site. Every time you add or delete a page, Google will know, and they'll make the necessary changes on their end. If you follow these steps, you're much more likely to see that Google indexed your webpage. Once you do that, Google will crawl your new pages even faster. This way, you should get more search traffic in the long run.
FAQs
How long does it take Google to index a new page?
It takes between 4 days to 4 weeks for Google to index your website.
How do I use Google Index?
You can request an index by logging into Google Search Console and use the URL Inspection Tool.
How can I speed up Google Indexing?
There are several methods, but adding an XML Sitemap and adding your links on high-traffic websites are the most common ways.
Conclusion
Keep in mind that SEO is not magic, and you are not going to get organic traffic right away. Google does not rank new websites at the top. But after four, five, six months or a year, you are most likely going to see way better results, comparing if you didn't do this.
SEO may be far too complicated by some, but it really is not. You can check our guides to learn more about SEO. We think that our article about Google Search Console can teach you more details about crawling, Indexing, and serving phases. There are different ways to get Google index your webpage. Hence, to learn about another way to index websites, you might want to check this video out by Michael Quinn: