Who doesn't love YouTube, honestly? It's hard to deny that it's probably one of the handiest video platforms ever created. What about you? How do you use it generally? Do you browse it for the pleasure of finding some nostalgic commercials from the 1980s? Or do you rather dive into it to connect with your latest favorite influencer? You may also be enjoying it as a limitless online jukebox, a resource for technical tutorials, or simply a series- and movie trailer provider. In any case, the thing is that our time is precious. We must thus admit that searching for a target video on YouTube can be really time-consuming sometimes. That's why we have decided to write a guideline on ways to create a playlist on YouTube. After all, a pinch of organization can contribute to enhancing everyone's video experiences, right?
Basics of YouTube Playlists
Before showing how we make a playlist on YouTube, we would better take some time to remember what a playlist is. Very simply put, a playlist is nothing but a collection of videos. In the specific context of YouTube, it refers to all the videos that one saves within the same file. So having a playlist on YouTube is like having a file consisting of several videos. Have you noticed the section called 'Library' on YouTube? Well, this is indeed a sort of library where your playlists are stored.
The most common way is to make YouTube playlists on your own. However, YouTube can also create them on your behalf at times. One example is the auto-generated playlist called 'Mix.' We have checked our own channel while writing this article. That's how we have seen a brand new playlist that the platform has created for us. How come? It's just that the YouTube algorithm has recorded the songs that we listen to the most frequently. Then it has gathered them together within the same playlist.
One important distinction to be made is between playlist and channel. Indeed, they are two different things. A channel is a specific kind of account that you create on YouTube. It includes all your activities, uploads, interactions, promotional initiatives on the platform, as well as your playlists. So playlists are the components of a channel.
Advantages of YouTube Playlists
Let's talk benefits in case some of you may be wondering what's the point of those playlists. We have already mentioned organization and easier access to videos. But there's more.
Instant Information About Your Channel
It can be hard for viewers to get a global idea of your content through only individual videos. Instead, if you use playlists to group them coherently (by topic, style, etc.), this can help viewers make up their minds. About what? About becoming a follower of your channel. Sounds nice, don't you think?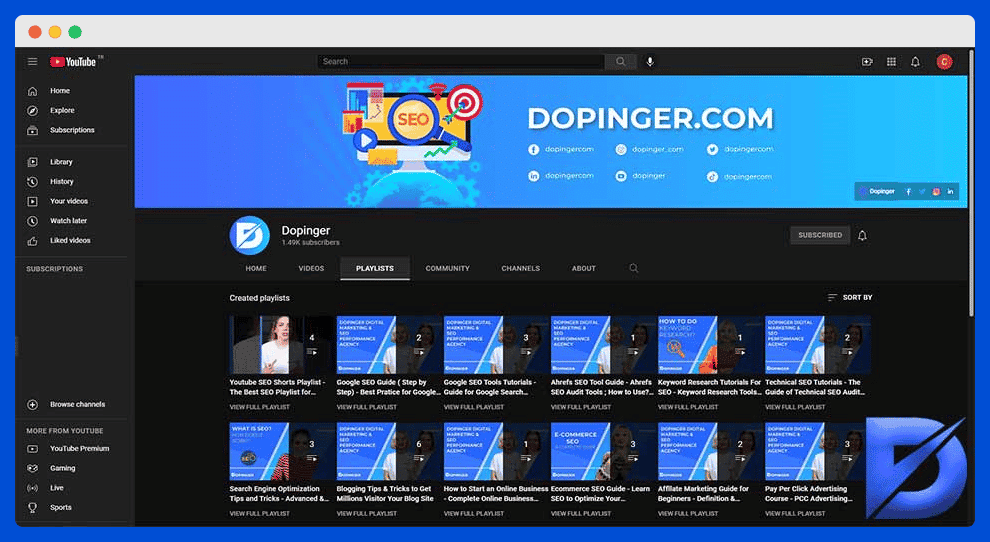 More Views
As simple as that. It's one of the major goals of anyone on YouTube, isn't it? For those who particularly care about promoting their videos, playlists are the best bet. This is because when your videos are categorized under certain topics, they become associated with other videos. So even if people are not directly searching for your content, they can still run into it thanks to the 'related videos' function. In other words, they can watch your videos spontaneously, hence increasing your number of views. This also has a positive effect on the total watch time of your videos.
More Visibility for Search Engines
When you create a YouTube playlist rather than using single videos only, you increase your chances of being noticed by keyword-based search engines. This is how your videos become able to pop up on several results pages. But of course, such an opportunity requires some effort. To become more visible, you should try to find ingenious keywords and hashtags, along with neat and accurate descriptions. Here is a helpful article on YouTube channel keywords.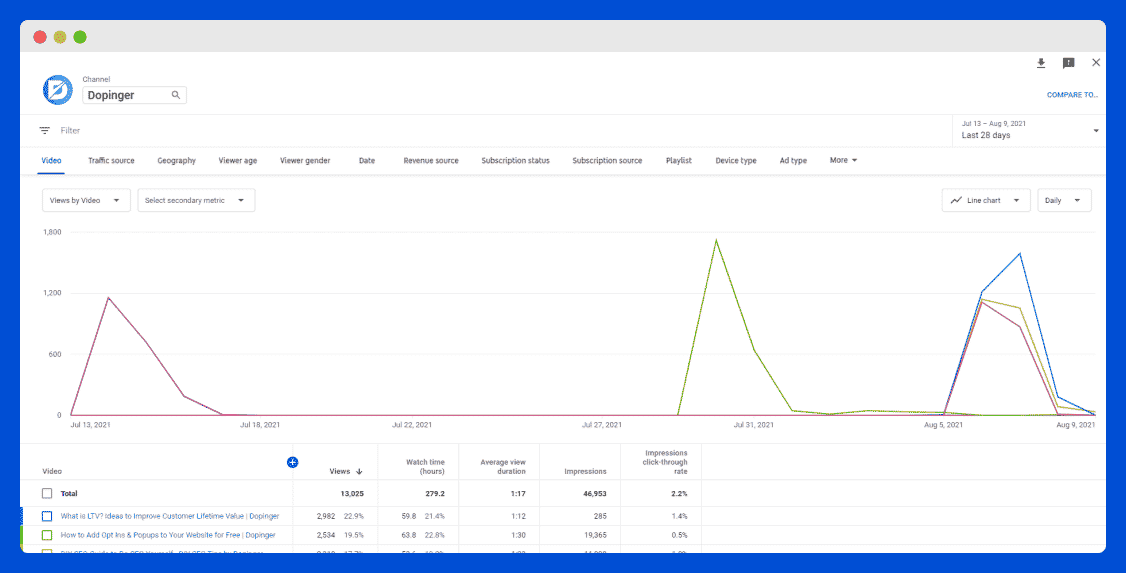 Beneficial to Your SEO Strategy
This is actually related to the previous paragraph. To be more exact, playlists can play an important role for video SEO (Search Engine Optimization) or YouTube SEO. Again, with the right keywords and other extras (catchy thumbnails, etc.), they can become valuable marketing tools both inside and outside YouTube. Indeed, depending on your ranking, they can, for example, receive backlinks on other platforms. We won't go into much detail in this article. Just keep this possibility in mind in case you are interested in SEO.
So this was an overview of the promising potentials of having a playlist on YouTube. But the following question remains to be answered: how do you make a playlist on YouTube? Stay with us to know more about it.
How to Create a Playlist on YouTube
The first thing to do is to create an account on YouTube. Since YouTube is owned by Google, you will need a Google account to get started. So basically, your YouTube and Google accounts will be interconnected. You don't necessarily have to turn it into a channel. You may simply use it for personal leisure purposes as well.
The process itself is quite simple. You should just pay attention to a few details. There are indeed some slight differences depending on the method and device that you choose to use.
Create a New Playlist on the Browser
Time needed: 5 minutes.
There are two options for those who are using a browser. Let's suppose that you want to create music playlists.
Type the name of the artist and the song. You will get a list of results with several versions of the same song. Make your choice and click on the three dots icon located on the right. Select 'Save to playlist.'

If you already have playlists that you think are appropriate for that song, save the video to one or more of them. Otherwise, select 'Create new playlist.' 

Enter the name of your playlist (for example: 'My Favorite songs by Led Zeppelin').

In the Privacy section, the default privacy option is Public. You can also choose between the two other ones; Unlisted makes your list visible to anyone with the link. Private ensures that you are the only one who can view it.

Click on 'Create.'
Second Option
Find your video by using the browser and start playing it.
Click on the 'Save' icon ( aka the + icon with three horizontal lines).
You can save it to one of your existing playlists or create a new playlist.
From that point, follow the instructions given above.
Create a New Playlist on the App
What about portable devices? Here are the instructions for those who would like to know how to make a YouTube playlist via apps.
For iPhone users
Start by launching the YouTube app on your iPhone.
Select the video you want to add to your playlist.
You will see a 'Save' button right under the video. Click on it.
In the 'Save the video to' section, you may either choose a playlist or create a new one by clicking on 'New Playlist.
If you decide to create a new playlist, don't forget to enter a name for it.
For Android users
Start by launching the YouTube app.
Click on the 'Library' tab.
This is where your playlists are stored. If you want to create a new one, press the 'New Playlist' option.
You can make your selection directly from your watch history (videos classified as 'recently watched').
Give a name to your playlist.
Modify the privacy settings if you wish.
Click on 'Create' to save your playlist.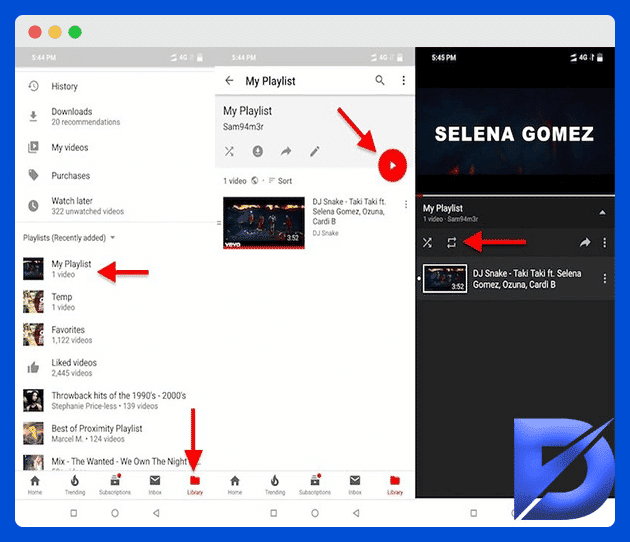 Bonus: Every time you like a video, it's saved to your Library under a playlist called 'Liked videos.' A great future that allows you to watch your favorite content one after the other.
Don't forget that you can sort the videos within a certain playlist by date and popularity. Besides, you can shuffle them or play the list on loop. Those can be done by clicking on the dedicated arrow icons on the top of each playlist.
Feel in a sharing mood? Go to the playlist you want to share and just click 'Share' on the menu. You can choose a specific social media platform by clicking on its icon. You can also send your playlist via email or embed it by copying its HTML code.
One more bonus? Well, a YouTube account may not be necessary to create playlists after all. Let's see how to get around the restrictions.
Frequently Asked Questions About YouTube Playlists
Should I be careful about copyright while creating my playlists?
Well, let's admit that copyright is not always one of YouTube's fortes. This is understandable, though, considering the huge amount of content uploaded every day on the platform. Simply put, you can use other people's videos in your playlists. However, when it comes to uploading a video, you should use your own creations only. Better safe than sorry. There may be exceptions if you have special authorization issued by the owner.
Can I delete my playlists or just edit them?
You can do both by using the dedicated commands within your playlist.
Is YouTube strict about the language used on playlists? 
Yes, it is. YouTube does not allow playlist descriptions with offensive language, incitement to violence and ethnic/racial hatred, or openly sexual themes. Those are a few examples of prohibited content. For further information, we suggest you check YouTube's Playlists Policy.
How many playlists can I have?
It's more about the number of videos rather than playlists, actually. You can save up to 5,000 videos on YouTube. The number of playlists will thus depend on the way you disseminate videos within them.  
Is 'Watch later' a playlist feature?
Yes, it is. When you click on the 'Save' option under a video, the system also gives you the possibility to watch it later. You can click on the dedicated icon and thus get a playlist to watch whenever you have time.
Wrapping Up YouTube Playlist
Yes, now you are ready to wrap this all up since we have unwrapped the basic tips for you. YouTube playlists are one of the most practical ways to use the platform in a methodical way. Moreover, they can become additional boosters for your online business strategies. YouTube SEO, remember? It's up to you to explore and take this functionality to the next level.