When it comes to creating and using content to improve a web page's value, search engine optimizations (SEO) provide so many options and features for SEO specialists to optimize their web pages. With each passing day, SEO requirements for ranking keep changing, and it can be quite hard to keep pace with the newest developments. There are so many tiny details in SEO that sometimes it seems complicated for everything to work out correctly. Websites that are well-optimized will rank higher and appear on the search engine result page (SERP). As a result, they will get lots of organic traffic and improve their visibility.
There are still a lot of various factors, and all of them have to be perfectly optimized for your SEO to pan out. In this article, we will examine three of the most important factors that affect SEO: title, description, and URL. You can learn how to optimize title tags, meta descriptions, and URLs to rank higher and get more organic traffic from users.
What Are Title Tags?
On the search engine results page (SERP), the title is the central part of a website's ranking. It appears in blue, and its font is more apparent than everything else and is hyperlinked back to your website. However, as the title tag is actually an HTML tag, it exists in the <head> section that defines the title of the web page between <title> and </title> tags. Its fundamental function is to inform visitors and search engines about what they can expect from the web page most shortly and concisely possible. Title tags, after the website's content, are the second most important on-page factor for SEO.
The most popular and used search engine, Google, displays the first 50 to 60 characters of a title tag. So, it will be wise to optimize titles to not to exceed the character limit. This way, your titles can be displayed correctly.
Why Are Title Tags Important?
A search engine aims to show results that are relevant to the search queries people type. It has to recognize what different web pages are about while indexing. The search engine finds this information by looking at the words used on the page, but some specific parts of the page are more significant than others. The title tag is one of those specific parts that the search engine algorithms look at to determine what the page is about. It has such importance given by the search engine algorithms as they are the shortest and simplest way for website owners to indicate what is on the web page. As a result, title tags become one of the most important on-page SEO ranking factors.
Besides the crucial role they play in SERP ranking, they are also significant as they are the first thing a user sees on the result page. If optimized correctly, as we will explain how to in the next title, the title tags will get people to click the link and organically increase the traffic the website receives. Studies have shown that an improved title tag of a webpage leads to a 37% increase in organic web traffic.
Now that we have explained why title tags are important for your local SEO and your website's traffic, it is now time to see how to optimize and improve them.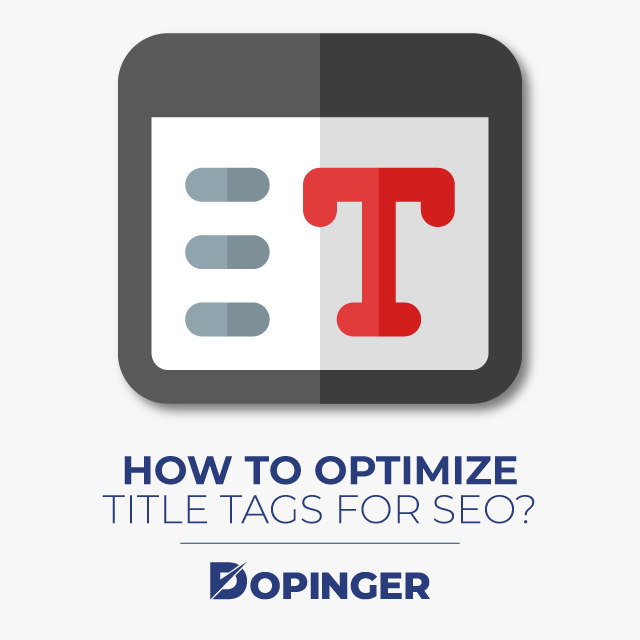 How to Optimize Title Tags for SEO?
Because title tags are such an essential factor of both increasing SEO ranking and getting users to visit your website, improving them efficiently is low-effort, high-impact SEO optimization. Here are important tips for optimizing title tags for search engine and visibility goals:
Tips for Optimizing Title Tags
Care for your title length. If the title exceeds the 60 characters limit, the search engine may cut off the title. This way, your title may miss out on important words that could make the title more appealing for users. However, the exact limit is a little bit more complicated as Google allows 600-pixel containers on titles. Some letters, such as "O," "W," and "D" take up more space than others. You can try avoiding titles written in CAPS. This will make it easier for the user to read it and prevent Google from cutting it.
Do not pile up keywords. Although there is no known penalty for overusing keywords in a title, it still creates a bad user experience. You can try avoiding using the keywords or their synonyms over and over.
Include your brand name. Using the title tags to include your brand's or business's name will naturally raise brand awareness.
Give unique titles for every web page. Individual titles will assist search engines in understanding that your content is unique and relevant to certain search queries and will eventually drive higher click-through rates (CTR).
Relevant keywords must come first. Keywords closer to the start of your title tag may have more influence on search rankings. Besides, user experience researches show that people can only look at the first few words of a title to see if it provides what they are looking for.
Optimize your titles for your customers, not for the search engine. Although title tags are critically important for SEO, your title tags need to attract visitors, who might be your future customers, to click on your website. Considering the user experience first while optimizing your title tags is vital. Remember, the title tag is the first interaction between your brand and your future customers.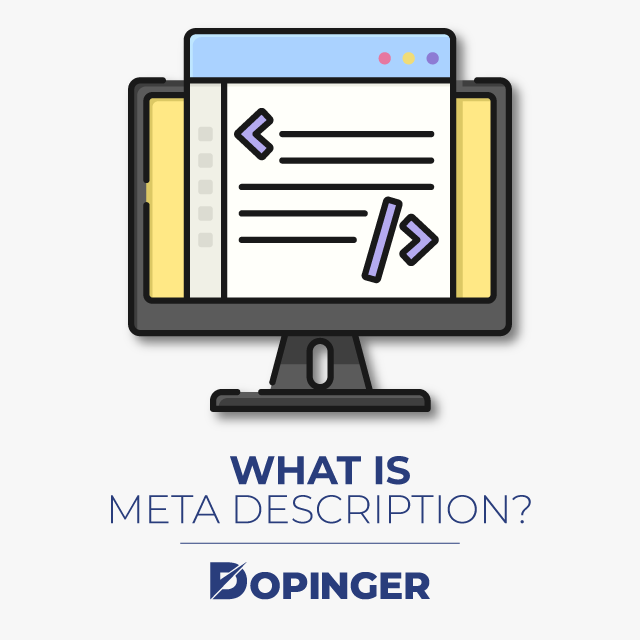 What Are Meta Descriptions?
A meta description is a snippet that provides a concise description of a webpage. This description text appears as a meta tag in a web page's HTML code. Limited to the use of 160 characters, meta descriptions appear under the page title and URL on SERP. It is one of the crucial factors of on-page SEO, and it is significant to understand its optimization best practices.
Search engines display the meta description in search results essentially when the search query is included in the description. As a result, meta descriptions become one of the determining factors of receiving organic website traffic because a well-optimized meta description will get people to visit your web site.


You can create brand awareness by giving a short description of the page content for an improved SEO. Therefore, optimizing your meta description allows you to promote your website in SERP. For this reason, you should learn in which ways meta descriptions are efficient and how to optimize them for an advanced SEO.
Why Is a Meta Description Important?
Keywords that were included in the meta descriptions of web pages were significant ranking factors for search engines in earlier days of search engine optimization. However, website owners piled up keywords in their meta descriptions, which did not provide any useful information, and in 2009 Google decided that meta descriptions would not affect SERP ranking any longer.
However, optimizing a meta description is still relevant for a website's SEO and should be considered as an online marketing strategy. A well-written meta description will increase the click-through rate (CTR) as it will provide a brief summary of the content and attract users to learn more. As a result, higher CTR will get your web page ranked faster and higher.
They also provide a user-friendly appearance and help your future customers to choose the most relevant result from the SERP.
How to Optimize Meta Descriptions For SEO?
If you want to get better results in SEO, gain organic website traffic, and raise the CTR, you need to consider writing and optimizing your meta descriptions carefully. We have some tips for you on optimizing meta descriptions:
Make sure including researched and targeted keywords in the meta descriptions. Even if it does not affect SERP ranking, the most important ones should be included. Related keywords will appear in bold and be visible and will attract people.
Use call-to-action words (such as "get, buy, download, see, read," etc.) in your meta description and urge users to visit your website.
Writing unique meta descriptions for each page of your website is significant.
Your meta description should not exceed the 160 characters limit. If you exceed this limit, Google will cut the text, and you may lose some of the essential keywords.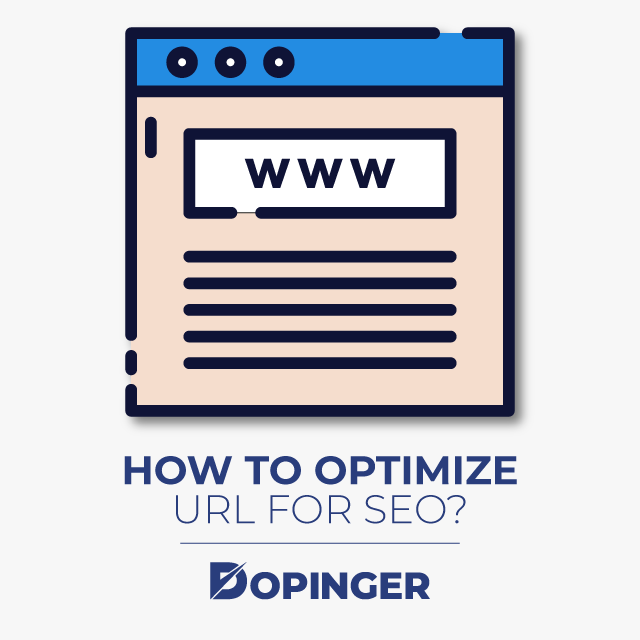 How to Optimize URL For SEO?
URL of a web page may seem like a unique mark that hosts a unique location on the internet. In reality, it provides informational signs that help search engines understand the content of a page, its goal, and its targeted audience.
As a URL affects your SEO and ranking, you should know how to optimize them to improve your website's visibility. We have some tips for you that you can see down below.
URLs must be readable. Search engines can not read the words that you can not read, too. They will index the page to reach the targeted market if they can easily understand what is on your page.
Example of a correct URL: http://yourwebsite.com/color-material-item
Example of an incorrect URL: http://yourwebsite.com/index.php?=5894267=t88=?p=175
Choose hyphens instead of underscores. Google has clearly indicated that the algorithm was developed to read hyphens and not underscores in URLs.
Example of a correct URL: http://yourwebsite.com/color-material-item
Example of an incorrect URL: http://yourwebsite.com/color_leather_item
Put your top content in the top folders. Search engines think that the content in your root folder as the top and better content. Optimize the URL structure carefully to signal the importance of a certain web page.
More efficient: http://yourwebsite.com/target-keyword
Less efficient: http://yourwebsite.com/category/subcategory/target-keyword
Do not use capitalized letters in your URLs. They confuse both users and search engines.
Use Robots.txt to block bad URLs and avoid duplicate content.
Add mobile URLs. Being mobile-friendly is significant for your website as it will help getting ranked higher by the search engines. A website will also appear on the higher places on mobile searches.
Use canonical URLs also to avoid creating duplicate content.
Include the exact target keyword in your URL whenever possible. Here is an example of targeting "black leather sofa" as a keyword in a URL:
Best: http://yourwebsite.com/furniture/black-leather-sofa
Good: http://yourwebsite.com/sofas/black-leather-sofa
Bad: http://yourwebsite.com/color-156-sofas
FAQs
What is the difference between the title tag and meta tag?
There is no difference between these two.
Which tools are available to write meta descriptions without coding?
You can use WordPress tools like Yoast, Rank Math, etc. to write a meta description with optimized length.
What is a canonical URL?
It is an HTML component that helps webmasters prevent duplicate content issues by specifying the URL as the "original one."
Conclusion
Optimizing title tags, meta descriptions, and URLs to improve your SEO will naturally lead to an increase in organic web traffic and brand awareness. With improving your appearance on the SERP, you will enhance the impression you will make on a user at first glance and attract them to visit your website. Thus, you will get increased CTR.
If you like this article about SEO, please check out our other articles about it. You may like how to write an SEO-friendly article.