If you want your website to be successful on the search engines, you start to look for SEO tools. It is possible that you will encounter SEMrush among the tools you are looking for. SEMrush is one of the most popular SEO tools that you can use for analyzing your and your rivals' businesses. Being successful in SEO strategies is important. Your website can be very well designed and of high quality. However, none of it matters without a promotion. You can promote your website using SEO tools. That is why we are going to mention how to use SEMrush, one of the most popular SEO tools on the market.
With this tool, you can see many things about your website and SEO strategies. It is a great guide to direct your strategy to meet your actual needs. So, what actually is SEMrush? Let's take a look.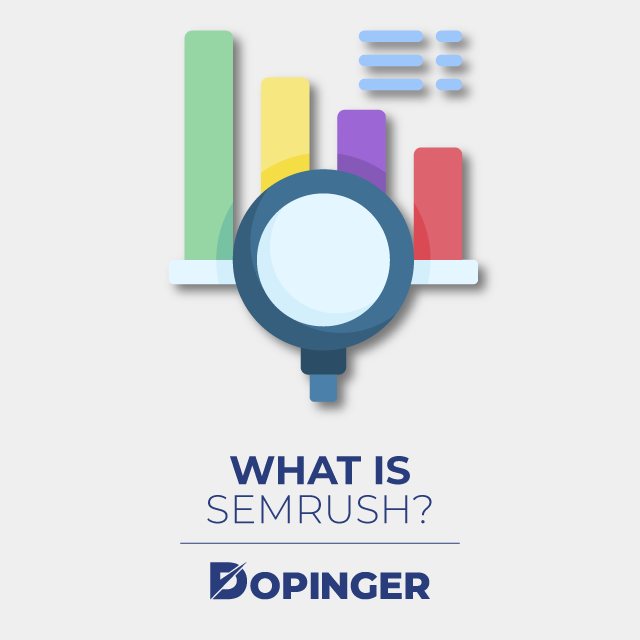 What Is SEMrush?
SEMrush is an all in one SEO tool that helps businesses to come up with an SEO plan. It has many features, but SEMrush is mostly preferred for its keyword analysis and competitor research features. Of course, the main purpose of using this tool is to increase your website's visibility in the search engine results page (SERPs) and to discover marketing insights.
It has features that help you analyze your website and your competitor's websites. Here are the features of SEMrush:
Domain Analytics
Keyword Analytics
Projects
Marketing Insights
Gap Analysis
Topic Research
SEO Content Template
SEO Writing Assistant
Lead Generation
Listing Management
CPC Map
My Reports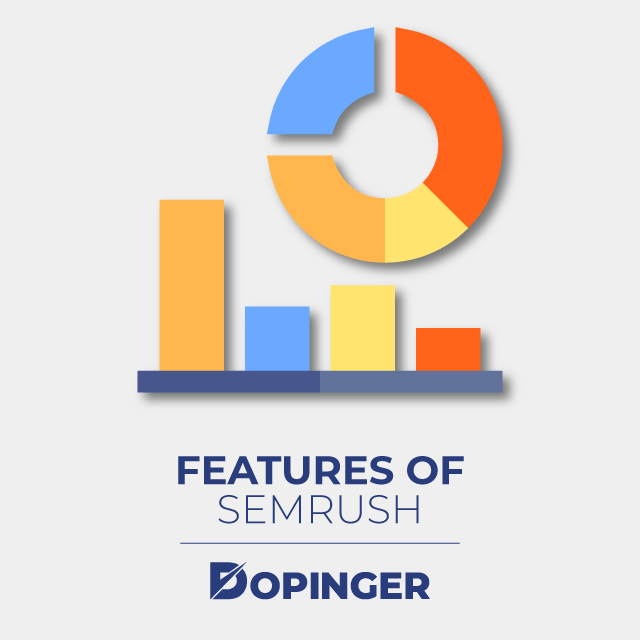 Features of SEMrush
Now, let's take a look at some of the most important features of this tool.
Domain Analytics
In this part, you can analyze websites. When you search for a URL from the search bar, it first gives you an overview of that webpage. You can see the search traffic insights, keyword insights, and SERP features.
Another great part of this section is that you can see the organic research insights. It also has some insights about your competitors as well.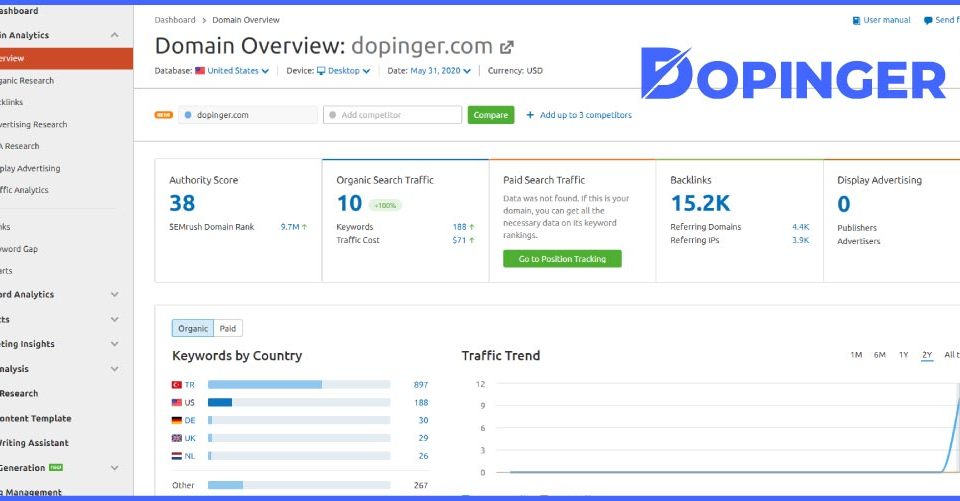 Underneath, you have the advertising research and traffic insights. The traffic insights are very useful because it shows crucial information such as unique visitors, average visit duration, and bounce rate.
Keyword Analytics
If you're searching for keywords, the Keyword Analytics feature of the tool will come in very handy. Here you can analyze any keyword you want. You can see the search volume by countries, keyword difficulty, CPC value, and trends. It is also possible to see different variations of your keyword, questions, and related keywords. You can see the search volume of each related keyword to yours via the Keyword Magic Tool.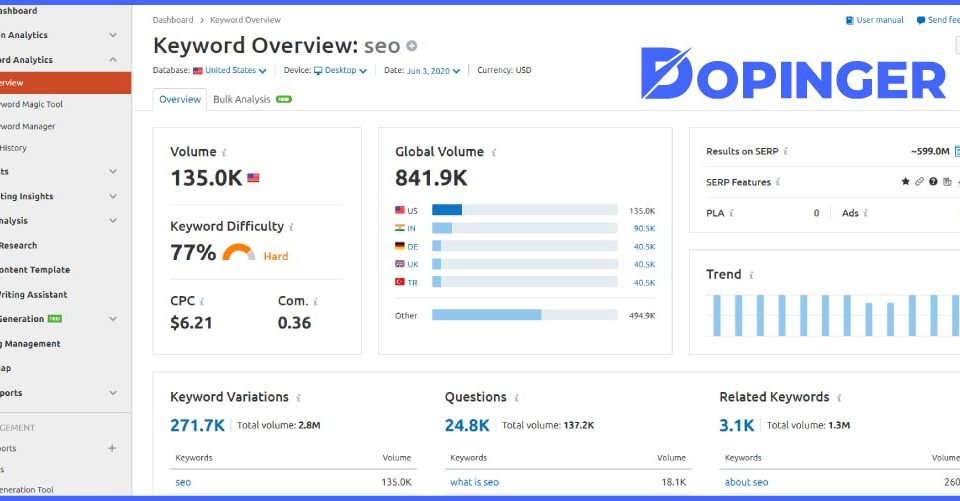 Projects
From here, you can add your websites and get insights related o them without searching for these websites again. Here you can see such insights;
Site Audit / Site Health
Position Tracking
On-Page SEO Checker
Social Media Tracker and Poster
Brand Audit and Monitoring
Backlink Audit and Link Building
PPC Keyword Tool
Ad Builder
Organic Traffic Insights
Content Analyzer
Marketing Insights
Here you can reach the insights of any website. This is the part where you can analyze your competitors. You can see the traffic analytics of your competitors. The insights you see here can be helpful if you are starting a website. It is possible to see the traffic share of your website or competitors. It shows the percentage of users' reach via mobile or desktop.
This part also has a Marketing Explorer feature. It enables you to create a competitors list. Marketing Explorer shows you the similar websites that can be the potential rivals of the website you enter to the search bar. This is a rather new feature on SEMrush.
Gap Analysis
In this part, you can compare your website with your competitors. Keyword Gap Analysis shows you the missing keywords you should have when you compare your site to others. You can also see the volume of these keywords.
Backlink Gap Analysis is similar. Again, you compare your website to your competitors. When you click on 'Find Prospects,' it shows you the prospects for the domain.
Topic Research
This part does not include many features, but it is useful. If you are out of content ideas, Topic Research helps you find related content to your topic. When you write your topics, the tool finds you related content according to their search volume. For example, if you write 'SEO' to the search bar, it brings you top content such as Google Analytics, Search Console, social media, etc.
SEO Content Template
This part is very useful, especially if you are going to write an article. It can show you related keywords, backlinks, readability score, and average text length about your topic. Here is an example: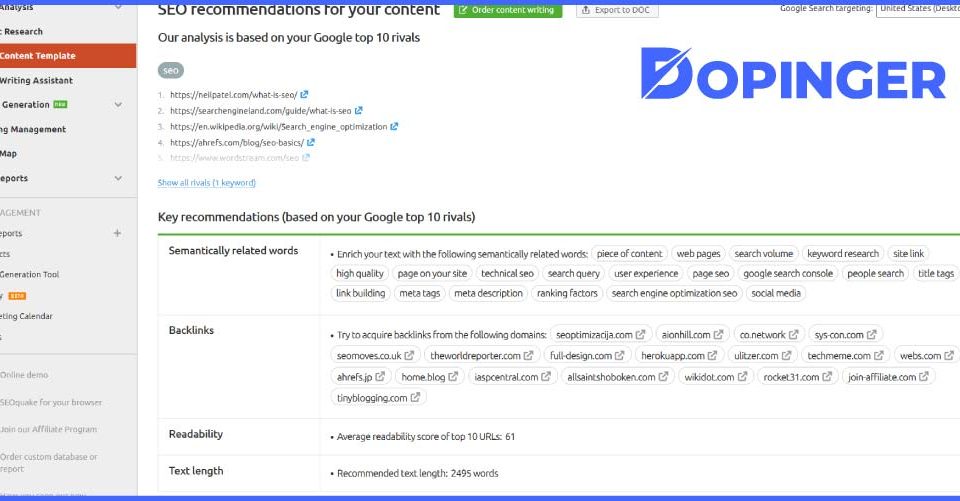 As you can see, it brings you a list of keywords and backlinks. It is very easy and good for the user experience compared to other SEO tools. You can easily copy and paste these listed words and use them in your text.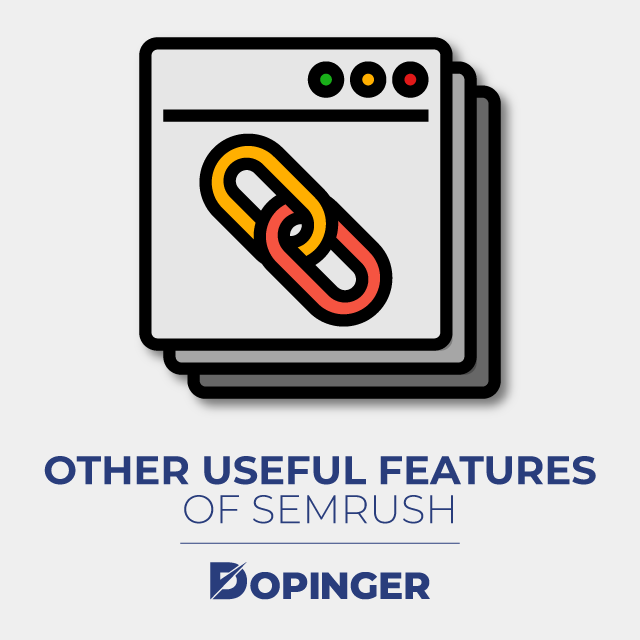 Other Useful Features of SEMrush
In other useful features, the tool has an SEO Writing Assistant. Here you can get insights and recommendations about your articles. Enter your text to the Writing Assistant page, and see the results on the right side. You can see how SEO-friendly your text is from here.
Another useful feature is the Lead Generation Tool. You can use this tool to create custom widgets on your site to collect leads.
If you want to find out how your business looks from the outside, you can use the Listing Management tool to do it. You just need to provide the basic info about your business and check your listings on Google, Yelp, Facebook, and many other search engines and platforms.
SEMrush also has a CPC map where you can see the world map of CPC prices. You can see the lowest, average, and highest prices. You can also see the industries and their CPC volume as well.
The last section, My Reports, is the place where you can see your saved reports. This way, you don't have to create a report every time when you visit the tool.
FAQs
What can you do with SEMrush?
All things considered, SEMrush is an SEO instrument that does your catchphrase investigate, tracks the watchword methodology utilized by your opposition, runs a SEO review of your blog, searches for backlinking openings and parts more.
How does SEMrush calculate traffic?
SEMRush assists you with evaluating traffic and the position of your website. The evaluated traffic is controlled by duplicating the CRT (Click-through rate) with the keyword volume.
Is SEMrush free?
SEMrush offers a free trial, and there are many things you can do with the freemium package. However, like any other tool, the paid version of it provides you many professional insights.
Conclusion
We have covered how to use SEMrush. We included a basic definition of the tool and explained its features and their benefits. If you want to reach all your SEO strategy insights, you can do it from this tool. That is why it is called all in one tool.
If you want to learn more about SEO and more SEO tools, please check out our articles about it. You may like our article: 'What Are SEO Tools?'
We think that you may also be interested in
What Is Alexa?
which is our previous post about
SEO
.