Lots of people want to know how to vectorize an image or photo. The process is not simple in theory. Fortunately, some technologies allow us to do this quickly and efficiently on any photo. Many applications allow you to vectorize an image with tremendous ease. In a few seconds, you will have the image or a vectorized photo without any effort. In this article, we will explain how you can vectorize an image using four different ways.
What Is a Vector?
Vector graphics, also called graphic modeling or object-oriented graphics, are a type of computer graphics. Vector graphics use geometric objects, such as points, lines, curves, and polygons, to model images.
In programming, the understanding of the term vector is a pointer (pointer) or array (array) with only one dimension. In computer graphics, the interval vector specifies a line with a starting and ending point. Vector images are digital images based on mathematical calculations that form lines and curves to form a certain object.
Adobe Illustrator is usually used to create vector graphics.
Why Use Vectors?
As we've already mentioned, as it is an image with separate elements, its sharing ends up being safer, as vector images do not lose quality and can only be edited in specific graphic design programs.
The most used programs for creating and editing vector images are Corel Draw, Adobe Illustrator. Files are usually saved in CDR, AI, SVG, and EPS formats.
How to Create a Vectorized Image?
There is more than one way to vectorize an image. Just for your convenience, we have listed four ways so that you can pick the one that suits you the best.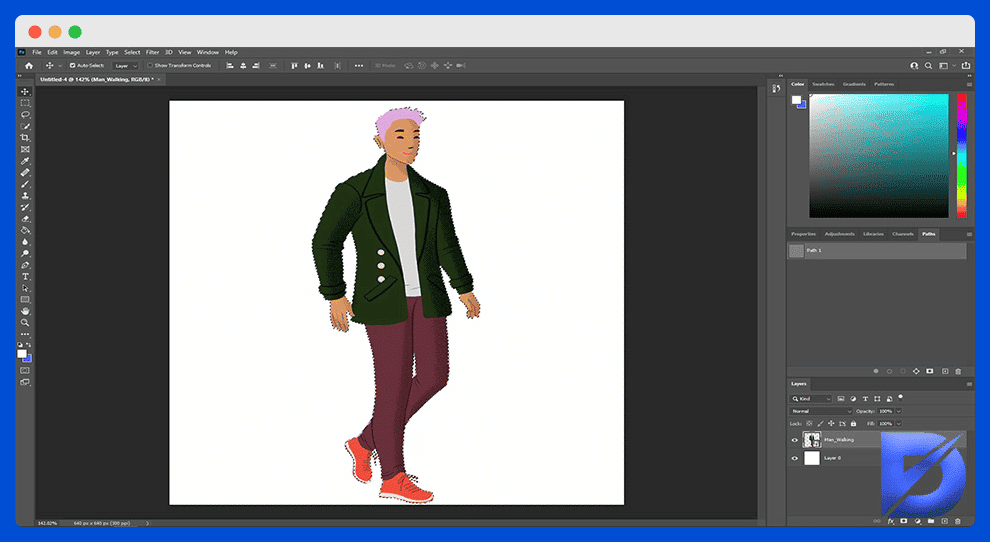 Photoshop
Adobe Photoshop is one of the image editing and treatment tools. In addition to editing images and other functions, it is also possible to create vectorized images within Photoshop.
Understand how to vectorize images in Photoshop through this guide:
Open the image you want to vectorize in Photoshop by clicking on "File" and then "Open" and select the image;
It would be best to cut it with the path you want to transform into a vector when you open the image. For this, use the "Magnetic Lasso" tool or the "Pen Tool" to make a more precise cut;
Outline the entire image with the details you want to appear in the vector. When finished with the outline, press "Enter" on your keyboard to create a dotted selection;
On the top toolbar, click on "Window" and select "Paths";
On the side of the editor, a tab will open. Enter the "Paths" menu and select "Create a new Work Path";
After that, the entire selected area will be restricted to be worked as a vector;
Then you will need to export to Illustrator, go to "File," "Export," and select "Paths to Illustrator";
When you open Illustrator, the stitches are just right for vector tracing, with perfect line quality, and you can zoom or resize as much as you like; after that, save your new vector.
Here are ten Photoshop filters and plugins once you're done with vectorizing.
Illustrator
Time needed: 10 minutes.
Another tool from Adobe, Illustrator, is one of the best and most popular programs for creating and editing vectors. Graphic designers widely use them to create designs, logos, and more.
A step by step how to vectorize an image in Illustrator, fully automated and very fast:
Enter Adobe Illustrator and click "Create New";

Then select the desired image by clicking "insert file" and search your computer for the image;

Once the image is loaded in the program, select it and, on the top toolbar, click on the arrow on the right side of the "Image Trace" tool;

After clicking the arrow, a screen will open in one with vectorization styles;

Select the option "high fidelity photo" so that the result has more quality;

And once you finish all these steps, your image is fully vectorized and ready to be saved or edited any way you want.
Corel Draw
Just like Illustrator, it's very simple to create a vector image in Corel Draw, just following this step by step how to vectorize an image in Corel Draw:
On your computer, open the program and create a new file, click on "file" and then on "new";
Next, you must import the image you want to transform into a vector, whether they are in PNG or JPEG;
Click on the picture and then select the option "bitmap" and then "contour tracing";
After that, a window will open for you to edit and make some adjustments to your vector;
When you finish these adjustments, click on the picture and select "organize" and then "ungroup;
Once you've done that, your image will be vectorized and ready to save or edit.
Vectorizer
Vectorizer is a platform that allows you to vectorize images online.
On the Vectorizer website, it is possible to transform bitmap images in JPG, PNG, BMP, and GIF formats into vector images saved in SVG, EPS, and PDF formats.
To vectorize an image online is very simple. Select or paste the bitmap image you want to transform into the indicated area and wait for the image to load. The online version automatically detects the image type for you.
The online version also allows color editing, changing the color palette of the new vector.
When editing and configuring everything in your new vector, click "Download result" and choose whether you want to download "vector fill only" or "dash plus fill," in these two options, you can save the new vector in SVG formats, EPS or PDF.
In the offline version you downloaded on your computer, you can save it in all online formats besides AI and DXF formats, which works perfectly with Illustrator, Corel, and other editing programs.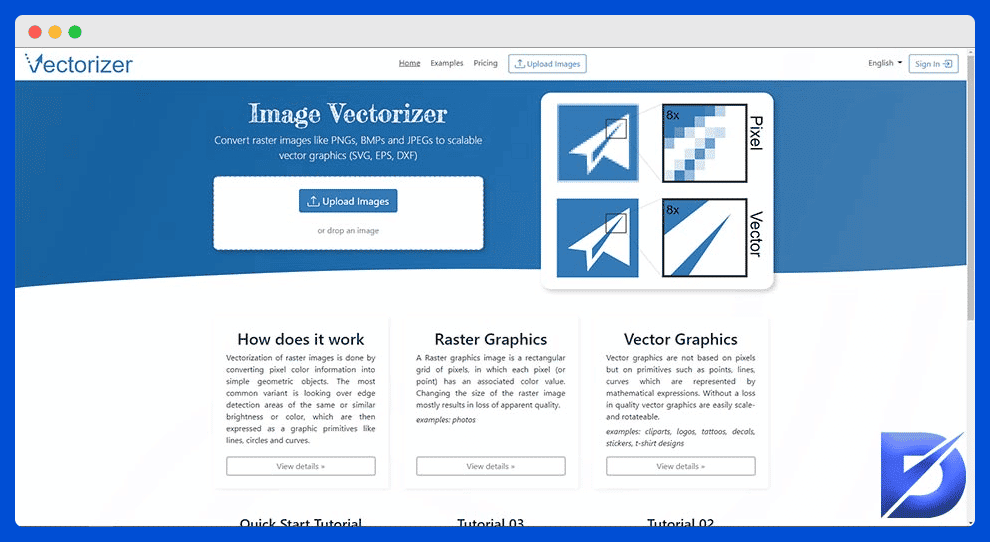 Care When Vectorizing an Image
When vectoring an image, some care must be taken with the effects, such as shadows, which can present defects if saved in formats such as EPS and WMF.
Some very small images tend to lose definition when vectored. Now understanding more about vectorized images, we have separated some tools that can help you to vectorize images.
FAQs About How to Vectorize an Image
How do vectors form a certain object?
For an object to form, mathematical calculations are made that form lines and curves.
What are the most used programs for creating and editing vector images?
Usually, two of the most used programs for creating and editing vector images are Adobe Illustrator, Photoshop, and Corel Draw.
Which settings can I use for a photo or illustration with a lot of detail?
You can use Hi-Fi and low-fidelity photo settings.
How can I check if an illustration has a White backboard?
You can move the illustration of the artboard.
Which ways of saving a vectorized image will cause defects?
If you save images in formats such as WMF and EPS.
How to Vectorize An Image in Short
We hope this list has helped you understand what vector images are and how to vectorize an image. Also, We hope that you will take these ideas and put them into practice to work with images that can change your goals and objectives.