You have a site that you put a lot of effort into; maybe you spend hours or even days on its content. Still not getting any success in Google rankings? Maybe you do not know the ranking factors of Google well. In our article today, we will examine whether Google is discriminating. So our main question is Google biased towards websites?
How Does Google's Algorithm Work?
Before answering the question "is Google biased towards websites" we should look at how Google's search algorithm works. So, what are Google's search results?
Your site's domain value. If your competitor's domain value is higher than yours, you can rank lower than your competitor, even if your content is better. Google puts the sites it trusts higher in the rankings. In this sense, we can say that Google gives it a privilege. Decide for yourself whether this is discrimination or not.
Keywords. The Google algorithm gives importance to the keywords in the content. It is very important to use these keywords correctly. Too much keyword usage and less keyword usage can also lower your rankings. When we look at it in this sense, we cannot say that there is discrimination.
Click Rate
Click-through rates are very important for the Google algorithm. To get these clicks, you must use appropriate meta and titles. For example, on news sites, news headlines are very important, as in newspapers.
The rate of users staying on the page. If users leave your site as soon as they enter your site, unfortunately, this will not rank you higher in Google rankings. Let's say you found a very good content title and get users to click. If the content is not as good as the title and the user exits immediately, that will not do you any good.
In light of this information, we cannot say that Google is discriminating. Is it possible to prove this? Let's examine it in another title.
Google CEO Sundar Pichai and Charges of Discrimination
Google CEO Sundar Pichai has been called upon to testify publicly on accusations by conservative news sites. This is neither the first nor the last discrimination case for Google. There is such a debate in terms of news sites. In the rest of the article today, we will try to explain this to you through news sites. Google periodically updates the search engine. Some think this is purely for improvement, as well as those who think it creates discrimination. First of all, we would like to point out that Google does not accept these accusations. And actually, it is impossible to prove these accusations at the moment.
So what has been done in line with the efforts to prove? Primarily based on Fox News to compare before and after updates. There was no noticeable change in Fox News' traffic. So this is not enough to prove whether there is a political bias or not. So they did this research again on conservative and liberal news sites, and what's looking at here is the organic click-through rate. This does not include the click-through rates you get with the ad. The result they saw was the following; Conservative news sites have a greater decrease in average clicks.
This data is carried out on really big news websites. Another thing they say is that both conservative and liberal news sites have experienced positive and negative effects. So these updates made by Google do not contain one-way effects.
Apart From News Sites
Studies on whether Google is biased are on news sites. Maybe you are a blog owner and not a news site. It is difficult to give a clear reason for Google to be biased towards you or your competitor other than advertising. In this regard, if you're failing the rankings, it's hard to say it's because it's Google biased. We can think of it as being successful in social media platforms such as Facebook and Twitter. Success on these platforms is not observed through a ranking. The important thing here is the quality of your content. Search queries lose their importance here. If you want to rise in the rankings, you should pay attention to your content and learn SEO techniques.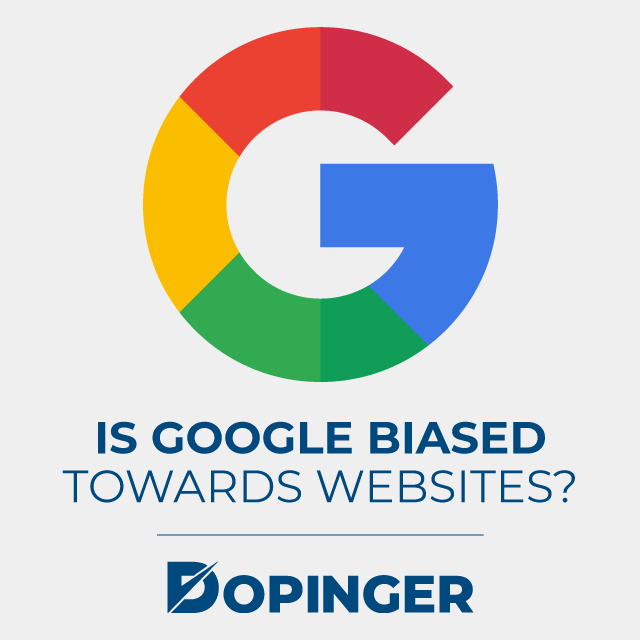 FAQ About Google Bias
Is Google's search engine biased?
All we can say about this is that Google prioritizes its products. Other than that, it is impossible to say anything for sure.
Which search engine is least politically biased?
Every product has some bias in itself. Google and other search engines may be discriminating against their products. However, it is not possible to say which one did more or less.
Why do search engines give different results?
Each search engine has its keywords, algorithm, and structure. So even if you do the same search, you will get different results.
How do search algorithms work?
Search engines' algorithms scan the content you are looking for and give you results according to the keywords in it. If there is more keyword you are looking for in a text, it moves it to the top.
Why is Google blocking my search?
If you are faced with such a situation, Google may be suspicious of situations such as spam, hacking. If the Google algorithm detects such things, it can block the search and the site.
Conclusion on Google Bias
Google has a unique search engine system. It looks at certain things while giving search results. We cannot say that Google is biased or neutral, as all of these factors cannot be looked at together. However, today we presented you with the data obtained in our article. Hope you got an answer to the popular question is "Google biased towards websites?" If you got more questions about the matter, it is possible to contact them. Here's how you can contact Google.