Negative SEO is the name given to all of your competitors' external efforts to reduce your site's visibility in search results, also known as SERPs. You can protect your site from such attacks that could cause you to lose rankings.
You can find details about what to do step by step in our article. It is possible for you to take precautions against all harmful external attacks on your site. You can read and apply all the steps mentioned in detail in our article and ensure the security of your site.
Negative SEO attacks can be divided into six main categories;
Low-quality backlink attacks,
Sliding into the server and embedding "spam links,"
DDoS, Botnet attacks,
Increasing the bounce rate by sending hits on irrelevant words,
Copying and disseminate your content as their own before it gets indexed,
Creating fake social profiles and damage your reputation.
We would like you to know that these procedures are absolutely unethical before proceeding to review all of these items one by one. We will talk about protection methods rather than application ways in our article.
Negative SEO: F.A.Q.
Why people do Negative SEO?
Negative SEO operations are the entirety of off-site actions performed to diminish the rankings of competing sites. The main goal is that competing sites lose rankings on their targeted keywords and hit rock bottom.
Is it possible to spot Negative SEO?
There are multiple ways to understand that your site is a target of Negative SEO operations. The easiest of these methods will be to check the anchor text of incoming links on the Google Search Console. Links from strange and bizarre words mean that your site is targeted.
Can you protect your website from Negative SEO?
Negative SEO will work for the most part if you don't take constant action after you spot it. This is a situation that web site owners do not want, and may cause serious losses in rankings if the necessary interventions are not performed or it is too late.

The majority of Negative SEO attacks consist of external links from spam sites or directing links with banned words to another website. You can easily remove these links and protect your website by using tools such as Ahrefs, Semrush, and Google.
What Are Negative SEO Methods?
With Negative SEO, you can reduce the ranking of competing sites on the keywords they have targeted. Unless the sites under serious attack do not take precautions. Google can perceive these actions as spam and malicious.
A site that is detected as spam continues to lose ranking, even if you take the necessary precautions. It will take some time for that webmaster to return their website to their old strong position.
In this section, we'll talk about how you can protect your site from such attacks and what steps we should take in six main bullet points.
What Are Backlink Attacks?
One of the most used Negative SEO methods is directing irrelevant and inappropriate anchor text links to your site. These will be quite easy to recognize.
Such attacks usually come from keywords that are entirely blasphemous and offensive words that are banned by Google to some extent. You can take the necessary measures against these attacks from analysis tools like Google Webmasters and Ahrefs.
Google has released the Disavow Tool to help webmasters cope with these issues, but you should use it with caution and only as a last resort.
How to Prevent Backlink Attacks?
The basic steps you need to take to prevent these attacks branches out to two. These two steps are sufficient in practice, but if you want to take detailed measures, you can also get advanced help by getting help from tools like Ahrefs, Semrush, and more.
Let's see what tools you can use to prevent harmful backlinks from overtaking your rankings on SERPs.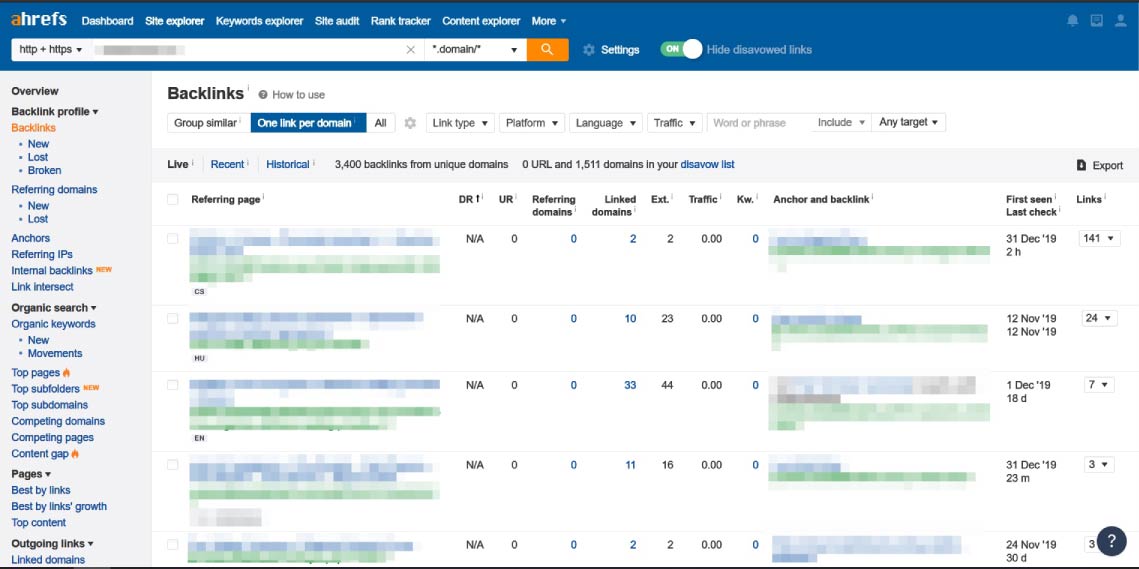 Ahrefs
The Ahrefs tool will be one of your biggest helpers in checking the quality of your backlinks. Providing the most accurate and up-to-date analysis of a website, this tool is an analysis tool that every website owner should have.
To check backlinks with Ahrefs, add your site to the related projects section after logging in to your Ahrefs account.
Point to the Backlinks section of the site you added. You can list the external links field from high to low DR and check the links.
In general, because they usually make their attacks with automatic backlink programs, the link output will be too much, and the quality of the links will be diminished. That's why we sort the links out. We recommend rejecting any backlinks that are irrelevant to your site.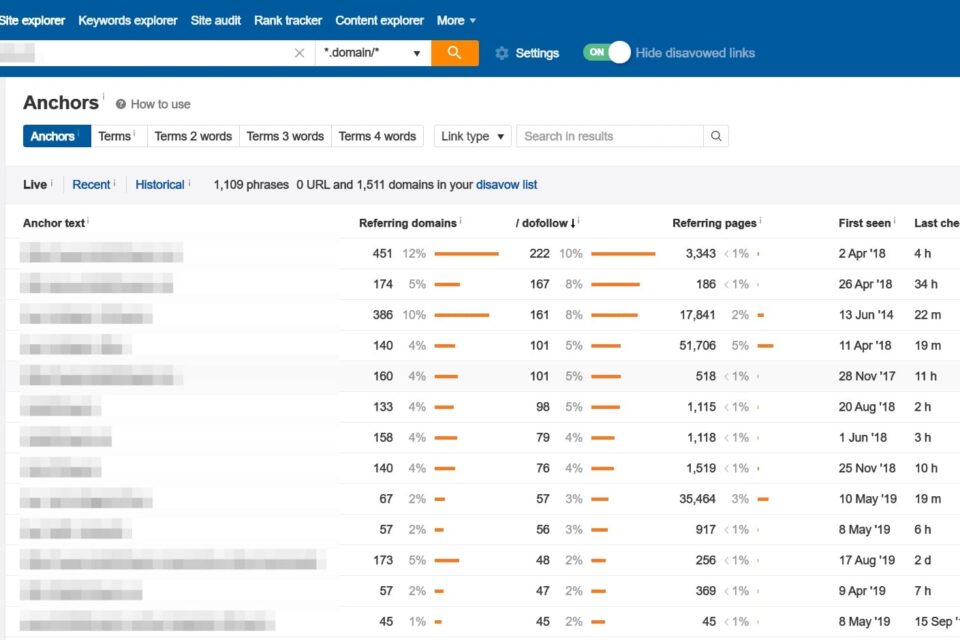 Ahrefs Anchor Text Control: It is a good idea to check the anchored link texts via the Ahrefs tool. We can display them by clicking the "Link Texts" under the "Link Profile" in the left menu.
Google Webmaster Tools
To check your backlinks with Webmaster Tools, after logging in to the Webmaster Tools screen, first, click the "Links" section.
Then select the "Most linking anchors" segment and choose "Other" from the menu that will appear.
On the screen that appears, you can see the list order of the link texts given to your site from the highest DR, to the lowest.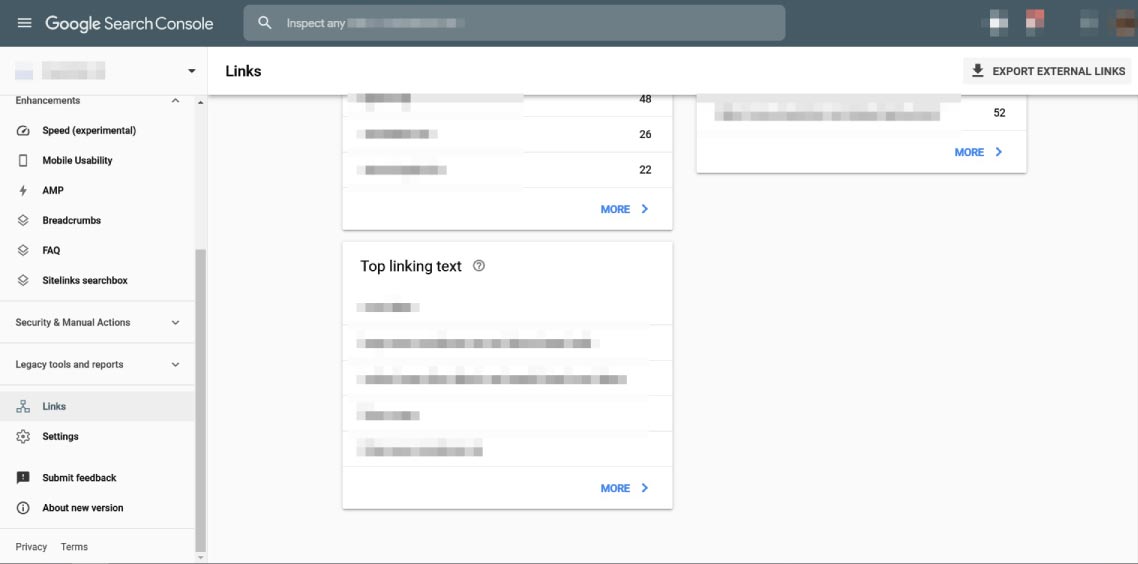 Google Disavow Links Tool
For highly competitive keywords, the main method that competitors use to reduce their rivals' site rankings is to spam them with malicious links. We explained in detail how malicious link analysis can be detected using the Ahrefs or Webmaster Tools.
In the next step, you can examine how the detected links will be rejected without damaging the site. To do this, you'll need to open the Google Disavow Links link given below.
Link: https://www.google.com/webmasters/tools/disavow-links-main
First of all, save the malicious links that you checked through Webmaster Tools and Ahrefs in a note file. On the screen that appears, click on the "Select File" button. You can then end the process by selecting the note file in UTF8 .txt format.
Before the backlink rejection process, the Google warning screen will appear. This warning indicates that incorrectly rejected links may damage the Page Rank. You can continue the process by clicking the "Reject Links" button again.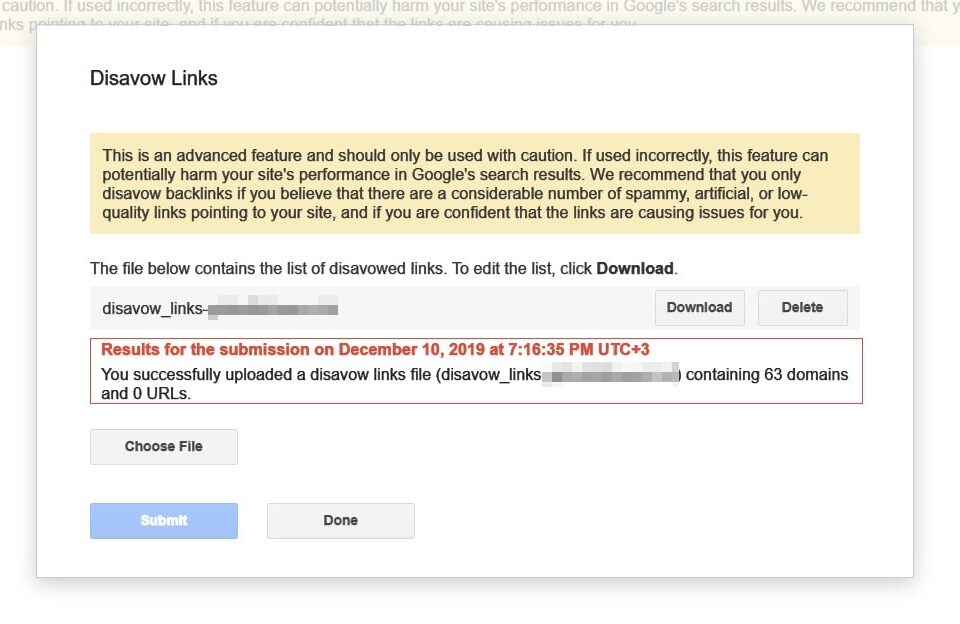 Once you've completed all the steps, you can check the external links you receive on a frequent basis. It's essential that you act carefully while keeping the rejection list constantly up to date and reject any inbound links to your site without losing your site ranking.
What Are Spam Links?
Embedding spam links is the process of adding external links to a website from outside by illegal methods by breaking the security of the site server. Don't forget that this is completely unlawful and heavy sanctions are awaiting the perpetrators.
You should make the most of your server security and protect your site from such actions. You can view all of your external links by querying your site through Ahrefs to find out if there are any unwanted external links on your site outside of your control.
In this case, if there is an external link that you did not add, remove it immediately and secure your server as soon as possible.
What Are DDoS & Botnet Attacks?
One of the most common Black Hat SEO operations on the field are DDoS and Botnet attacks. The purpose of the attacks is to ensure that the site launches late when clicked or never launches after all.
As you may guess, this something frowned upon by Google, and you may start to lose your rankings if your site acts slowly or never opens. In addition, organic traffic is also negatively affected. You can protect your website against these attacks with CDN services like Cloudflare.
What Is Google Analytics Spoofing?
This type of attack is performed through programs, and they are against your page's trustworthiness and authority. Links with illegal words are displayed to Google as if they were the referral to the entered site. And they do this by clicking these fake links via the programs.
Search engine bots that see traffic from prohibited words evaluate the site as malicious and lowers its ranking. The site receives a lot of traffic through programs of the specified attack type, but because the incoming traffic leaves the page at once, the bounce rate increases and is again deemed negative by the search engines.
What Is Content Scraping?
As is known, Google attaches great significance to the authenticity of the content. Caution must be taken to ensure that content shared on the web is not stolen by your competitors before Googlebot has a chance to index your page. You can check for unauthorized use of content by searching for some of the relevant content on Google or using dedicated controlling tools.
You can view pages with stolen content from your website by scanning your site directly through Copyscape.
How to Fetch Your Content for Indexing?
After doing this, even if there is no stolen content, you should always strive to fetch ready to be published content on Webmaster Tools.
On the URL check screen that opens, you can view whether your page is ranked in Google or not by pasting your URL to the designated area. In other words, you can see if your page is indexed.
If the page is not indexed, you can request Google to crawl and index your page with the "Request Indexing " option. In this way, you can prevent your competitors to steal your content before it gets indexed.
How to Report Stolen Content?
When you complete the check, if you find that the content is stolen, you can take legal action and have it deleted on the web from the DMCA.com site, complaining that it violates your copyrights and it's content theft. Or you can report this sketchy action directly to Google.
From here, you can review how you can file a stolen content complaint to Google through the explanations below.
By clicking on the link, we get to the "Report Spam" screen, where we select "Report Webspam" and proceed to the next screen.
You can make a complaint by filling in the relevant fields with the web page that you think is a copy of the newly opened page of yours. In order to achieve a fast result, you must ensure that the information provided is accurate and complete.
What Are Fake Social Media Accounts?
Sometimes spammers create fake accounts on social media using the name of your company or website. With these accounts, they may harm you by making degrading shares on behalf of your company or enterprise.
You can use tools like Mention.net to find out who uses your brand name.
How to Keep Track of Your Brand Awareness?
With this tool, if any user mentions a brand that you own in their social media account or website, you will be notified. Hence, this way, you can easily decide whether to take action or not.
Select the keywords and the media channels that you want the tool to search for and keep track of. After that, specify the areas that you want the tool to exclude from the reports.
Then, click the "Generate Alert" button. You'll receive alerts every time your keyword (brand name) is mentioned on social media, blogs, forums or news.