Do you know what SEO vs SEM is and the distinction between them? SEO (Search Engine Optimization) and SEM (Search Engine Marketing) are the two most common digital marketing strategies. Both studies assist you in increasing the visibility of your website in search engines. However, there are certain differences between the two.
First, let's take a look at the basic definitions of SEO and SEM. SEO stands for Search Engine Optimization. In short, SEO is all the work done to rank sites or pages in search engines, such as Google.
SEM is Search Engine Marketing. In short, SEM is that the method of obtaining paid advertisements through search engines. The foremost standard SEM tool is Google's Ads.
What Is SEO
Search Engine Optimization is the steps to increase a website's performance in search engine results and increase visitor traffic performance with the determined words and keyword groups. SEO aims to get websites to rank higher on Google or a search engine based on keywords. High-ranking websites get more clicks.
With SEO tools, you will be able to measure and improve hundreds of SEO criteria, including the software, design, and content of your websites.
SEO works require many on-site and off-site studies. You need to perform many actions, from the content on your site to software-based edits. With these arrangements, your website will become more visible in search engines, and you will have a chance to reach more potential customers.
SEO has several strategies you can use to increase website traffic. Visitors are actively searching for what you have to offer and tend to convert more often. You cannot see the results of the work done in a short time, so it requires a long-term plan.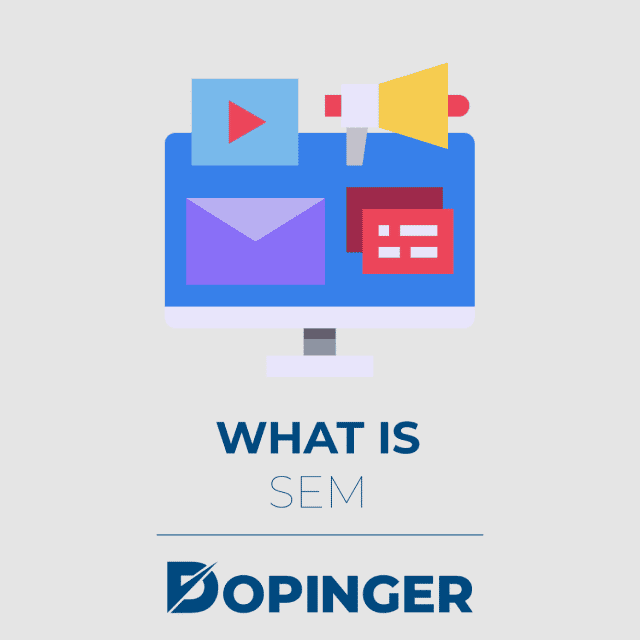 What Is SEM
Another digital concept that has started to make a name for itself and become very popular after the concept of SEO is SEM or Search Engine Marketing. It is a marketing activity in which you increase traffic to your web page by purchasing paid advertisements on search engines.
Thanks to SEM, you can advertise on the internet and increase the awareness and visibility of your website by text ads, image ads, video ads, etc. It is possible to be recognized in a short time and start making money immediately. Technically, it can be a digital marketing method that aims to rank higher through the ads you see on search engines.
SEM offers you many alternatives to first determine your target audience. It allows you to show ads only according to the age group you want, occupational status, or geographical location. Ads reach the people you want to reach, and you can create your website from the visitors you want. With Search Engine Marketing, you can increase your existing customers' interest and achieve success in your new customer targets.
SEO vs SEM Differences
Now, let's talk about how to identify the primary differences between SEO and SEM. SEO texts focus on content. It works with content writers. Content writers produce 100% original texts, determine the points of the text that will appeal to the company, and write the keywords in this text in a specific order. Original SEO content will be moved to the high rank and will cause the website to appear on the first page.
SEM is visual and advertising oriented. It can only operate in the field of promotional advertisements. SEM, which people generally use in advertising and promotion, is less popular than SEO optimization. One of the reasons is that it is made for only one product and is used for a short time.
We can list other differences between SEM and SEO as follows.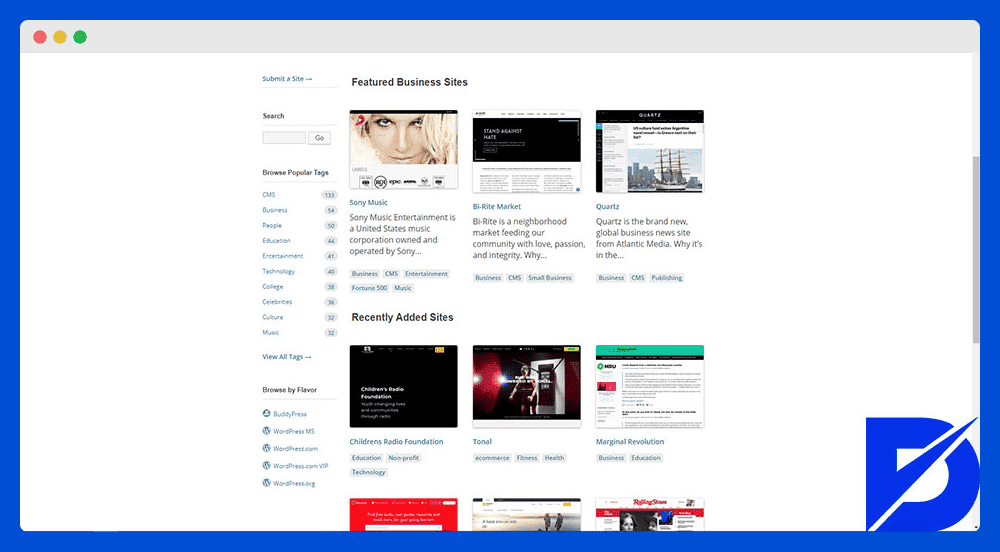 Cost
The most important difference between SEO and SEM is their cost. SEO is less costly than SEM is a higher-cost application. The main reason for the high cost of SEM is that the prices of the keywords used in the sectors are constantly changing according to the intensity of use. If users search for a keyword frequently, its costs increase accordingly. This is not the case in SEO applications. Keyword fees are fixed.
Timing
Since SEM applications are ad-heavy applications, the effect time is swift. It has a factor such as reaching the target audience instantly with the proper planning and work. SEO is more forward-looking, and the time-to-effect is not as fast as SEM. SEO studies are more comprehensive and long-term studies compared to SEM studies.
Accessibility
In general, customer habits include the motivation to reach high rates of searches instantly. It is expected to reach the goods or services that are planned to be purchased effectively and quickly in the search results. In this sense, SEM applications are a good point. SEM applications have great importance on search engines in terms of fast accessibility.
To summarize, it would be appropriate to use SEM applications to reach the target audience as quickly as possible. It is an important move to use SEO practices in forward-looking and continuous applications. Both applications are great helpers of businesses in reaching their targets in the online environment.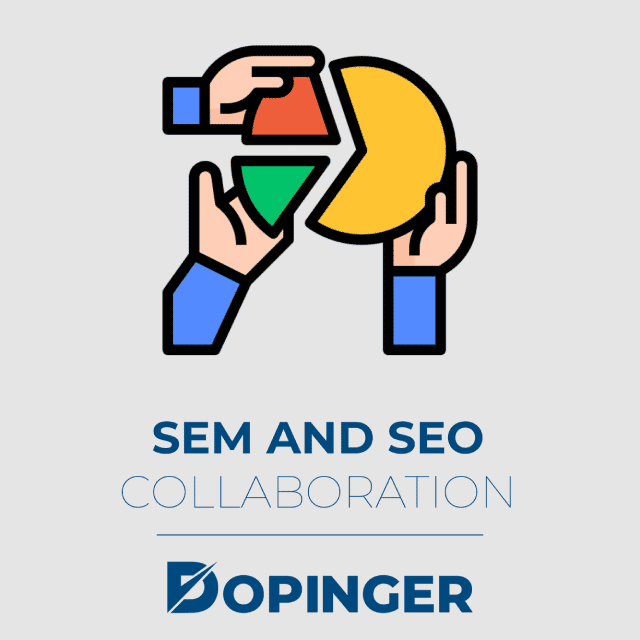 SEM and SEO Collaboration
You can apply SEO and SEM together to create a great digital marketing strategy for success in the search engine world. SEO is a long process and requires patience, while SEM is a process that can be beneficial in a short time. When you start a digital marketing strategy, you can't see the results of SEO work immediately, so you have the opportunity to appear in search engines with paid ads while managing your SEO processes. Having your business appear more than once in both organic and paid ads in search results increases brand awareness and clicks.
Simultaneous SEO and SEM works lead to improved click-through rates and often improved conversions. This is a proven strategy for success. Both are systems with search engine optimization, one of which is paid and the other is free applications. Increasing brand awareness, being visible on digital platforms provides a highly positive effect when used together.
FAQs on SEM vs SEO
What is the purpose of SEO?
The primary purpose of SEO is to list a website high in search engines. This purpose is to ensure that the information, services, or sales on the sites are delivered to more interested audiences.
Why people use SEM?
It refers to the paid ads that search engines show to users through results pages. Despite its differences with SEO, SEM has the same purpose. The purpose of both is to rank first in search engines.
How is SEM pricing made?
PPC, also described as "Pay-Per-Click," constitutes the basic logic of the SEM process. The pricing of the ads you give is determined by a conversion-oriented parameter, such as the number of people who clicked on the ad.
Can I use both SEO and SEM?
Many successful businesses use both. With SEM, you can get real-time traffic, and with SEO, you can make optimizations to minimize your SEM needs. While successful businesses can stand out on a large number of keywords with SEM, doing SEO alone may not be enough. Using both will be more effective.
What does the quality score mean in SEM?
The fact that the keyword you choose is related to the web page you have assigned, the relevance of your keyword and page to the ad text you have created, or the performance you have achieved from your past advertisements determine the overall quality level. High quality can mean a high potential conversion rate.
SEM vs SEO In Short
There is a chance to determine the differences between SEO and sem according to the methods of promoting their products, not according to the fields of the companies. You can use both in the same industry. Only SEO will be permanent; sem will be a shorter but effective method.
If you want to make money from the internet and you want to carry out your marketing initiatives on the internet, make sure to do SEO and SEM studies for your website. When the two are run together, you can see how much your customer portfolio has expanded and how you have grown your business.