Every computer has at least more than one processor, which is called a CPU or central processing unit. High CPU usage is a condition that prevents the Central Processing Unit, which is the brain of the computer, from working properly and may cause system interrupts. The Central Processing Unit, which is the brain of the computer, is an important piece of hardware that needs to work properly. When a game freezes or crashes, open applications stop responding to new inputs, or a program starts very slowly, the underlying cause may be abnormal CPU usage. In this article, we will discuss how to reduce high CPU usage and how to fix system interrupts caused by high CPU.
What Is CPU?
You can assume the Central Processing Unit (CPU) as the brain of the computer. The processor (CPU) is an electronic device that controls the operation of the computer's units and the data flow between these units and performs data processing (evaluating the data and producing new data). All the important components of the system, such as the video card and RAM, act according to the instructions of the CPU. Therefore, a properly functioning processor is a critical part of any gaming PC.
At some moments, an application or any application draws power from your processor for no apparent reason, and your CPU starts running at 100% before you even realize what is going on. The main factors causing high CPU usage are viruses, background services, and programs. As a result, high CPU causes system interrupts.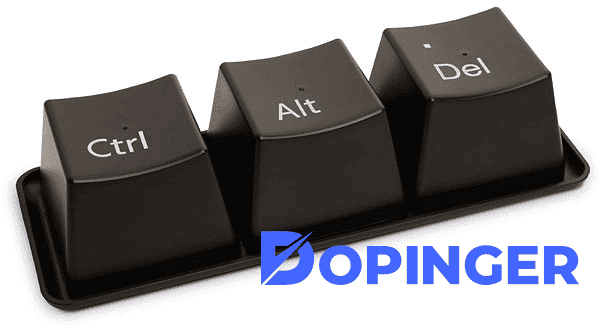 How to View CPU Usage
To view CPU usage using Task Manager, follow these steps. There are two different ways to open the Task Manager. The first is to start Task Manager on the screen that appears by pressing the Ctrl+Alt+Delete keys. The second is to right-click on the taskbar and then Start Task Manager.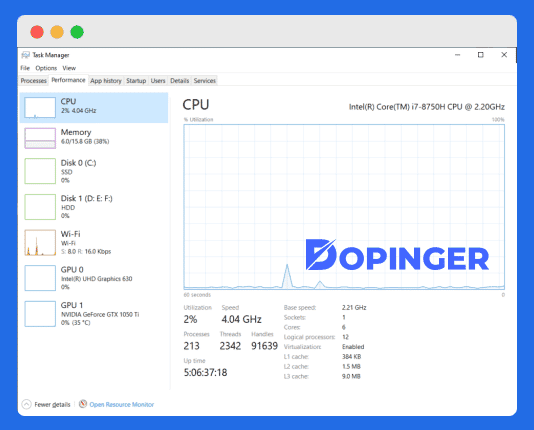 In the Task Manager window that opens, click the Performance tab. The top two graphs display the amount of CPU and memory being used in percent and megabytes (MB). You can see the amount of memory used at the bottom of the Task Manager window.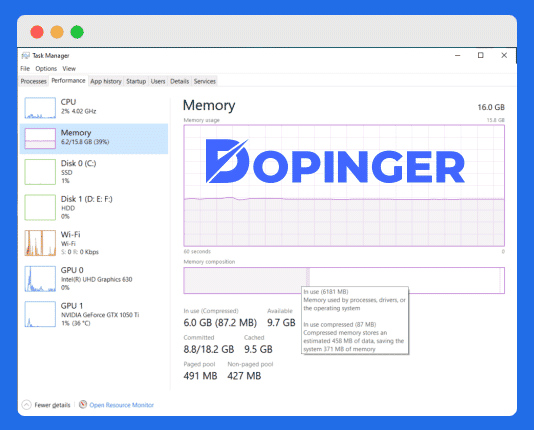 How to Fix System Interrupts Caused by High CPU
Time needed: 1 hour.
You can perform the following actions to reduce high CPU usage and fix system interrupts caused by high CPU.
Restart your PC.

First, save all the work you have done on your computer and restart your computer. "Shutting down and restarting" is a classic troubleshooting method. This method can fix the problem, especially if it has been a long time since your last reboot. A reboot clears the temporary files and can resolve the slowdown on long-running processes.

Close the high CPU-consuming applications using the task manager.

If a program starts increasing CPU usage right after restarting, Task Manager is the easiest way to track it. Open Task Manager by pressing CTRL+SHIFT+ESC. Once in Task Manager, click on the Processes tab at the top. Click "More details" at the bottom of this tab to see the background Windows processes. Locate the "CPU" column at the top of the Processes tab and click it to sort by CPU usage. Close all background programs and tabs that you are not using, and then return to Task Manager to see if the situation has changed.

Update hardware drivers.

Drivers are programs that manage certain devices connected to your mainboard. If you update your drivers, it can cancel out compatibility problems or bugs.

Scan for viruses and malware.

If the 100% CPU usage problem continues, it may be because of malware disguising itself as a normal Windows process. To check this, you can run a full scan with your antivirus. Offline scanning provided by Windows Security (runs in the taskbar or Windows settings) is a good option.
FAQs on Fixing System Interrupts Caused by High CPU
Can we consider System Interrupts a virus?
No, it is not. Rather, it is an essential Windows component and crucial to the operating system. You cannot stop the System Interrupts on Task Manager. Still, if you are in doubt, you can start a full system scan using the built-in Windows Defender or some antivirus program.
What can I do if I have tried everything and there is still a problem with System Interrupts?
If you tried everything, but nothing worked, you may need to take your computer to an authorized service center as they can identify the underlying cause. If they cannot resolve the problem, you can try reinstalling Windows 10 as a last resort to see if it interrupts the high CPU usage of the system.
Does updating BIOS help fixing System Interrupts?
BIOS is the firmware on your PC that starts when you turn on your computer. It makes certain all elements are in good condition and then triggers the boot process of the operating system. You may be using an outdated BIOS version that has compatibility issues with the operating system. You may reset the BIOS settings (press F2 during boot to start the BIOS settings) to try if the high CPU usage issue stops.
Does Fast Startup cause System Interrupts?
The Fast startup option in Windows causes many problems on Windows. To turn off a fast startup, open Control Panel, go to Hardware and Sound and uncheck Turn on fast startup.
What should the CPU temperature be while playing games?
The ideal temperature range when the processor is idle is 35-50 degrees. When the processor is under load is 60-85 degrees. Also, when the graphics card is idle is 30-40 degrees. Lastly, the ideal temperature range when the graphics card is under load is 60-85 degrees.
Fixing System Interrupts in Short
System Interrupts are an operating system process, and if it is in the System32 folder, it is not malware. If it is elsewhere, it just might be. In this guide, we have helped you understand how to fix System interrupts, and high CPU usage of System interrupts in Windows 10.
Thanks for reading. If you liked this article, you can also like our article about the Error Code 0x80070057 and fix it.