Do you want to create a free website but cannot decide which site builder tool to use? You may be thinking that a free website builder tool sounds too good to be true. You can be sure that some of them are really high quality. The most important criteria in these site builder tools are factors such as ease of use and template designs. It is necessary to pay attention to this before choosing a ready-made site builder. In our article below, we present you with the best website builder options.
Here is a list of the best website builder options out there;
Wix
Weebly
Strikingly
Site123
Jimdo
WordPress.com
IM Creator
Jimdo
Jimdo is quite helpful in helping you create a free website. You can make a website ready for publication in just minutes. This can come in really handy if you are new to the world of website building. If you have used any other website builder, you may find this platform a bit limiting. The choice of templates is quite limited. Moreover, there are no annoying ads on the free plan.
The domain name format is pretty standard. You get a domain name like sitename.jimdosite.com. As a result, if you want to use a quick and easy site builder to provide a Facebook store or similar environment, Jimdo will be the ideal choice for you. Before using Jimdo, you should remember to consider the pros and cons. I can say that the options are quite cheap, especially if you want to upgrade your plan on this platform. If you are happy with your initial website, you can continue to stay on the platform.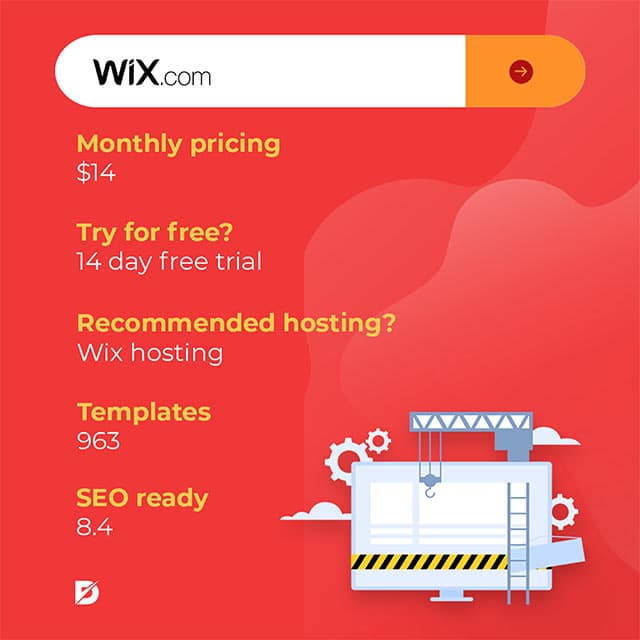 Wix
Among the best website builder options, Wix is maybe the most popular free one with more than 100 million users. It offers an extensive collection of useful professional templates for small businesses, online stores, restaurants, and personal portfolios with its websites in the form of an easy drag and drop editor.
Wix provides built-in Google Analytics to monitor your website and even offers additional applications for individual preferences. Wix can even edit a special design you submitted for you if you like. The biggest downside to the free version of Wix is that it comes with ads. There is a prominent Wix ad on every page of your website. In order to get rid of ads, getting the premium version will fix the problem.
Wix can offer more templates than any current website builder. It has more than 900 templates to choose from, divided into sub-categories such as e-commerce, creative sites, small business. You do not have to choose from the category most relevant to your site. As they are customizable, you can pick a template from any other category and edit it according to your needs.
Of course, Wix's free plan has several limitations. For starters, there is a banner ad that continues to appear when you scroll down the website. On the free plan, storage and bandwidth are limited to only 500 MB. This restricts you from using too many images on your website. It also means that you may attract very few visitors to your website. Also, you cannot sell any products through Wix on the free plan.
Strikingly
The only goal of the Strikingly platform is to get you online very cheaply and easily. Therefore, unlike other website builders, it does not offer intuitive possibilities. However, you do not have the level of creative control that other tools provide. Strikingly gives you the opportunity to create a one-page website with a pre-built design. Unlike many other free website builder platforms, you have the chance to change the template as many times as you want after you publish your website.
With the free plan of the Strikingly platform, you can create as many free websites as you want. You can also sell on your website through 5GB of monthly bandwidth, 24/7 customer support, and simple store functionality. But you should remember that you can only sell one product per page. Strikingly has chosen to be significantly less intrusive when it comes to advertisements. Your domain name will be websitename.strikingly.com. With the opportunities you will have in the free plan, you can make your website ready for publication in a short time. All you have to do is have a design you like.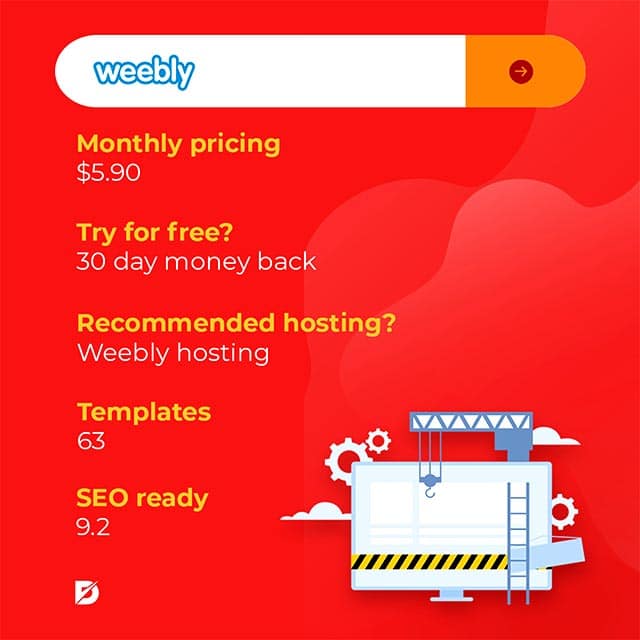 Weebly
Weebly has an extremely user-friendly drag and drop editor. By supporting this ease of use with excellent SEO tools, you can put your website in a much stronger position. That is why Weebly stands out as an ideal off-the-shelf website builder, especially for small businesses.
You can choose from specific templates that cover most niches, including businesses, bloggers, events, and portfolios. You can have a professional-looking site ready in a few hours. Then, when you see fit, you can publish your site.
All templates are mobile-friendly, so your free website will look good on any device without any interference. Your website must be fully optimized during the periods when there is a lot of traffic coming from mobile devices. You can make the most of the tools available in the user control panel. So, you can have your website ready in just a few hours.
Unlike Wix's template gallery, Weebly does not offer a search option, and you have to scroll through the available categories. If you are building a business website or online store, you have the most options (30+ themes), but less than 20 if you are building a more personal site like a blog or portfolio site.
The free plan is a good option for a simple website, but it is also a good way to see the platform before signing up for a paid plan. It comes with free hosting, 500MB of storage, and access to all of Weebly's themes. However, you can see the Weebly logo at the bottom of every page on your site. This should be fine for a personal blog or portfolio but not for a professional business. If you want to set up an online store, you will need to upgrade to take advantage of the e-commerce features.
Site123
Probably one of the most flexible and most straightforward to use online site design tools. It allows you to customize everything, offers a one-click setup wizard with graphics and templates. SITE123 is unique with its free image library, professional fonts to add visual elements to your site, and creative templates to create multiple pages. It also offers 500 MB of storage and Google Analytics integration. And since it is ad-free, you will not feel pressured to switch to the paid plan.
The simplest downside of Site123 is that it does not give you a choice of templates. Unlike other website builder tools, it has various limitations in this respect. In other words, with Site123, you have no choice but to choose from a variety of pre-populated designs. Instead, you choose the type of website you want from 11 different categories (portfolio, blog, music, etc.) before they present you with a default website design. You have the chance to edit it as you wish using the various tools the platform offers.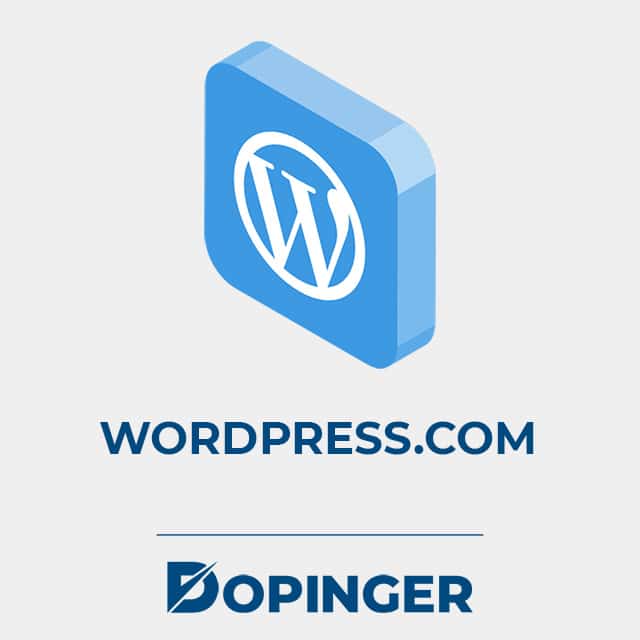 WordPress.com
WordPress.com is a place for blogging. It has a wide variety of features such as analytical data, comments, search features, categories, and archives. WordPress.com has all the power of WordPress.org, but it is a simplified version. WordPress.com may require some technical knowledge. If you do not have enough technical knowledge, you may have problems using the platform. It is possible to use the platform without the need for coding. Knowing the basics is essential to get the most out of WordPress.com.
However, if you are pretty tech-savvy and do not want to pay a dime to blog, WordPress.com is your best bet. I would say that WordPress.com is a little different when it comes to choosing a free domain name. For example, when it comes to a food website, it offers an extension in the form of food.blog. However, if you are not a blogger, you will have to struggle to customize your site to your liking. WordPress.com gets discredited here. You feel limited as their templates are mostly set for blogging. If you need different websites, you should stay away from here.
IM Creator
IM Creator is one of the most ideal options for those who want to create a website quickly. Students, artists, and nonprofits have the opportunity to use the premium IM Creator software for free by filling out a form. The community enrichment team will review your application within 72 hours. If they approve your application, they will add the license to the first website you will publish. There will be no advertisements on this first website. You should also remember that you can use your own domain name.
It has more than 11 million websites built on IM Creator. Therefore, the site is a popular option with its easy interface offers a wide variety of templates and images. You can own single or multi-page layouts by scaling your platform. This site builder is unique for its built-in e-commerce tools. It also offers SEO tools and Google Analytics to fully optimize your site for search engines.
It is full of templates with content that you can quickly modify on your own in the drag and drop editor. This will save the work of building or designing something from scratch. If you are a student, artist, or non-governmental organization, IM Creator is the ideal website builder. IM Creator will give you almost all the possibilities to quickly prepare and publish a website. Even on its free plan, you can work with many templates, most of them eye-catching.
How to Choose the Best Website Builder
Choosing the best website builder option really depends on what you need. Do you want a website as easy as possible? You can choose SITE123. Do you want the world's largest publishing platform behind your site? WordPress. Wix is easy to use but great if you want total creative control.
FAQs on the Best Website Builder Options
What businesses should use website builders?
If you have a small business, using a website builder will help you popularize your brand and reach new customers. If you have a large business, you can benefit from various templates by going premium and get more customers. 
How much do website builders cost?
The cost of building a website may vary according to the basic needs of the website, its design, its suitability for e-commerce, plugins, SEO needs, and the need for sustainability.
If I have a small business, how can I reduce costs?
If you have a small business, website builders provide you with the necessary features to improve your small business. Using the most basic features will get you to your goal, so you do not have to increase your cost.
Is it possible to switch to another website builder option?
Website builders do not make it easy to switch to another one. So it is crucial to choose the right website builder at the beginning. 
Which website builder option is the best for SEO?
Most website builders have SEO features because they want you to grow your audience and continue with their services. Website builders like Weebly, WordPress, Wix and IM Creator come with SEO tools. WordPress provides advanced SEO functionality with plugins
The Best Website Builder Options in Short
In the article above, we have guided you through the best website builder options. You should keep in mind that the free website builders are almost entirely limited in features. Maybe the website builder you use at the beginning will be able to satisfy you quite a bit. However, as time goes on, the limited features offered may be extremely frustrating for you. Nevertheless, you always have the choice to consider premium packages. The best way to find the best choice is to stick to the basics of what your site/business needs and the tools/features that will help you or your team best managing your website.