Google is evolving, but can the same be said of the Link building market?
Link building is often seen as the cure for all ills. Well, you won't believe it, but for many; link building is still today in all respects similar to "very powerful" home remedies. So let's start by clearly saying that this is not the case.
If your site does not generate 90% traffic, it is not because it lacks links but because it cannot meet the quality criteria required for specific SERP queries.
Key Questions To Ask Yourself
Before thinking about the links, you should ask yourself if you have done what is necessary to communicate correctly with the search engine. If you have worked on adding quality where others do not and, finally, there may be errors, perhaps crawling, that may affect your ranking.
Are you using structured data on your pages?
Have you worked on an editorial plan with specific traffic objectives?
Is your content complete and original?
Are the images you use copied too?
Have you conducted a technical audit looking for any errors?
Do you have keyword research defined by objectives?
This time, my invitation is to avoid being the patient who goes to the doctor to tell them what medicine they must prescribe and be convinced of his self-diagnosis made on Google.
On the contrary, you would do well to contact us instead. Ask us to do a check to evaluate whether it is appropriate to start with a link building service. Which, if you wish, we could offer you.
The point is that many link building strategies – and we assure you, we see many around – are not at all beneficial; on the contrary, they backfire against those who are convinced to benefit from them.
Suppose you want to improve your positioning in the long term. In that case, you will do well to use an SEO strategy; perhaps oriented to digital PR, without specific link building tactics that are still sold by agencies and consultants who put it in a nutshell.
In this post, we intend to clarify these and other crucial aspects by telling you in detail what you definitely should NOT do.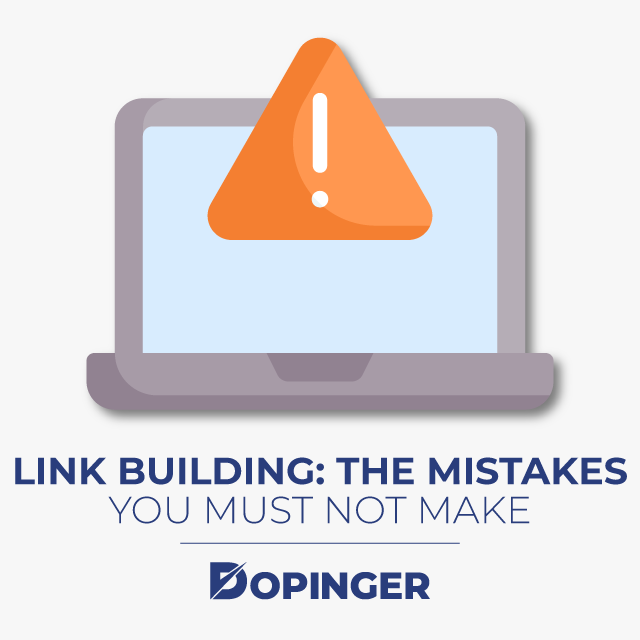 Link Building: The Mistakes You Must Not Make
You don't need an SEO expert here to understand this; not all backlinks are created equal. High-quality backlinks are precious; they increase your reputation, improve your domain's authority, and ultimately make your site more visible on Google.
On the other hand; low-quality backlinks can harm the SEO side, lowering the authority of the domain and putting you in a position to risk manual penalties capable of severely compromising incoming traffic.
Knowing the difference between high and low-quality backlinks is critical if you want your SEO campaign to succeed.
Getting links isn't just a question of quantity. Stop thinking of link acquisition as a basket to be filled; it doesn't work like that.
The right links are the ones you take from real sites perfectly in the topic, with mixed anchor text, perhaps on a long tail, and at a consistent speed.
Instead, do you know what is being done around?
We don't understand how this is possible, but what we see being offered as a "link building service" is often the exact opposite. We're talking about really dangerous stuff, undoubtedly capable of doing more damage than anything else.
Just not to be vague; specifically, we refer to what we are going to describe to you now. Believe it or not most of the link building services around still make these mistakes.
Links From Dirty Dropped Domains
A domain is simply the name of a website and consists of a string of letters, numbers, and symbols.
When a domain is defined as "dropped", it means that it has expired. In short, the owner has not renewed it. Once it has expired definitively, at the end of all the cycles available to us by law to be able to take it back, the registrar can open offers for that domain which, inevitably after seven days, goes to the highest bidder.
Here then, intending to resurrect zombie sites and bring home all the links that are still pointing towards that domain, the magical two-penny PBNs come out from which the consultant X on duty will then sell and place the link to the highest bidder.
All very nice were it not that most of those who do these activities carry them out without taking care of some vital parameters that, if neglected, could result in a penalty for all linked sites.
Poor Page (PA) and Domain (DA) Authority.
To remedy this, you can check using the Explorer link on https://moz.com/link-explorer to know the domain's quality and understand if, in the past, it was banned by Google.
Even if it was the coolest domain name in the world or the most expensive, you understand that search engines cannot found it if it has been banned. So, it is not useful.
If that were not enough, you should know that many buy domains without even checking if they are still present in the Google cache when to check it is simple as typing "cache: domainname.com" on Google!
Another VITAL check among those ignored by most is the verification of the ban by Google Adsense. Many expired domains were left because they were banned from Google Adsense. You understand that the reputation of a site of this type can only soil the authority of those who were to receive incoming links.
Here too, the control is simple; there are tons of sites. It is not an instrumental problem but to put your head and patience. In short, do things well. Verification can be done on Isbanned.com.
Another thing that I just would never want is that my site took links from a site that, in the past, sold illegal items. But would it?
It often happens that an elderly domain may have been hacked or worse still used to spam by hosting the worst things that you cannot even imagine.
Knowing this and other aspects is crucial if you want to avoid finding yourself inexplicably in the abyss. To do this, it is necessary to check the site's history on archive.org (the most extensive historical archive on the web) so that we can ascertain that in the past, it has not been a victim of such abuses. Now is it done?
Not All Dropped Are Bad, Though
Let's understand, not all dropped are bad, indeed. However, it is important to realize that doing PBN is serious and very, very expensive. They are often raised "to save", which is why you are much more likely to be penalized than the other way around. Since the PBNs are born to cheat Google, you're going to steal the thief's house. You understand that you need to assess whether the game is worth the candle, right?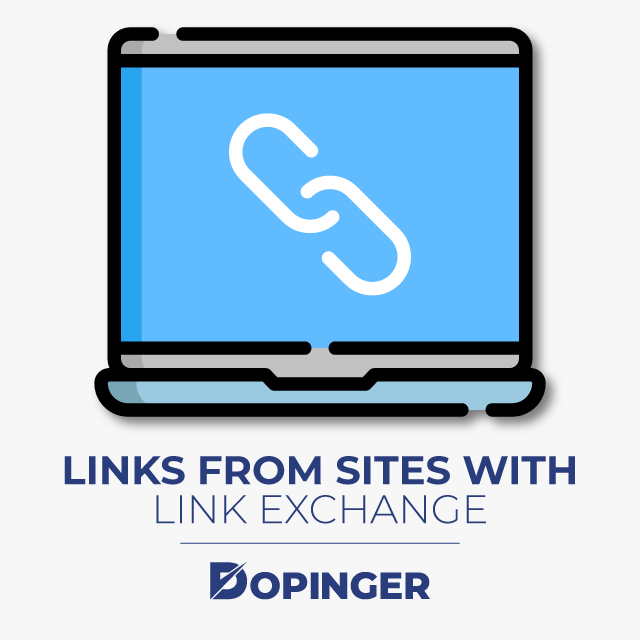 Links From Sites With Link Exchange
The risk arises when engaging in excessive link exchanges. Remember that Google recognizes link schemes very well, let alone if it does not recognize a reciprocal link. Link exchanges do nothing but open the door for you to inevitably end up towards a decrease in your reputation in the Google index. If you ask or accept link exchange requests blindly, you will never know the quality and relevance of the site you are adding.
And the biggest catch, do you know where it is?
Linking to a site that doesn't matter to Google will inevitably lower your reputation in the eyes of the search engine. Links of this kind can certainly only contribute harm to you. So don't even think about it, ok?
Massive Links From Forums And/Or Comments
For clarity: not all inbound links from forums are bad.
If a link comes from a good quality site, from an active user, and the link itself is not manipulative (e.g., always on a dry key), it probably won't do you any harm.
However, if you have thousands of links from foreign, spammy, and low-quality discussion boards, you would do well to cross yourself. A penalty may be on the way. Even today, many offer services of this level, effectively damaging the reputation of the domain.
Suppose you have trouble understanding why. Let us explain it to you in two words: EASY MONEY, obviously, for those who sell.
As you are about to read, there are software capable of firing this rot by the ton to make the proposals attractive, extremely convenient, and apparently of excellent quality to anyone looking for many links at a low price.
Links Created Automatically by Software
Here we want to be concise and straightforward: tools like senuke, scrapebox, xrumer, and company do nothing but create damage in 99.9% of cases. These software shoot links wherever there is no spambot protection and are capable of creating thousands of links in no time. They find space in the world of negative SEO.
As an SEO consultancy agency, the least we can tell you is: stay away from it.
Relevance (Attention, Not Authority) of the Domain That Sends You Links
The source you use to create your backlink is the most obvious indicator of its quality.
As a general rule, the lower the site's quality, the lower the link's quality, posting a link on an untrustworthy, low-level, or poorly designed site will certainly have a negative impact. Likewise, posting any link on a site specifically designed to manipulate rankings will only result in earning a penalty.
The quality of the site that sends you the link is not everything; in fact, its importance must also be considered. Any site completely unrelated to your industry could qualify the backlink as low quality due to its lack of relevance to the host site.
User Intent
The user's intention is very important for your link, and this factor contributes to determining whether or not it may be of quality. The most important thing to keep an eye on is the fact that the user deems it appropriate actually to click on that link and that it makes sense. When doing the keyword analysis to determine which links to insert, you must necessarily remember this if you intend to maximize your business' effectiveness.
A haphazard link that has no other purpose than to generate traffic artificially – and we guarantee you that it fails in most cases – will be treated as a low-quality link.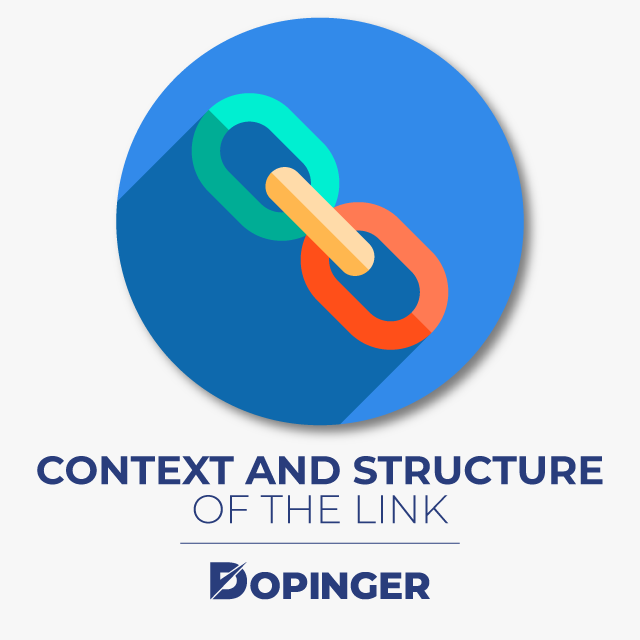 Context and Structure of the Link
The structure of your link is usually related to its intention. For example, if your link is posted without any introduction or explanation on its own in a blog comment, it will have a perfect chance of being perceived as spam. If, on the other hand, your link is structured in context and supporting content; free from spam indicators such as "click here" or alike, it will be a whole other story.
Following the Google update, we refer to the Google BERT update; the context has become increasingly relevant. So you would do well to keep this in mind.
Type of Anchor Text
If Google starts to see that you are posting the same link everywhere, a typical case is that of link building campaigns that only point to the homepage; it can be perceived as a malicious link. If you want your links to be relevant, go deep. Avoid relying on one or two common landing pages for all links.
Speed ​​of Acquisition
The speed of acquisition with which the backlinks are posted can determine their quality. If you post backlinks to the same source multiple times a day in different cases, your links could be treated as spam. The same rule applies to multiple sources; if the backlinks suddenly skyrocket with no explanation as to why, they could be understood as spam. It will compromE the health of the entire website. To avoid this risk, you need to plan an activity capable of taking your site's historical speed and that of your competitors into account. A real editorial plan must be studied capable of scheduling all the issues.
Paying for Nofollow Links
If you have no idea of ​​the difference between 'DoFollow' and 'NoFollow'; you should know that backlinks with the NoFollow attribute tell search engines not to consider the destination; in short, they do not pass trusts. The DoFollow links, on the other hand, do exactly the opposite.
Google ignores nofollow links and does not use them directly to rank. This attribute is created to identify content you do not trust. Nofollow links should not normally cause problems; however, when they are in large quantities and are of very low-quality, they can become so.
Be aware that Google values ​​both DoFollow and NoFollow links, so it's important that you acquire both. You should focus more on acquiring 'DoFollow' links to enjoy the benefits in terms of ranking. Acquiring excellent DoFollow links is not easy, but if you turn to the right professional, everything becomes possible.
Link Building Techniques FAQs
Does link building still work?
Link building isn't dead, just as the impact it managed to cast in the means we optimize our sites for amazing search engine rankings. You can still practice them to create a great link profile for your website and make your site rank better.
Which is the best link building type?
Backlinks are the most powerful type of links, but outbound links -links from your website to other sites- can also improve your site's search ranking.
What are the three types of links?
To break it down from the high level of what a link is, three links that we deal with daily are internal links, external links, and backlinks.
To Conclude Link Building
Arrived up to here, I hope you are clear that the point is not "to put links" but to build traffic useful for the conversions you are looking for. This type of activity can be as crucial as it is dangerous. The word we would like you to keep in mind is "handle with care".