In the word of digital marketing, SEO is something inevitable. It doesn't matter whether you have a small business or a large company; SEO is a must to be successful on the internet. SEO has a lot of features, from finding keywords to competitor analysis, there are hundreds of services. The best way to benefit from SEO is to use an SEO tool that includes as many features as possible. In this article, we are going to answer the question of 'what are SEO tools' and mention some of the best tools that you can use.
SEO tools help you plan your SEO strategies, and also you can work directly with these tools to make SEO. When choosing a tool, you should know what your strategy is. Identify your purpose first. It is important to know whether you want technical SEO, keyword research, rank tracking, content optimization, backlink analysis, video SEO, or link building.
There are many kinds of SEO tools with different features. You can use free ones or paid ones; it is up to you. Yet, if you are going to grow your business, free tools can help you in a limited way. So the ones we are going to introduce you will be the ones with their full coverage features.
What Are the Best SEO Tools?
We are going to touch upon some of the best and most preferred SEO tools of all time. The majority prefer these tools because their features include many things that make them the best choice for many people and businesses. Here is a list of the best SEO tools.
Ahrefs
Ahrefs is one of the most popular SEO tools. It is the second-largest website crawler on the internet after Google. Ahrefs offers many features. It is possible to make decisions about your website since it shows exactly which part of your website needs development. Here are the features of Ahrefs:
Exploring websites,
Exploring keywords,
Site audit,
Rank checking,
Exploring content,
Domain comparison,
Batch analysis,
Intersecting links.
You can use its features to analyze your competitors as well. Many people use Ahrefs to do so. It is also a very effective tool to find the best content related to your field.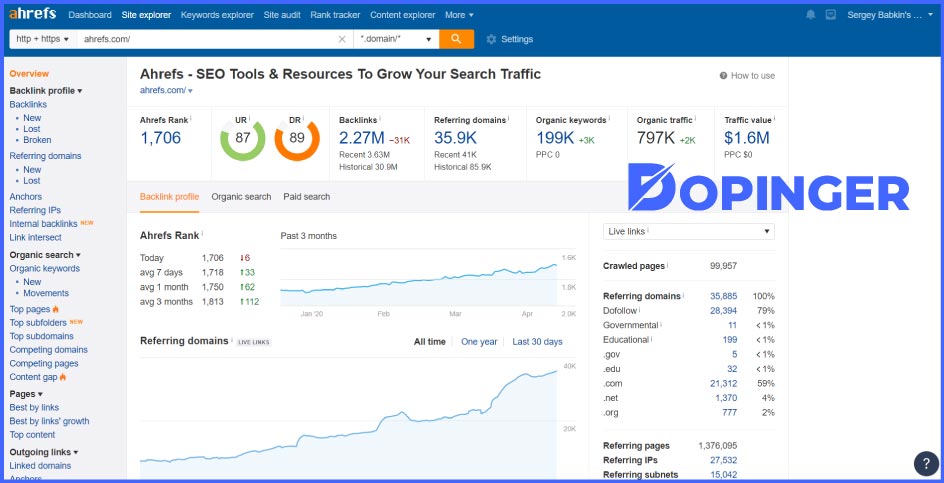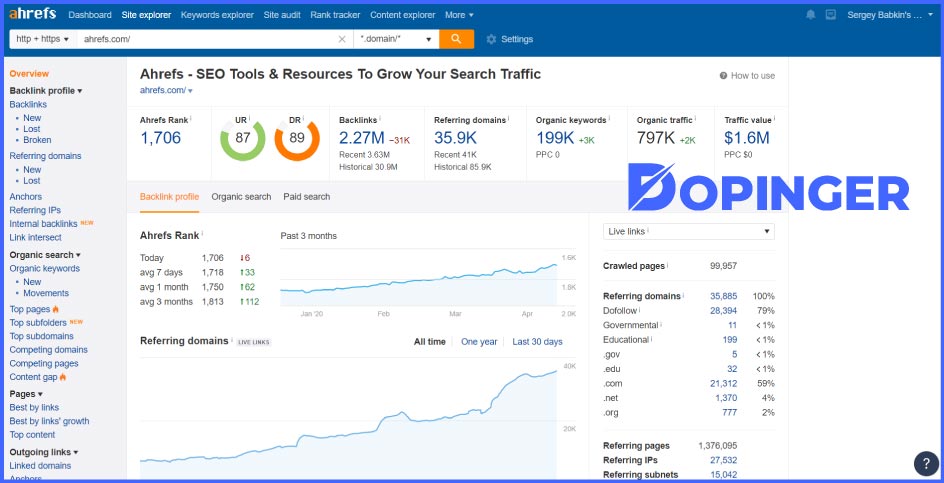 The keyword research feature of Ahrefs is very useful because you can do your research by putting the links of your rival websites to the Site Explorer page and see the keywords with their volume and value.
SEMRush
SEMRush is an SEO tool which offers an easy to use interface and many features. It is one of the most recommended SEO tools, as well. SEMRush offers the Domain vs. Domain analysis feature, which is considered to be one of the most useful features of this tool.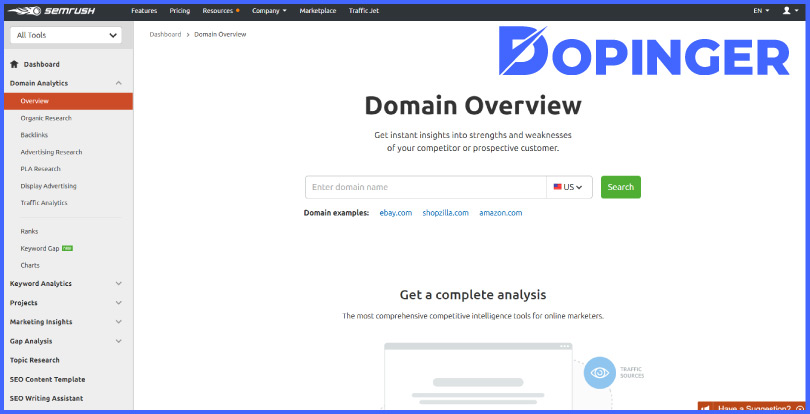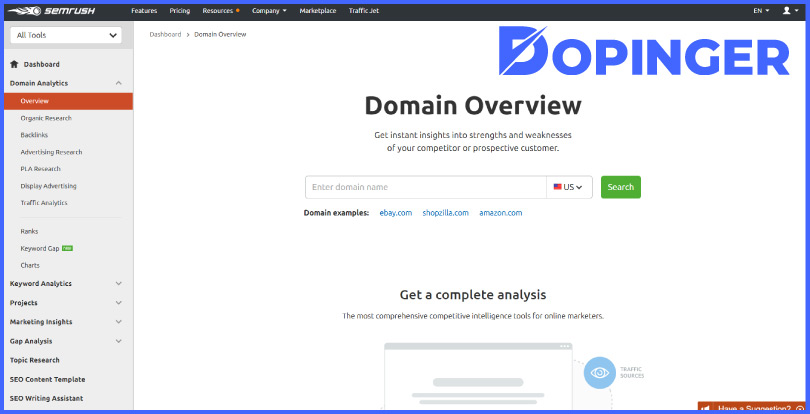 It is possible to see analytics reports in SEMRush. It offers a detailed yet easy to understand organic traffic insights. This way, you can get an idea of your website's search data and traffic. You can also use this feature to compare your website with its rivals. You can compare keywords and domains.
If you are writing a blog, SEMRush is a great tool to find out the best keywords and use them in your writings. Its 'SEO Content Table' feature brings the best alternative keywords related to your search along with the backlinks and the average text length.
Moz
If you are interested in SEO and digital marketing, you have probably heard Moz before. It is one of the most up to date SEO tools.
Moz offers many features as well. There are features such as keyword research, link research, web explorer, on-page grader, on-demand crawl, campaign tracker, and local market analytics. Moz keeps developing itself. The local market analytics feature is a pretty good option for this software. Nowadays, Moz offers a new feature called 'Rank Checker' as well.
Like Ahrefs, you can find detailed insights about your website and see the parts you need to improve. It will also tell you where to use your keywords on your web pages. This is a pretty useful feature, especially if you are focused on content marketing.
Moz also offers a chat portal, which you can ask for help if you are having trouble with something. Their quick responses surprised the users, and many people recommend it.
Google Analytics
Now let's see what Google products have to offer for SEO services. Google Analytics is all about giving you the information you need, as you can guess from its name. It is not a tool that you can use actively on your works such as Moz. However, when you link Google Analytics to your website, it gives you all the information related to it. It offers:
Statistics about users.
Statistics about your goals.
List of your best selling products (and your profits)
The performance of your Google Ads.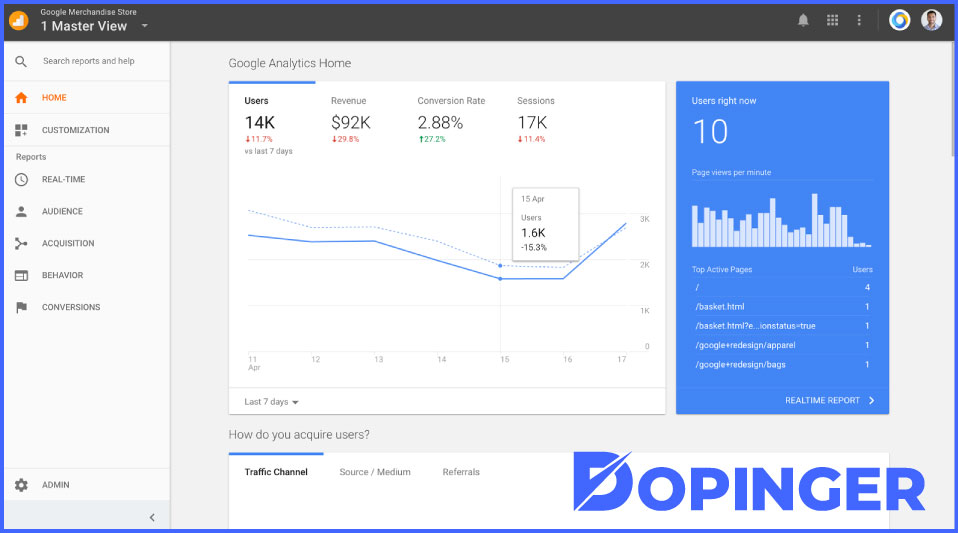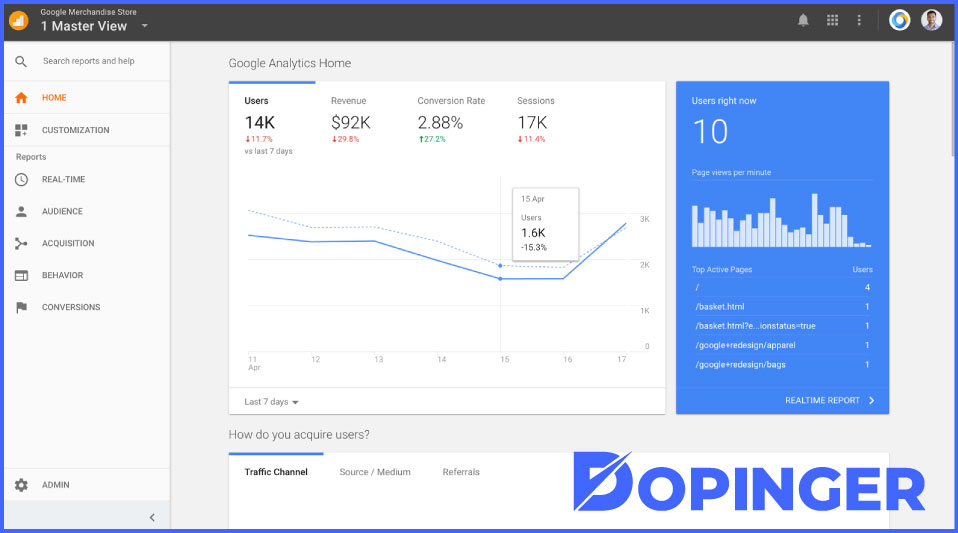 Of course, it goes deep down in every information. You can also customize the reports it shows you and easily see the results of your most important goals.
Google Analytics is a great tool for every website, but it is especially very effective for e-commerce sites. You can read our article about Google Analytics for further information.
Google Search Console
Formerly known as Google Webmasters Tool, Google Search Console is a tool that offers to monitor your website's presence in Google search engine results pages (SERPs.) It also offers reports related to this information. With Google Search Console, you can see how Google and its users view your website. It is also possible to optimize your website for better performance.
Using this tool is quite easy. It is not even necessary to register for using it, and it is completely free. You just need to verify your website by adding a code. You can find more detailed information about Google Search Console in our article about it.
FAQs
What is SEO and how it works?
SEO is an acronym that stands for Search Engine Optimization. It is used for making your website rank higher in SERPs, and get more organic traffic. The aim of SEO is doing all these without paid advertisements and offering the best user experience to visitors. For more information, you can read our article that explains what SEO is.
How much does SEO cost?
There is no exact answer to this because the prices will vary according to the service you get. You can visit our article to find out more about SEO prices.
Does Google charge for SEO?
No, Google does not charge you for SEO. If you use their SEO tools, you might go for the paid services. Yet, you only pay for the service you get from these tools. If you use other tools such as Ahrefs or SEMRush, you don't have to pay anything to Google.
Conclusion
We have covered the answer to the question; what are SEO tools? If you are starting to shape your website with SEO, you need to know what SEO tools are and how to use them. SEO tools help you to create a strategy for your optimization. We have mentioned some of the best SEO tools that you can use to grow your business.
If you want to learn more about SEO, please read our latest articles about it. You may be interested in what is local SEO.