What is a backlink, and how you can get some? Today, we're going to learn more regarding how you can build a successful link building campaign and maintain it.
A backlink is a name given to a redirect from a website to another website. It proclaims its relevance to the context.
The number of backlinks has always been an essential criterion for the targeted keywords to rank high in the search results for any SEO efforts. Therefore, Google puts great emphasis on your patterns of obtaining backlinks. And it expects you to do that in a natural manner.
In that case, it's crucial for you to complete the backlink obtaining process with great care. Only choose qualified websites to get your links. Clumsily prepared strategies can cause your website to be perceived as spam and have a dip in rankings.
What Are Search Engine Spiders?
Search engine bots, also known as spiders, will scan your website as frequently as possible and do something else that is quite crucial for SEO. These bots also follow backlinks and redirects to crawl these pages again.
In that case, even if your website doesn't have much authority and doesn't get crawled quite often, you can get backlinks from quality sites and force Googlebot to interact with your project.
The higher the frequency of search engine bots crawling your site, the faster your pages will get indexed. And you get ranked on targeted keywords.
Therefore, it is evident that if you wish your website to compete for the top spot, you have to get referrals from relevant websites to build a web.
What Is PageRank?
PageRank (PR), one of Google's algorithmic ranking factors, scores sites between 0 and 10 according to specific criteria.
Backlinks that you get from high-rated sites reduce the power of the linking site according to this algorithm, and the power of the receiver side relative to the giving side lightly increases.
We can assume that websites that rank high in search results are qualified sites, resembling their PageRank success.
Backlinks that you will get from a top-ranked, highly visited website with low link output will be more valuable in your external SEO efforts.
Why Backlinks Matter?
In the eyes of Google and other major search engines, a web page with backlinks from authoritative and quality sites will always be one step ahead of its competitors.
The higher the number of backlinks compared to your competitors, the higher your ranking will be.
However, you shouldn't forget that having backlinks is an anchor of SEO. Yet, it is not the only direct factor regarding how you rank. What counts is the quality, not the number of links you receive.
That means getting a single redirect from an authoritative and relevant page will tramp getting tons of links from a spammy website, not considering the negative effect you'll get.
What Are Main Backlink Types?
One of the most common types of links you'll get is from anchored keywords embedded ins any SEO expert's best buddy, article content.
You can also get backlinks from the comment sections of blog pages, profile pages of internet forums and sites that require membership, by sharing images, posting videos, and social bookmarking.
Increasing the diversity of inbound links to your website plays a vital role in optimizing your website as a whole.
How to Distinguish Quality Backlinks?
In order to create a strong backlink profile, you need to analyze the referencing sites carefully. When building your backlink infrastructure, you should consider many criteria.
The referencing websites need to be authoritative, with a high number of organic visitors and, most importantly, with permanent links.
This is something that flies overheads, but in order to secure your spot, you have to make your backlink profile more stable. If you do not, after a while, you may experience a sudden loss of ranking due to removed backlinks.
Therefore, in order to protect your site from such circumstances, which will lead to some sort of authority loss in the perception of Google, you should choose the best websites that are related to the context of your website.
Rely on Natural Backlinks Only
The links that search engine bots see as referrals should get obtained naturally from sites with reliable and quality content. Otherwise, these links may get treated as malicious backlinks.
Getting your site to meet the requirements of an SEO-compliant website and publishing authentic article content for your target keywords before building a backlink plan will make it easier for you to get rankings.
Backlinks Will Speed Up Indexing
The search engine bots that visit your site through reference links will scan your pages. The pages deemed appropriate for the indexing process will quickly begin to show up in your search results.
That's why your pages description, title, and articles should be keyword-oriented, semantic, and SEO-compliant. So, you'll be featured in a good position.
What Are Nofollow & Dofollow Links?
The quality of the site is quite vital as well as the construction of the links. We may see in "Dofollow" or "Nofollow" tags in the HTML coding of the sites that refers to us.
These tags determine whether the PR value of the page will have an effect on the referred website. When search engine bots start crawling the page, it will track all links.
Nofollow Links
The links labeled as nofollow indicate that the PR value of the page should not be transferred to the mentioned page as the link does not endorse the receiver.
Although nofollow links do not affect the PR value of the pages, any quality link you get for your website has an essential role in getting quick indexes and rankings for your targeted keywords.
A tag used to prevent your page's PageRank from being transferred to another site that you refer to.
Google search engine spiders monitor nofollow tags. But the quality score of the linked page does not get affected by the site that has linked to it.
However, nofollow links can still bring in organic traffic. Backlinks with a nofollow tag are generally used on blog comment sections with too many link outputs.
 <a href="https://www.dopinger.com.com" rel="nofollow">SEO</a> 
When we examine the structure of the sample code, we can see that the link given from the word SEO with the rel-tag is specified as nofollow.
Dofollow Links
A dofollow link from a web page with a high PR value is precious. You can achieve a significant increase in your target keywords' SERPs in a short period.
Links known as dofollow or follow backlinks are valuable and can move your site to the top rankings in search results with ease.
Google search engine spiders track the link to the website labeled with dofollow rel-tag and reflect the PR value of the page to the referred site.
Therefore, a website with backlinks taken from authoritarian sites with high PR value can rapidly increase its spot in rankings.
This tag indicates to the spiders that the referred site is relevant to the context. And users who visit both of these pages will have a satisfying experience. Therefore, this is perceived as the linking site endorses the referral, and the PageRank is passed through the backlink.
How to Get Quality Backlinks?
One of the essential parts of external SEO is obtaining quality backlinks and developing authentic strategies.
Backlink obtains can be made through multiple methods to help you raise your website to the top positions in Google search results.
The most common type of backlink is the link embedded to the keywords or other words in the text.
You will need to choose the right keywords in the article to optimize your efforts. Backlinks from wrong link texts can cause permanent damage to your site if you don't take action to disavow them.
Apart from text backlinks, there are many types of backlinks, such as profiles, videos, visuals, social bookmarks, comments, footers, guestbooks.
How to Check Your Backlinks?
There are many tools to check backlinks given to your site. The Google Search Console, which is available free of charge and can provide the most accurate results regarding external SEO efforts, will be our tool for today.
You can access the Google search console screens from the link below.
https://search.google.com/search-console/
In the image below, you can see the Google Search Console's main screen. To check the links to our site, simply click on the "Links" section under "Legacy tools and reports."
In the page that opens, you can access your external and internal links and the list of the most linked sites. You can download all links in .xls format. In that way, you can view it on MS Excel by hitting the "Export external links" button located at the top right.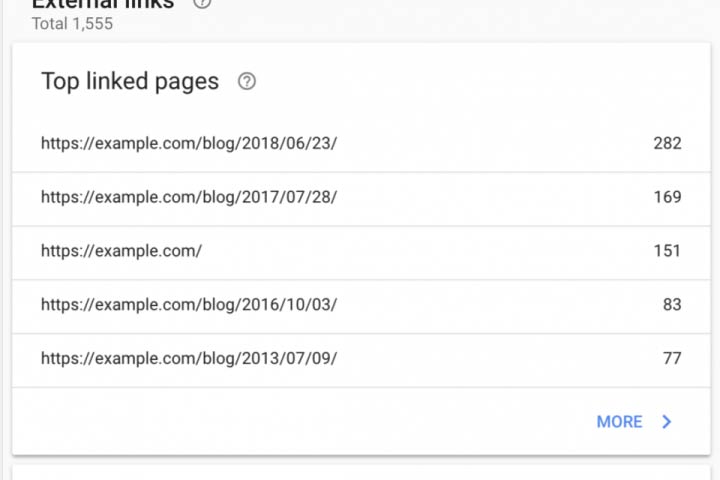 Quality backlink acquisitions play a vital role in getting your website a good ranking spot in SERPs.
If you want to get high-quality backlinks, you should prefer websites with a high number of authoritative links and a decent number of visitors. In that way, you can build a solid ground for yours to prosper.
What Are the Characteristics of a Strong Linkbuilding Strategy?
Before you commit to a strict backlink plan, you can examine the points we listed below that you need to be aware of in terms of quality.
There is no need to get links outside your niche. Do not receive links from unrelated sites.
Try not to get links from pages like where there are already thousands of links, especially in the comment section.
Websites with high numbers of visitors should always be your first choice.
Stay away from automated programs to prevent your site from being detected as spam.
It's possible to get quality and natural backlinks by publishing SEO-compatible and authentic articles from news sites or various forums.
You can quickly move your site to the top positions by paying attention to the points mentioned above before you start a link building campaign.
Also, controlling the backlinks that refer to your site is a great way to protect your website from negative SEO operations.
What is a backlink?
A backlink is a name given to all the links of a site, redirecting the visitor to another website. Doing SEO operations on your site before you start linking will allow you to rank better on your target keywords.
What is a natural backlink?
Natural backlinks contain all the redirects you'll get from other websites that endorsing your authentic articles and other content. You can't buy natural backlinks; you can only get them through sincere appreciation.
What is External SEO?
External SEO is the work done to promote your site to the target audience through backlinks, social media posts, or forum promotions after the internal SEO optimization of your website is completed. In short, External SEO is the process of getting backlinks through anchored texts, images, or video shares from different sites.