In today's world, if you want to do business from digital platforms, you are going to need SEO. There is no doubt about that. So, how do you do SEO? You can hire an SEO specialist to come up with a strategy for your business, or you can do it on your own, by using SEO tools. Ahrefs is one of the most popular SEO tools that you can use to build your strategies. Although there are many alternatives, Ahrefs stands out as a backlink checker. Of course, it is not just about checking backlinks; there are many other features of the tool, that will help you do SEO analysis.
Ahrefs offers live links, index, and high speed of index updates, which Ahrefs considers to be the best. Ahrefs also offers many useful tools for SEO. Its five tools are what you need for a good SEO plan. These five tools are Site Explorer, Content Explorer, Keywords Explorer, Rank Checker, and Site Audit. We will cover these tools later in the article.
Ahrefs has become one of the major players in the world of SEO. It is because you can come up with new ideas for link building and content analysis. By using this tool, you can reach various charts and graphs that can help you do a further analysis of your SEO plan.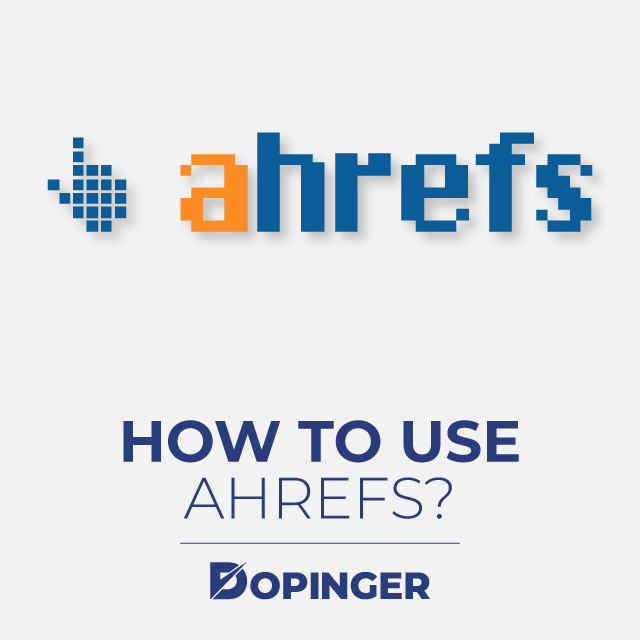 How to Use Ahrefs?
When using Ahrefs, you need to get informed about the five tools we have mentioned before. These tools help you to analyze your website and your competitors' websites. That is why it comes very handy, not only for the technical way but for the marketing way as well. Let's start with the Site Explorer Tool.
Site Explorer
Site Explorer tool helps you to analyze your website through backlinks. You can also compare your website to your competitors. It is possible to see how many backlinks your site has. This tool is amazing to compare your business to others in terms of backlinks and traffic. Then you can come up with better SEO strategies to close the gap between your competitors.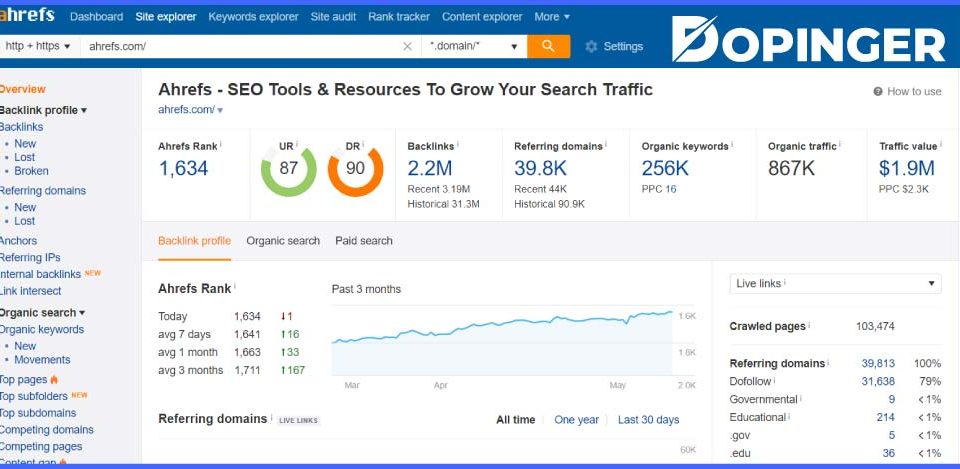 To use this tool, all you have to copy the link of any website and paste it on the search bar. When you click on the search button, it will bring you insights for that website. The first thing you will see is an overview of that website. The overview includes:
The URL rating (UR),
Domain rating (DR),
Number of backlinks,
Referring domains,
Number of organic keywords,
Amount of the organic traffic the site gets,
Traffic value (PPC).
There are two main features of this tool. They are Backlink Profile and Organic Search. Of course, there are other features in the Site Explorer tool. However, these are the ones that offer you a wide range of information.
Backlink Profile
In the Backlink Profile section, you can see new, lost, and broken backlinks. It facilitates your backlink audit by showing you these links. You can also see the referring domains. It is possible to see the total number of them in the overview as well.
You can check the backlinks of your competitors from this section. This way, you can see the similar backlinks that your rivals have, and you don't. Of course, you can analyze the potential backlinks and see if they are high-authority sites or not. Backlink checking is very beneficial for its features. You can use the same tool for three different purposes, which is convenient. 
Organic Search
The Organic Search feature lets you see the choices made by your organic visitors. From here, you can see the organic keywords that your visitors used to reach your website. When you view these keywords, you will see their use volume. Since you can use this feature to see your competitors' keywords, it is possible to shape your content according to those keywords as well. This part is very useful, especially if you are writing an SEO-friendly article.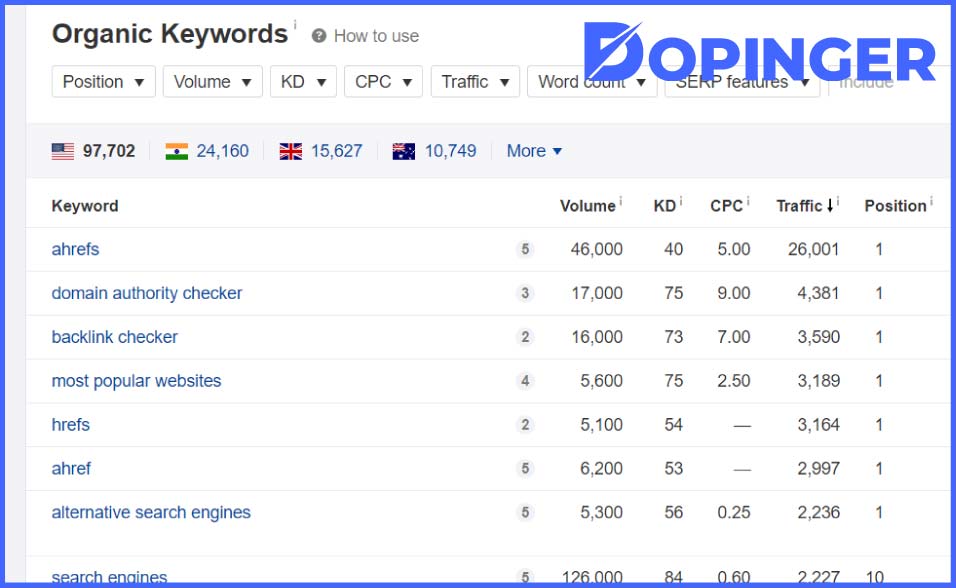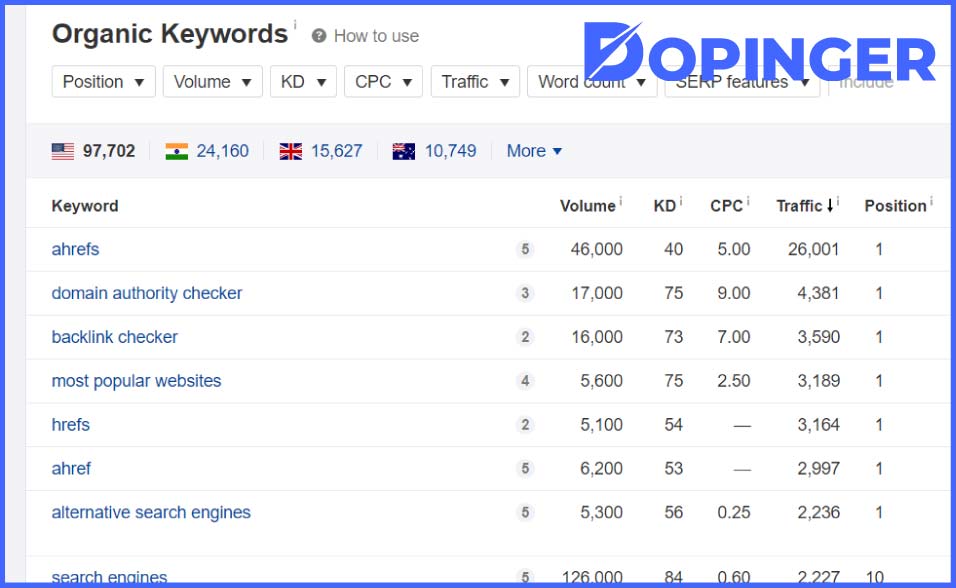 Organic Search is not only about finding keywords. You can also see:
Top pages,
Content gap
Top subdomains,
Competing domains,
Competing pages,
Top subfolders.
Keywords Explorer
In the Keyword Explorer tool of Ahrefs, you can do research about keywords for your new content. It will help you come up with relevant keyword ideas and traffic evaluations. The tool can suggest you many keywords. It has more than 3 billion keywords in its database, so you can be sure that it can give you lots of suggestions.
The best part is that you will get to see the traffic estimations of the keywords that the tool suggested to you. Keywords Explorer tools can generate keywords for over 100 countries too. This way, it is possible to create localized digital marketing strategies for international companies.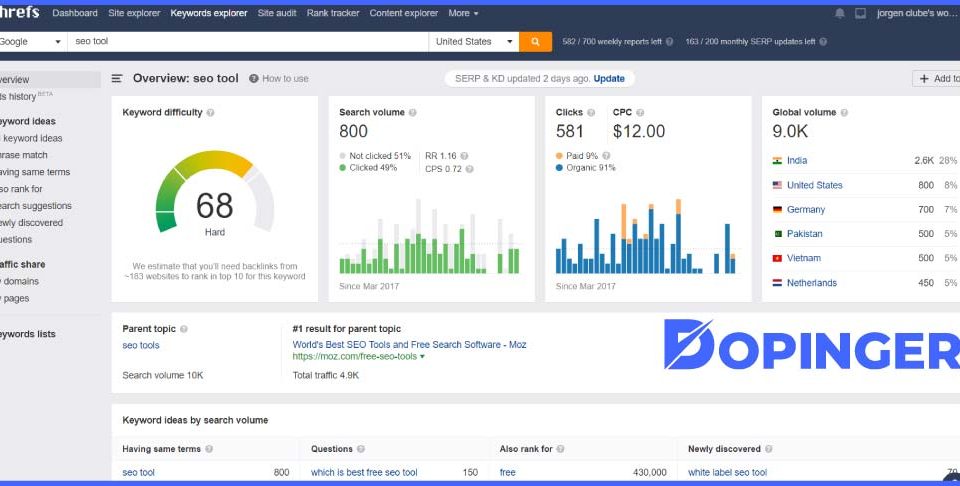 When you search for a keyword from the toolbar, you can access information such as:
Keyword difficulty
Search volume
Clicks
Global volume
From the keyword ideas by search volume part, you can see all of the alternative keywords related to your topic. It is possible to find questions too, which is very handy when choosing headlines for articles.
Under the keyword ideas part, there is the SERP position history for your searched word. You can adjust this graph for a month, six months, or all time. Under the graph, you can see the SERP overview for your searched word as well. In short, this part is quite handy for creating SEO-friendly content.
Site Audit
When you start your SEO campaign, unfortunately, there is a high chance of some things going wrong. When such problems happen, it might be difficult to overcome these situations. However, Ahrefts offers you the Site Audit tool to track and analyze the common SEO issues of your website. Of course, you can use this tool when you don't have any problems as well, and see your website's SEO health whenever you want.
To use this tool, you have to add a new project to see your site's SEO health. You can add multiple projects, and when you do it, you don't have to add them over and over again. They are saved. Site Audit tool will show you:
Date of the last crawl,
Status,
Health score,
Crawled URLs,
Internal URLs having errors,
Scheduled time.
One other cool feature of the Site Audit tool is that it notifies you when problems arise. It also provides you reports about your site's health, and they would be a guide for fixing the issues.
Rank Tracker
You can use the Rank Tracker tool with adding projects, just like in the Site Audit tool. As you can guess from its name, this tool tracks your Google rankings and inform you about it by providing you reports. You can get reports daily, weekly, or monthly, it is up to you.
For your SEO strategy, the Rank Tracker tool shows your site's average position in the SERP and the average traffic you drive to your site. So, how different is Rank Tracker from Site Explorer? In this tool, you are the one who determines the keywords that are important for your business. You can add different countries for monitoring. It is also possible to list your competitors here. When you do all of these, Ahrefs will send you reports according to the data you provide for the tool.
Of course, your website will not always stay in the same rank. You might lose your ranking over time, yet you don't need to worry. Ahrefs' Rank Tracker tool will help you improve your SEO strategies.
Content Explorer
If you are struggling to find content, you can get the help of the Content Explorer tool to find content related to your purpose. The tool will suggest you the most shared content. It also considers the largest amount of social media shares when doing it.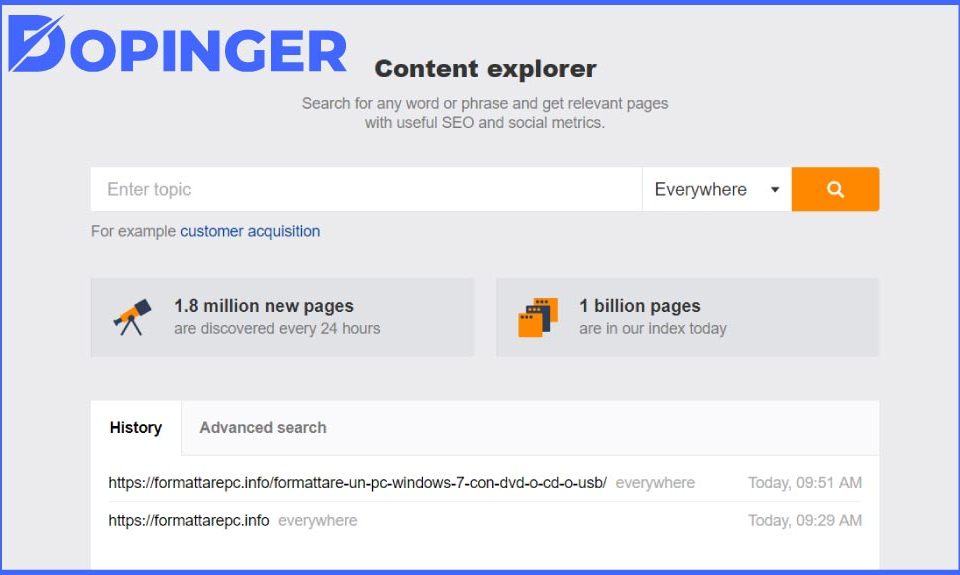 It is a perfect tool for building a content marketing strategy. To use it, enter the topic on the toolbar and click on search. It brings you the list of popular articles according to their SEO factors, such as social shares, organic traffic, and backlinks. 
It is possible to narrow down your search by filtering the content. This way, you can reach the info about more specific content.
FAQs
What is Ahrefs used for?
Ahrefs is an SEO tool that can be used for many things. You can analyze many necessary aspects of SEO, such as backlink analysis, content analysis, competitor analysis, site audit, and many more.
Is Ahrefs Free?
No, but it has a free trial for its tools such as Backlink Checker and Keyword Generator. Of course, when you pay for Ahrefs, it provides you many data and features.
Which is better, Ahrefs vs SEMrush?
Both tools have their own specialties. However, Ahrefs is really good at offering a user-friendly interface and keyword metrics. SEMrush, on the other hand, offers more data in competitor and backlink analysis. 
Conclusion
We have covered what Ahrefs is. It is an amazing SEO tool to build a digital marketing strategy or guide it. Ahrefs offers many tools that will come in handy when building backlinks, content, or looking for keywords. If you are in need of an easy to use SEO tool, Ahrefs could be your choice.
If you want to learn more about SEO, please read our latest articles about it. For more SEO tools, you may be interested in SEMrush or a look into the SEO tools.