Internet users who are interested in writing started to write diary-style posts and published them on various platforms since the internet started to develop. In the beginning, these kinds of websites were personal and casual. However, in recent years, blog posts became popular among internet users, and businesses started to utilize them. If you have a business and want to grow it by blogging, it will be easy with these basic instructions below.
Important Points While Blogging
You can create blogs in different styles, such as travel, photography, business, informative, or entertaining. Each kind of blog has an audience. Thus, feel free about your content. However, there are some points that you should be careful about. Even though they are general, they should be followed by each blogger if you want your content to be powerful.
Focus on the quality of your content. After you start to build your permanent audience, you may feel an urge to write according to their needs. This situation can create pressure on you. Just remember that they read your blog because they love or care about your ideas. If you lose your freedom, your readers may lose their interest in you as well.
Utilize all other social media accounts of yours to increase your viewings. Your followers may not check your blog regularly if they are not big fans.
SEO strategies are crucial when it comes to blogging. If you use the right strategies, you can carry your website to the best rankings. Firstly, include your keywords in each part of your website. Titles, meta descriptions, URLs, and texts are important for Google to suggest your website to people who may be interested.
Keep your interaction with your followers alive. Open your content to comments and try to respond to each comment. This attitude is loved by followers, and also, you can pay attention to their feedback. Detailed feedback strengthens your content.
You can give backlinks to other websites that share the same theme. Some bloggers think that it may hurt your SEO, but it does not. When you give other websites' links that your readers may be interested in, they will check it. If it contains true information and is trustworthy, you can build trust with your readers.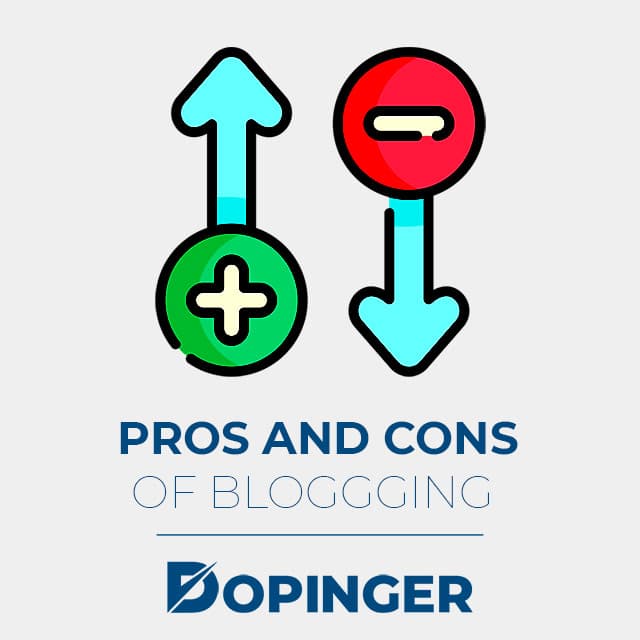 Pros and Cons of Blogging
If you are planning to have a blog to grow your business, you should consider its advantages and disadvantages. It is because these variables will show you whether having a blog worth it.
Pros
Blogs are one of the most efficient SEO tools of all time. Search engines can find much more details in blogs. Therefore, they can make more accurate suggestions to people who may be interested in your content. Besides, when you carry your website to the first rankings, your services and products will be more visible.
You can always be in contact with your followers and customers. It is a perfect way to increase customer satisfaction. Moreover, they can ask about your work when they need it. A quick answer will make you build trust with them.
Rather than benefiting from your own company, you can earn separately from blogs. Once you get a certain number of readers, you can start to make a partnership. You can advertise products or services that your readers may be interested in.
Cons
Blogging requires a lot of time if you want to make it powerful. Hence, it may create a struggle for you while other responsibilities that you have. To overcome this problem, you can hire a writer for your company. Hence, you can save your time, and having a professional writer can make your content stronger.
When you have a blog, you should always come up with new and fresh ideas. Since you should post regularly to create a powerful blog, finding new ideas constantly may not be easy all the time.
FAQs on Blogging
What are the free blogging sites?
There are a lot of free blogging websites that you can reach your readers and target audience. The most popular ones among these websites are WordPress, LinkedIn, Tumblr, Weebly, and Wix. These platforms can offer you efficient opportunities.
What are the ways of earning money by blogging?
You can earn money from your blog in several ways. Firstly, you can give affiliate links and earn money when someone buys the product that you suggested. Secondly, you can sell products on your blog. Lastly, you can make partnerships with other companies and advertise their products.
Is starting a blog easy?
Starting a blog will only take your 5 minutes. You decide on a theme and create your blog. However, maintaining a blog and gaining permanent readers require a lot of time and effort. Thus, you should be aware of the effort that you should spend on a blog.
How much money do bloggers make per year?
According to anonymous blogger salary reports, the average annual earnings of bloggers is between $30.000-$35.000. However, it can differ among sectors and popularity.
Does starting a blog cost much?
Starting a blog does not have to cost at all. You can start your blog free on some platforms. However, maintaining and growing it may need a budget depending on your goals.
Concluding on Blogging
Blogs are read by almost every internet user. All users have different interests, and with this blog richness, they can find content that they will like. Therefore, there is always an audience when you want to start a blog. However, reaching them and maintaining your interaction with them may not be easy as it sounds. It requires time and effort to maintain a powerful blog. Hence, try to be aware of its requirements before starting one. If you know your responsibilities and grow your blog, you can earn more than you think.