Sending an email is a way that allows people to communicate with each other electronically, and various files and attachments (such as photos, videos). It is a method that can be used with cheap, fast, and mobile devices. Therefore, the use of email is frequently at the forefront of corporate life. Have you ever thought about it? How many emails do you send per day, or how many times do you check your email address? According to Google, 91 out of 100 people with email accounts check their email address at least once a day. Therefore, it is extremely important to use a marketing channel that has such a high usage effectively. So what is this concept that we call e-mail marketing?
E-mail marketing is used by many companies. There is no chance that you have not received any e-mails from a company. You must at least get emails from your bank. Even those e-mails have something related to marketing; from their background colors to the text font.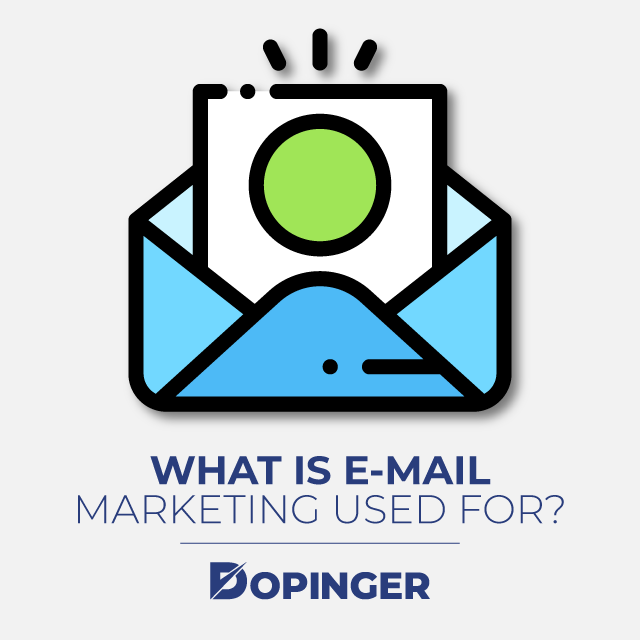 What Is E-Mail Marketing Used For?
Email marketing is a method where brands promote their products and services with electronic mail methods such as celebration messages and information to reach their target audience and market their brands away. Using email marketing, you can also do content marketing with various tools.
On the other hand, the biggest advantage of this method is to directly deliver your product or service promotion to your target audience. It increases your customer's loyalty to your brand with non-consumption notifications such as various discount coupons, email newsletters, birthday messages. This indicates that you are not just looking at the user through the eyes of the customer.
So, email marketing is an affordable, digital channel where you can manage to keep your interaction with ROI (returns on investment) and potential customers at a high level with various email newsletters. It may be an older method, but with its correct use, it has a high potential to increase earnings and click through rates. It is frequently preferred by SMEs due to its low cost.
Points to be Considered in E-Mail Marketing?
Today, the user is no longer just a customer, but a part of the whole process. So, brands should inform customers, give them a voice, enable them to talk about the brand, listen to their ideas, support, and suggestions.
Apparently, brands have a big share. Brands should catch potential leads before shopping on social media and be able to make regular customers. At the same time, the customer who is happy with the shopping should be able to talk to his environment about his experiences.
These were the steps to be taken after the consumer visited the site. So how can you increase the consumer's website visit? Given the frequency of email usage, email newsletters received via mail are an important step here. According to the email newsletter, which has high open rates, the shopping decision of the consumer varies. E-commerce companies should also follow these bulletins and perform marketing automation according to the tastes, needs, and requests of the users who visit their sites.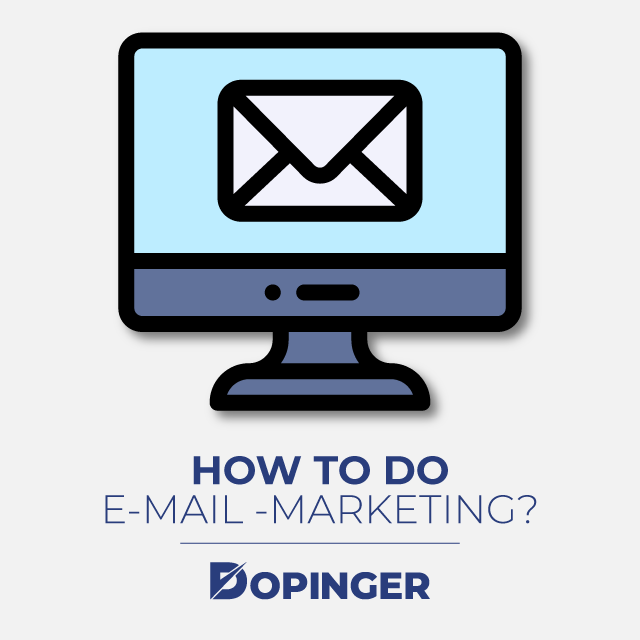 How Is E-Mail Marketing Done?
The basic rule of email marketing is to deliver the right content to the right destination at the right time. In addition, it is possible to achieve this goal with various email marketing strategies and email marketing services.
While we all clean our email box, we delete these ad emails without opening them. To make effective email marketing, email opening rates should be increased by various methods so that your promotion can reach the customer. So what is required for good email marketing?
1) Correct Message
The secret of great email is to prepare various templates first. While creating your marketing emails, you should add your content to the templates and then go to the design step by step. So, from the subject lines to the design of the email you compose, it is all-important here. It is necessary to present the rich content in a descriptive style, away from boring and monotony. Besides, your mail is remarkable and visually rich makes you stand out. For this, you can use images, videos, gifs, and the designs you create. Thus, your conversion rate will increase, and the number of customers visiting your site will increase.
2) Sending Emails With the Brand Name
When sending your e-mail, using your brand name in the field of the sender will increase your awareness. Using your brand name will also prevent emails from falling into the spam box.
3) Personalization
Automated e-mails are used in email marketing to be fast and practical in general. However, sometimes addressing your customer by name in your e-mail will make it feel special. Already most consumers share their personal information with brands. It even gives mobile confirmation to receive notifications, although it suspects about the privacy of personal content. You can also create a personal email newsletter about the customer's social media memberships, searches on the search buttons, products they buy, or put in the basket and even put on hold.
4) Using Effective Titles
The first step you need to prepare an effective e-mail is to find an effective title. Because it is an interesting title in capital letters that will catch the eye of your customers, which can make itself stand out. Also, having numbers in your header will immediately create selectivity in the mind of the email owner.
5) Good Timing
When we were defining email marketing, we mentioned various special days. Various occasions, such as the customer's birthday, holidays, maybe an opportunity for you. At the same time, you can organize various email marketing campaigns, discount days at different periods of the year, and enable your customer to follow you more closely. For example, Black Friday is a day closely followed by customers around the world.
6) Mobile Compatibility
With the use of mobile devices, which are increasing day by day, emails are started to be read more frequently. For this reason, the emails you send must be mobile compatible in order not to be overlooked.
7) Not Being Sales-Oriented
Can you imagine yourself as a customer for 1 minute? I think you are also tired of seeing words like buy, discount, and campaign in your email. Furthermore, many brand owners use their expressions in their mail. Obviously, to make a difference, you can add how-to guides, brief and concise explanations about the products. Thus, your customer will notice your email more easily among all the boring mails.
8) Reporting
Since it is a simple and skippable step, most brand owners ignore this step. However, reporting is important in terms of evaluating feedback, detecting mistakes, and not repeating in most jobs. In email marketing, you can follow your transformation by reporting with good software and, moreover offer more effective free email marketing services to your customers. You can also access detailed information about reporting, reading, unsubscribing, click through rates.
When effective email samples are examined, the features that stand out are the short and striking title, rewarding the consumer, and personalized discourse (Don't miss the $ 100 discount!) and even call to action ('Start shopping!' button).
If you still have no idea how to prepare an email at this point, open your email box and imagine yourself as a customer. So quickly browse through a lot of unread emails, open the first email that catches your eye. After that, review the title, content, design, attachments, and files used. Then look at how you can adapt it to your business model. Also, you can reach companies that help in this regard; you can take advantage of these companies' email newsletters.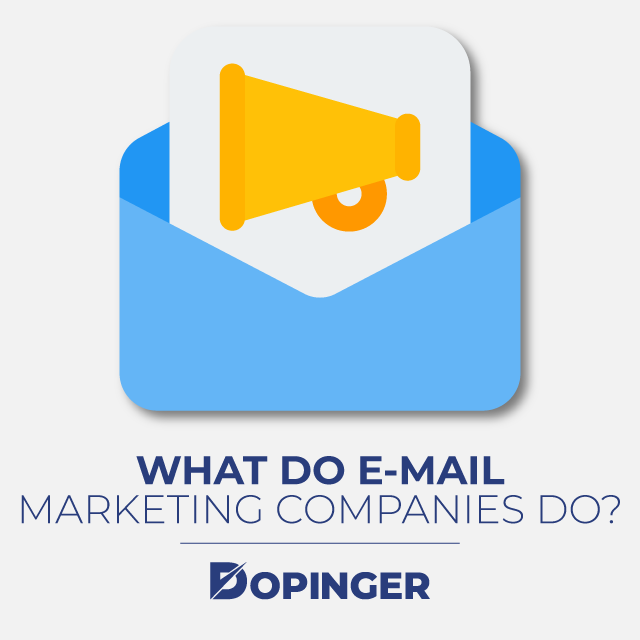 What Do E-Mail Marketing Companies Do?
In a way, email marketing companies can undertake this process alone during this all email marketing. Without a doubt, it creates an introductory and informative mailing process with relevant and quality content for the right target audience. By increasing your site traffic, it ensures the permanence of your existing customer and your potential customers to be permanent. Thus, your site's SEO value increases, your clickthrough rate increases, and you can be listed at the top of Google search results.
On the other hand, email marketing companies offer you good reporting with email marketing programs. Particularly it provides information about which email address is correct and which users open the mail. It should be noted that in email marketing, your email marketing company should not drop your posts in the spam box. So it should be competent to reach your target audience by using your SMTP server well.
FAQs About E-Mail Marketing
Should I buy an e-mail list?
No, you should not, because the email list sold to you will be an inefficient list, which will waste time and money. Also, in email marketing, when you mail many users who are not intended for your target audience, users can send you to the spam box. This situation poses a threat to your brand reliability in terms of your reputation.
What is a good e-mail open rate?
The email open rate shows the opening percentage of the e-mails you send. It is an important indicator of how you can interact, but this can vary depending on your target audience in email marketing. A good opening rate is around 10-15%.
What is the best kind of subject lines?
Subject lines are the key for you to communicate more effectively in email marketing. Especially, it should have a striking, message-giving, concise message content. Besides, you should not forget that you have 3-4 seconds to attract the attention of your potential customer. Besides, creating urgency by setting a deadline can help your customer take to action.
Briefly E-Mail Marketing
Finally, email marketing is a kind of method in which digital brands market products, services, or content to the target audience in various ways. Also, it is an old and inexpensive method. Email marketing helps you increase your returns and clickthrough rates of ineffective use. Otherwise, if you don't care about the right audience, timing, personalization, creating remarkable content, and reporting in email marketing, waiting for a high return can only be a dream.
If you liked this article about e-mail marketing, please check out our other articles about digital marketing. You may also like our article about data-driven marketing.