Today we've got two keywords on the menu: Google Ads. We assume that everybody busy reading this article right now has already heard of Google. The same goes for Ads, which stands for advertising. Nothing complicated until now, right? So it must be something about the way Google is using advertisements. Don't worry; we will give a more detailed definition of Google Ads in the following paragraphs anyway. However, we won't let you drift into overly advanced material. Right now, we will just talk about the main characteristics, most visible advantages, and the first setup stages.
General Presentation of Google Ads
So what is Google Ads? In simple terms, it's an online advertising platform owned by Google. The first version, known as Google AdWords, was born in 2000. The initial idea back then was to provide a guided framework for businesses willing to carry out campaigns. Google had decided to innovate the concept of online campaign management while also orchestrating every step involved from A to Z. So we can claim that the company used to have a more controlling approach.
As time went by, the system became more flexible, thus giving more freedom to users. Those have progressively arrived at a point allowing them to personalize the functionalities according to their specific needs. We will develop this aspect in the upcoming sections. Right now, let's just say that the platform (rebranded as Google Ads in 2018) is the go-to trump for online promotion. Don't think that it's only limited to primary direct advertising placed on search engines. It promises much more varied opportunities than that. If you want to learn more about this potential marketing booster, then keep reading.
How Does Google Ads Work?
Have you already tried the platform for your campaigns or any other promotional activity? If not, you may be legitimately wondering about the way it works. We will sort out and clarify the main components that you need to know while trying to keep simple. Alright, so what you may do when trying to grasp the basics is to categorize Google Ads as a network. Within this one major network, you also have two subcategories of networks. Namely, the Google Search Network (GSN) and the Google Display Network (GDN). Although interconnected, each one serves its own purposes. Let's break them down a little. If you are a veteran, you can learn how to become a Google Ads specialist.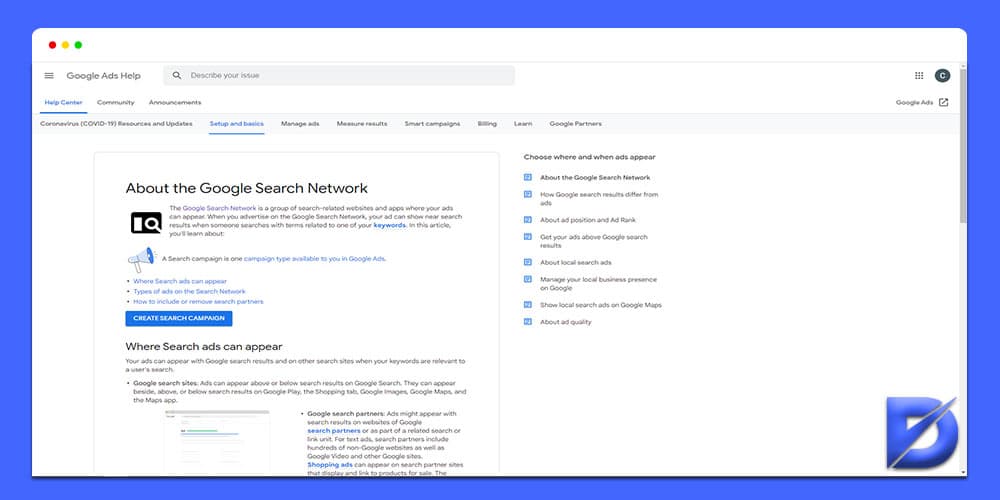 Google Search Network (GSN)
GSN regroups the most typically obvious advertising containers. Why do we call them containers? Because this network precisely includes websites and apps that can literally contain (or host) your ads. As suggested by the name itself, there's, of course, a logic based on search. So whenever your keywords match those typed by any random user, Google ads can display your ads. GSN takes into account different kinds of ads.
Common Ads
We may also label them as miscellaneous since they are quite diversified. Actually, it's Google itself that calls them common because they are indeed the most frequently used ones. What are they exactly? Call ads, dynamic search ads, responsive search ads, and text ads all fall under that category. They are usually accompanied by ad extensions that give additional information about your business (phone number, website, etc.). SERPs (Search Engine Results Pages) often display them with an 'Ad' or 'Ads' label for more visibility. You can recognize them also on partner sites thanks to the 'Ads by Google' label.
Visual Ads
These are the ads displayed as images and/or videos. Great options, especially for your ads that appear on search partners' sites. By the way, we may need to drop a little side note here. Indeed, some of you may not be familiar with the concept of partnership already mentioned twice in the article. Partners are a part of the general Google ad services. Along with the other Google sites (YouTube, etc.), they also include external companies and sites. Basically, the partnership agreement authorizes them to display advertised material from Google. So they are sort of additional spots where you can promote your business or activity. That's why images and videos can be more impactful when used on external platforms (straightforward visibility). The partnership feature is one of the default settings in Google Ads. It's up to you to keep it active or turn it off.
Shopping Ads
As mentioned previously, these are usually displayed with an 'Ad(s)' label. Some other times, you can also recognize them under the 'Sponsored' label. The name is quite self-explanatory: these ads redirect to shopping pages with product lists.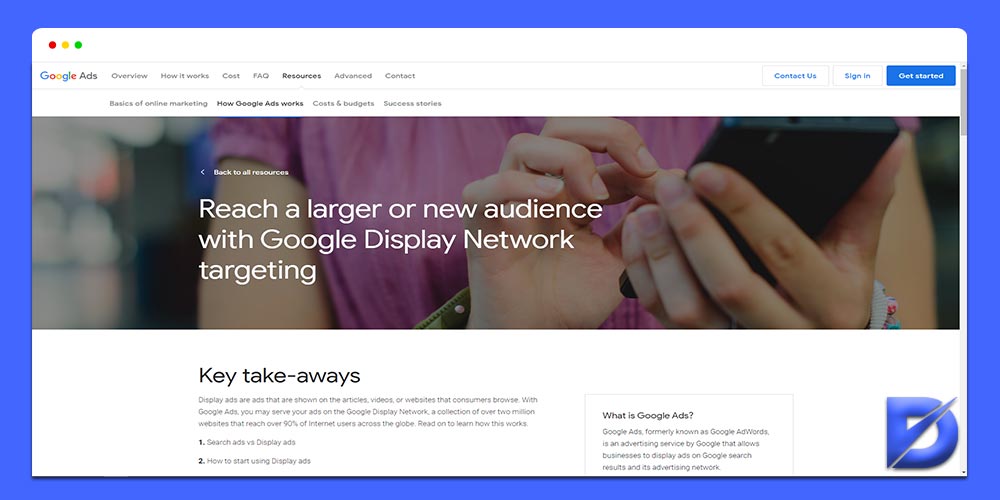 Google Display Network (GDN)
Looking for a slightly more offensive promotional strategy? GDN might become your best ally. With display ads, you are not limited to search engine search anymore. You don't have to wait until people type some relevant keywords to find out about your business. Instead, you can catch them by surprise, even when they are looking for something else. Yes, thanks to GDN, your ads are displayed on a variety of websites (even those related to totally different niches). But wait, there's more: it's not only about classical websites. Display ads can be placed on YouTube as well as in Gmail inbox. Not to mention apps and banners. Different forms are possible. All in all, GDN is a really smart system to create or enhance brand awareness. It's like inviting yourself unexpectedly on (sometimes sleepy) people's screens.
That being said, display ads are not necessarily a synonym of randomness. Google Ads is renowned for some fine calculations. It allows you to select specific websites and audiences in order to increase the impact of your campaign.
Main Advantages of Google Ads
There are many advantages of using Google Ads. But to keep this article short and simple, we will give you three main advantages. These advantages are;
It is faster than SEO.
Google Ads is diversified.
It works like a detective.
Faster Than SEO
Even back in time, when the services were known as Google Ads Management, we used to see this argument quite often. The most obvious reason is that you can use multiple keywords with ads. If they are ingeniously placed on the top of the results page, even better. Your ads won't run the risk of being lost in the plethora of ordinary results. Plus, this method is more flexible than SEO since you can switch off your campaign anytime. You can move on however you wish, without wasting time on laborious strategies. Does it sound too harsh? Just imagine a scenario in which the user has high-intent, ready-to-buy keywords in mind. Say something like 'inflatable mugs.' Which method do you think suits best such a case? Ad clicks with instant sales/buys? Or a progressive funnel/SEO approach that can take weeks or even months? Come on; the answer is crystal clear.
Diversified
We already talked about this in the network section. Google Ads is versatile enough to fit any kind of niche, activity, or objective. Your ads can be displayed in various formats, shapes, and styles. Gmail, YouTube, mobile apps, maps, search pages, banners, partner sites… you name it.
Works Like a Detective
Google is one of the optimal places to follow the buyer's journey. Of course, it's your duty to catch their attention by using your flair and observation skills. Then you can start building your keywords. You may use short, incisive, broadly searched terms. You may also go for long-tail keywords that are more cost-effective yet efficient to make prospects notice you. Google Ads will then add the final touch. It will ensure that your ads are based on an intent analysis and placed in ideal locations. Among those, landing pages seem to be particularly effective.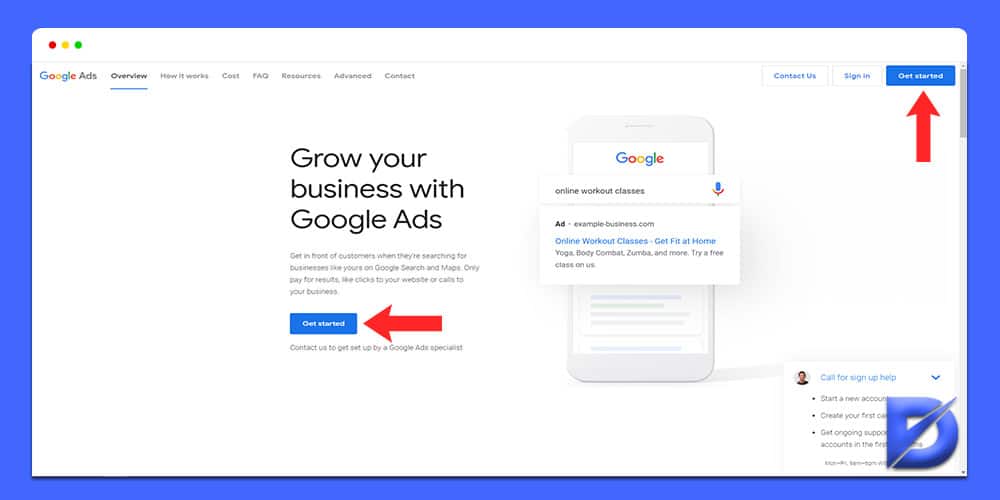 Setting Up Your Account
Let's have a look at the basic steps for anyone willing to sign up for the Google advertisement platform. Do you already have a professional website or email address? If not, don't worry. You may still use Smart Campaigns (formerly known as AdWords Express), which is a 'lighter' version of Google Ads. Be careful, though, because to use this option, you still need to have either a physical or online store.
If you have an already well-established business, use Google Ads. Here's how to create your account for free:
Go to Google Ads website.
Enter the email and website addresses that you want to associate with your advertisements. You can use your Google account (with Gmail, etc.) if you already have one. Either way, you will have to create one for Google Ads.
First Commands to Activate
Once your account is created, you will be redirected to a setup menu. Take some time before activating your first campaign. It's better to be modest when beginning. So for the daily budget section (called 'Your budget'), enter a small amount that won't be challenging for you. For the 'Locations' part, take into account your target audience and region of activity. Be realistic: don't select Trinidad and Tobago if you are a small shop owner in Turkey selling regional products. What about 'Networks'? As mentioned previously, they both have their advantages. So no problem if you select both straight away (Search and Display).
Ok, now let's get into the more specific areas. The 'Keywords' section is one of them. Don't be greedy, and just enter your top priority terms for now.
Then the menu will be asking you about your bidding preferences ('Bid' section). We suggest you select the automatic option instead of the manual one. By doing so, you will have one less aspect to worry about. Google Ads will do its best to 'help you get as many clicks as possible within your budget.
FAQs about Google Ads
Are there any restrictions in Google Ads?
This is a broad question. What we can say for sure, though, is that Google Ads does not allow offensive and misleading content. The information that you provide through your ads should be relevant to your products and services. 
What would be the ideal advertising budget? 
It really depends on your business type, experience, and of course, available resources (financially speaking). It's always better to keep it at a reasonable level when beginning. One of the ways to clarify this aspect is to get an audit beforehand. Yes, this is possible even when you are new to Google Ads. Nowadays, there are many companies offering audits for free. 
What is Google Ads Certification?
It's an official acknowledgment offered by Google to advertisers, depending on their performance level. The topic is quite complex, actually. Indeed, it's not only about how you are globally doing on Google Ads. It also requires you to take a specific exam. So we suggest you get further information on dedicated websites. 
Does the system protect me from fake clicks?
Yes, as much as possible. Google is usually smart enough to detect any malicious software ads and other similar parasitic attempts. Thus it will do its best to remove them from your account database.
Is Google Ads based on PPC strategy? 
It definitely is, for the most part. PPC stands for pay-per-click. That's how the whole system works, meaning that you pay a fee whenever people click your ads. 
First Steps with Google Ads
Yes, that's what this article was all about: making your first steps within the Google advertising ecosystem. Now that you know the main advantages and initial requirements, you may decide if it suits your needs. What we mean is that anyone can easily start using Google Ads. However, it's still a plan having its own complexities and tricks. So it's up to you to be determined enough to explore further and adapt the possibilities to your own business profile.