The term "growth hacking" is a marketing approach, using both resource-efficient and cost-effective tactics. This marketing method helps companies to; build and keep an active customer base, sell their products, and grow brand awareness. Since the beginning of globalization, companies have focused on "growth strategies" trying to capture new markets of consumers worldwide. However, since 2010 the concept of "Growth Hacking" has grown in popularity.
Analyzing the term itself allows us to understand its meaning in more detail. 'Growth' refers to the real growth metrics that can be easily measured, such as; internet traffic, the number of followers on social media, or the number of active subscriptions for your service. 'Hacking' refers to using little shortcuts or "life hacks" to make things easier, such as; using innovative new methods to solve problems and finding the most efficient way of reaching your targets. Moreover, it is essential to note that in this case, 'Hacking' does not mean cyber theft where your data is attacked online.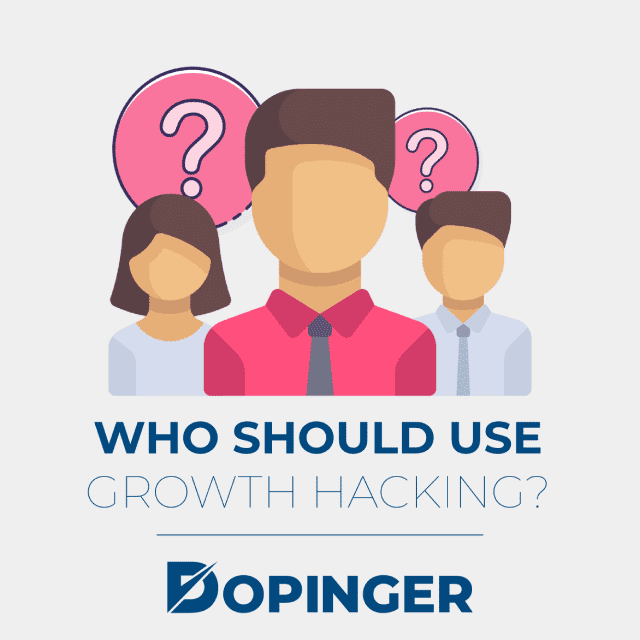 Who Should Use Growth Hacking?
It is most commonly associated with start-ups and small businesses. It means Organizations that don't have a lot of cash but need results quickly. However, this is a scalable concept applicable to any online business interested in growing and maintaining an active user base.
Any business can employ a growth hacking strategy to grow its active user base and brand awareness. Undoubtedly, growth marketing is a more successful strategy than those chosen by traditional marketers.
What Are Growth Hackers?
Growth hackers are usually digital marketing experts with skills in; Search Engine Optimization (SEO), data analytics, user testing, social media plans, and analyzing viral content. The main difference between an online marketer and a growth hacker is that the growth hacker analyzes many different topics. The most common topics used in the growth hacking process of analysis are;
SEO
Google Analytics, as well as other tools available for analytics
Content marketing
A/B testing
Social media and viral marketing
Growth hacking marketing generally requires a lower budget than many other marketing strategies. Making it ideal for internet start-ups, big companies are used for growth hacking such as; LinkedIn, Twitter, Facebook, and Instagram. The goal is to grow as fast as possible while using the least amount of resources possible.
What Responsibilities Do Growth Hackers Have?
A growth hacker is responsible for the following steps of customer acquisition and then retention. Firstly customer acquisition, getting new customers and users to the client website. This step involves funneling new users to the best landing page for them. After the acquisition, the focus moves to activation, bring the visitors through into registration for the site or service. The following action is to build loyalty, Encourage visitors to return to the site, and become invested in its success.
Following the new loyalty, the next goal is monetization, begin persuading active users to make purchases on the products or services offered on the website. Finally, encourage recommendations and motivate new active users to spread positive news about joining the site or service.
Growth hackers are an integral part of any modern marketing team, and they use small tricks to increase a companies growth using; creativity, curiosity, and analytical thinking. These methods allow them to create new simple ways to improve the sale conversion rate from site visits.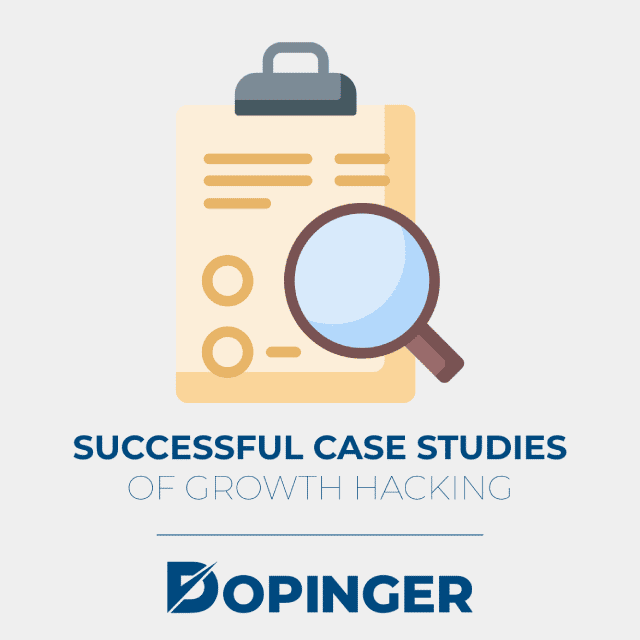 Successful Case Studies Of Growth Hacking
The best way to learn a topic is to go over some of the instances in real life. Here are some successful case studies around the World regarding Growth Hacking.
Apple and Samsung
The automatic signature that first became present on apple phones stating that the email was "sent from my iPhone" has become a more common feature.
Dropbox and Their Referral Program
Dropbox used innovation to become one of the first companies to utilize their customers and turn their customers into advertisers for their products. The customers were added to the acquisition funnel by offering them an extra 250MB of extra storage space for each new friend that signed up as a user. Friends were easily invited via Facebook, Twitter, or imported Email contacts. Having an easy way to send an automatic invite message was key to the success of this program. It was a great success, and Dropbox grew from 100,000 users in late 2008 to 4 million users in early 2010. At the peak, 2.8 million invitations were sent per month. It is almost impossible to compete with a viral marketing strategy this strong.
PayPal
Right at the beginning of PayPal, a clever hack was implemented to win new users cheaply. New users were incentivized to invite other people to join the site. For each new referral, both the referrer and invited party would receive 10 US dollars.
Instagram
Long before Instagram was acquired by Facebook, it began allowing its users to cross-post across other popular social media networks such as; Facebook, Twitter, and other platforms. By allowing users to share all of their new posts, photos, and videos with just a few clicks gained Instagram a great deal of attention over a short amount of time. Potentially even being the thing that put them onto Facebook's acquisitions radar.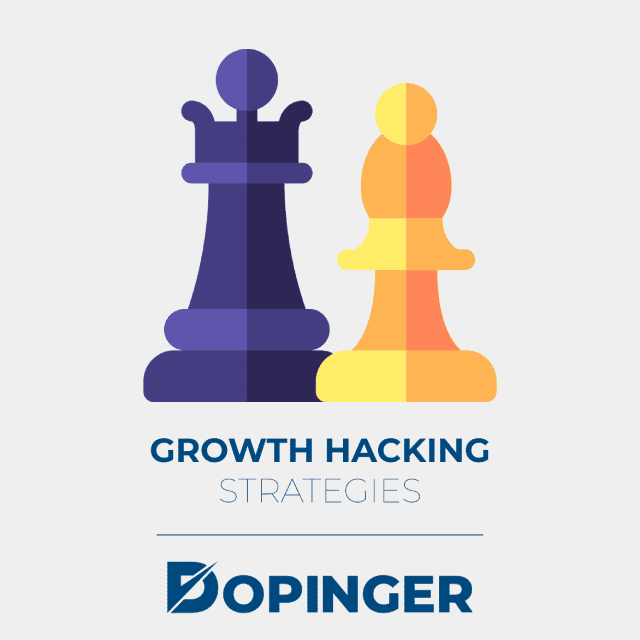 Growth Hacking Strategies
One of the main areas growth hackers focus on is content marketing. Within content marketing, there is a focus on spreading awareness of your business through the creation of value-adding and sharable content. Some ideas for content marketing are:
Writing blog posts with SEO-optimized content.
Writing an Ebook.
Use social media influencers to promote your product or service.
Encourage your followers to review your products on their blogs.
Email marketing campaigns.
Another area growth hacking strategists target is advertising. A well-run advertising campaign can go viral and land you with thousands of new users. Here are a few good ideas for advertising strategies:
Social media paid adverts.
Banner ads and PPC ads work well as well.
Adding ads into your Email marketing campaigns can be highly effective also.
Product marketing is another large area for growth hacking strategies; this is where the focus is on product development and the product's market fit.
Time needed: 30 minutes.
If your product fits nicely into its niche, then the marketing for it is going to be very simple. Some product marketing ideas include:
Utilize Psychology

Using psychology tricks to build your user base, such as; FOMO (Fear Of Missing Out) or using limited-time offers to increase the perceived value of your product.

Use Referral Strategies

Using referral strategies similar to the Dropbox and PayPal examples given above. These will increase your active user base very effectively.
One of the benefits of growth hacking its low cost due to being conducted mostly on social media, using the compounding effect of liked and shared content to grow the active user base.
FAQs on Growth Hacking
What does growth hacking mean?
Growth hacking is identifying your target audience and focusing creative campaigns on making them into your customers.
What skills do growth hackers have?
They have many skills, including visual design, date tracking and analyzing, behavioral psychology, copywriting, UI / UX, A/B testing, technical skills, marketing automation, etc…
How can I hire a growth hacker?
Start by understanding the type of growth hacker you require and look for a candidate that fits your needs.
Would growth hacking beneficial for my business?
Growth hacking is now vital for business development and will help any business to grow.
Is growth hacking in decline?
No, growth hacking is still well and alive. In fact, it is expected to become more popular in days to come.
Conclusion on Growth Hacking
Overall, growth hacking can be a vital part of any marketing budget. Its focus on efficient and meaningful growth is a powerful tool for any business to use. Using growth hacking as part of a marketing strategy is sure to grow your business in both the short and long term. Hopefully, you have learned something about growth hacking and enjoyed reading this article. Be sure to read our other content on how to come up with a good campaign to fully understand the ins and outs of digital marketing.