Inbound marketing is a client-centered marketing methodology that attracts a target audience by focusing on its actual characteristics and needs. It adopts a strategy quite different from those used in mainstream marketing styles, such as outbound marketing. Unlike them, inbound marketing focuses on customer experience rather than a "selling at all costs" attitude. It allows potential customers to take the initiative instead of chasing them through an invasive approach. It is sometimes erroneously compared to content marketing: as a matter of fact, the latter is just one of its several components.
So what are the components in question? As a growing trend in the panorama of digital marketing products and services, how is inbound marketing structured? Let us explore this methodology in more detail.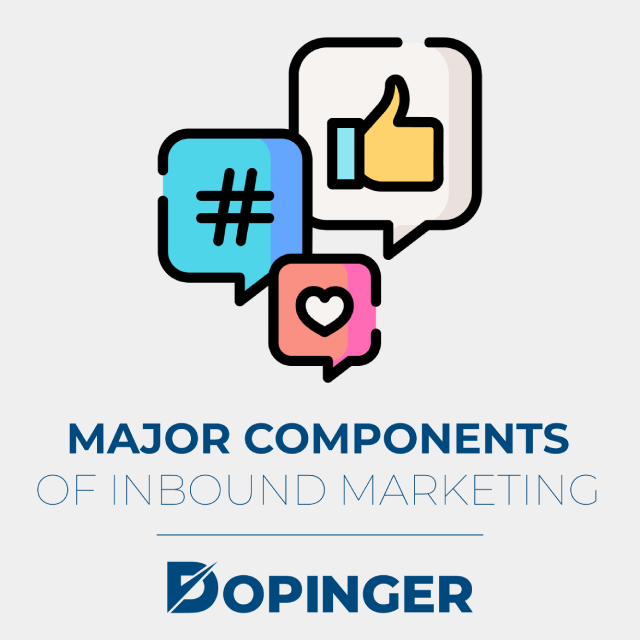 Major Components of Inbound Marketing
Inbound methodology encompasses a whole set of factors that determine its success. We will focus on the essential ones:
Buyer Persona: Slightly inspired by Carl Gustav Jung's psychological concept of persona (or 'social mask'), buyer persona is a term referring to customer prototypes. It is a mix of your actual customers' profiles and market research results regarding potential customers. So designing buyer personas simply means creating fictional characters that illustrate the target audience of your dreams. This is one of the pillars of inbound content marketing, enabling to generate targeted content. Here are some of the main aspects to be included while creating buyer personas:

Background and demographics (age, gender, educational path, etc.)
Professional information (job, sector, company characteristics, etc.)
Goals: what they try to achieve and how
Potential expectations from you/your company: how you and/or your products/services can help them
Ways to reach them: their favorite platform of communication, the kind of information they are looking for, events and associations in which they are involved, etc.

Stage Approach: The four essential phases of the methodology are attracting, converting, closing, and delighting customers.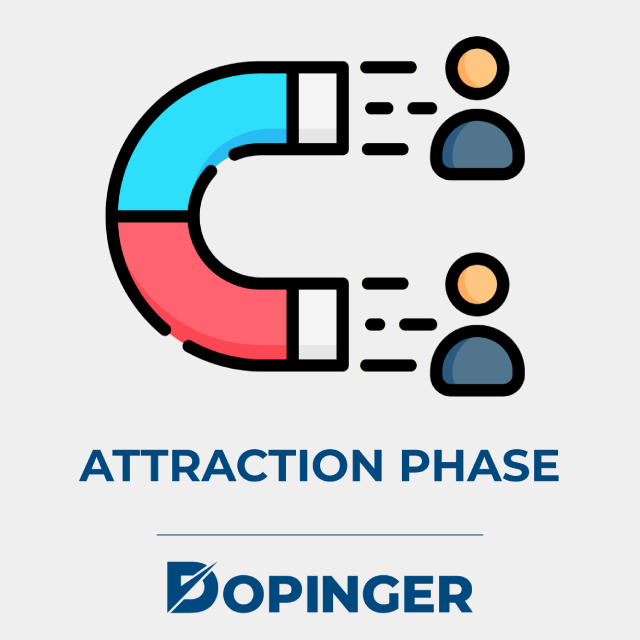 Attraction Phase
This is the first step in which you call strangers' attention to your activity. In order to be successful, it will require the fulfillment of several criteria: right timing, relevant content likely to match the audience's current questionings, ingenious use of Search Engine Optimization (SEO)… Your buyer personas will play an essential role during this phase. In sum, this is where you will turn perfect strangers into interested visitors.
Conversion Phase
Once you have your visitors, you will want them to feel directly involved. Indeed, many people nowadays refuse to be confined in a passive consumer role. Calls to action (CTA) are a set of methods that you may consider using at this point. An example of CTA can be a button or link inserted in your blog, website, social media page, or email, requiring action from your virtual visitors. It is also a kind of "promise" to provide what they are looking for. By clicking that button or link, the visitors will get to landing pages, which typically consist of single pages with an offer related to your business. The offer in question may be a survey, a material to download, or a free trial of your products; in other terms, a lead generation content.
In return, you will obtain more details about your visitors, such as their contact information. Thus, this is the phase that converts your visitors into leads. That is individuals showing interest in your products or services.
Closing Phase
Now that you have identified your ideal customers, it's time to ensure that they become prospects and actual customers. This phase enables closer contact with them. You will have the opportunity to better know their possible doubts and thus develop the appropriate strategy to dissolve them. At this point, marketing automation is the best option. For example, you may conduct a lead nurturing email campaign. This is a custom (yet automated) process during which you keep giving in-depth information about your activity in accordance with your specific lead audience's expectations. The efficacy of the process will depend on the quality of the analytics related to users' behaviors.
Delighting Phase
This is the apotheosis of a successful inbound marketing cycle. The leads have been 'sold' and become customers who have faith in your business. But the game isn't over since you will probably want to create a long-lasting relationship with them. An inbound marketing company with a talented thought leader will be able to deal with this challenge. Indeed, the customers will have to be constantly nurtured and reassured in the long term. Keeping them updated and rewarding them with, for example, premium offers should convince them about the accuracy of their choice. If carried out intelligently, this phase is likely to turn your customers into enthusiastic promoters of your business.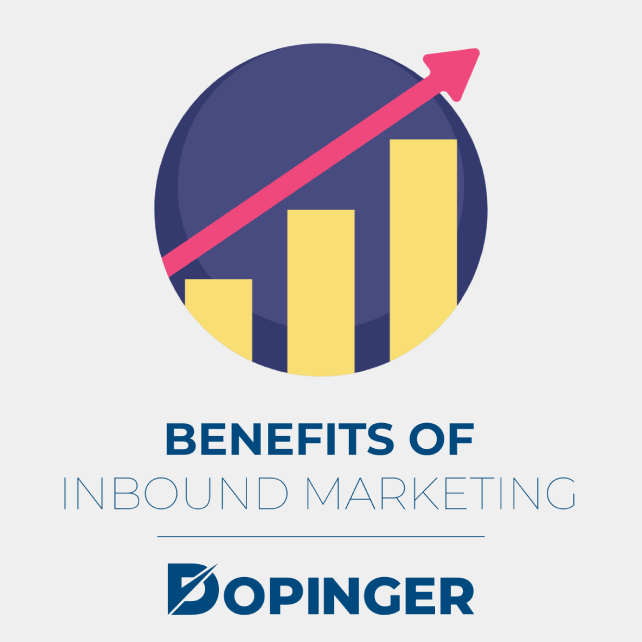 Benefits of Inbound Marketing
It is a process that builds trust gradually by taking time to discover the specific needs of specific audiences. This enables an increase of credibility: in effect, a marketing strategy based on individual cases rather than no-name masses sounds much more thoughtful. 
Inbound marketing is mostly a non-intrusive approach. The customers remain free to decide when, where, and how to buy, making engagements at their own pace. 
It is cost-effective in most cases, even for beginner companies and/or those having a small budget. A well-managed website is often enough for launching the major parts of the campaigns. 
It has the potential to increase sales. Indeed, inbound marketing puts a special emphasis on leads, which are the main elements likely to expand a company's network. Plus, the customer-centered logic makes good use of social media.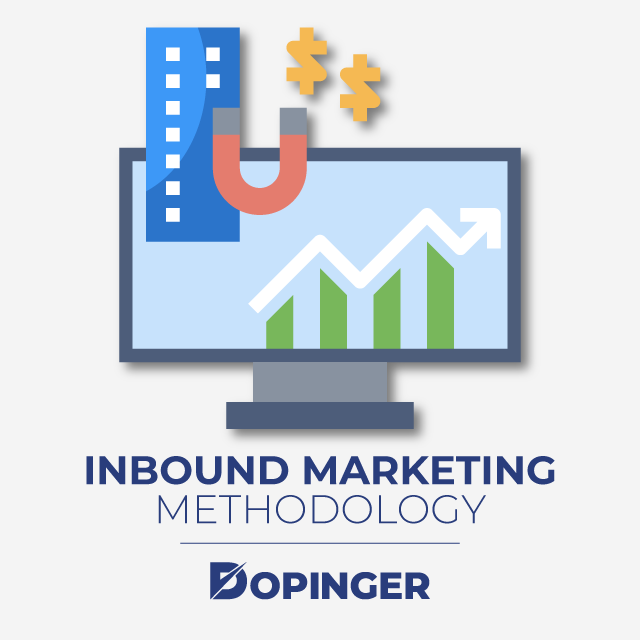 Inbound Marketing Methodology
The purpose of the Inbound marketing campaign is to increase the reach, quality traffic gains, interactions, and conversions by using the media of the business itself. 
The two most important steps to do inbound marketing are; creating and sharing content. However, creating content beyond sharing is considered an essential step. With the inbound marketing method, businesses aim to turn their customers into potential customers by attracting users' attention with their original content instead of attracting their customers' products or services. 
When the inbound marketing technique is considered in digital marketing, its primary purpose is to attract internet users' attention by creating creative content with the combination of multiple marketing channels, social media, SEO, and content marketing. In summary, we can say that it is the best way to turn the users who are foreign to your business into customers that support you.
FAQs About Inbound Marketing
Our inbound marketing and outbound marketing mutually exclusive?
No, not necessarily. There are many companies and brands that manage to use both successfully. It is mostly about one's integration abilities. Some phases of a campaign may require an inbound perspective, while others (like those involving larger groups) would benefit from a more outbound strategy. 
Which social media platform suits best inbound marketing?
The choice will depend on your business profile and needs. Although you may use any of them, the kind of inbound content that you try to promote is likely to match with a particular platform (e.g., Instagram stories to announce temporary events). 
Will my other marketing strategies will become redundant?
Again, not necessarily. However, inbound marketing is likely to reduce traditional marketing costs. Since you will focus on online visitors, you can, for example, give up some of the printed advertisement material (brochures, etc.). You can also discard intrusive/forceful strategies: indeed, these represent additional expenses aimed at selling products to individuals who are not interested. 
Do I have to hire inbound specialists?
It is not mandatory. However, collaborating with an inbound marketing company that has direct experience would certainly be useful. This kind of agency is efficient for all inbound tasks, be it quicker SEO content preparation or meticulous use of analytics. 
Are the analytics in question some tools to evaluate my inbound efforts?
That is correct. Tools like Google Analytics allow you to measure parameters such as landing page effectiveness, website growth, or conversion rates. 
Final Lines on Inbound Marketing
With this article, we have set the general framework of inbound marketing. Undoubtedly, this methodology is the new marketing trend for many sectors wishing to add value to their activities. Thus, it naturally raises many questions to be answered. This article has tried to answer some of them, and more precisely, those related to the components of successful inbound marketing. If you want to establish a solid groun in marketing, make sure to read our article on viral marketing.