Mailchimp is a leading email marketing service provider among many other services. This service is a favorite for budding bloggers and small businesses. Mailchimp is beneficial for you to use in maximizing your email marketing activities. This platform is straightforward to use, so we highly recommend using this as a solution for your activities.
Why Choose MailChimp?
Mailchimp is a web-based email marketing platform. You can use this platform to design and send emails to customers and subscribers of the website. With its web-based nature, you can easily access Mailchimp. There is no need to download or install additional software.
It doesn't stop there. Mailchimp offers many exciting features. These attributes will make it easier for you to execute your marketing strategy. We'll cover Mailchimp's flagship features below:
Various campaign options.
Mailchimp offers you many campaign models. Email and landing pages, postcards, signup forms, Google remarketing ads, even Facebook ads.
It is integrated with various apps and tools
With many apps and tools, you can add multiple functions to the campaigns that are sent. There is a booking or order button, product recommendations according to buyers' transactions, sending subscription bills, and many others.
Send the automatic email
Mailchimp makes it easy for you to send emails automatically. You don't need to manually send emails when a new customer creates an account, reminds you of unfinished purchase transactions, wishes for birthdays, recommends products, and sends purchase notifications.
Email marketing optimization.
You can divide your subscribers based on specific interests and send emails that match their interests. You can also see how the performance of campaigns that have been created and do testing campaigns to see which ones are the most effective.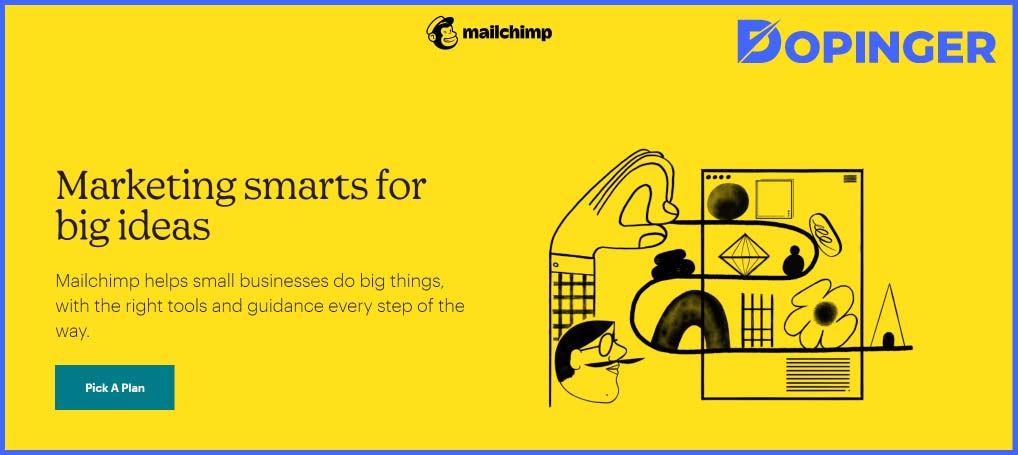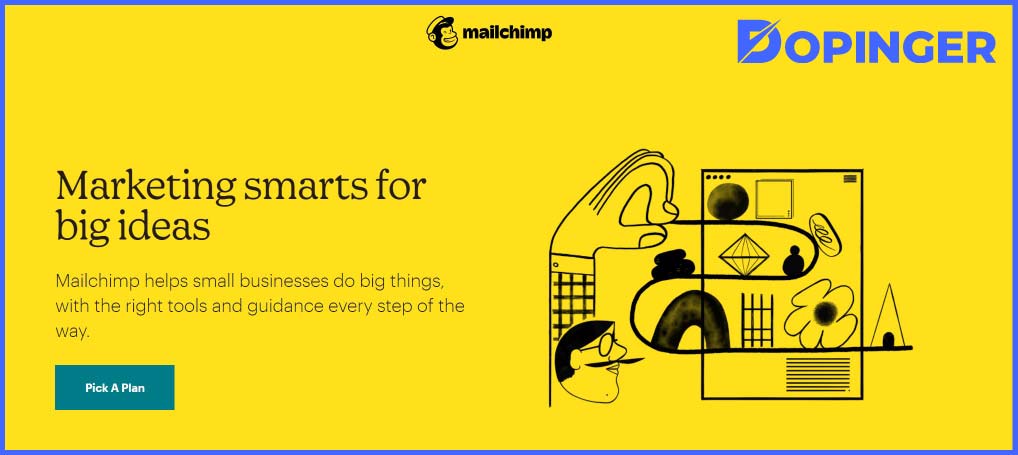 How to Use Mailchimp
Now that you know the excellent features, it's time to move on to the Mailchimp tutorial. This section of the article will find information about creating a Mailchimp account, creating an email recipient list, customizing signup forms, creating campaigns, and viewing campaign reports.
Create a Mailchimp Account
To use Mailchimp, you need to create an account. You can directly access http://mailchimp.com and press the Sign Up Free button. After that, you will be taken to a new page. On that page, you need to fill in your email, username, and password. Note that Mailchimp asks for a strong password. You must enter uppercase, lowercase numbers, unique characters, and at least eight characters long in the password itself.
After that, Mailchimp will ask for your domicile address. This is done to ensure the Mailchimp account created is not used for spamming purposes. In the next step, you are asked to connect the Mailchimp account with Facebook and Twitter. This step is optional. You can just skip it. It's just that this step helps marketing efforts reach many people.
Then, Mailchimp will ask permission to personalize the service. You will be asked different questions such as brand name, website address, and other features that your business offers. That way, Mailchimp can provide the right apps and tools according to the online business they are engaged in.
The audience is a part of managing the email list that receives the email.
The report is a place to monitor all forms of promotions carried out. Campaigns are a place for designing email marketing content. Here you can see what percentage of the subscriber list opened the email.
Templates are campaign designs that are saved and can be reused for the next campaign.
Content is a part of storing content in images, documents, products, GIFs, Instagram, and brand logos.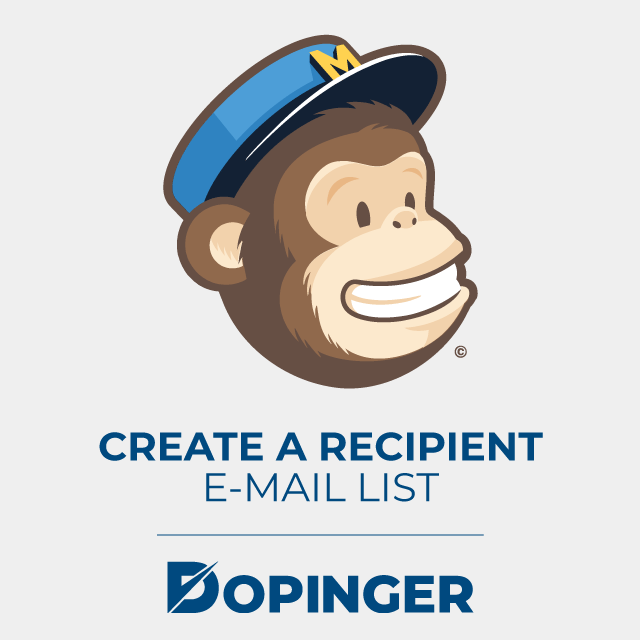 Create a Recipient Email List
Mailchimp has several options for creating a list of names or a list of email recipients. We will explain two of the most common methods. First, through manual input. This is the easiest and most complicated way that can be done. It's easy because you need to enter the data into the fields provided. But it is also complicated because all need to be done one by one.
For the first method, you can click the Audience menu on the Dashboard. After that, click the Manage Audience dropdown menu and select Add a subscriber. After that, you will be taken to a new page that looks like a form. You can enter your email address, subscriber name, address, phone number, and tags on that page. Below the form, there is a checklist about the subscriber's willingness to receive emails and requests for data updates to avoid double list names.
Second, import data through supporting services. Many services can connect with Mailchimp. However, the easiest way is to connect it with Google Contacts. For the second method, you need to select the Audience> Manage Audience> Import Contacts menu. On the new page, check the option "Integrated service" and "Google Contacts."
Then you need to enter your Gmail email and allow Mailchimp to access the email. Automatically contact data will be imported. This platform will also confirm data in case of data out of sync. As usual, there is an option to add tags before the data import process takes place. Within seconds, up to minutes, all the email addresses stored in the email will be displayed.
However, it would be best if you were careful when importing contacts this way. If imported contacts exceed 2000, there is an additional fee to be paid.
Create Signup Forms
After making a list, you need to create a registration form displayed on your website, from which your site visitors will register and subscribe to your article. The trick, just click on the title of the list that you created earlier, you will enter a new page, select "Signup Forms."
Entering the new page, there are several choices of forms from the registration form that you can choose from:
General Forms: Create, design, and translate registration forms and email responses
Embedded Forms: Generate HTML code to paste on your website or blog to submit submissions.
Pop-up subscriber: Design a form in a pop-up style that can be embedded on any website.
Form Integrations: Design registration forms using one of the Mailchimp integrations.
To start, we only need to work on the first two menus: In this "General Form," you design what kind of form model you will use later, whether your email registration system uses double opt-in email, unsubscribe, and updates your profile (profile update).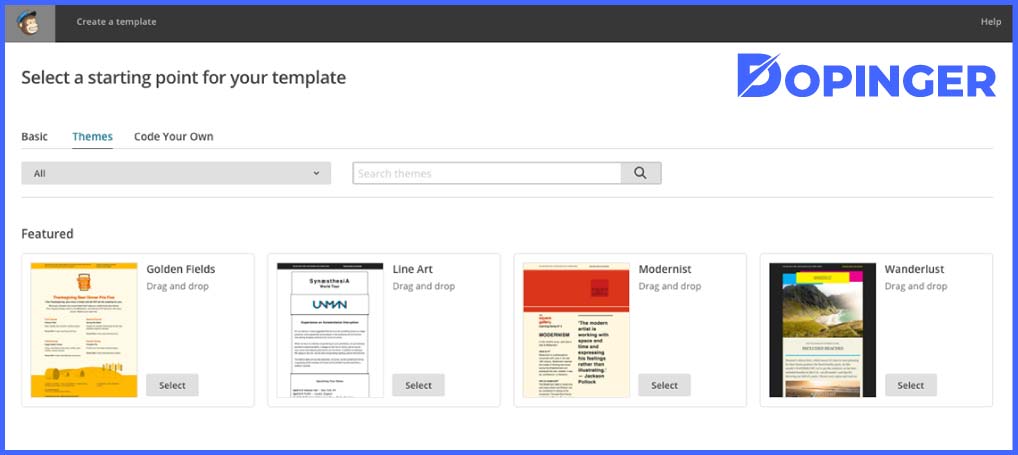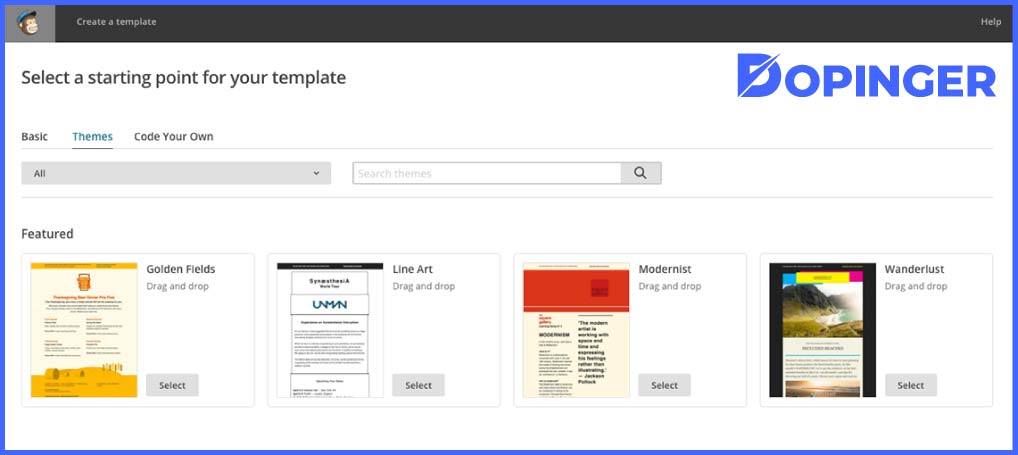 Create an Email Template
One of MailChimp's greatest strengths is that you can design HTML email templates very easily. The drag-and-drop editor lets you create custom HTML templates in no time. Search for the Templates menu item at the top of the dashboard. Click on the button that says Create Template.
Layout: Use an editor to create a template from scratch.
Themes: If you're in a rush, MailChimp also provides a number of ready-made email templates. Large selection of themes, from e-commerce to birthdays to fitness and more; There are two types: "drag and drop" and classic. The first option allows more customization, while the classic only enables you to change the color and content.
Code Your Own: If you already have your template, you can insert your code and import it from HTML or as a zip file. But, you have to customize the template that you create with the template settings from Mailchimp.
Check Mailchimp's Campaign Reports
You can also use Mailchimp to view reports from the email campaigns that you have created by:
Click a report
On the dashboard, click on the report above.
Select an email campaign
After that, select the email campaign you want to see the report for and then click the view report.
After that, you can see reports about your users, such as data on users who open an email, at what time they mostly open an email, and so on.
FAQ About What is Mailchimp
How can I divide my subscribers? 
There are many ways to divide your subscribers. The easiest way is to divide your subscribers based on their interests and send emails that match their interests.
Why does Mailchimp ask for my domicile address?
Mailchimp asks for your domicile address to ensure that you did not make your Mailchimp account for spamming purposes.
Can I add tags before the data import process?
Yes, you have an option to add tags before the data import process starts. 
Is there an easier way to create a Sign-up form?
Yes, you can start by clicking on the title of the list that you created earlier; you will enter a new page, select "Signup Forms."
How can I create a template? 
You can create it by finding the Templates menu item at the top of the dashboard. Then you should click on the button that says Create Template.
What Mailchimp Is in Short
You have learned about creating an account with Mailchimp, developing an email recipient list, creating signup forms, designing campaigns, and analyzing the campaigns sent. If you want to get tips about how you can use Mailchimp for marketing, check out our review entitled "what is email marketing".
We think that you may also be interested in
What Is a CRM Software?
which is our previous post about
Software Support
.