If you're in the business of digital marketing, you might be wondering what is organic traffic. The internet world is widespread. Like anything, marketing has taken its place on the internet as well. Unlike traditional marketing that you see in companies or creative agencies, the marketing on the internet is something unique. It is called digital marketing.
Marketing is the way to present your product in the best way to make it easier to sell it. The same goes for digital marketing as well. When you are selling your products or services on the internet, you don't have professional marketing specialists, but you have SEO.
When you start to dig through SEO, you will see that organic traffic is something crucial. It is like the golden prize everyone is after. There are several traffic sources on the internet. Some of them are; organic traffic, paid traffic, and direct traffic. Now let's see what actually are they and why organic traffic stands out as the most important one.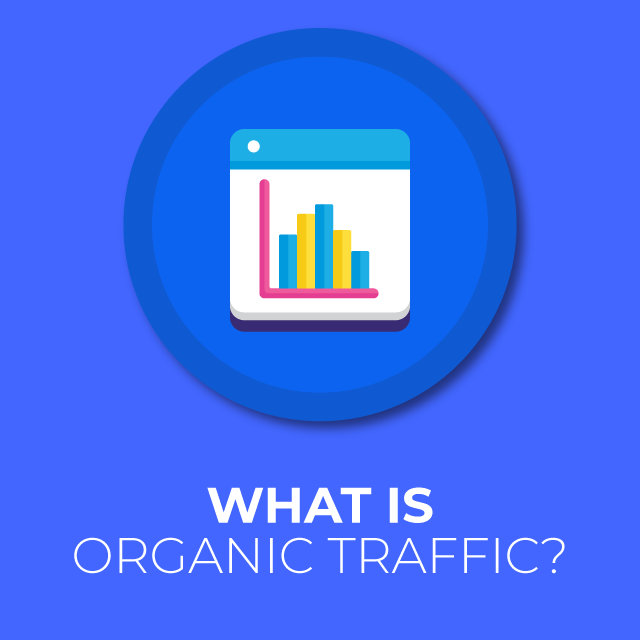 What is Organic Traffic and How it Differs?
Organic traffic refers to the visitors that come to your website without a paid intermediary such as advertisements on Google. Organic traffic is the ultimate good result because the visitor has decided to search what he/she is looking for through your website, totally on his/her own.
We might say that it is something like a purchase decision in the marketing funnel.
Organic traffic is earned from the search engine results. If your website ranks higher on the search engine result pages (SERPs), you will get more organic traffic. Of course, there are many ways to make it happen. We will touch upon that later in this article.
What is Paid Traffic?
Paid traffic is the contrary of organic traffic. It is the traffic where visitors come from clicking on the ads. There are many types of ads on the internet. However, one of the most popular advertisement type is the website links in the SERPs.
You can see paid results when you search for something on Google. If you click on one of the advertised links in the results page, you become a part of the paid traffic.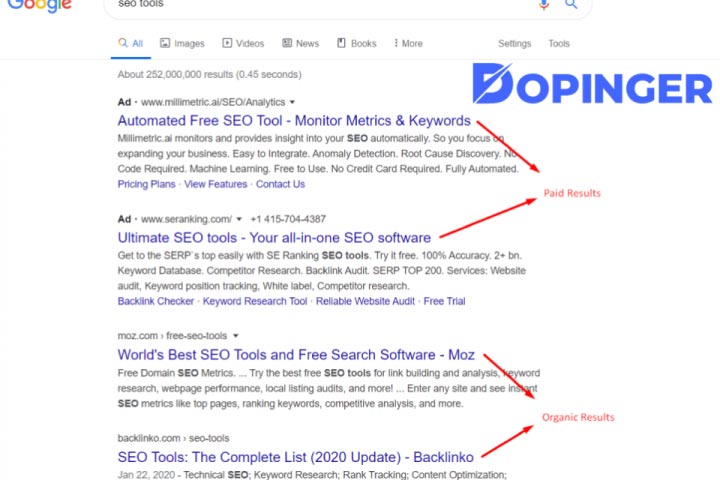 The success of paid results is debatable. It is a fact that organic results get more hits than paid results. Because there is no guarantee that a paid result (an advertised website) is a good one. It is always safer to click on the organic result because people know that it is ranking high for something but not money.
Paid traffic, on the other hand, is a good way to present your website if you just created it.
What is Direct Traffic?
Direct traffic is the arrival of the visitor without clicking on a link on another website or search engines. It can occur if the visitor knows your URL and type it directly on the search bar, bookmarked your website, or clicks on a URL link shared by e-mail.
In this case, the visitor already knows about your website, so it is not search traffic.
How to Increase Organic Traffic?
If you want to increase your organic traffic, you need to have a good SEO program. SEO is about ranking your website higher and offering your visitors a better user experience. That is why there are many things to increase your organic traffic. You can find some tips to increase the organic traffic below.
Use Relevant Keywords
If your website has written content, you should consider using relevant keywords about your business. Keywords are a ranking factor, and they are one of the most important elements of SEO.
You can find relevant keywords by using SEO tools. To find the best keywords, select some of your best ranking competitors, and analyze their websites. This way, you can see their keywords and their search volume. Then you can make a plan for your keyword usage.
Include Good Quality Meta Elements
Meta title, meta description, and URL are key points of a well-optimized website. By entering metadata, you let the search engine and your audience see exactly what you are talking about.
You can optimize your metadata with SEO tools and plugins such as Yoast SEO. They will inform you if your metadata such ash title and description is good enough.
Quantity is important as much as quality. You have to use your keywords in your titles, descriptions and URLs. However, the length of your title and description matters as well. Plugins are a good way to make these adjustments.
Use Inbound Links
Writing blog posts on your web pages is an excellent way to increase organic traffic. If you have developed enough content that you can share links, including inbound links on your blog posts will help you a lot to direct your visitors around your website.
If you're using platforms such as WordPress, you can adjust automatic inbound links as well, so you don't have to include inbound links specifically. Yet, if you want to relate to a specific blog post, then it is the best to make it manually.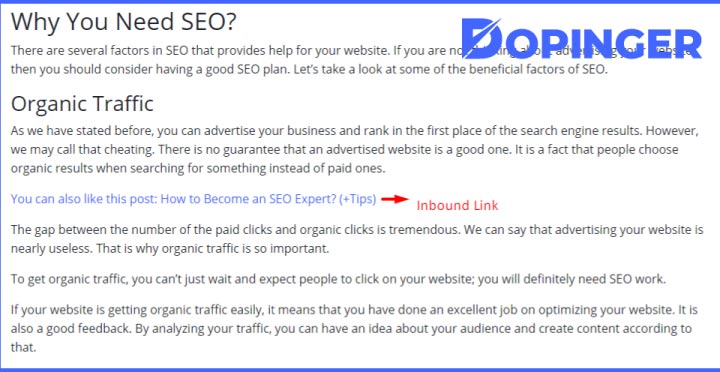 (Inbound Link Image Here)
Note: If you keep blogging regularly, you will have lots of content that you can relate links. Be sure to write SEO friendly articles. Poorly written content can do more harm than good.
Participate in Social Media
Small or major, all kinds of businesses started to take part in social media. Especially Instagram. The effect of social media is inevitable. It maybe is the ultimate way to do business.
It is a fact that people search for their needs in social media to see what kind of alternatives they have and what people think about them. Social media is considered a good and organic way to get feedback.
If you use social media properly, you can add links to your websites through your social media accounts. The traffic that comes from social media platforms is also called 'social traffic.' However, it still is an organic type of traffic. That is why don't underestimate the power of social media.
FAQs
What is organic traffic in Google Analytics?
Organic traffic in Google Analytics is the traffic that comes from search engines. It is not a part of referral traffic which happens through clicking on links on other websites, or paid traffic.
What are organic keywords?
They are keywords that attract free traffic through SEO strategies. Organic keywords are the contrast of PPC keywords which are used in paid results.
How do I find organic keywords?
The best way to do it is by using SEO tools. They help you find keywords in your business field by analyzing your competitors and search volume.
Conclusion
We have covered what is organic traffic. It is the source of traffic that everyone is looking to get. However, getting it is not something easy. You have to have an excellent SEO strategy.
Digital marketers are always looking for ways to increase organic traffic. We have mentioned some of the most important ways to increase organic traffic such as; keywords, meta elements, inbound links, and the power of social media.
If you want to learn more about SEO, please check out our other articles about it. You may want to learn why is SEO important for your website.