SamCart was founded by Brian Moran and Scott Moran in 2012. The software defines itself as "Whether you are selling digital products or online services, SamCart is the easiest way to start accepting orders." In today's guide, we are going to introduce you to SamCart, and try to cover many questions. First of all, we are going to understand what SamCart is. Second, we are going to try to introduce you to its 10 features, from its A/B testing to one-click upsells features. Third, to cover this shopping cart platform in a better way, we are going to talk about its pros and cons. Fourth, we are going to dig into that a little bit more and talk about its pricing. 
Of course, SamCart is not the only shopping cart platform on the web. At the end of our guide, you will be able to find 2 alternative platforms to Samcart: ThriveCart and ClickFunnels. Well, if you're ready, let's get started with our first question: What is SamCart?
What Exactly Is SamCart?
Whether you sell digital or physical products, you should know the importance of additional sales from each customer. But, how are you going to achieve this? SamCart is a perfect software for anyone who sells their products or services online and would like to create a beautiful checkout page. Since it is designed to increase customer satisfaction, you can maximize the revenue and sales you make.
SamCart's Key Features
Compared to other online shopping cart platforms, SamCart has many more useful features to increase your conversion rates and reach maximum customer value. Let's look at all the features you need to succeed in your digital marketing efforts when selling online.
1) Pre-Made Templates Library
As a good marketer should know, a checkout process should be able to improve its conversion rates. That's exactly what SamCart does. Since the software provides 18 pre-designed templates designed by expert designers and marketers for maximum productivity, you don't need to integrate third-party services to start selling and accepting payments.
You can design your own checkout pages from scratch or use pre-designed templates on the platform. If you choose the second option, you can also customize the templates. For example, you can upload a logo, use your business colors, and add fields like shipping, billing addresses, or the 'Terms and Conditions' checkbox on your checkout page.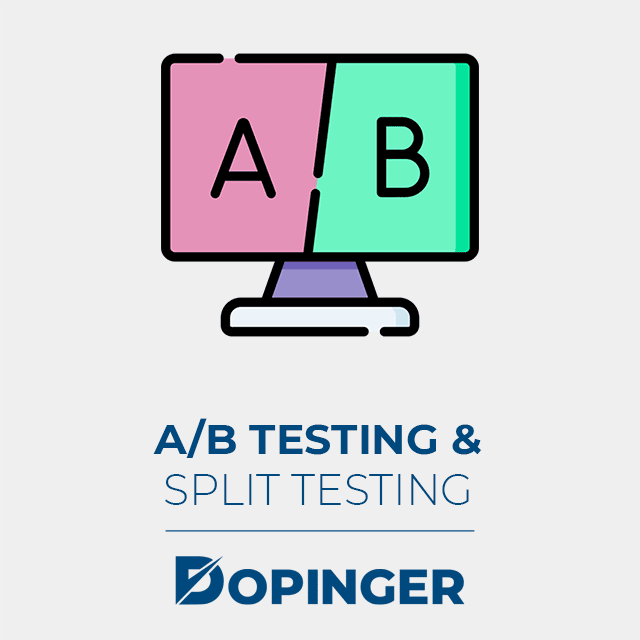 2) A/B Testing & Split Testing
Since a slight improvement on the checkout page can significantly impact your sales, split testing, also known as A/B testing, plays a vital role in growing your business efficiently. So, what is this? Let's try to explain simply.
When you design two versions of different websites, A/B testing helps you understand which one will perform better amongst the two. This is exactly what SamCart offers, but there is a slight change. Instead of comparing two versions of different websites, you test every part of your checkout page to discover which cart variations work better than others. Thus, you can customize the checkout page to increase its efficiency at the end of the day. 
3) Flexible Payment Options
If you want to offer different payment options to your customers, SamCart can help you. Since the software has multiple payment options, including various payment plans, coupons and trial offers, or subscriptions, you can increase the number of sales you make.
With SamCart's payment plans, you can give your customers the ability to pay for their orders over time. You may be wondering, 'How does that work?" You can offer multiple payment options for each product on the same product page. Let's give an example to make it more straightforward. You can create each payment option as a new product while selling online; you can sell the product for $200 as a one-time payment or offer '4 payments of $50.'
4) One-Click Upsells
SamCart's one prominent feature is its one-click upsells feature. Just think about the world's top e-commerce platform: Amazon. Let's say you entered your billing, shipping, payment, and address information to purchase a product on Amazon. After your checkout process is completed, you can buy upsell products offered by Amazon without re-entering your address and payment details or adding any additional information. It is what SamCart offers. After your customer's checkout process is done, you can offer additional products to double your sales and multiply your profits.
Especially if you are selling ebooks, coaching programs, or video courses, using the one-click upsells feature is a perfect way to create funnels for your business and effortlessly increase your average order value.
5) Bump Offers
In addition to the one-click upsells feature, SamCart also offers pre-purchase order bumps, where you can turn one sale into multiple sales. Let's give a quick example to understand this a little better. Think about fast-food chains across the world. The price of a burger is almost equal to the price of combo-menus with french fries and drinks. Such a situation pushes people to buy more. You can apply the same tactic with SamCart to increase the value of each order.
Since you combine the main product with a complimentary product(s) or service(s) and offer the bundle at a fair price, the pre-purchase order bumps strategy can also be called 'bundling.'
Hint: You can use this feature for either physical or digital products.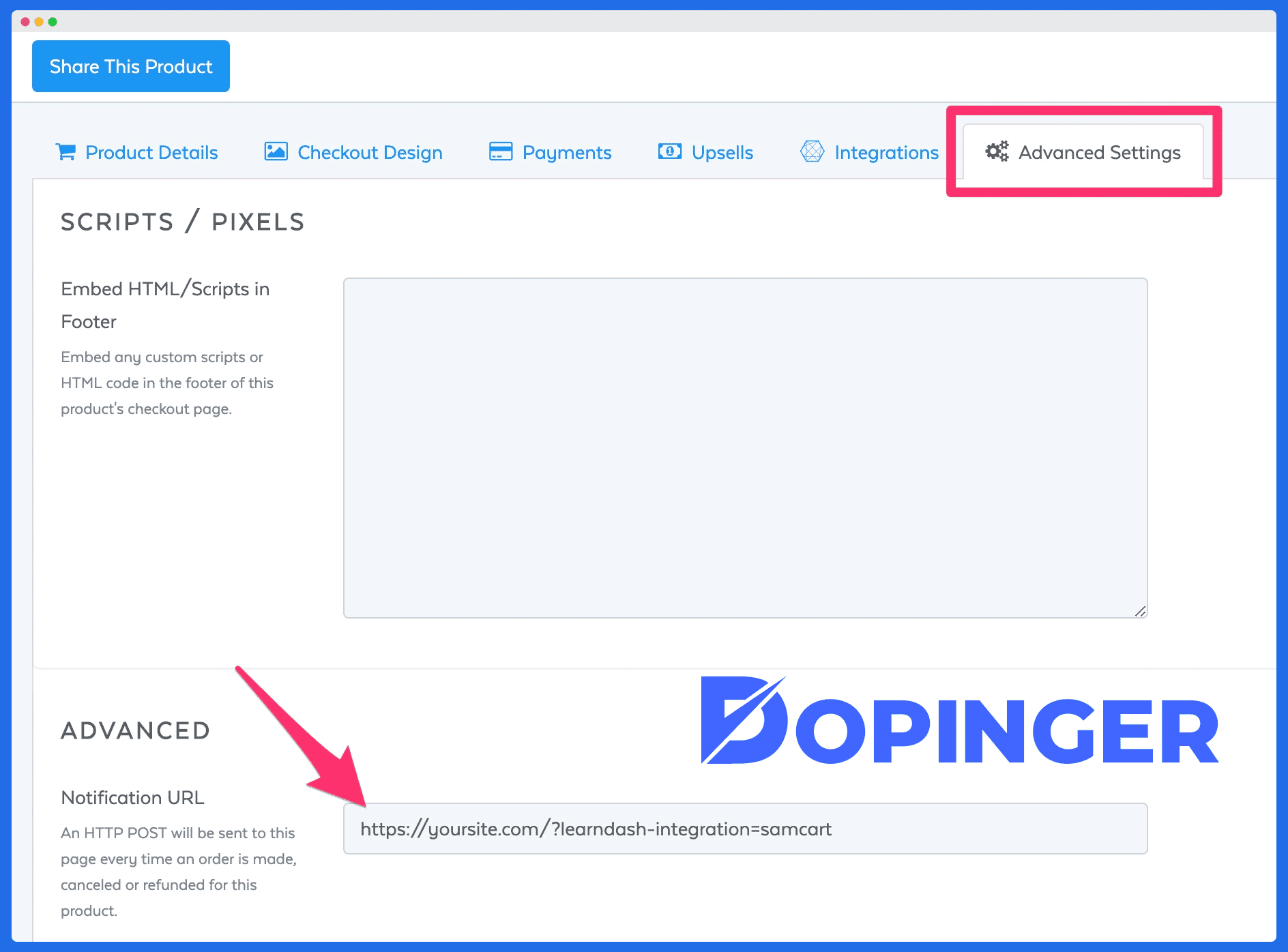 6) Integrations 
SamCart offers integration with more than 750 tools that let you create the best shopping cart experience.
Email: Since you can create strong relationships with your customers through the email channel, email marketing plays an essential part in your business's success. Let's give you the list of email marketing tools SamCart supports.
Maropost
Mailchimp
iContact
GetResponse
ConvertKit
Constant Contact
AWeber
Marketing Automation: In order to automate what you do, track your sales process, measure your business performance and increase your productivity, you need a marketing automation tool. Here is the list of tools Samcart supports:
Klaviyo
Ontraport
Drip
ActiveCampaign
Keep
HubSpot
Membership: If you are selling subscription products, you need a membership platform. Don't worry; SamCart supports a range of these platforms. Here is the list that Samcart works with:
MemberPress
Thinkific
WishList Member
OptimizePress
MemberMouse
Kajabi
Digital Access Pass
Page Builders: In order to create a great sales funnel, a powerful page editor will help you do what you need. In this case, SamCart works with the world's most prominent website builder: WordPress.
Payment Providers: One of the first things you will want is to integrate your favorite payment provider with your shopping cart while selling online. So, your customers will be able to select their preferred payment method, thanks to multiple payment providers SamCart supports. Here is the list.
PayPal
Stripe
Authorize.net
Braintree 
You can also integrate Post Affiliate Pro, ShipStation, Intercom, Zapier with your SamCart checkout page.
7) Smart Pixel Tracking
Since your analytics software on the checkout page has some coding, you can understand which link, ad, or link is working efficiently and which is not. In this case, SamCart can help you do this without having coding skills or HTML knowledge. With its Smart Pixel Tracking feature, you can understand which sales funnel significantly impacts your business. In other words, you can figure out where your sales are coming from. It will give you detailed customer/client and order data, so you will be able to measure your marketing and sales efforts.
8) Affiliate Center
SamCart allows you to create your own private sales team that promotes and sells your products for you. But, how is that possible? Let's dig a little deeper. Your customers, for example, can earn a commission when they promote your products. This is exactly what happens in SamCart. When your affiliates refer other people to your checkout page, they will receive a commission. Or, when people purchase your product through your affiliate links, then SamCast allows your affiliates to earn a commission.
9) Subscription Saver
SamCart's Subscription Saver, also known as dunning, is a perfect feature for anyone who sells subscription products online. Before looking at this feature, let's try to understand what subscription products are. Think about Amazon Prime or Netflix. These platforms sell their products and services online on a scheduled time basis. Like these names, if you sell subscription products online, the subscription saver will help you.
Have you ever thought about what happens if your subscriber's credit card has expired, has been replaced or shutdown, or the bank or subscriber has canceled the card? What are you going to do in such situations? Don't worry; SamCart automatically sends emails to your subscribers with a link to update their credit card details.
Hint: In order to access SamCart's Subscription Saver and Affiliate Center features, you will need to use the Premium plan.
10) Cart Abandonment 
SamCart's Cart Abandonment feature lets you rescue the sale by engaging with potential customers who left without completing the payment on your checkout page. What do we mean by this? Let's say a customer had put your products in their cart but didn't complete the checkout process. At this point, you lost a possible sales opportunity. Don't worry; you can still turn that potential customer into an actual customer by reengaging. You may be wondering 'How?' SamCart sends personalized emails, SMS, or Facebook ads to that customer to bring them back to you. Thanks to the cart abandonment feature, you can;
Increase conversion rates and sales,
Regain the lost traffic,
Improve customer lifetime value, and create strong relationships with your customers.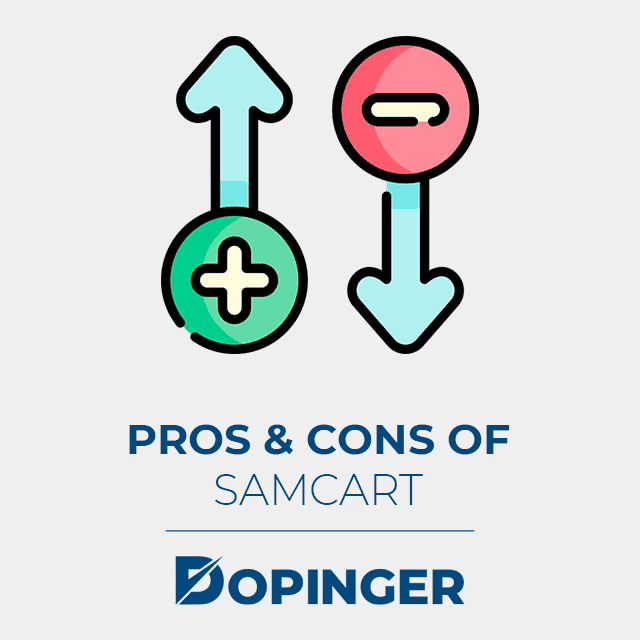 The Pros and Cons of SamCart
Like many other online tools, SamCart has some advantages and disadvantages that you should take a look at before using it. Let's try to weigh its pros and cons.
The Pros
SamCart is a user-friendly platform to start selling not only digital products but also physical products online in an easy way. You don't need to have coding skills to get started on the platform.
SamCart supports different payment options that give your customers the freedom to choose their preferred payment method.
With its A/B testing or split testing feature, you can compare every aspect of your checkout page to see how they perform.
SamCart offers a 14-day free trial, so you can understand which plan is better for you before you buy it.
SamCart supports tons of 3rd party tools that can be integrated with your shopping cart.
Since SamCart's one-click upsells and bump offers features push customers to purchase more, your profit will increase.
When you upgrade your account from the 'Lunch' to the 'Grow' plan, you will have a 30-day money-back guarantee.
SamCart has an easy-to-set-up process. Also, there is no setup fee for getting started.
There is no limit to the number of products you can offer on the platform. 
If you are operating internationally, you can sell your products in any language or currency with SamCart's localization feature.
With SamCart's drag and drop template builder, you can customize your landing pages and showcase your products easily.
SamCart offers free SSL certificates that make your customers feel safe while shopping. 
SamCart automatically reminds your customers of payment problems, such as expired credit cards.
The Cons
SamCart pricing plan is more expensive than similar platforms. For example, its lowest plan starts at $49.
SamCart supports a limited number of payment providers.
Even though SamCart has different payment options, there is no option to accept cryptocurrency or Apple Pay.
Since SamCart has a limited number of pre-designed checkout pages, you may not find what you are looking for.
To access SamCart's advanced features like Subscription Saver or Affiliate Center, you need to purchase the Premium plan that costs $199 per month.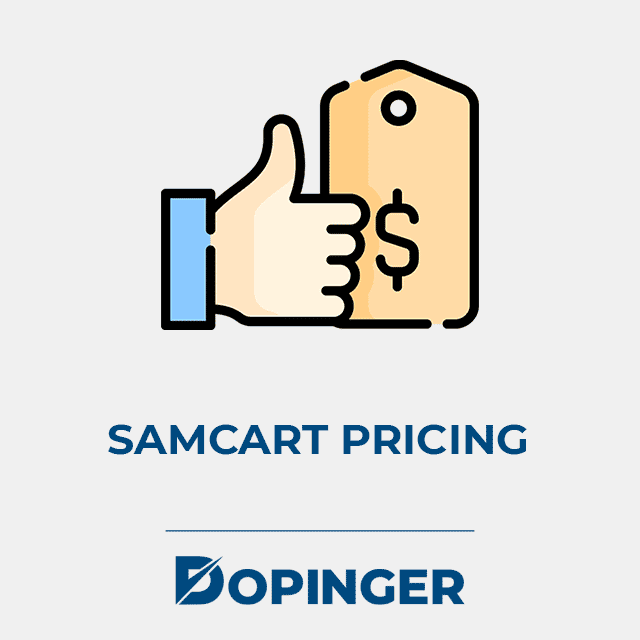 SamCart Pricing 
When it comes to SamCart pricing plans, you are going to have 3 options.
1) Launch
Launch is the starter plan of SamCart, where you can launch a website and display your products or services. 
Checkout Features
No Additional Processing Fees
Unlimited Pages & Products
Unlimited Templates
Drag & Drop Template Builder
Full Template Library
Advanced Subscriptions
Full Email Customizations
Custom Domains
Digital Product Delivery
Coupons & Discounts
Smart Pixel Tracking
Pay What You Want
Sales & VAT Tax Support
Free SSL Certificate
Apple & Google Pay
Custom Thank You Pages
SamCart Branding
Upsells & Add-Ons Features
Integration Features
Zapier Integration
Email Integration
Membership Integration
Monthly: $49/month
Yearly: $39/month – $470/year
2) Grow
Grow is the most popular plan of Samcart, which helps you increase the conversion rates and the value of each sale you make.
In addition to the features in the Launch plan, you can access;
Checkout Features
Completely White-Labeled (No Samcart branding)
Custom Chekout Fields
Upsells & Add-Ons Features
Order Bump Collections
Post-Purchase Upsells
Multiple Payment Options
Monthly: $99/month
Yearly: $79/month – $950/year
3) Scale
To access all the advanced features offered by SamCart, you need to use its Premium plan.
In addition to the features in the Grow plan, you can access;
Cart Abandonment
Built-in AB testing
Affiliate Center
Subscription Saver
Monthly: $179/month
Yearly: $159/month – $1,910/year
If you don't know which plan is the best for you, you can test each plan with a free 14-day trial. Besides, the software gives you a 30-day money-back guarantee for all its plans.
Hint: If you pay annually, you will get a 20% discount on the platform.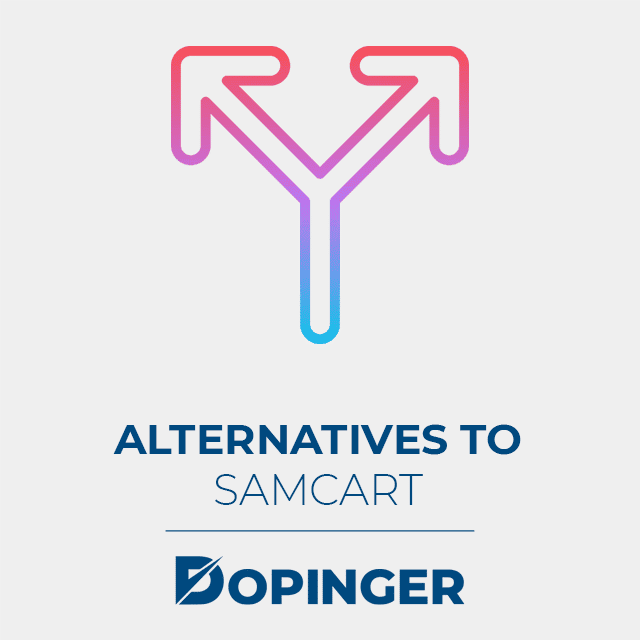 2 Popular Alternatives to SamCart
There are lauds of shopping cart platforms available in the market. Even though SamCart is one of the most popular options with its advanced features, you may be wondering, 'If I were to choose between shopping cart platforms, which one would be better?' To answer your question, we are going to talk about two popular alternative shopping cart software to SamCart. Let's start with one of the favorite platforms in the market: ThriveCart.
ThriveCart
ThriveCart is one of the most popular platforms for selling both digital and physical products online. The platform helps your business boost revenue with high conversion rates. You can customize ThriveCart's pre-designed checkout templates using its easy-to-use drag and drop editor. Or, you can integrate your shopping cart with 3rd part tools, such as Autoresponder or Zapier, and PayPay, Stipe, or Authorize.net.
Listed below are key features of ThriveCart. Let's take a look!
Main Features
Lifetime Access With 1-Time Payment 
Pre-designed Templates
Drag & Drop Editor
A/B Testing
One-Click Upsell Funnels
Bump Offers
Integration With 3rd Party Tools
Affiliate Centre
Sales Tax Calculation
Detailed Reporting
30-day Money-Back Guarantee
ThriveCart offers one more perfect feature; its Pays For Itself guarantee. After purchasing one of ThriveCart's plans, if you find it doesn't help you improve your business, the ThriveCart team will work with you for free until it does.
Disadvantages
There is no free plan or trial.
The number of checkout templates may disappoint you.
There isn't advanced dunning support provided by ThriveCart for failed payments.
Since ThriveCart only offers a one-time payment option, it may be difficult to pay.
Pricing: ThriveCart has 2 payment plans: Standard plan, which costs $495, and Pro plan, which costs $690. It offers a lifetime account with a one-time payment.
ClickFunnels
ClickFunnels is another powerful shopping cart alternative to SamCart you can use to build perfect checkout pages. Since it is one of the comprehensive sales funnel builders on the internet, you can create various funnels, such as email marketing or membership funnels. You can also integrate your ClickFunnels shopping cart with up to 27 payment gateways. In addition to these advantages, ClickFunnels's integration with 3rd party tools will allow you to figure out which sales funnels provide the best results for your business.
Here is the list of key features offered by ThriveCart;
Main Features
Drag & Drop Editor
One-Click Upsells
Facebook and Email Marketing Automation
Follow-Up Funnels (You can send highly-targeted messages to your customers)
A/B Testing
Free Trial For 14-Days
Affilate Management Center
Membership Site Builder
Autoresponder Service
Conversion Tracking
Integration With 3rd Party Tools
BackPack
Unlimited Funnels, Pages & Domains
These all features help you optimize your checkout pages and increase conversion rates.
Disadvantages
ClickFunnels's cheapest plan is $97; it is pricier than other shopping cart platforms.
When you use its starter plan, you will have limitations, such as a max of 20 funnels, 100 pages, or 3 payment gateways.
To reach ClickFunnels's advanced features, you need to upgrade your payment plan, but it may be too costly for you to invest.
ClickFunnels's shopping cart design is not as good-looking as other shopping cart platforms'.
Pricing: ClickFunnels offers 3 different payment plans; Startup, which costs $97/monthly; Enterprise, which costs $297/monthly; and Two Comma Club X, which costs $2,497/monthly.
FAQs About SamCart
Is there a SamCart app available on Google Play or AppStore?
No, it does not have an app yet.
Can I cancel my payment plan on SamCart?
Absolutely! You are free to cancel your payment plan whenever you wish.
How do I cancel my SamCart subscription?
It's not a big deal. You can send an email to [email protected] or request cancellation of your subscription through in-Service communication in your SamCart Dashboard.
Who can benefit from SamCart?
Well, SamCart is a great online shopping cart for people who sell various products, from digital products to physical products, such as online courses and ebooks to membership sites and consulting.
Does SamCart support different languages?
Yes, the software supports multiple languages in its templates. These are English, Italian, Japanese, German, Portuguese, French, Spanish, or Swedish.
SamCart In Short 
SamCart is one of the most popular shopping cart platforms to sell your physical and digital products online. The software has lauds of features you can take advantage of.
In our guide, we've talked about its 10 key features. These are pre-designed templates library, A/B testing, flexible payment options, one-click upsells, bump offers, integration with 3rd party tools, smart pixel tracking, affiliate center, subscription saver, and cart abandonment. All these features will help you increase your sales and profit and reach maximum customer value. Of course, like other shopping cart platforms, this platform also has some advantages and disadvantages; we have listed them above. Besides, we have talked about its pricing plans; Launch, Grow and Scale. In order to have access to its all advanced features, you should upgrade your plan to Premium. Because of its disadvantages, such as its high monthly fee, you may want to look at its alternatives, such as ThriveCart, or ClickFunnels. By looking at different shopping cart software, you will be able to understand which one is the best for your business.