Surfer SEO is a great tool to help you optimize your content. That tool has developed with a special design to provide easily optimize your blog posts and articles for SEO. This amazing SEO tool analyzes your content based on 500+ in-page signals. Surfer SEO provides its users with fully data-driven SEO analytics.
The data-driven model is an operable choice for hard-working SEOs, marketers, and content editors. So, what is data-driven SEO? Data-driven SEO is quite popular nowadays. It means making decisions based on datasets. In data-driven SEO, you can not predict by considering industry standards. That is, it does not contain any predictions. With this model, you can determine more clearly what works for the best-performing web pages. Now, there is no obstacle for you to use this information to beat your opponents.
Surfer SEO also uses the principle of reverse engineering. Thus, it analyzes data quite effectively. Search engines can not judge or define any value without data. So, Surfer shreds the data better than all other tools. Then, it processes the data of the first 50 results ranked on the results page with the principle of reverse engineering. Then, it analyzes more than 500 factors. These factors mainly affect your ranking. However, finally, you will be able to determine what works for your keyword. Let's take a closer look at how to use this amazing tool now.
How to Use Content Planner?
Content Planner is one of the most innovative tools in the Suffer SEO tool. It is powerful enough to support your content strategy efforts and helpful in your keyword research process. It helps you to generate your entire content plan easily. In this way, you may calculate and predict the organic traffic volume you can get by entering a specific set of topics. By using the Content Planner, you may perform these processes:
This tool allows you to examine the content structure of your organic competitors on any topic.
It allows you to discover the best opportunities for secondary keywords. You may rank them for multiple target phrases on a single web page.
With Content Planner, you may generate the current relevance of your domain. Thus, you may improve your brand awareness. It will also help you to improve your web page's authority score.
You may have missed a lot of topics in your topic clusters. So, it allows you to detect new topics for your current topic clusters.
You may build a strong content strategy plan for the coming weeks easily.
If you are one of the SEO content writers, then topic clusters are quite important to you. So, what are topic clusters? Let's explain together. A topic cluster includes a couple of closely related pieces of content. Once you think of it as a whole, this content must cover the main topic comprehensively. We may consider a blog category and articles in that category as an example. A solid set of topics isn't just made up of multiple, topically linked content. It's necessary to link them together to let Google know they've built the entire silo. So, what's the connection between SEO Surfer Content Planner and topic clusters?
Content Planner and Topic Clusters
It lets you examine clusters on two-level. These topic cluster levels are domain level and URL level. Let's explain the terms domain level and URL level now. What is domain level? The domain level is a level for topic clusters. All you need to do is add your business category or subcategory. Then, you will get a list that includes lots of ideas for content. That is a domain-level set of topics. Likewise, the URL level is also a topic cluster level. At this level, you may examine any topic and recommended keywords. Thus, you will be able to figure out how high the potential is in any specific topic. As a result of this process, you will get the main keyword and secondary keywords for a single piece of content. So, this is the URL-level set of topics.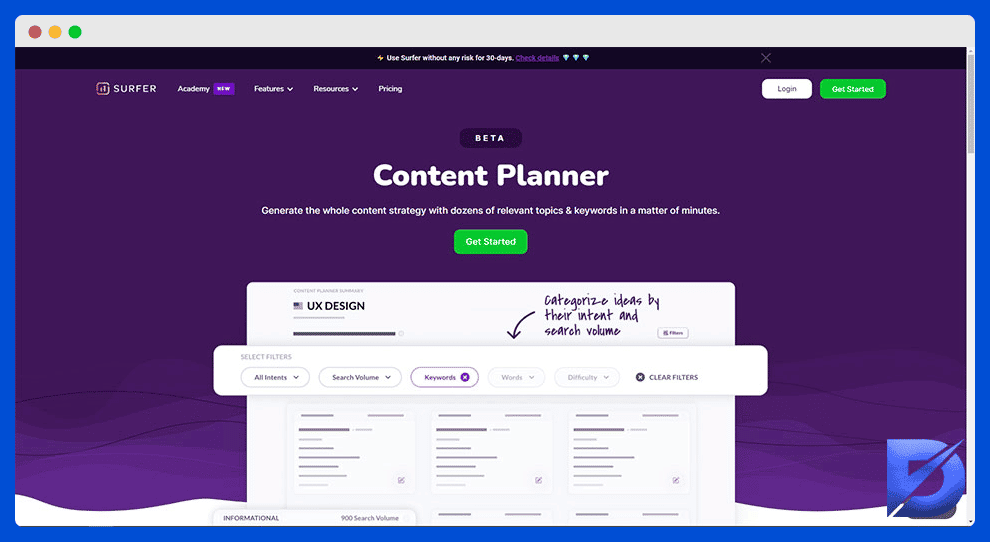 How to Create a Query in Content Planner?
To create a query in Content Planner, go to the Content Planner dashboard. Here are things you need to define. These are keywords and places. Now, you have to select a keyword. However, you should remember that this keyword must be broad relatively. You should not waste your queries with a narrow sense keyword. These also tend to be long-tail keywords. That kind of keyword will create very few recommendations. You should also remember that a powerful keyword does not need to be your target keyword. Things like a category of your blog, your business, the main topic of your website may also be your target keyword. So, how to determine a good phrase to use in Content Planner?
You can use a broad keyword phrase. You may or may not intend to target it. For example, you can use broad phrases, such as kitchen furniture, cars, toys, e-commerce, and fashion.
You may use any category related to your business. For example, this could be phrases like oil, consulting, cooking class, or travel.
You may also use one of the categories on your blog site here. For example, you can use phrases like SEO, social media, and recipes.
Generating the process for a query may take a couple of minutes. That is because Content Planner collects data on the keyword you use from the most relevant web pages. Then, it summarizes the topics they have written.
How to Create a Content Editor for a Topic of Your Choice?
Are you looking for data for URL-level topic clusters to identify the most compelling topics for your website? Then, you have found what you were looking for here. Using the following data will help you with that:
Main keyword
List of secondary keywords
Total monthly search volume of all keywords
Monthly search volume per single keyword
So, where to find this data? Let's start with the monthly search volume for a single keyword. To review it, go to the detailed view. This section allows you to generate a multi-analysis query. Do you also want to get your guidelines enriched by assets in the Google API? To do this, you have to select to include NLP analysis option. Frankly, we strongly suggest this for the best results. The Content Editor will be ready to use in a couple of seconds. In this case, a green button will appear on the screen. It will be located in your cluster details and the general view of the domain-level topic cluster. There is also another way to reach the new Content Editor query. It is in your main Content Editor dashboard.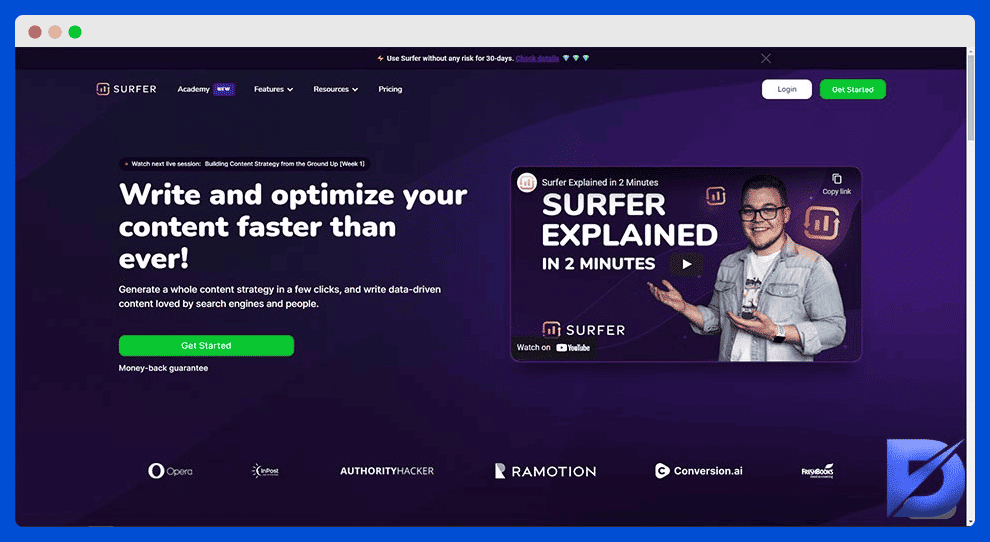 What Is Surfer SEO User Purpose?
Let's start this by asking a question first. How does Surfer understand the user's intent? It uses an advanced algorithm on the data sample that determines the user intent based on the search results. It reads the titles, URLs, and descriptions of the top 10 pages. Then, it provides dominant search intent. The purposes this algorithm can identify are general and broad terms. We may list them as follows:
Informative
Commercial Query
Shopping
Local
These four general terms we enumerated are the main user intents that this marvelous algorithm can identify. So, where to find user intent in the Surfer SEO tool? Content Planner is the primary tool with user intent recognition. That allows you to determine which sets are appropriate for the blog or preferably for a category or product page. This way, you can plan your next content marketing task quickly.
Surfer Correlation SEO
You have more or less learned what the Surfer SEO tool is capable of so far. So, is it possible to know which ranking factors are the most critical for SEO? If so, how does Surfer SEO knows them? Let's answer that now. However, let's also point out that search engines may disappoint you in this regard. No search engine has been clear enough about how SEO algorithms work until now. That's where the correlational SEO used in the Surfer SEO tool comes into play. This SEO technique is based on analyzing multiple ranking factors one by one. Thus, it determines which of these will have the greatest impact on your website SEO. We have talked about how Surfer SEO uses the principle of reverse engineering successfully. Let's go into a little more detail on this subject now.
Surfer applies the principle of reverse engineering to SEO quite creatively. It analyzes the top 50 ranking web pages related to the main topic of your web page. Then, it compares your web page with these web pages in detail. Thus, it detects the elements that make these web pages successful in terms of SEO. While doing this, it gives priority to detecting SEO elements that your web page doesn't have. Thanks to these detections, it provides much more than just giving you vague SEO recommendations. The tool also detects many of the features and attributes of those web pages that rank best on relevant topics. However, it is worth noting that correlational SEO does not work with the causation principle.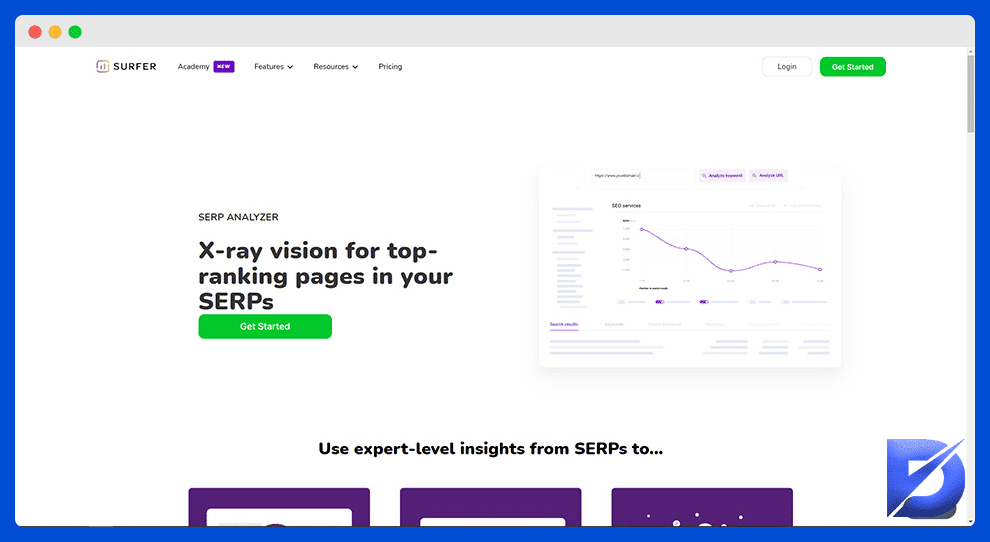 How to use SERP Analyzer?
As the name suggests, this tool specializes in performing SERP analysis. As a result of these analyzes, it provides advanced reports to its users. Thanks to these reports, you may optimize your website for SEO with your own efforts. Instead, you may also follow the SERP SEO recommendations for your website in this report. Let's take a closer look at the SERP analysis of this tool.
Structured Ranking Factors
On the left side of your screen, you can see a menu with different sections. Each section includes ranking factors. You are able to view them in the chart. This tool also allows you to display multiple factors at the same time. That is called the navigation method. This method makes analysis easy for users. By using this, you will not need to scroll all the way up and down to control what you wish.
You can find everything related to your content in the Structure tab. Here, you may perform an SEO review for those:
Headings
Entire body
Meta tags
Alt attributes
Paragraphs
On the other hand, the Quality tab also contains information about your website. This information is as follows:
TTFB
Load time
Page size
Other performance metrics
Finally, the Media tab has only a few visuals embedded in your website so far.
Page Links
Within the Structure tab, there are page links as a special section. Here, you may review how many internal or external links exist on your web pages. This tab allows you to discover strong link-building opportunities. It can also help you check how broad the internal link structure of your competitors is. The double Y-axis allows for simultaneous viewing of two factors. One of them is on the left of the graph. The other one is on the right of this graph.
Graphical View
That is one of the most important tabs. It includes important data about your web pages. In this graph, the Y-axis displays the number of selected factors, such as word count. On the other hand, the X-axis includes your web pages listed in SERP order. You may discover a correlation between the selected factors. You may also discover its effect on rankings. If you hover over the chart, you can see which URL you are examining now. Simply hover over position twenty. Now, the full page title and URL will jump to the top of the SERP below. If you click or tap on the symbol next to the URL, you may highlight any result on the chart.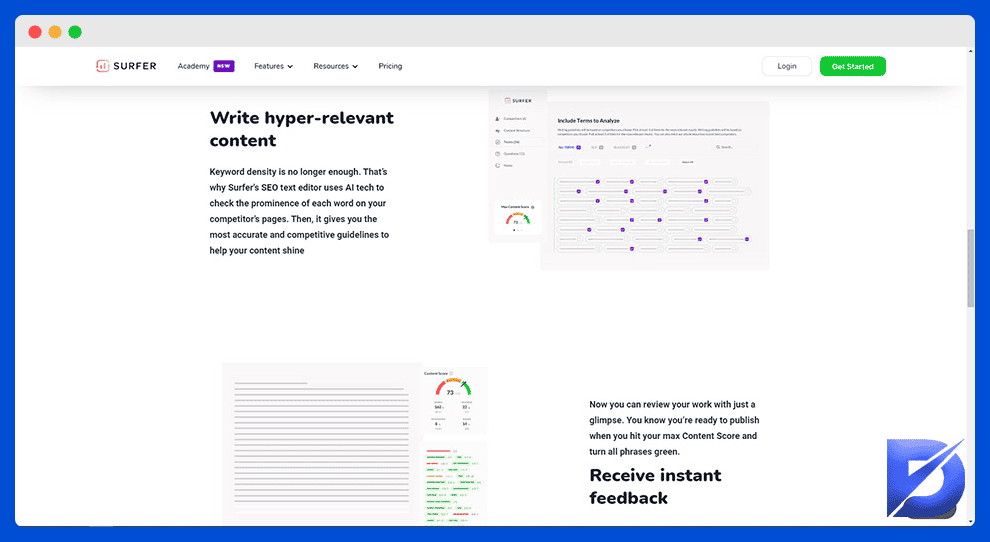 How to Improve SEO with Surfer
You have witnessed the advanced features of the Surfer SEO tool. Now, you think it will be a breeze to increase your SEO with this tool. You are not wrong. But still, in order to leave you a useful guide, we will list the best ways to achieve this.
How to Create High-Quality Content with Surfer SEO
When you start this job, your biggest assistant will be the Content Editor. We have already explained how to use this tool here. So, I'm going to the target keyword determination phase directly. This part is the first step to create content with this tool. For this, create a new page in the Content Editor tool. So, from here, you can identify topics and keywords that will help you create high-quality articles. The Content Editor also determines the optimum word count for high-quality articles. In short, the tool reports your requirements so that you can create quality content according to your directives.
To prepare an effective summary using traditional methods, you have to monitor and analyze all your competitors manually. You will also need to monitor a lot of SEO tools with different features. So, preparing an effective summary with traditional methods is a very time-consuming and laborious task. The Content Editor saves you the trouble of preparing a good summary using traditional methods. Let's show you how to create this comprehensive and understandable summary. To do all this with one tool, the Surfer SEO Content Editor, follow the instructions below:
Relevant Keyword and Topic
That is always the first step to getting started with the Content Editor. So, enter a keyword relevant to your topic first. Then, choose a location. That is the stage where you can choose the NLP analysis option. We will talk about NLP analysis in detail in the following sections. For now, NLP analysis provides more phrases and suggestions through the Google API. Your analysis will be completed in a couple of minutes, depending on whether you choose the NLP analysis option. These query results are available in the history log tab under the input section. When you click on it, a customization panel will appear. That leads us to our next step.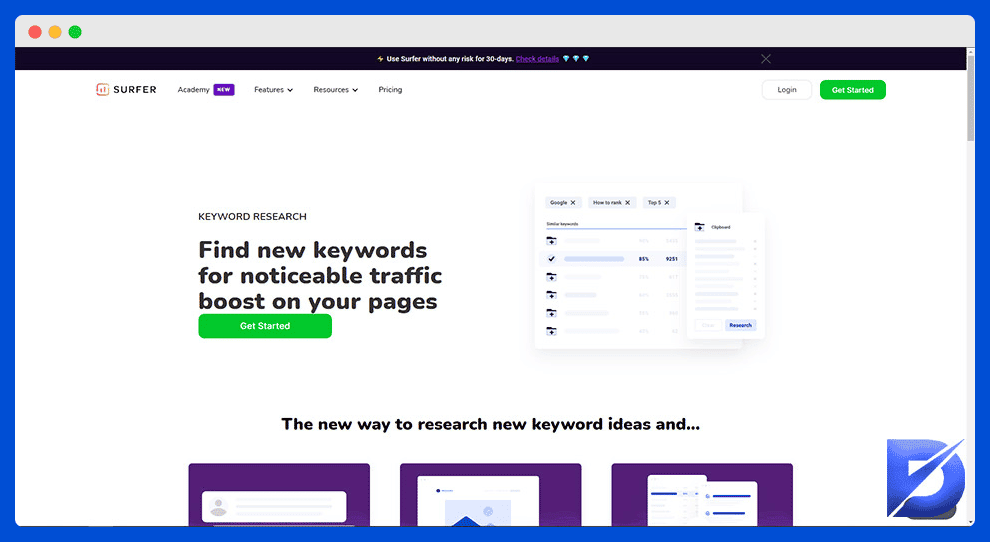 Compare Your Web Page Correctly
When you enter the customization panel, five different sections will welcome you. We may list these sections in the customization panel as follows:
Content Structure
Pages to include
Topic and questions to answer
Pages to include
Notes
Among these features, the Pages to Include feature is the most critical. This feature checks the top five pages with the highest ranking in search results by default. We may call them your benchmarks. You can change these web pages on the toolsets by default. While doing this, be careful to choose pages that have organic competition with your web page. Let's explain how to do this with a few tips.
You should not prefer web pages that are very high in the result page ranking. These pages have quite high authority. Putting a new web page into competition with these high authority pages will not provide you any gaining.
Do not prefer URLs with different business models from your website.
Do not include word count outliers and pages. These web pages tend to have word counts that are way longer or shorter compared to others.
Also, exclude web pages that target a different search intent.
Do not include web pages with the features we have listed among your comparison preferences. Thus, Surfer SEO can perform a better analysis. It will be much more useful for your website to get off to an effective start. Let's jump to our next step.
Consider the Word Count
In the previous stage, we have explained how to choose your opponents to compare. We have also mentioned how to make the right choices at this stage. Thus, the Surfer SEO tool will perform the necessary analysis for you in the most accurate way. The optimum number of words your content should have is also included in these analyzes. So, don't worry about determining the optimum word count if you've made your comparison selections right. Surfer SEO calculates content length wisely. This way, it also calculates keyword density and phrases based on the content length accurately. Therefore, the length of your content is very important. So, change it very wisely or leave it to Surfer SEO entirely. Finally, save your changes. Then, go to the Requirements section. Here, you will see the average length for your content.
Incorporate the Recommended Words and Phrases
Have you ever wondered about the top-performing web pages for keywords and phrases related to your content? If you want to create higher-quality and SEO-friendly content, you must be curious about that. So, how to detect those pages? Surfer SEO will put you at ease on another important issue you need to worry about for your content. Surfer SEO will identify for you the web pages where these words perform best. Here, you will witness how Surfer uses the reverse engineering principle in SEO creatively again. Be sure to select the NLP analysis feature to use the reverse engineering algorithm more effectively. You can use all the suggested terms in these results to make your content fuller and denser. Also, make sure to avoid over-optimization or under-optimization at this point. For this, you should enable the "Show range of use for all terms" option.
You will see the Add Term button on your page. You can add similar search terms that you can sort with this button. These are also your secondary keywords. Let's explain this process with an understandable example. Let's say the keyword you searched for in the Content Editor tool is garden decoration. One of the search terms the tool suggests for this keyword is artificial ivy. In the SERP analysis, you can see how many of the pages you've selected for comparison have the term artificial ivy. In fact, you will be able to see how this term is used on which page intensely. That is how you can optimize your content for similar search terms. However, you should know that adding too many similar keywords will register as keyword stuffing and over-optimization.
Answer Questions and Offer Solutions
Go to the Topics and Questions to Answer section in the content editor tool. You will encounter many questions in the People Also Ask section here. By using these questions, you can create an effective outline or summary. Answering these questions while preparing your articles will make your content more valuable. However, similar questions may not be available for your target keyword. In this case, the Content Editor will discover similar keywords relevant to the questions. However, keep this in mind, just in case. Creating your own questions to answer will also be effective. There is only one thing you need to be careful of while doing this. There is only one important purpose of preparing and answering these questions. It is to get bigger and more noticeable snippets in search results. So, if you want to achieve this, you have to implement your FAQ schema pretty neatly.
Take Notes
The Content Editor tool has a Notes section. You can add notes with your content to this section. That is an effective way to remind your important points. It also reminds the issues that your content writer should pay attention to primarily. Thanks to the notes section, you can consolidate your information in one place. Thus, you will prevent important information from being distributed to various communication channels.
Share Your Guidelines
Did you follow the guidelines we have listed above? If so, you have managed to create a great outline so far. If you are working with a copywriter, you should send this draft to your copywriter. Now it's time to finalize your guidelines. Then, you may share it by using the Copy Link to the Share button. Your authors will have access to the Content Editor without login credentials or a Surfer SEO account through this link. However, your copywriters won't be able to edit the brief requirements.
When your writers start typing here, the tool analyzes their every sentence down to every word. It calculates the number of sentences and words continuously. When they complete the article, it determines whether each of the requirements you have determined has been done. It puts the completed requirements on a green box and puts a small tick next to it. This way, you don't have to check each requirement separately. So, it will only take a couple of minutes to review the content.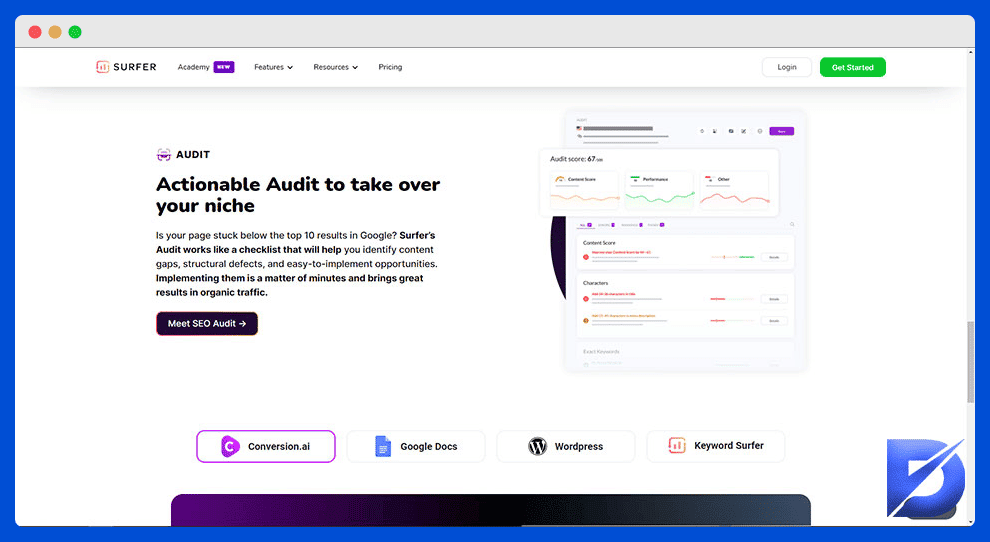 How to Audit Web Pages Against Top URLs
You can also perform your website SEO audit with Surfer SEO. For this, you can use the SEO audit tool in Surfer SEO. As you know, the Content Editor tool analyzes the five best ranking pages by default for your keyword. At this stage, choose your own pages for analysis if you want more precise results for your audit. For this, follow these steps in order:
You must first exclude all pages from the main view.
Now, evaluate each page separately.
Identify those that serve a similar purpose to the web page you want to compare.
Manually add the pages you think will be a good example for comparison as a result of this evaluation.
However, be sure to include only those that are relevant to your analysis.
Now, click on the Audit button to begin optimizing the process.
There are three important key points that you need to focus on in this process. First, be careful to compare word counts. Then, try to reduce the content gap by mentioning missing word entities. Finally, as a result of this analysis process, Surfer SEO will draw attention to red flag warnings. Do not forget to check them out.
FAQs About Surfer SEO
How to analyze similar questions with Surfer SEO?
Go to the Questions tab in the menu under the Keyword Research tab. Here, you can find the questions the tool generates from similar keywords. The tool allows you to list them by ​the estimated search volume or the similarity score.
Can I detect backlinks my competitors have, and I don't?
One of the most interesting off-page SEO features of Surfer SEO is common backlinks. You can see the Common Backlinks section under the Graph.
Does Surfer SEO apply SEO case studies?
Yes, the principle of the SEO case studies is one of the most prominent features of this tool.
How can I check images with Surfer SEO?
To check images with Surfer SEO, first, go to the Images section. Then, you will be able to check them by clicking on the Number of Elements report.
What is the Keyword Surfer?
It is a great Chrome extension that can help you with your keyword research. It is completely free. Moreover, it has four stars out of five in the Google Chrome store.
What Is Surfer SEO, In Short
Surfer SEO is a great SEO reviewer for both professionals and beginners. Thanks to its features, you can manage all content creation processes with this tool. It performs comprehensive keyword detection for any content. Surfer even calculates how long should a blog post be. It does all this by analyzing your competitors in a unique way. This method is called the reverse engineering method not found in other competitors. Thanks to this method, it compares your web page with the best-ranked pages. Then it determines the deficiencies and requirements of your website. Thus, you may improve your website's SEO easily. To do this, you can use the wonderful guide we have prepared for you. We hope it will help you prepare the content you need.
We think that you may also be interested in
What Is SamCart?
which is our previous post about
Ecommerce Support
.