Since the digital marketing term has entered most of the business's lives, adjusting business strategies to search engine optimizations (SEO) has become inevitably significant. Every business or individual management have their unique strengths, weaknesses, opportuınities that are awaiting. Also, they have threats that are endangering their economic growth. If those key elements are analyzed thoroughly and correctly, one can have their personal career improved and achieve success as a business.
Accordingly, a SWOT analysis will help business owners analyze every aspect of their management and offer ways to improve. But what is a SWOT analysis? How to make one for SEO improvement? This article will explain everything a business owner should know to make a proper SWOT analysis. Let us dive right in.
What Is SWOT Analysis?
The SWOT analysis process is a brainstorming method. Yet, it is a powerful tool that can help you plan your business strategy. It helps you whether you are developing a startup or managing an existing business. It offers a report to plan business approaches to advantages as well as disadvantages. SWOT is an acronym. It has the initials of the words "Strengths, Weaknesses, Opportunities, Threats" a business may have or encounter.
An advanced SWOT analysis provides business owners what the strengths and weaknesses their business holds are. On the other hand, it offers ways to discover opportunities, and every threat you may encounter.
Every business naturally differs from each other. It is because they hold unique internal and external factors based on their industries. However, marketing success cannot be expected if a business owner is not aware of the internal factors that affect their business. Also, the same goes for external factors as opportunities and threats.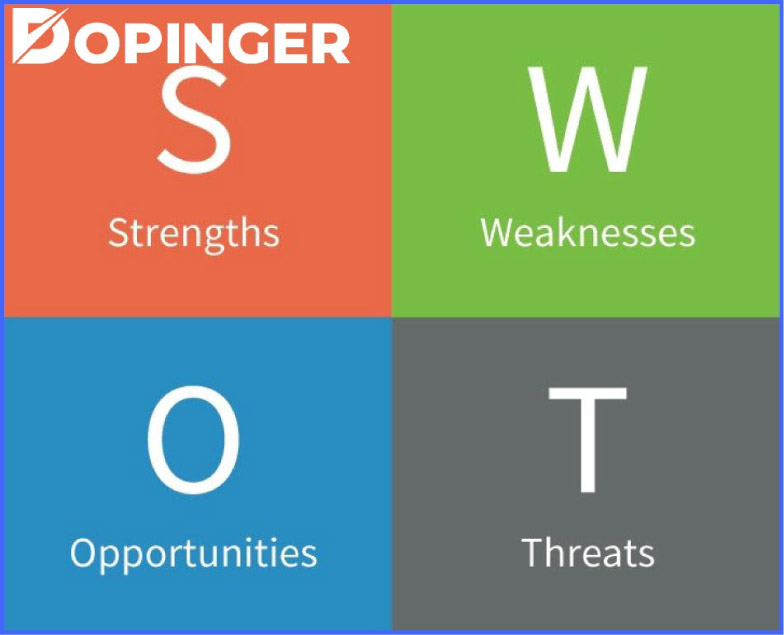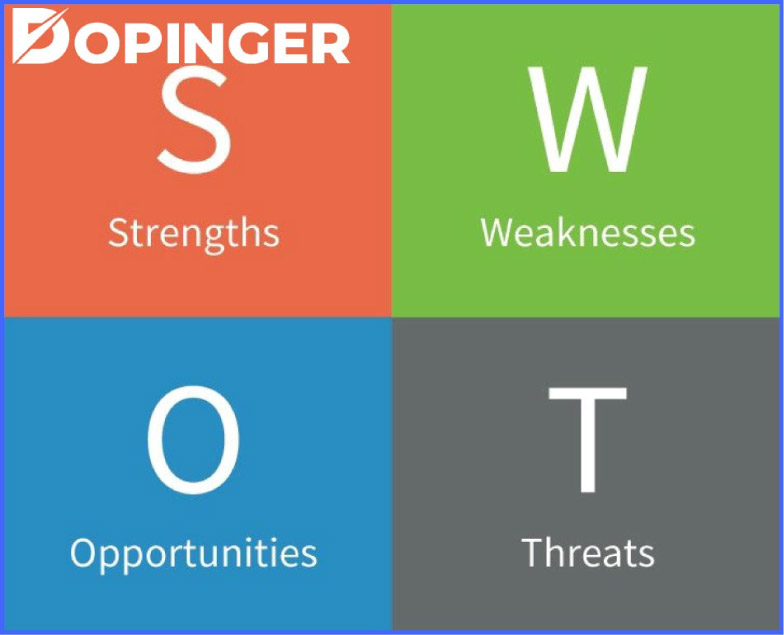 SWOT Analysis in Marketing
SWOT analysis for marketing is the same as usual analyzing. So in this case, the analysis is made to discover and improve marketing strategies. With the analysis report's help, you can see which marketing strategy works best for your business. So, an analyzed business strategy for marketing will increase the possibility of opportunities using the business's strengths. Also, it is convenient to keep away from business threats and improve weaknesses.
The primary object of the analysis is adding value to the products and services so that businesses can gain new customers, maintain existing customers, and enlarge products and services to customer sections.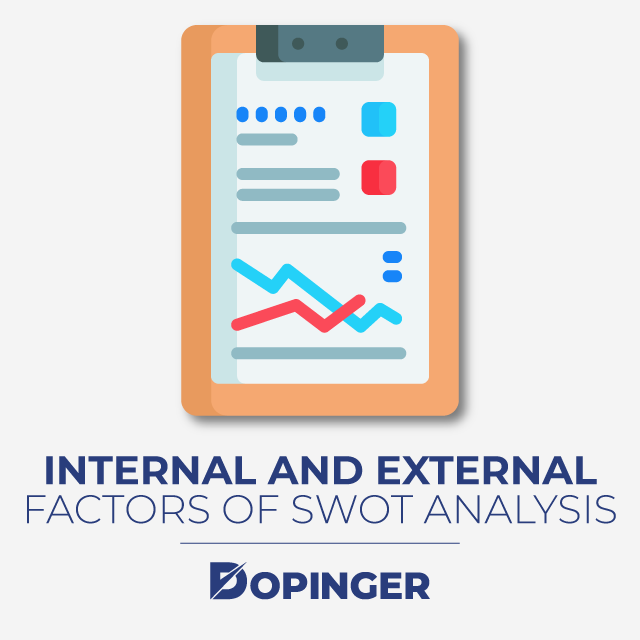 Internal And External Factors of SWOT Analysis
The four areas SWOT applies to are your business's strengths, weaknesses, opportunities, and threats. The internal factors are strengths, and weaknesses. They are the outcomes of organizational determinations under the control of a company or management. For example, a high churn rate would be categorized as a weakness, but improving a high churn rate is in the administration of business owners, making it an internal factor.
Furthermore, rising competitors would be categorized as a threat in a SWOT analysis. Still, since there are very limited actions an organization can take about this, it is considered an external factor.
That is to say, we will explain the examples of SWOT individually and discover them by asking the right questions.
Strengths
Internal factors, strengths will provide a business owner getting better results in the industry. So it is expected for a company to be successful if they base their strategies upon their strengths. Supplies, financing, and experienced labor are labeled under strengths and controllable by the management. In SWOT analysis in marketing, those will be your strengths as a brand:
Brand awareness: If the brand or company attracts and maintains the attention of users, it will be considered as a strength. Besides, the business can use the name of the brand to promote its products or services for further success.
Business location: The location of a business can turn into a power move if it is located in a city center or somewhere that attracts tourists. It makes it accessible for your customers to visit your shop. It is a great strength that a company may hold over its competitors.
Marketing expertise of a specialist: Hiring an expert marketing specialist to include in your marketing team will improve your strengths in the long term. A specialist who has lots of experience in the field will know what to do and where to look at.
A new, different product or service: Introducing your existing and possible customers with exiting and new products will organically help you maintain your customers. Updating the services always keeps a company's name fresh and visible.
Questions Regarding Your Strengths
As we have learned what strengths might be for a business, it is time to ask the right questions to get the right results. Evaluate your strengths from both your company's and customers' perspective. You can find some example questions that will help you discover your strengths.
What are the advantages you have that your competitors don't? (Might be your skills, triumphs, education, and connections)
What makes your business more successful than others?
Are you a powerful and skilled manager?
Are your employees experienced in the field?
What makes your business unique?
Weaknesses
Weaknesses are also internal factors that will hinder you from development. When doing a SWOT analysis to develop marketing strategies, a company owner should acknowledge which things will make their marketing strategy look vulnerable and unconvincing. The following factors can be the reasons for a company's weaknesses:
Inadequate distribution: If distributing a company's services or products falls short of its customers' needs, the company is more prone to getting hurt. If the customers are not getting the products on time, it will become a restriction for the company's marketing strategy.
Lacking creativity, uniqueness: If a product can not stand out among its competitors, it naturally will not draw the attention of any customer. A company should have its own identity, its signature on the product it produces, or its services.
No internet presence or visibility: In the era of the internet, most of the customers are looking up brands on the web. If a company does not own a website or not appear on SERP due to poor SEO, marketing strategies will suffer.
It would be best if you were completely objective and honest in answering the questions to discover your internal factors. Some of the questions that will help to find the weaknesses are:
Which improvements are available for your marketing strategies?
Are the employees sufficient enough to work in the field?
Which aspects of the business are considered weak by the competitors? (Could be the products, customer service, or distribution)
Does the company lack of objective strategical deficiency?
What are the limitations in the company that may keep it from progressing?
Opportunities
As one can never know what might offer opportunity, SWOT analysis in marketing will consider almost everything an opportunity for the company. Those might be:
Advancement in technology: This could mean getting newer tech devices for a company. Also, there might be more modern or profitable ways to produce its products. So this will make the company consider changing their marketing strategy according to the analysis.
A new international market: Expanding the business's borders and providing its products to new customers is definitely considered an opportunity as it may result in increased demand and profit.
You need to conduct detailed market research before trying to discover the opportunities before you. Ask yourself:
Is the sector I am in developing?
Are there any vacancies in the sector or market that others can not fill?
What are the changes in the industry?
In what ways can my company take advantage of the developments concerning the industry?
How can I turn what my competitors can not do to my advantage?
Threats
Threats that may affect a business may develop faster than opportunities. So, it becomes critically essential to identify the risks as soon as possible to prevent any kinds of losses. Examples of potential threats are:
Lower prices on the market: A competitor may lower the prices, even at the cost of deficiency It is to attract more customers and increase its recognizability. Unfortunately, there is not much a company can do to prevent this.
Change in consumer behavior: Each passing day, a new trend appears in every sector, whether it is technology, cars, or fashion. If a company keeps producing the same product, it will suffer when a new trend hits the market. So it is better to keep updating the products and stay relevant.
And finally, asking the right questions to be able to avoid threats require detailed market research as well.
Can the required skills for my sector change?
Who are my existing and potential competitors?
Does my company suffer from economic factors? Is it in debt?
Do any of my weaknesses carry any risks for my business?
Can my production keep up with the changes?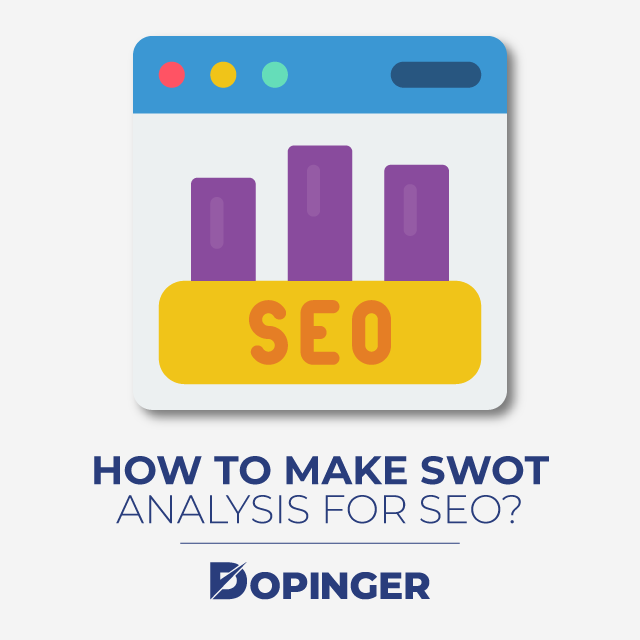 How to Make SWOT Analysis for SEO?
It is not very different than making a SWOT analysis for marketing. Even though the questions differ from brand marketing, the logic is the same. An SEO specialist will need to ask the right questions to discover their website's strengths, weaknesses, opportunities, and threats. 
To explore SEO strengths, ask the following questions:
What are the keywords that rank you well at the moment?
What is your best digital asset?
Do you have quality backlinks?
What makes your website better than others?
Can you get organic traffic?
For SEO weaknesses, ask yourself:
Does your website need improvement? If yes, which parts?
Which of your contents gets little to no organic traffic?
Is your SEO team skilled and adequate?
Which SEO strategies you made failed in the past?
What is your ranking? How far are you behind your competitors?
Discover SEO opportunities by asking:
Which of my weaknesses can be easily improved?
What are the link resources there available to tap into?
What are the ways of improving my well-performing web page to perform even better?
Which of the contents can impact my website if we ever build one?
Which SEO are left that can improve my organic traffic?
Identify SEO threats immediately and make strategies to avoid them by asking:
Are any latest startups aggressively collecting market share?
Are less experienced competitors developing their SEO?
Is my competitor's SEO team more skilled than mine?
Is the gap between my competitors and me increasing?
Are search engine results evolving in a way that could affect my website or business?
The most challenging element of SEO operations is understanding where to focus your efforts. By utilizing a SWOT Analysis, you can immediately direct your efforts to have the most influence.
FAQs
What is the purpose of SWOT analysis?
The purpose of a SWOT analysis in marketing is to help you create positive and powerful steps to grow your business.
Who should do a SWOT analysis?
Usually, a CEO does the analysis, but it could be assigned to someone else in charge of the business strategy.
What is next after doing the analysis?
Look at your strengths and determine the ways to use those strengths to take advantage of your opportunities. Then, look at how your strengths can fight the threats. Use this analysis to create a list of actions.
Conclusion
As we have stated before, doing a SWOT analysis will offer many opportunities to improve a business or a website in terms of SEO. It helps you to focus on your strengths, minimize the threats, and turn opportunities into your advantage. Also, it will grant a different point of view to understand your competitors and their strategies and compete effectively.
If you like this article and want to learn more about digital marketing and SEO, please check out our latest articles about it.