The last thing a website owner wants is to lose their website's rank on Google search ranking. If you regularly check your website ranking on Google search results, you have probably encountered a sudden loss at some point. This sudden loss of rank can cause you to lose your ranking on the first page on Google. You can also lose the first rank you have reached. There may be quite a few reasons for sites to lose rank on Google. Sometimes a change you make on your site causes it. Sometimes you may lose your ranking even though you have not made any changes.
It is useful to know the Google algorithm thoroughly to avoid Google penalties and maintain your site's position. If you are worried that your website's ranking on Google will decrease, you can understand the reason for this article and learn what to do about it. Now let's try to find out why do we lost rank on Google.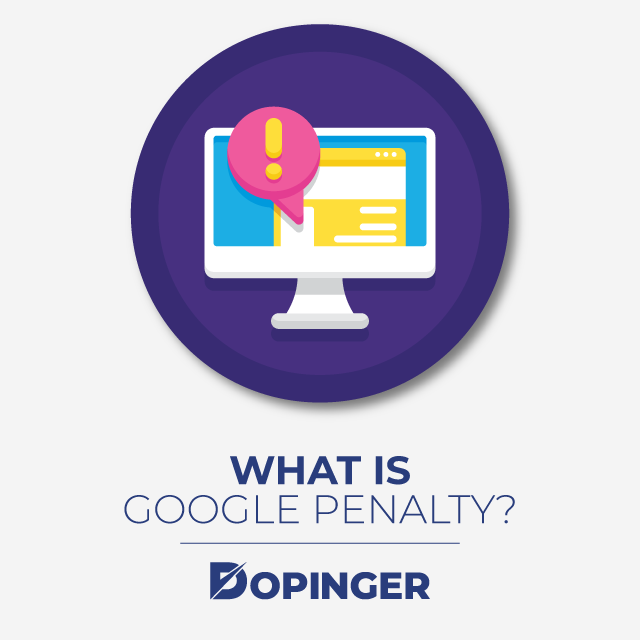 What Is Google Penalty?
Google has a system that aims to provide users with the most accurate results that they are looking for. Therefore it aims to maximize the best by continually improving their algorithms. If the Google algorithm sees anything that is not right on your web page, it can decrease your visibility. As a result, you can lose rank on Google, and these penalties are called Google penalties. This is sometimes the result of a situation related to a single error. Sometimes it can be caused by many other problems. So sometimes you may have trouble understanding the reason why.
With the algorithm updates made by Google, it continues to increase its quality in search results day by day. The sites on Google with low-quality content decrease its visibility in search results. On the other hand, it increases the websites' ranking in its search result, which is good and has unique content. There are ways to tell if Google has penalized your site.
You can see the Manual Transactions section through Google Search Console if your site has been penalized. However, in some cases, it is possible to experience large ranking losses due to the algorithm update. If you have experienced significant ranking and visitor losses in the search results, you probably may have been penalized. Another way to understand that you have been penalized is that if your site does not appear in the search results, even if it is searched by its name, your site probably has been penalized by Google.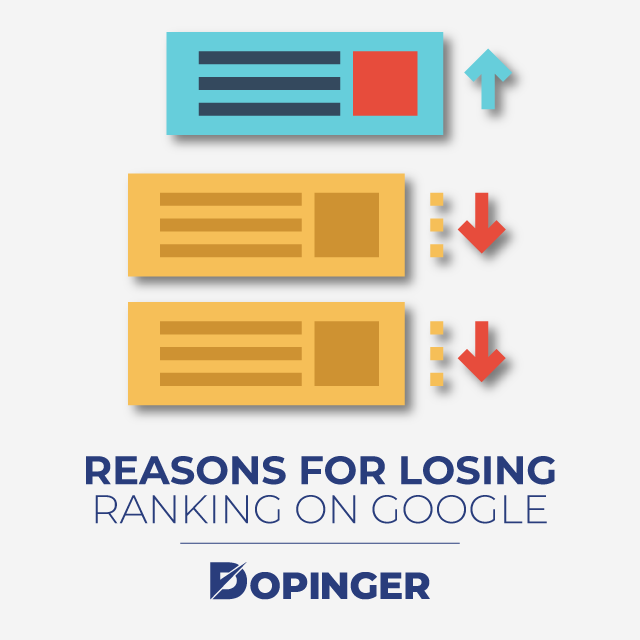 Reasons for Websites Losing Ranking on Google
There are many reasons why you may lose rank on Google. To determine this reason, if you have recently made a change in your site's structure or have made a URL change, it will be useful to examine these changes. Google ranking loss can sometimes occur for no reason, or Google may have penalized your site. To understand all this, you should read the following options one by one. Also if you have experienced a loss of ranking on Google because of one of them, you should take the opposite action.
Keyword Usage
If you have recently made changes on your title, meta description, heading, or content, and have added some plugins, you may have suffered a ranking loss. All these changes can affect the keyword optimization on your page. Since these will affect the keyword optimization, you need to identify which search terms impact and correct the deficiency. 
Content filled with keywords, meaningless, and not created for users is of poor quality in every respect. Also, we do not recommend keeping your keyword list fixed for a long time. You can catch new potentials with new words and create a competitive environment. In addition, keywords and phrases in the page URL are used to establish a relationship between a content and a specific search query. If you use longer URLs with keywords used more than once, it can be perceived as spam by Google. This can cause you to lose rank on Google.
Changing URL
Changing the address of a page can sometimes negatively affect your rank on Google. So you should make these changes carefully. URL change also affects the traffic of the keywords in the URL differently. If the number of posts on social media is essential to you, the change and redirection will not transfer the old URL's counter numbers to the new URL. So, if you have a popular URL, think twice if you want to change your URL. You should be sure about it. Also, when you make a URL change, be sure to permanently redirect the old URL to the new URL with 301 redirects.
Broken Links
Broken links can cause serious problems, especially if this link is apparent links to your site. You reference the links you provide to other pages on your website, and if these links are broken, you may lose rank on Google search results. You should check whether the sites you use are reliable or not and remove your error outputs that reflect errors. Since it will be time-consuming to check each link manually one by one, we recommend you to use the services produced for this.
High Bounce Rate
If users who visit your site have a little time on your website, this will cause you to lose rank on Google. The high bounce rate means that users who visit your pages quickly leave your page because they cannot access what they want. For example, if visitors cannot access what they are looking for because of the ads when they enter your website, this is an extremely harmful situation in terms of user experience. Visitors will leave your page immediately in this kind of a situation. Therefore, you should think customer-focused and offer visitors a good experience on your site.
Copied Content
If for some reason, most of the content on your website is marked as duplicate or plagiarized content, your website will lose rank on Google. Google hates duplicate content, and when it detects these sites, it lowers the ranking of these sites on the search results. With the Google algorithm, it can find out which content is the original one and which is the copied one, and so this can cause your ranking to drop in several ways. When sharing content on your site, pay attention to the quality and usefulness of that content, whether that content is relevant, useful and serves the purpose, because search engines pay great attention to these factors. In short, original, unique, and quality content is the most critical ranking factor.
Google Algorithm Changes
If Google has made a new algorithm and that update affects your website's ranking differently than before, this may cause you to lose rank on Google search results. Ranking in search engine results may change with updates. When Google publishes new updates, you need to review if your site and pages can cope with these changes. It is because, with new updates, sites generally suffer great ranking loss. Search engines regularly update their algorithms. Even if your website is not directly affected by algorithm updates, sites that receive many links can be affected by this situation. If your site is experiencing traffic loss and a decrease in rankings after an update is released, you may need to review your link quality and SEO strategy. It will always be useful for you to adjust your content strategy as these algorithms require.
Competing Sites May Attract More Organic Traffic
If you have not been able to determine your target audience and your site has stopped SEO work, your competitors may have started to get ahead of you. When it comes to Google search result rankings, all sites are competing with each other, and all websites look for each other's vulnerabilities. If your competitors have found a weak spot, you may experience loss of traffic on your website and not be able to compete with them.
If your competitors are ranked higher in the keywords you choose, you should change your strategy accordingly. As a result of your observations, you may need to switch to a new content strategy. It will make it easier for you to understand your competitors' strategies by not only monitoring your competitors' activities in search engines but also in social media and paid advertising. First, you need to analyze your competitors' strategies and determine how they are using your target keywords. Then, you can detect their weak points and pass them.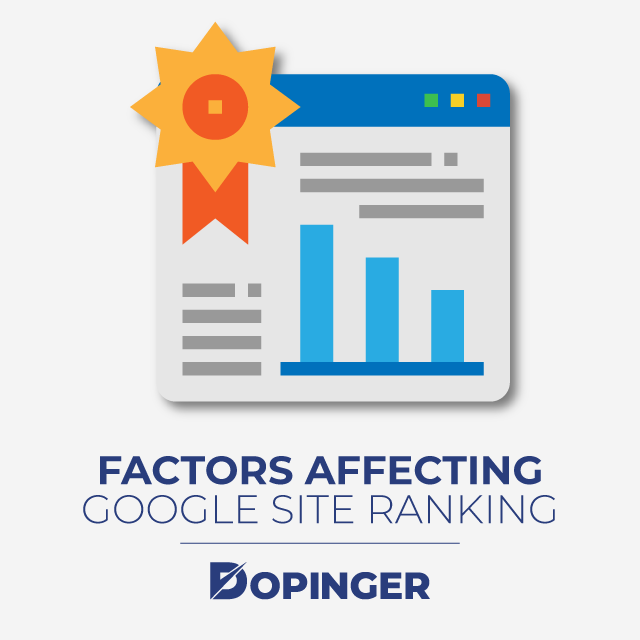 Some Factors Affecting Google Site Ranking
Many reasons affect your rank on Google. Still, we can count the main ones as producing quality content, having a good experience for visitors, and being mobile compatible.
Google wants visitors to quickly find what they are looking for when they visit a site and show sites of this type at the top of the search results. SEO studies are there for this, and if you use the right SEO strategy for your website and implement these studies, you can quickly get ahead of your competitors and enjoy being at the top of Google search engine results. Remember that if you have lost rank on Google search results because of any of the items we have listed above, you should immediately develop a new strategy and take your rankings up because your competitors can take advantage of this short-term failure. With an excellent and regularly implemented SEO strategy, you can keep your site ranking high for a long time.
FAQs
How can I find out if Google has penalized my site?
You can find out if your site has been penalized in the Manual Transaction section of the Google Search Console.
How can I detect duplicate content?
If you have duplicate content on your site, you will be an inefficient site for Google, and if the content is plagiarized, you will be subjected to the Google penalty again. You have to produce unique, different, and original content. You can use services such as Copyscape and CopyGator to detect duplicate content.
Is mobile compatibility important for my website's Google ranking?
Of course. Google attaches great importance to the mobile compatibility of sites, and if your website is not mobile compatible, it will lose rank on Google. In other words, if you want to rank high in search results, your site should be working correctly on all devices.
Conclusion
In this article, we touched upon the reasons of losing rank on Google search results. There are many reasons that can cause you to lose rank on Google. In addition to many reasons, it is also possible to lose rank on Google for no reason. It is important whether your site can keep up with the Google updates because Google updates itself quite frequently. The arrangements and improvements you make at many points can prevent the losses that may cause loss of traffic. There are many things that can be done both to increase your content quality and to participate in the competition. You can prevent possible injuries by continually monitoring your site and competitors. If you understand why your website has lost ranking on Google, then you should act now and redefine your strategy.
If you want to learn more about SEO, please check out our latest articles about it. You may like the story behind Pagerank.