WordPress has two big competitors when it comes to developing and designing a professional website easily. One of these two main competitors is Wix vs Squarespace. So, which is the best to create a quality website and give it a professional look and feel? Below we answer the ultimate question, Wix vs Squarespace.
Being online today is vital for both digital and real businesses. As such, it is also vital to create a quality, professional and trustworthy website. There are so many ways to do this. You may develop a website with these qualities. However, you need to have the technical knowledge and equipment of an expert web developer. Otherwise, you will need to hire a web developer. That may cost you dearly, depending on the qualities of the website you want to have. That is where website builders like Wix and Squarespace come to your aid.
Why Do You Need to Use a Website Builder?
You may not be very good with technology. Or, you may not have sufficient technical knowledge about creating and developing a website. Even in such cases, you still have the opportunity to create and develop a website easily. So, how can you do that? Of course, you can do all this by using one of the good website builders. So, let's talk about the advantages of using a website builder.
Using a website builder is the simplest way to create a website. That is because you don't need any technical or programming knowledge to use a website builder. A website builder has a design suitable for those who do not know about creating or building a website.
Thanks to a website developer, you may edit your website anytime, anywhere, and on any computer.
All website builders are online-based. So, the files belonging to your website are hosted on the server of your service provider. In this way, your data is both safe and always accessible to you. Besides, all changes and updates you make on your website are instant.
You do not need to have any knowledge of website design. So, you may use any professionally designed template of the website developer tool you are using. If there is anything much better than that, it is that you may design these professional templates according to your needs. Thus, you may design a website suitable for your brand's style and present it to your customers.
You can customize your websites according to your needs. Free apps and tools will be your biggest helpers while doing this. It's all in the collections and library of the website builder you use. One of the most important advantages is that they are very advantageous in terms of cost. Most of them are also have free domains and free hosting.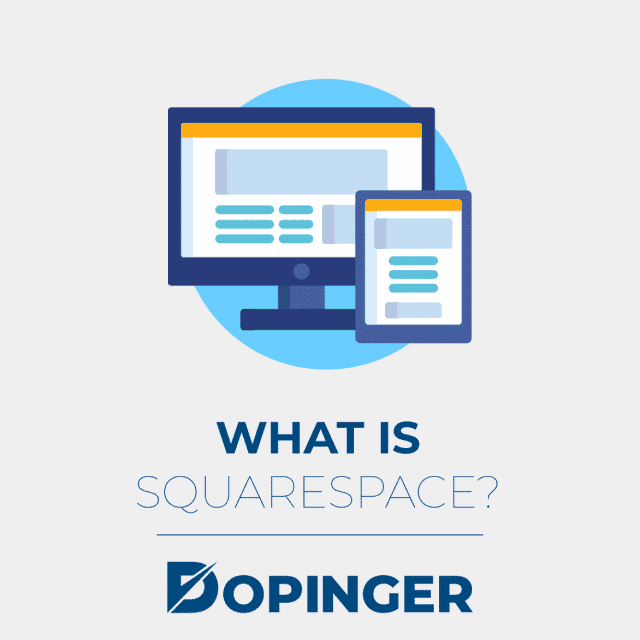 What Is Squarespace?
University of Maryland students founded Squarespace in a dorm room in 2003. Since then, people have created millions of websites with Squarespace. Squarespace is one of the most popular tools for web building worldwide. Squarespace is a tool that provides hosting services to its users as well as building websites. Providing these two services together has made it one of the most popular tools in its field.
Let's take a look at how it works now. Squarespace's website builder works through a quite simple function. The name of this simple function that you need to use to create a website is the drag-and-drop function. There are many website owners, from bloggers to mid-sized businesses, who choose to use this tool. Squarespace offers its users four different levels of packages. We may sort these packages in ascending order according to their scope and features. This sorting order is as follows, from the least scope to the most:
Personel user package
Business package
Basic commerce package
Advanced commerce package
Squarespace provides unlimited hosting storage to its users for all the package types we have listed above. Squarespace has a panel that non-technical users may easily use. The tool's drop-down menus are quite functional. In this way, you may access all the features of this tool you need easily. You do not need any coding knowledge to use the tool's ready-made templates. It is quite easy to change the location of texts and images with the drag and drop model. Thanks to the preview mode, you can control the appearance of the website you have prepared as you wish. You may also add ready-made tools to your website when you need them.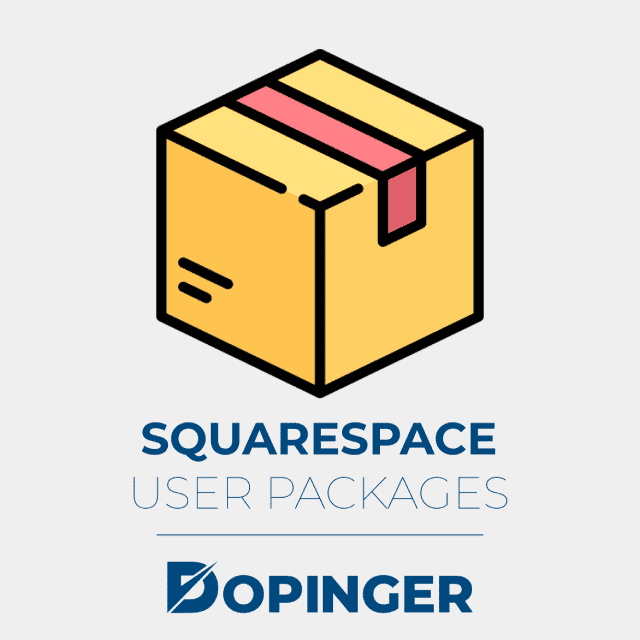 Squarespace User Packages
So, what are the scopes of these packages? What are the features these packages offer to users? Let's talk about these issues now.
Personel User Package
That is a package with features for personal website owners. The features this package offers to its users are quite limited. Users may use this package with these features for their personal blog posts. They can also use this package to create and display their personal portfolios.
Business Package
Besides the basic functions we have mentioned above, this package also offers essential commercial tools to its users. You can use this package to create and develop an efficient corporate website professionally. The package also offers basic e-commerce integrations to its users.
Basic Commerce Package
Squarespace's basic commerce or advanced commerce packages are the ideal ways to build an e-commerce website. Considering the scope of services and products your business offers, you may choose one of these two packages. We may list the features that this package offers to its users as a few headings. These features are as follows:
Subscription system
Cargo module
No third party API integration
It is for small-scale and local companies.
Advanced Commerce Package
That is the top segment package with all the features of Squarespace. Features included in this package are as follows:
Google Ads credit
Third-party e-commerce API integration
CSS and JavaScript customizations
Possibility to add unlimited products
You may get access to all these rich features by purchasing the advanced commerce package.
Squarespace and SEO
Squarespace offers highly advanced SEO services. If you use the advanced SEO tools that Squarespace offers well, you may maximize the visibility of your website. We may list the main features of the advanced SEO tools that Squarespace offers to its users as follows:
Hiding page
Title & description
Share image feature
In addition to the standard services we have listed above, the advanced functions included in the package are as follows:
Static URL

It allows search engines to find web pages easily.

Auto-marking and sitemap

It makes it possible to make an SEO-friendly website.

Custom SEO Panel

You may easily monitor and manage your website's SEO studies.

Preview tool

It allows you to pre-control how your website will appear in search results.
In addition to all this, Squarespace has offered special marketing tools for e-commerce sites. The most notable among these is the e-mail campaigns tool. Squarespace users like this tool the most. This tool allows its users to create a full range of mail designs. Thus, you may increase your efficiency in e-mail marketing significantly. Another tool that users like in this package is the Unfold app. Thanks to this tool, you may produce content that you can use in social media marketing. The tool makes more than 150 plans available to its users for these contents. Also, the website has both iOS and Android-supported mobile apps available.
Squarespace has a 14-day trial version. Squarespace offers two types of payment plans, monthly and yearly. If you are undecided about using this tool for a long time, you may use the monthly payment method. However, it is worth noting that there are quite high discounts in the annual payment plan. In addition, the tool has a commission per sale, the rate of which varies according to the packages.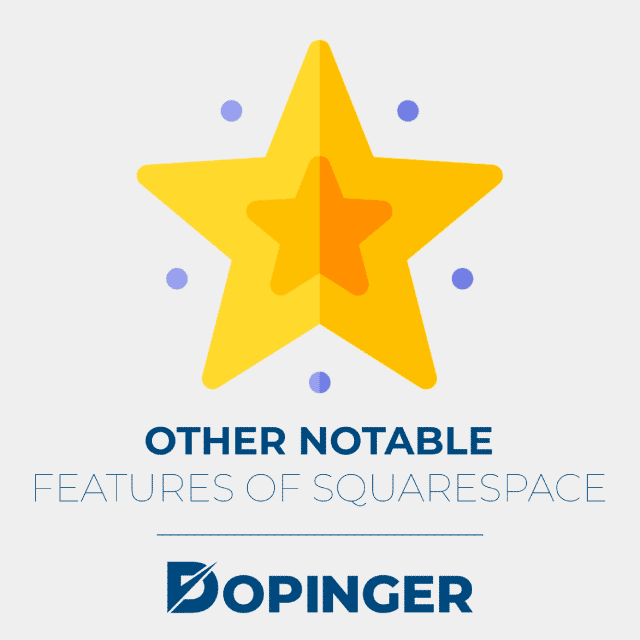 Other Notable Features of Squarespace
Let's not forget to mention other notable features of Squarespace. These features will give you a clearer idea regarding Vix vs Squarespace.
Image Manager
It is one of the easy-to-use panels of the Squarespace. You may take advantage of Getty Images integration by paying an additional fee separate from your package. This service allows you to access more than 40 million images. You can use them in your galleries and blogs.
Squarespace Themes and Customization Options
We may point out the theme templates as the biggest drawback of Squarespace. The number of templates on Squarespace, which serves millions of websites around the world, does not exceed two-digit numbers. That creates a big problem for non-coding users. It is possible to customize these templates with CSS and JavaScript codes. However, you need to know high-level coding knowledge for this. Or you need to get support from a professional. That will cost you extra. Therefore, ready-made templates may pose a problem of originality. Customizing them also creates extra costs.
As you can see, Squarespace's SaaS-based CMS offers a limited number of templates. However, the design and layout of each of these templates are quite successful. Each one looks like a work of art, visually presenting colors, images, and patterns. These static templates are attractive and stunning. They will also make you forget everything else.
As for customization, the possibilities are limited only by your imagination. Squarespace is fully customizable, and you may easily change it over and over. Blog and gallery platforms are packed with cutting-edge tools. They allow you to create countless designs and images.
Multimedia
It is quite easy to enhance and modify your photos and images. It has import integration from web-based sites. Posting to all your social media contacts and easy-to-access share buttons lets you notify your readers quickly.
Technical Support
Squarespace offers truly unlimited technical support. We may list the technical support scope of Squarespace as follows:
24/7 reachable phone line
Support panel
Communication by e-mail
Live support
Subject lecture videos
Blog
In addition to the features listed above, Squarespace has a forum. Both users and developers may support each other in this forum.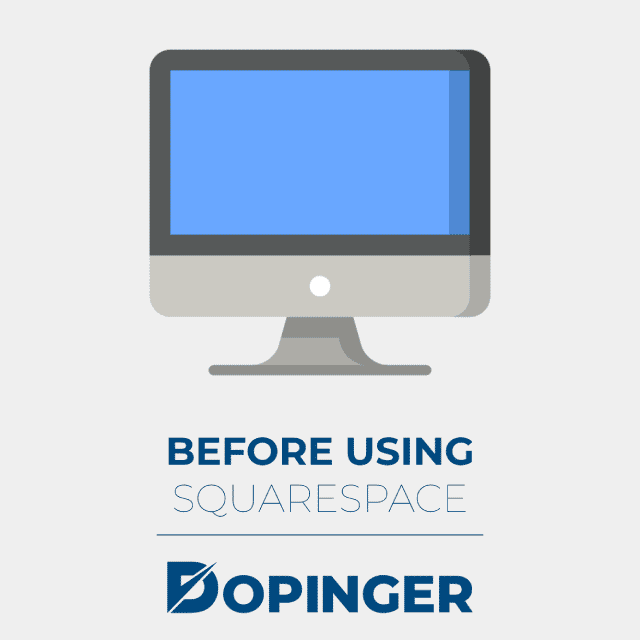 Before Using Squarespace
Time needed: 1 hour.
Before registering to Squarespace, it will be useful to follow and apply some steps to create your website.
You must create your domain name

That is the basic step for website setup. After creating your website's domain name, you need to link it to your Squarespace account. Note that you can also purchase your domain name here.

Build an idea of the navigational structure of your website.

Before you start building your website, you need to determine some main factors. It will be helpful for you to determine the navigation structure and main menu items. Deciding these issues will speed up and simplify your website creation process. In other words, create a preliminary sketch of your website's appearance, main menu, and pages.

Handle issues like content and graphics.

You have completed everything at the stage of creating your website. Only two issues remain. One of them is the graphics of your website. The other is the content you will add to the pages of your website. Therefore, write rough drafts of all the pages you will add to your website. Also, pre-collect all the visuals you will need to build your website. If you need stock visuals, you need to edit them too.
If you have followed the steps we mentioned above, the next process will be much easier for you. So, let's move on to this process now.
How to Use Squarespace
You must first sign up with Squarespace. The tool offers its users a 14-day trial version.
Once you've started everything, set up a new domain name. At this stage, you may also import a domain name you already own.
At this stage, you should choose a template for your website. To make this step easier, Squarespace groups its themes into the following categories:

Portfolios
Blogs
Businesses
Personal
Weddings
Restaurants
Musicians
At this stage, you may also review the theme examples related to your category.
After choosing your template, you will be presented with the registration form.
Once you've completed your registration as well, you'll move on to a 4-step Squarespace site content customization process. The steps in the process of customization your site content are as follows, in order:
Choose who owns your website.
Decide on the topics of your website.
Choose your website goals.
In the last step, you will need to name your website.
After completing this process, the customization process of your website will end. Now you can create your website. You may also manage everything related to your website from Squarespace. As you know, the main topic of this content is Wix vs. Squarespace. We have explained Squarespace in detail. We may now move on to explaining our other tool, which is the subject of Vix vs Squarespace comparison.
What is Wix?
Wix is first and foremost a cloud-based website builder. It also provides users the opportunity to create free websites. Thanks to Wix, you may develop unique websites with many different tools. Moreover, these tools Wix offers to its users are quite user-friendly. This website builder also works with a simple drag and drop model.
Wix is a powerful website builder. It is easy to use. However, that does not mean it will compromise functionality. Wix manages to increase the user experience continuously, thanks to the updates coming. Users also state that Wix is very enjoyable to use. Wix is also very successful in creating websites for businesses. It is one of the most preferred website builders for personal use as well as being popular among businesses. We may understand this from the number of users Wix has around the world. Wix is used by nearly 200 million website owners worldwide, mostly business owners. Numbers never lie. So, what makes Wix so popular? So, let's talk about these issues.
The main reason for this is that Wix offers a highly functional service to users free of charge. So, you may build highly functional websites without any expense. In addition to all these extraordinary advantages, Wix has not forgotten its users around the world. Therefore, it is offering its users an interface with many different language options. The tool also has many customization options. However, this situation has a handicap for some. This feature may be a bit of a challenge for people who are inexperienced in site-building. Also, if you're not skilled at design, you may have bad results with redesigning the templates. Let's take a look at all the advantages and disadvantages Wix has.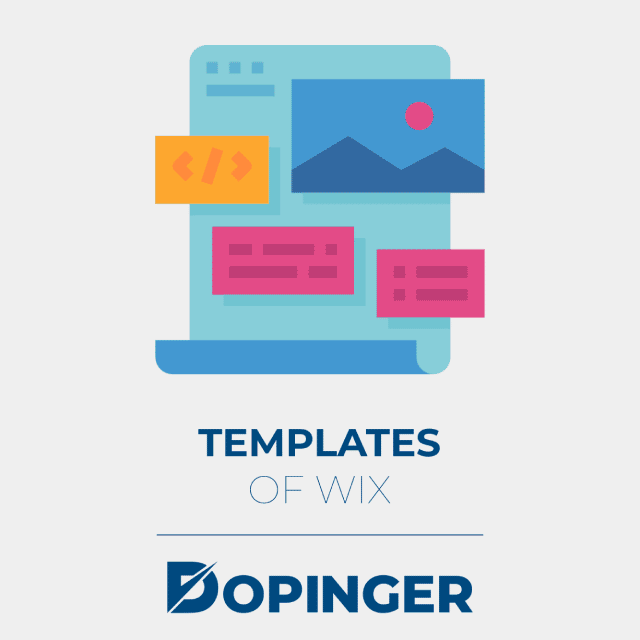 Templates of Wix
In this regard, there is no need to compare Wix vs Squarespace. This tool offers many more templates than them. Wix has nearly a thousand ready-made templates. It offers these templates to its users in many sub-categories. We may list some of these basic categories as follows:
Creative websites
Small businesses
E-commerce
Personal websites
As we have listed above, there are many categories. However, you don't have to choose the one related to your field from these categories. You may choose any template within the category you want. As you will remember, you may customize all the templates as you wish. Although this is unlikely among so many templates, none of these templates may appeal to you. In this case, all you have to do is choose a blank template. In other words, you have the opportunity to create any template you want for your website from scratch. Wix lets you place anything you want exactly where you want it. If you need convinving on Wix vs Squarespace, read on.
How to Use Wix
First, you need to register as usual. When you go to the Wix website, a registration form will appear. You must fill in the necessary information in this registration form you encounter completely. Then just click the complete registration button.
You can log in at this stage. Log in to your Wix session by entering the e-mail address and password you specified during the registration phase.
After logging in, you a screen will first greet you asking what kind of website you want. This screen will also ask you some questions to understand your website well.
At this stage, you will be able to choose from the ready-made templates that Wix offers you. The platform will continue to ask you some questions. At the same time, it will offer you the opportunity to create your website with ADI at this stage. By the way, ADI stands for Artificial Design Intelligence.
In this step, you will be able to add your own stuff.
That is the phase that comes after you have completed your website. If you think your website is ready for publication, you may publish your website. Now everyone on the internet will see your website. That will open the door to brand new experiences for you.
As you can see, creating a highly professional website takes just a few simple steps. So, now let's examine more different issues related to this tool.
How to Update Text and Images
You may perform these operations at the stage where you make your template preferences. After selecting the template you want, a preview page will appear. At this point, you may use the wonderful features that this tool offers you. These features are functional features such as text boxes and drag and drop designs. At this stage, we should list the first updates you need to make as follows:
business details
blog details
portfolio details
All you have to do to update this information is to click on these texts. While doing this, remember that you can also customize the properties of your texts. Here are the features of your texts you can customize:
You may also update the images included in your template. Have you asked what makes Wix such a successful website building platform? What makes Wix best is you may customize your website the way you want with one click at a time. In this context, you may add your own visuals. In addition, you should not forget that Wix offers its users hundreds of design options. You can go on a deep exploration of these design options. So, Wix vs Squarespace? Which one is better in your opionion?
How to Customize Your Background
Wix not only gives you the opportunity to change the visuals in its templates. This tool also gives its users the chance to change the backgrounds of their templates. The button that allows you to use this function is in the left sidebar. It's called the Background button. You may add any video you want to the background of your template using this button. Backgrounds with such videos are one of the most popular user experience trends. Note that online videos will make up more than 80% of all consumer internet traffic soon.
You may add extras to your website using the toolbar on the left. These extras may be more pages, backgrounds, images, or even apps. The right toolbar is for rotating, duplicating, or deleting your additions. You may also use dotted lines to help with symmetry.
FAQs About Wix vs Squarespace
Does Wix have the ability to make a mobile-friendly website in terms of Wix vs Squarespace?
You may make mobile optimization of your website using the Wix Editor. All you have to do is quite simple. Just switch from the desktop icon at the top of the editor to the mobile icon.
What is Wix ADI?
ADI stands for Artificial Design Intelligence. During the setup phase of your website, the ADI asks you a few questions. Thus, it creates a website of the type you want with almost no hassle. ADI is mostly for people who don't understand or don't have time for web design.
What does the SEO page option on Wix do?
That page allows you to edit the SEO functions of any page on your website. It is located in the toolbar tab on the left side of the screen.
What are the features that every Squarespace subscriptions include?
Website building tools
Content hosting
Search engine optimization
Squarespace Analytics
Responsive design for mobile viewing
24/7 Customer Support
How to get .squarespace.com out of my URL?
It is the built-in domain URL for all Squarespace websites. You must have a custom domain for this. There are two different ways to do this. The first way is to register a domain with Squarespace. The second way is to connect a third-party domain you already own.
Wix vs Squarespace in Short
So, regarding the questions Wix vs Squarespace, which one would you prefer. Having a website is a necessity for most people today. That is critical for businesses at most. Anyone with this need has an important question in mind. Is Wix vs Squarespace a better website builder? So, Wix vs Squarespace; Which one is the best? So, we've taken a look at these two amazing website builders. That way, you may build your own answer to that question. First, we have explained what these two website builders are.
Then we listed the advantages of these tools. We covered how to sign up for and start using these tools and included the pricing issues. Also, we mentioned that Wix is one step ahead by offering free services in this regard. We hope this article helps you choose the right tool to create the website you want. For more info on wix, you can always take a look at our othe posts like this one.
We think that you may also be interested in
WordPress Multisite
which is our previous post about
WordPress
.