Galleries are a functional way to propound multiple visuals to website visitors. It saves the visitors the burden of scrolling down to see everything. Instead, galleries allow them to view a summary of your visuals via thumbnails. Then, they may click on the visual they want to view. A WordPress gallery plugin is convenient if you want to add multiple visuals to a page or post. On the other hand, its functionality is extremely limited. It only has a few options. Besides, you cannot change the design of your gallery. That's why it makes the most sense to use a customed WordPress gallery plugin instead.
So, why are galleries so important to a website? When you log in to some websites, you will see that the news flows in the form of slides regularly. That gives the websites a very nice look. Would you like to give your website such a nice and useful look? Then, it might be helpful for you to take a look at our list of the best WordPress photo gallery plugins.
How to Create a WordPress Gallery
Time needed: 5 minutes.
It wasn't easy to ensure the images flow in the form of slides while designing a website before WordPress. It was necessary to write step-by-step and line-by-line code to ensure that. Thanks to the introduction of WordPress software into our lives, gallery plugins began to appear. Thanks to all these plugins, anyone can design a website easily. The same is true for gallery creation. You no longer need to write code to create a gallery on WordPress. Let's take a look at the steps required to create a gallery on WordPress.
All you have to do is create or edit a piece of content in the standard WordPress editor.

Select Create Gallery button from the left-hand menu.

Then go to the Add Files page to upload new images or select existing images from your Media Library.
So far, we have explained how to create a WordPress image gallery without the need for any plugin. So, let's start talking about our WordPress gallery plugins.
Envira Gallery
Envira is a WordPress gallery plugin that allows you to organize your visuals using the drag-and-drop method. You may also add this plugin to the editor panel. This plugin allows you to work form of both albums and slides. It may work integrated with multiple software databases. In this way, you may create a social media gallery easily. There is also a paid premium version of this plugin.
Thanks to Envira, you may create a great portfolio with your images on a WordPress website. So, how can you do this? Let's start to explain. Envira is simple to use. By using Envira, you will be able to set up galleries as well as configure them easily. This user-friendly plugin has advanced functions that may provide the highest control over visual galleries. We may list the functions that the Envira plugin has as follows:
Image cropping
Setting formats
Lightbox presentations
The Envira plugin provides you the option to manage metadata. Thus, you will be able to check how your visuals display for search engines and visitors. To start using this plugin, follow these steps below:
First of all, you need to locate the Envira Gallery plugin in your WordPress dashboard.
After that, click on the Envira plugin. Then, a drop-down menu will appear.
Click ab the Add New option from that menu. That option will direct you to the Add New Envira Gallery screen.
Now, you may type a name for your new gallery. For this, type it in the Add Title text box.
To upload visuals, click on the Select Files from Your Computer option.
As you can see, this plugin is perfect for both professional WordPress users and professional photographers. In addition to this professionalism, it has a simple interface that ordinary users can use easily.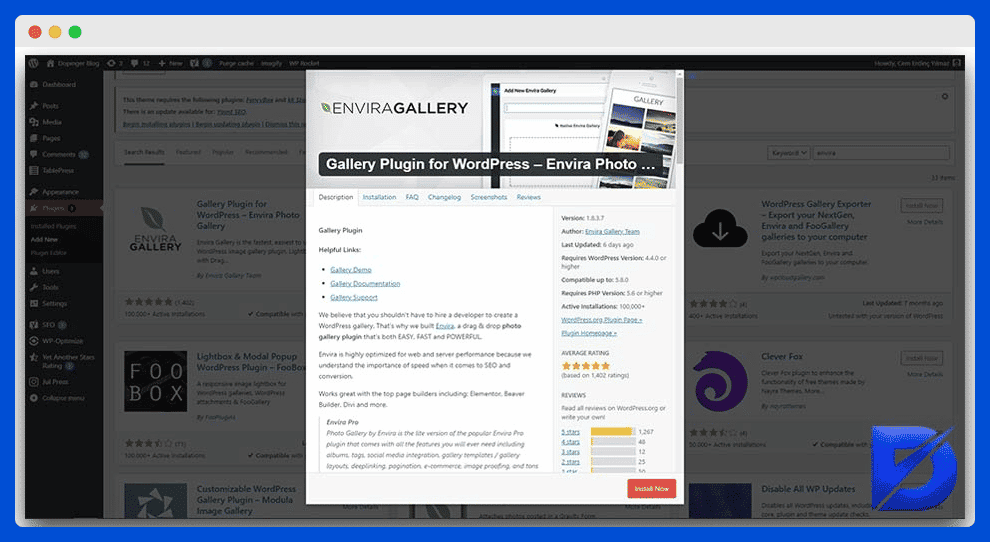 WP Photo Album Plus
WPA+ has a couple of powerful features. One of these dynamic features allows your visitors to make comments on your images. Visitors also can rate your photos. The WPA+ installation process is not straightforward compared to its competitor plugins. On the other hand, its dynamic features provide users many more customization options. Thanks to WPA+, you will have full control over all your metadata. For example, you will be able to control display sizes and EXIF metadata completely. (EXIF stands for Exchangeable Image File Format.) One of the highlighted features it has gives you the possibility to upload all visuals from the front end of your website. WPA+ also has quite useful built-in features. It provides the opportunity to see the statistics of each image in your gallery separately.
This plugin also allows you to view the location information of the visuals in your gallery on the map. WPA+ comes with 20 useful widgets to add to your sites. Let's explain how to use this unique plugin.
Although it has unique features, it is not a user-friendly gallery plugin. To add your pictures with this plugin, first, go to the Photo Albums tab. From here, you also need to navigate to the Upload Photo option.
Now, use the Select Files button to add your images.
At this stage, you will see the After Upload Go to the Edit Album Page option. Once you click on this button, a new page will appear on your screen. Here, you may work in the album settings. It also allows you to check the files after selecting them.
As you can see from the features we have listed above, WPA+'s features are not inferior to other gallery plugins. According to many users, this plugin is much more elegant and simple than its competitors.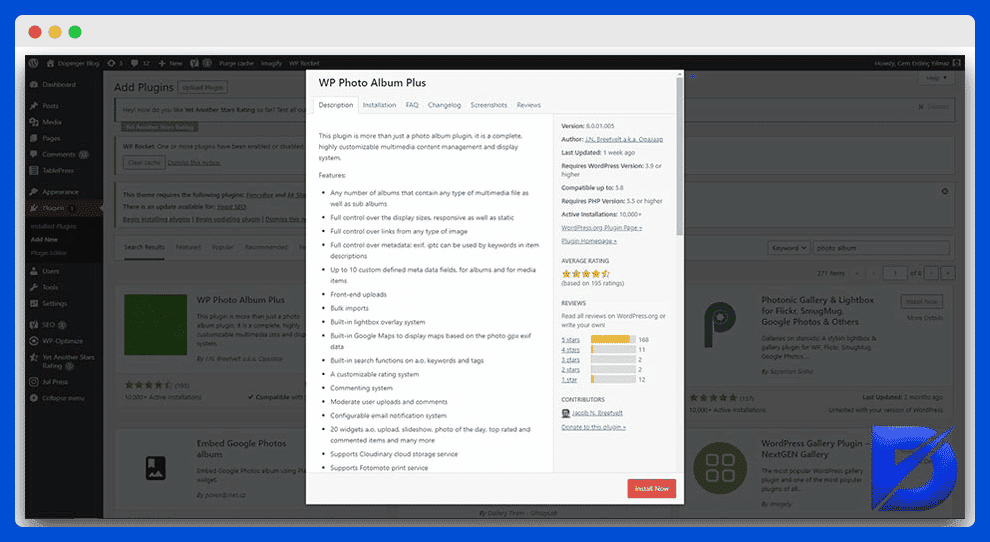 Essential Grid
There is one nice feature that sets this gallery plugin apart from others. It allows you to import visuals from your media libraries and social media environments. It also has a very large and rich template library. Essential Grid allows you to categorize your visuals. It also has an easy-to-use gallery grid. It lets you display different content formats in it. Users may customize this gallery grid extensively. Let's take a closer look at how to use this plugin.
First, download this plugin to your device by paying the fee.
Then, go to the Plugins tab in your browser and choose the new plugins option. You may complete the manual installation process by selecting the install option here.
As a result of this installation process, three new items will occur in your WordPress admin panel. These items are Punch Fonts, Ess Grid, and Ess Grid Example Posts.
On the Ess Grid item, you may perform some processes. First, you may add the activation code here. Also, you may check for changelogs and updates. This item also allows you to drag the widget to a sidebar. It also allows users to use a shortcode. Here, you may generate a new grid to use. So, you will use this button often.
You will find all the essential templates that Essential Grid has in the Item Skin Editor. That editor allows you to edit and organize templates on a skin-by-skin basis. You may use one of them as is or also edit however you wish. This great plugin also allows you to generate your own template from scratch. In the Item Skin Editor, the plugin provides you the possibility to list through tabs for each type of grid item.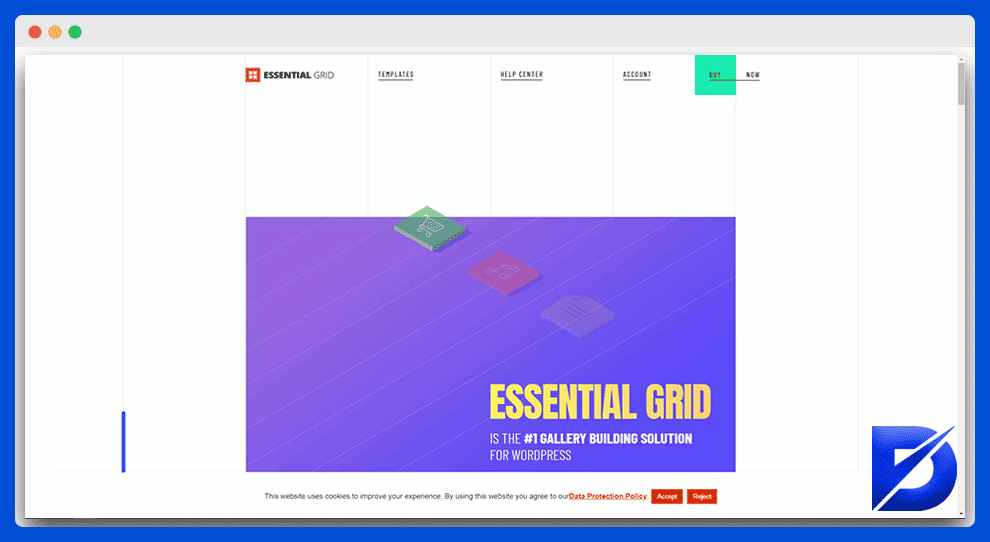 NextGen Gallery
NextGen Gallery is one of the most popular WordPress gallery plugins available. This plugin allows you to display many visual formats, especially small and large images, in the gallery. The NextGen Gallery plugin was the most downloaded WordPress gallery plugin of the past year. By using this plugin, you may create galleries using multiple styles such as list, slide thumbnail, and slide large picture. NextGen is a very useful addition to your website, whether you are a blogger with image-heavy content or a photographer. Thanks to this plugin, you will not encounter any difficulties even in your first gallery creation process in WordPress. NextGen enables you to add, share, and upload your photographs into a blog or website. In other words, it allows you to incorporate high-quality displays of visuals into your blogs and website.
Almost every kind of website may benefit from the NextGen photo gallery plugin, including e-commerce stores, hobby blogs, and community sites. So, what can you use NextGen for exactly? You may sell your self-made artworks or original photos. It also allows you to share your visuals with both your followers and friends. So, how do you get started with NextGen?
First, complete the NextGen installation process. Then activate the NextGen plugin. Now, you may create the first photo gallery with NextGen in a short time.
After you have activated NextGen, the Gallery tab will occur in your main menu in the WordPress back end.
Here, simply go to the New section.
Then, click on Add Gallery & Images option.
In the top left corner of your screen, you will encounter the Gallery drop-down menu. In this menu, select Create a new gallery option.
Now, you may upload visuals from your device. Also, you may import them from your WordPress media library.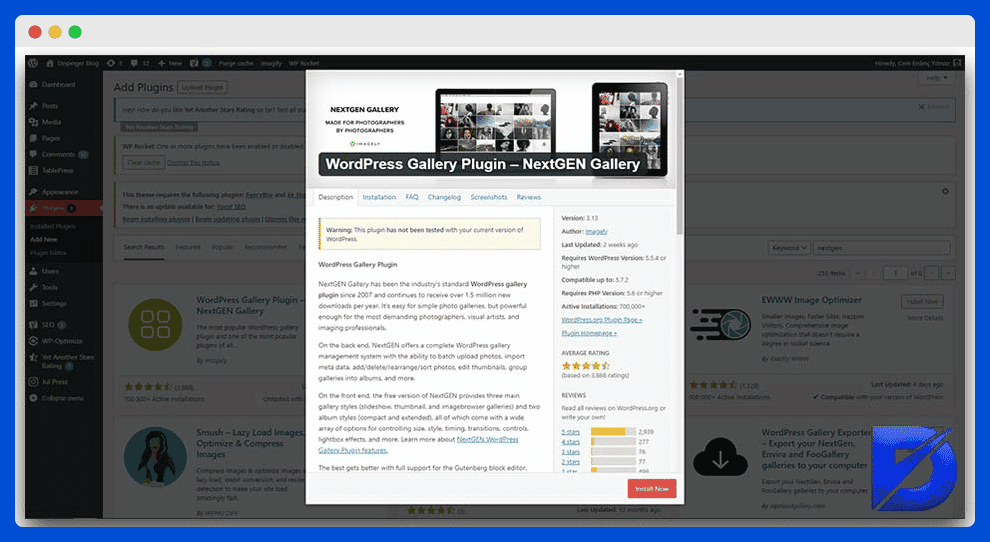 Modula
Modula allows you to resize images in your gallery. Thus, you will be able to decide which images to highlight. Thanks to Modula, you may also preview the modifies you perform in your gallery right away. Thus, you will be free of the burden switch between the preview and WordPress dashboard. Modula has a free version. However, it has quite limited features. You may download the free Modula version through the official WordPress repository. The professional version of the plugin has two different payment options. One of these options provides a premium version license to use for a single website. So, let's explain how to use Modula in short.
First, install the Modula plugin on your device.
Now, the Modula icon will occur on your dashboard. It is located on the left side. Click on this icon simply.
From here, click on the Add New option. After you click on this option, you will encounter a new interface.
There are two options in the interface you have encountered. One of these options is to Upload Image Files. You may upload images by clicking on this button.
The other option is Select From Library. You may select images from your library by clicking this button.
Modula offers users four different premium plans. We may list them as follows:
The Starter plan only has the basic features. It offers a 1-year plan for a single website license.
The Trio plan, on the other hand, has more features. It offers a 1-year plan for three websites.
The Business plan has all the professional features of the plugin. It offers a 1-year plan for up to 25 websites.
The Agency plan likewise has all the professional features. This plan offers users an unlimited number of website licenses.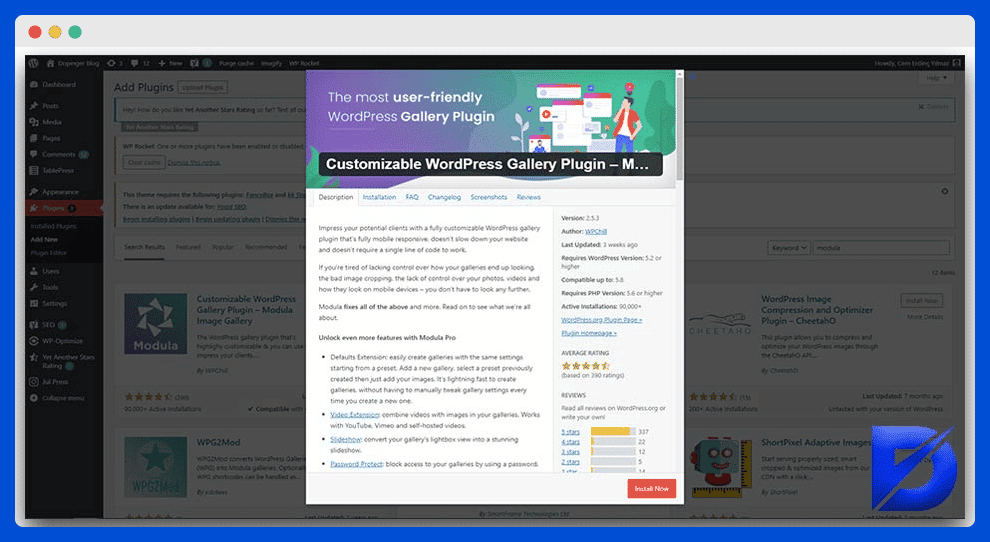 FooGallery
Its lite version is what makes this plugin so popular. You may download and install it from the official WordPress plugin directory. This amazing tool allows you to organize your visuals the way you wish. You may organize your visuals using the drag and drop reordering method. FooGallery plugin lets you use a gallery template for your website's requirements. Thus, you will not have to create a gallery from scratch always. You may be a NextGEN gallery user currently. In this case, FooGallery allows you to import your NextGEN galleries and convert them to FooGallery in a few seconds easily. FooGallery's most highlighted feature is its developer-friendly interface. In the free version of FooGallery, users may create a new gallery in six different layouts.
FooGallery provides users with customization possibilities. To provide this, it offers a couple of filters and hooks. This way, you may customize it according to your customers' requirements easily. For advanced performance, it would not be wrong to say that it has a mediocre performance. So, how to use that amazing WordPress Gallery Plugin?
First, install the FooGallery plugin on your device. Do not forget to activate the plugin afterward.
Once you have activated the plugin, navigate to the Add Gallery option from the FooGallery dashboard.
If you wish to add images to your gallery, you may use the Add from Media Library button.
After you click on that button, the Settings option will appear on your screen immediately. Complete your settings in this section.
There is a shortcode under the Publish button. If you have completed adding your images, it would be useful to copy that shortcode. Then, you may paste it wherever you wish your gallery to appear.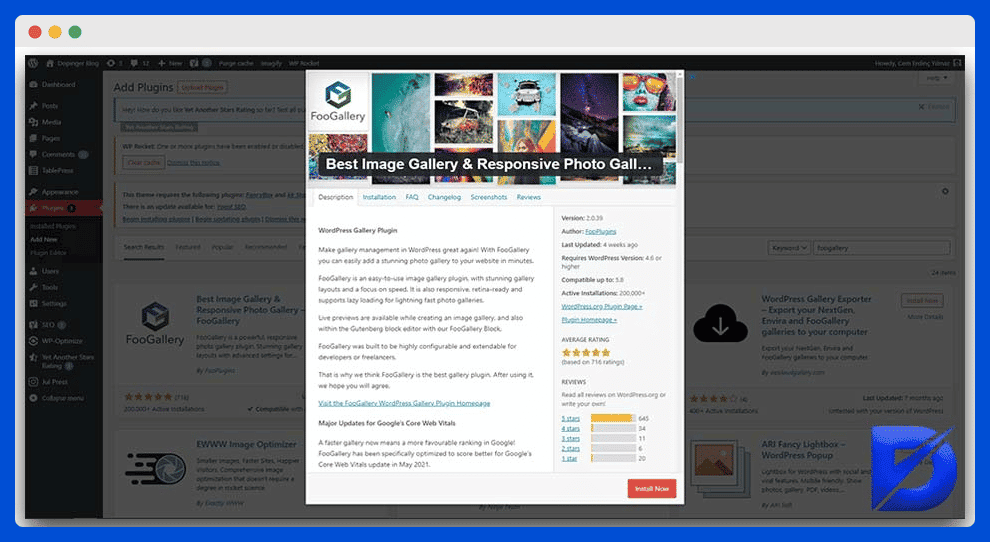 Grand Flagallery
CodeEasily is a software company based in the UK. This company had developed the Grand Flagallery plugin. Grand Flagallery is a basic media and image gallery plugin. Thanks to its simple interface, you may upload images easily. It also allows users to generate music and video playlists on their WordPress websites. One of the highlighted features of this useful gallery plugin is its ability to bulk upload. It allows users to edit their images in a couple of minutes. You can manage the plugin in a central location. Here, you may also create and customize all your galleries and collections. Now, let's talk about the premium pricing plans of that plugin.
Grand Flagallery has three premium pricing plans that offer lifetime access for a single website license. You may also have license keys for multiple websites. It offers a user-friendly interface that allows you to add your visual galleries simply. Its beginner-friendly interface is the feature that makes it so popular. You may follow these steps below to add your image galleries with Grand Flagallery:
First of all, you need to install the plugin. Then, simply activate it.
After you activate it, simply click on FlaGallery. It is located on the left side of your dashboard.
You will now encounter a couple of sections on your screen. They are located at the top of your screen.
You may upload your images, import them from elsewhere and create your gallery by using these tabs.
Grand Flagallery performs quick studies to organize, publish, and manage all visuals. This gallery plugin provides users quite responsive template support. It allows users to batch uploading. We may list the several gallery types it has as follows:
Slider
Single row
Multiple rows
Masonry
Posts-style
Grids
3D
Each of these gallery types has a quite clean appearance.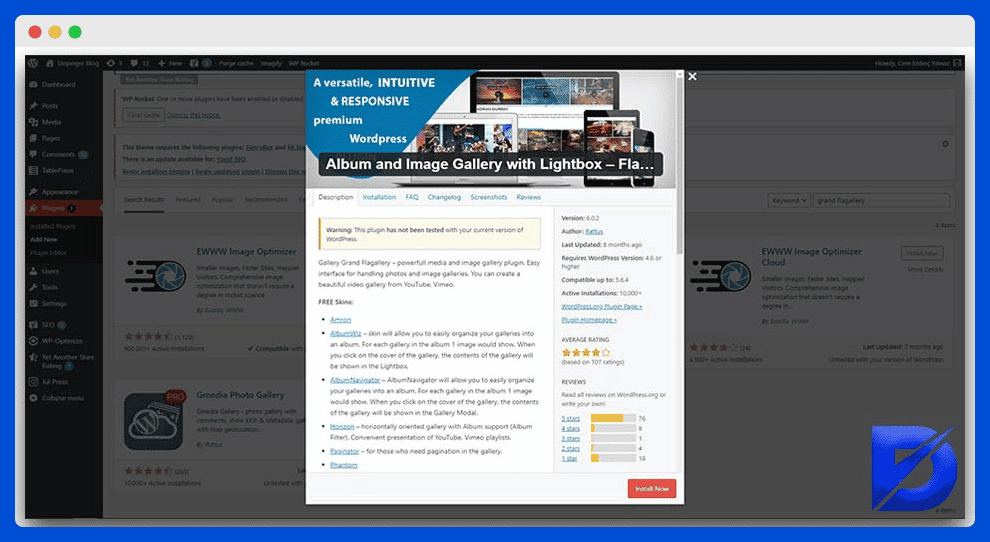 Meow Gallery
It is a quite easy-to-use plugin. Unlike other gallery plugins on this list, it runs inside the block editor as a built-in. That means it doesn't have a separate interface. Therefore, you have to set your gallery settings through the block settings section. On the other hand, it has some developed layouts and features. Some of these advanced features are quite useful. First of all, it has a great map layout. This layout allows you to display your important gallery items on the Google Maps tool. This advanced layout is just perfect for travel bloggers. Meow Gallery also has the Lightroom integration feature. Thanks to this feature, you may upload your visuals to cloud storage systems preserving their settings and in high resolution.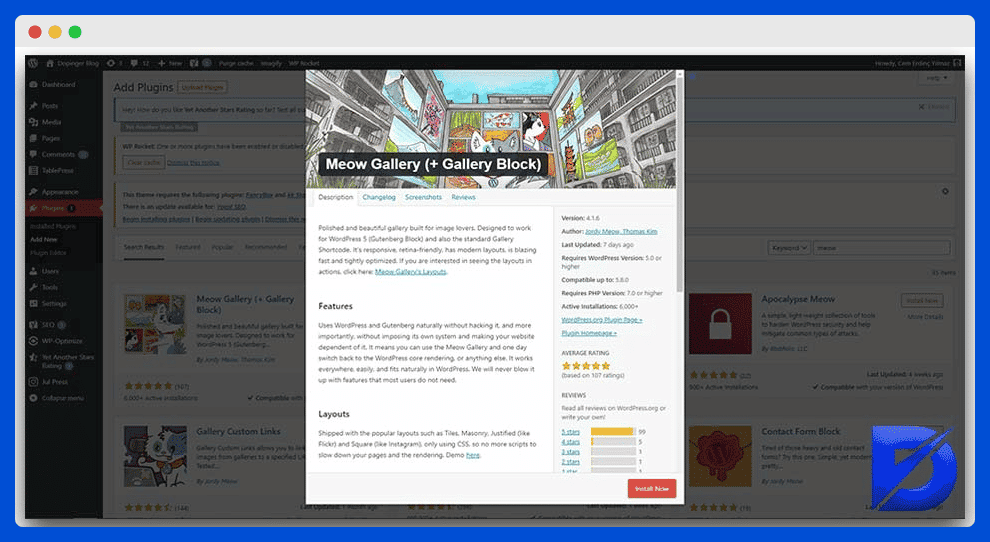 Feed Them Gallery
This plugin has all the professional gallery plugin features. In this respect, it is a program that can meet all the needs of all professional users. We may list the main features of this plugin as follows:
This plugin allows you to benefit from ready-made templates. Likewise, you may generate new templates according to your own or your customers' needs.
This plugin is very user-friendly, thanks to its drag and drop method.
It has different types of albums.
Provides advanced customization with various filters.
It allows you to add tags to your visuals in your gallery.
Are visuals the main source of your website? In this case, this is the most fully-featured gallery plugin you can find on the market. To provide total customization for its users, it uses CSS. Feed Them Gallery makes it easy to work with multiple visuals. It provides image orientation and a neat gallery duplication function.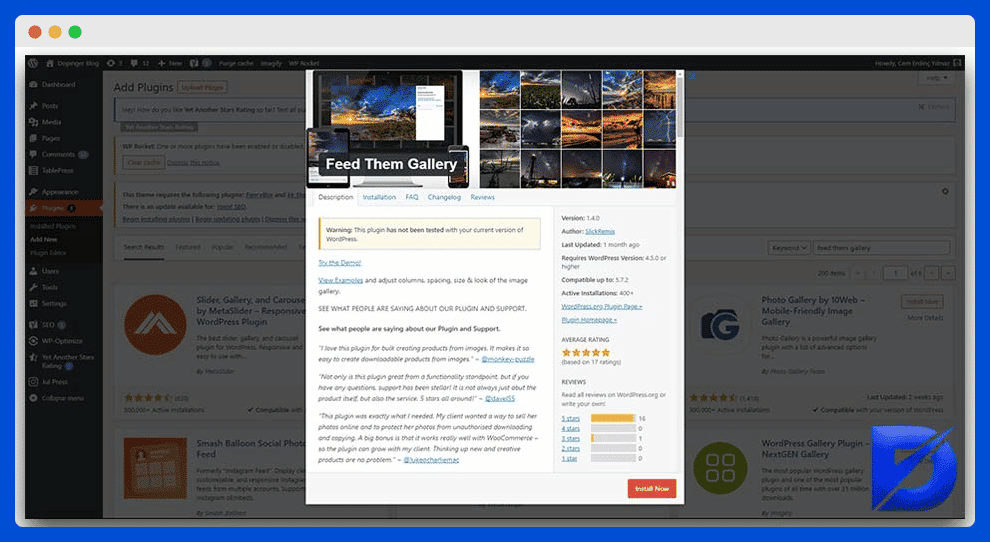 FAQs About the Best WordPress Gallery Plugins
What are the main gallery options of the Feed Them Gallery plugin?
Post, Grid, Collage, and Squared.
May I transfer visuals between WordPress gallery plugins?
For this, the plugins you will transfer visuals between them must be compatible in terms of the format.
Does WordPress have its own built-in gallery plugin?
Yes, there is a built-in gallery plugin in WordPress. However, this built-in plugin may not fully meet the needs of every user.
How to link an image to a gallery in WordPress?
First of all, you need to install the Gallery Custom Links plugin. Then, simply activate that plugin. This plugin runs out of the box. Thus, you do not need to configure any settings. All you have to do is to navigate to a page or post. Then, generate a new gallery. Now, you will encounter the custom link meta fields for separate visuals in your gallery.
I no longer want to use the premium version of my WordPress Gallery plugin. Could I also lose the images I edited in this plugin?
No, you don't have to lose them. You may transfer these visuals to your new WordPress Gallery plugin or to cloud storage.
The Best WordPress Gallery Plugins, In Short
WordPress offers its users a built-in gallery plugin. However, this built-in plugin is not sufficient to meet all needs. WordPress image galleries plugins have different features according to their intended use. So, we have put together a list that may help you to identify the best gallery plugin on WordPress. You may be a beginner or a professional. Our list has at least one WordPress photo gallery plugin suitable for almost every user. You may also find a WordPress thumbnail gallery plugin for your needs on this list. We hope this article has provided you with information that may help you in your studies.